Tandoori lobster, Masala chai creme brulee: Where to dine this Deepavali
It's the time of the year to indulge in rich, flavourful Indian food. Here's where to make your reservations.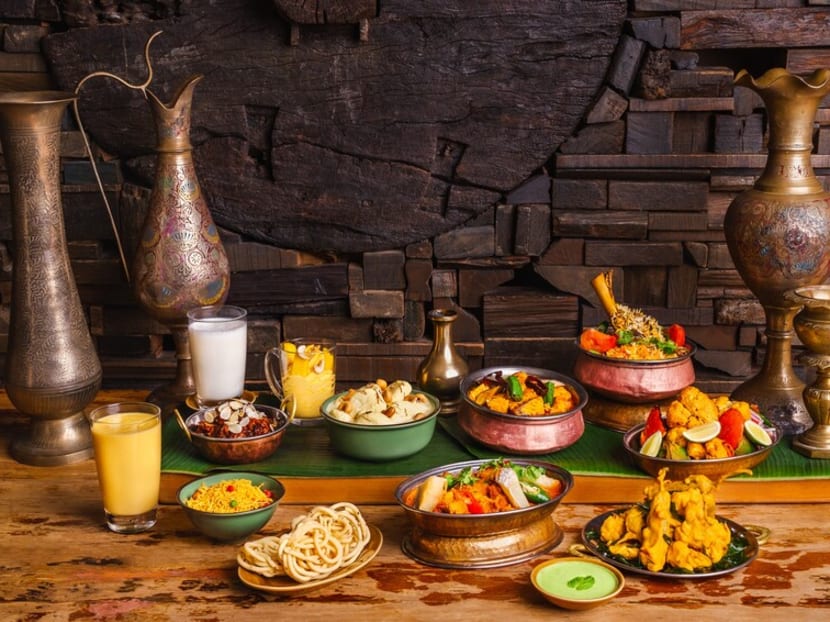 The joyous Festival Of Lights is just around the corner, and what's Deepavali without all that hearty feasting?
While group size may be limited to two pax (for now), don't let that stop from you indulging in a decadent array of festive delights. Here are our picks on where to go.
Punjab Grill is celebrating Deepavali with one-day-only set menu specials, available in vegetarian and non-vegetarian options. Both menus start off with amuse bouches, followed by three appetisers and a total of four main courses.
Appetisers include Prawn or Broccoli Koliwada and Baby Lamb or Soya Boti Taco, while main courses include Punjab Grill's signature Baby Lamb Shank, Truffle Paneer Kofta, Brown Rice Pulao, Masala Missi Roti and more.
Date: Nov 4
Price: S$110++ (vegetarian and non-vegetarian)
RANG MAHAL
While Indian fine dining restaurant Rang Mahal doesn't appear to have a special Deepavali menu, its regular menu features much-loved Indian favourites such as the classic Pani Puri, Chicken Tikka Masala and more.
Specially for the season, the restaurant has created luxurious mithai gift boxes, with ingredients made fresh daily. The Royal Melody Box (S$178+) is encased in rich velvet and as its name suggests, plays enchanting music when opened. It comprises 30 Mithai flavours and four savouries.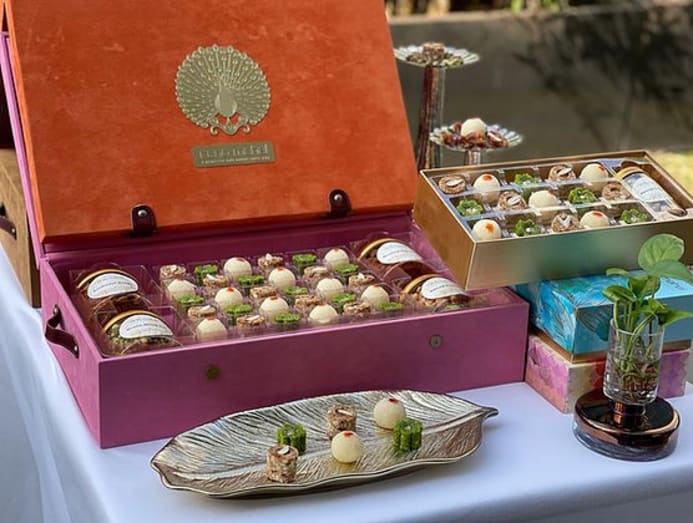 The colourful, rainbow-inspired Floral Bloom Box (S$88+), on the other hand, comprises 15 Mithai flavours and one savoury. In celebration of the restaurant's 50th anniversary, 10 per cent of profits will be donated to the Breast Cancer Foundation.
SHANGRI-LA SINGAPORE
This festive season, The Line, located in Shangri-La Singapore, is presenting two dining-in options for guests – an a la carte buffet and a four- and six-course set menu.
The Deepavali a la carte buffet includes traditional Indian dishes such as Chettinad Fish, Nalli Rogan Josh, Awadhi Murgh Briyani and Masala Chai Classic Creme Brulee.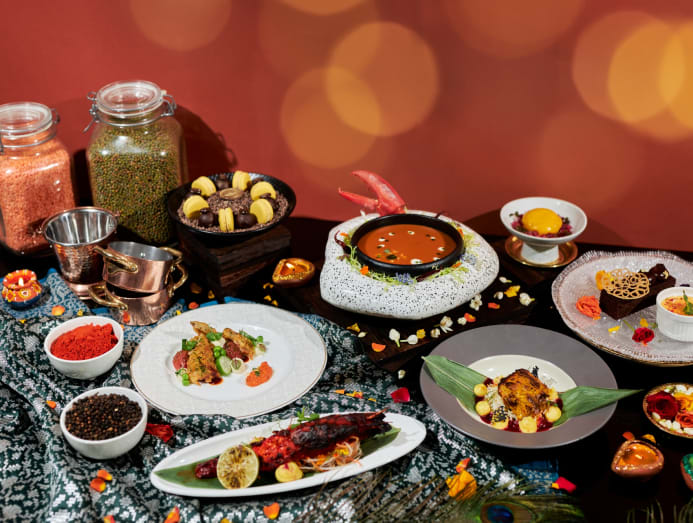 Meanwhile, highlights of the four- and six-course set menus include the flavoursome Spice-crusted Pink Snapper with Masala Potato served with Saffron Nuts Pilaf, Salted Cumin Chocolate and Cardamom Brulee.
For gatherings at home, there's the Indian Family Feast takeaway (S$128), and the Milaap Indian High Tea stand (S$78).
Gifting options include the Deepavali Mithai Gift Box (S$49) and Deepavali Hampers (from S$150), packed with Mithai Gift boxes and Shangri-La tea, honey and wine.
Date: Nov 4 to Nov 7 (buffet lunch), Nov 1 to Nov 7 (buffet dinner and set menus)
Price: S$68++ (buffet lunch and four-course lunch), S$78++ (buffet dinner), S$98++ (six-course dinner)
STRAITS KITCHEN
This Deepavali, the halal-certified Straits Kitchen, located in Grand Hyatt Singapore, is presenting festive lunch and dinner buffets taking place from Nov 3 to Nov 7.
Tuck into South and North Indian specialties from live stations serving Tawa Kabab (beef patties served alongside organic vegetable, vermicelli, sweet and sour sauce), Hyderabad Nalli Dhum Biryani (lamb shank served on long grained basmati rice) and Sikandari Kalmi Raan (grilled lamb leg with cashew nuts and herbs).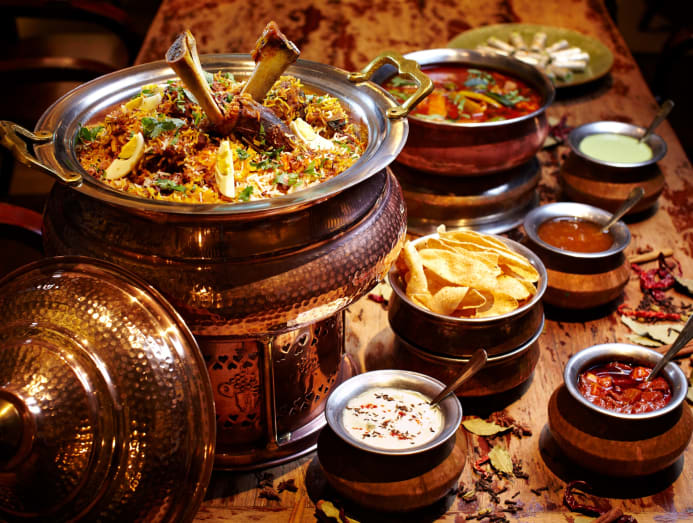 The dessert menu features traditional Indian sweets such as Gulab Jamun (milk dumpling in saffron syrup), Kesari Aam Kheer (rice pudding with mango and milk), and Kesari Rasgulla (cream cheese dumpling with saffron syrup).
Date: Nov 3 to Nov 7
Price: S$65++ adult, S$32++ child (lunch), S$75++ adult, S$42++ child (dinner)
TIFFIN ROOM
The historic Tiffin Room at Raffles Hotel is serving new culinary creations, both vegetarian and non-vegetarian, specially prepared for Deepavali. The meal begins with a classic appetiser of Golgappa Shots, deep-fried stuffed crispy bread complemented with mint, mango with sweet tamarind and yoghurt.
Next to arrive is the Tandoori Lobster, succulent Tandoori-grilled lobster served with onion fritters and mint chutney, or the Chukander Gucchi Tikki, a crispy beetroot and morel mushroom cutlet.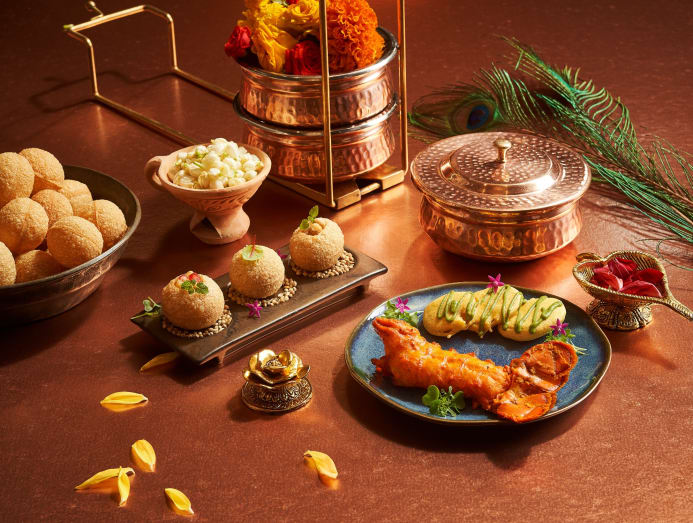 Presented in the iconic tiffin box, main courses include Nariyali Gosht Chaap (lamb chops accompanied with rich coconut and piquant mustard seed curry), Doi March (fork-tender and flavourful barramundi enlivened with yoghurt and spices) and Sarson Da Murgh (delectable boneless chicken leg presented in a mustard leaf gravy).
For gifting this season, the restaurant has also created exquisitely-curated handmade mithai, made from premium ingredients including fruits, nuts and spices. Priced at S$58++, the selection is presented in a beautifully fashioned gift box.
Date: Oct 21 to Nov 7
Price: S$98++ per guest (non-vegetarian lunch and dinner), S$88++ (vegetarian lunch and dinner)