Inside the new Capella Bangkok: A first-hand account of the five-star property
As CNA Luxury's Bangkok-based writer Duncan Forgan attests, the Singapore hotel brand hits all the right notes with sublime F&B, curated experiences and panoramic river views enhancing its debut in the Thai capital.
Asia has always been a region replete with strong females. And William Pravda, manager at Stella, the sleek cocktail venue at Capella Bangkok, is offering the lowdown on a few of these historic heroines from his berth behind the bar.
With throne-like chairs, hand-painted frescoes and a taxidermy white peacock taking centre stage under a mirrored ceiling, Stella is feminine but forceful. Therefore, it's appropriate that the pan-Asian drinks incorporating local spirits and herbs are inspired by the formidable women of the East.
"This is Khun Ying Mo," said Pravda, pointing to a vivid artwork on the menu of a steely-eyed siren flanked by an elephant as he stirred The City of Khai – a boozy take on tom kha, a classic spicy-sour, coconut-milk based soup made with a mixture of Isaan rum from Thailand, roasted rice and spice-infused foam.
"She organised a rebellion against invading Lao soldiers in the early 1800s. She and the other women got them drunk and then overpowered them with cooking knives."
Of course, there's little chance of strife at one of Bangkok's most prestigious luxury hotels, which opened on the banks of the Chao Phraya River in October.
The legend of Khun Ying Mo and her cohorts, though, is an obvious analogy for a bolthole that combines bucketloads of grace and style with plenty of substance.
To say that Capella Bangkok has been eagerly anticipated would be to understate matters.
Capella has been a benchmark for high-end hospitality since it was born in 2002, the brainchild of legendary hotelier and Ritz-Carlton co-founder Horst Schulze. Now owned by Singapore's Kwee family, the brand has stayed true to its original credos of offering bespoke hospitality in properties that sit in harmony with their environment.
As such, its array of award-winning hotels and resorts in locations such as Singapore, Ubud and Sydney among others vary wildly. All, though, are united by painstaking attention to detail that manifests in everything from crafted cutlery to carefully curated artworks.
Therefore, it's little wonder that Capella Bangkok ranks among the openings of what has been a markedly strange year. The hotel – part of the Chao Phraya Estate, a development with hotels and residences encompassing almost six hectares alongside Bangkok's fabled "river of kings" – was scheduled to open in March. The global pandemic, however, pushed the property's big reveal back by six months to October 1.
Now finally up and running, the hotel is wowing clients with its spectacular location and design, curated guest experiences and a show-stopping contingent of F&B options that includes Stella and Cote by Mauro Colagreco, a fine-dining concept spearheaded by the Argentinean chef of three-Michelin-starred Mirazur in France.
The international influence is strong. There's Colagreco, of course, whose emissary in Bangkok is Davide Garavaglia, formerly chef de cuisine at Mirazur. In a classic dining room, Garavaglia brings the Italian and French rivieras to Thailand courtesy of dishes such as lobster with hay hollandaise and black trumpet mushrooms and squid in coconut ajo blanco, sea grapes and lardo. His creations are paired with natural wines from around the world.
The hotel's look is also outward gazing with design by Andy Miller and Richard Scott Wilson of Singapore-based practice Hamiltons International and interiors by acclaimed Californian firm BAMO.
Thai influences aren't totally obvious at first glance. They are there, though, in little details such as the latticework in the ceilings or the works by local artists that adorns the walls of the lobby area.
Thai character shines through in other areas too. The Living Room lounge – a place designed to encourage guests to mingle – hosts cultural performances and workshops such as indigo tie-dye classes. The hotel's other main restaurant, the riverside Phra Nakhon, serves punchy, no-compromise Thai dishes.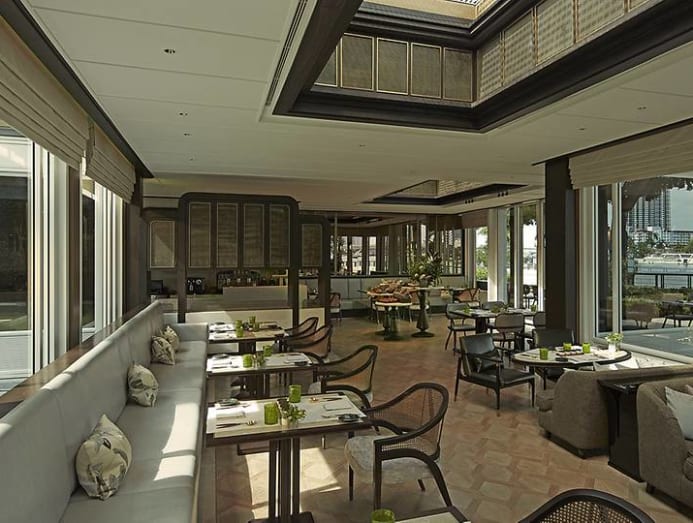 Auriga Wellness, the property's signature spa sanctuary, is not yet open. But guests can expect an array of Asian therapies and ancient Thai treatments that focus on healing beauty and wellness. And one only has to kick back in the Jacuzzi plunge pool in one of the hotel's veranda suites though to realise that the real star of the show at the property is Thailand's effervescent capital.
"With panoramic views of the majestic Chao Phraya River, Capella Bangkok is a gateway to the eternal beauty of nature and the urban oasis of the city," said general manager John Blanco.
"Capella Bangkok is the only hotel within the city where every guest has an unobstructed view of the river, creating an unforgettable experience to truly take in the beauty of the city."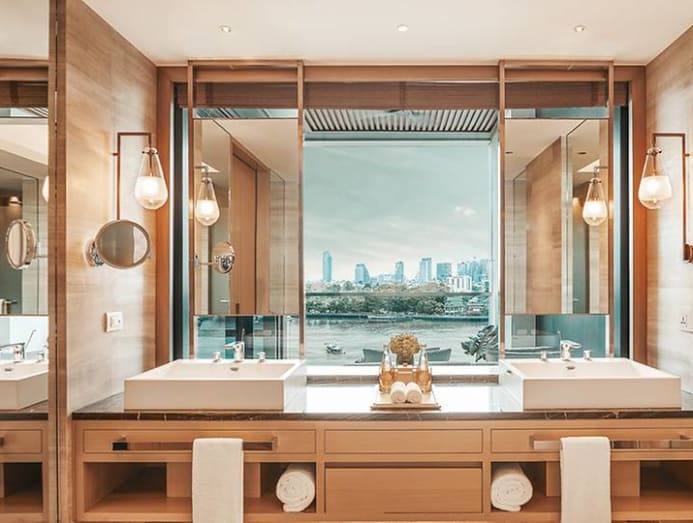 At Capella Bangkok, guests can savour the outlook on Bangkok while also swigging deep from the city's intoxicating cup. The property is located on Charoenkrung Road, Bangkok's oldest paved road and one of its most characterful arteries. Here, ancient junk shops and markets selling arcane paraphernalia rub shoulders with legendary street food venues.
In recent years, this long-standing charisma has been supercharged with an injection of contemporary energy. Capella Bangkok and other prestigious addresses such as the Mandarin Oriental and Icon Siam represent the high-end aspect of the equation, while a slew of hip galleries, restaurants and bars cater to a younger, edgier market.
Through its Capella Curates range of bespoke experiences, the hotel can organise everything from Muay Thai lessons with a champion boxer to a street food tour with Wichian "Lek" Trirattanavatin, Capella Bangkok's Thai chef de cuisine, who was born and raised in the neighbourhood.
"The esteemed location was selected due to its access to, not just the river, but also to Charoenkrung Road," added Blanco. "It's a place where tradition and cultural heritage meets the city's trendiest cafes, bars and art galleries. The opening of Capella Bangkok is a part of a larger renaissance and revitalisation [that] this area of the city is experiencing."
Of course, when your surroundings are as salubrious as they are at Capella Bangkok, it can be tempting just to stay put. River views are a feature in each of the hotel's 101 guest rooms, suites and villas, all of which have floor-to-ceiling windows facing the water. Accommodations also have a balcony or terrace, while riverside villas and verandas come with an alfresco Jacuzzi plunge pool.
Inside, things are equally amenable. Chic travertine marble bathrooms come with flash toiletries by Italian brands La Bottega and Marvis. Living/bedroom areas are straight-lined cream and wood affairs featuring luxurious carpeting, writing desks and seating from which to soak in the river views. Designed to be boutique pied-a-terres for travellers, rooms, villas and suites are difficult to leave. But then, the same could be said of the entire hotel, which is proving to be worth the long wait.