Walking from peak to peak and other epic thrills in Switzerland's adventure capital
Soak in Switzerland's fairytale landscapes from the panoramic GoldenPass trains, jump off a cliff in an epic paragliding stint, and ascend to the Top of Europe in Jungfrau – all from Interlaken. Oh, and there's also luxury shopping to be had in nearby Gstaad.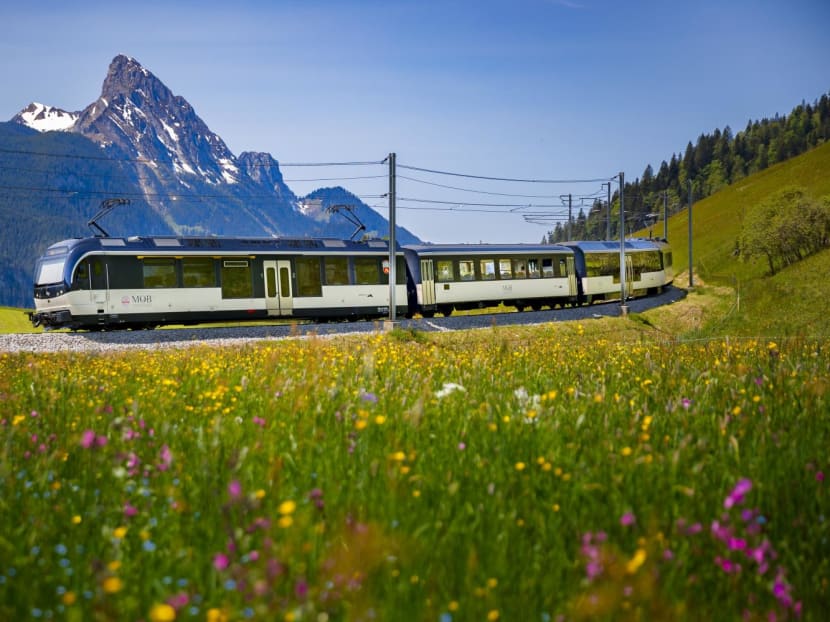 We're standing at the edge of a cliff and we're about to taste the clouds. "Just keep running," said Matthias, my tandem instructor from Skywings Paragliding. We're harnessed together and within seconds, we're floating in fog, 1,300m over the town of Interlaken.
We waft across the sky for about 20 minutes, taking in pretty postcard-perfect views of the Swiss Alps; the mountain scenery beautifully juxtaposed against the sparkling waters of Lake of Thun below, along with copious amounts of crisp alpine air. It's so peaceful up here close to the heavens, and it feels rather surreal to tick off my virgin paragliding experience in the adventure capital of Switzerland, no less.
Situated in the Swiss capital of Bern in Central Switzerland, Interlaken literally translates to "between lakes", nestled between Lake Brienz and Lake Thun.
Since the time German literary legend Johann Wolfgang von Goethe and German composer Felix Mendelssohn first travelled through these mountains in the 1700s and 1800s, Interlaken has grown into a popular destination for thrill-seekers in search of their next adrenaline rush.
Be it skydiving or bungee jumping, river rafting or canyoning, this German-speaking (specifically, the Bernese German dialect native to this region) canton has it all, including 200km of pistes for skiing and snowboarding lovers, plus a dense network of hiking trails to also keep visitors delightfully busy in the summer.
WINDOW TO FAIRYTALE WONDERLANDS
Getting here is easy enough and I would highly recommend taking the GoldenPass Line, as we did from Montreux further west. This is by far the best way to enjoy Switzerland's fairytale landscapes through the train's full panoramic windows as you catch glimpses of the majestic snow-covered peaks of Eiger, Monch and Jungfrau mountains in the distance.  
It's particularly magical during winter, and here's a pro tip to get the most of this extraordinary experience: Book one of the eight VIP seats at the front of the train.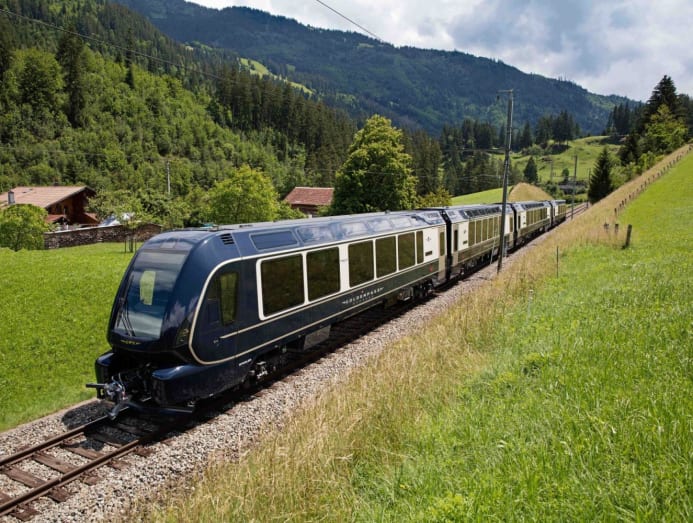 This literally gives you a vantage point better than the drivers themselves as you get a front row seat to awe-inspiring visual treats while the train whizzes across bridges and through pitch black tunnels to emerge to more breathtaking panoramas on the hour-and-a-half journey. 
Also – and you read it here first – a new GoldenPass Express direct service between Montreux and Interlaken will be launching in December this year, offering a higher class of travel (in addition to First and Second Class) called Prestige Class comprising 18 seats that will rotate so that all passengers in said carriage have an equal chance to enjoy the most spectacular views on offer. 
Interlaken is the gateway to many of these 4,000m giants situated in the Bernese Oberland, including the Jungfrau Region, where the Top of Europe presides 3,454m above sea level.
Harry Potter fans may get a bit of a kick getting here, as you take a half-hour train ride to Grindelwald, which may or may not, have inspired the name of the dark wizard Gellert Grindelwald's character in the JK Rowling movie franchise. 
From the state-of-the-art Grindelwald Terminal, the most modern such terminal you'll find in the Swiss Alps with the feels of big city swish, you take the new Eiger Express tri-cable gondola up to the Eiger Station and continue on to Europe's highest railway station to arrive at the Top of Europe.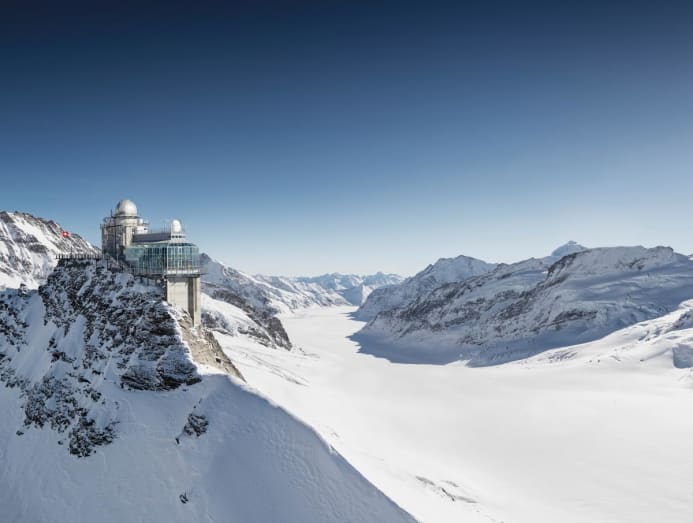 Step out into a white powdered wonderland as snow crunches underfoot and the views – and maybe the icy cold air – are certain to take your breath away. From the Sphinx Observatory, you can feast on views of the Swiss Mittelland towards the Vosges from one side, and on the other, the Aletsch Glacier – a UNESCO World Heritage Site that's also Europe's longest glacier.
Pause for lunch served with a side of the most spectacular views you can imagine on the mountaintop, visit the ice pavilion and discover the fun ice sculptures on display, and don't forget to buy some gifts at the highest Lindt chocolate shop in the world here. 
LUXURY SHOPPING IN GSTAAD
When you're all adventured out, consider heading to the charming village of Gstaad for some retail therapy.
Situated about an hour west of Interlaken, Gstaad is a celebrity hotspot for stars who prefer to avoid the more conspicuous glitz of St Moritz.
History has it that actress Elizabeth Taylor was one of the first A-listers to holiday in Gstaad, rock legend David Bowie and tennis champ Novak Djokovic have also holidayed here, and Michael Jackson and Madonna famously stayed at the ultra-luxurious Gstaad Palace. Dame Julie Andrews, meanwhile, is said to still live here. As does former Formula 1 supremo Bernie Ecclestone.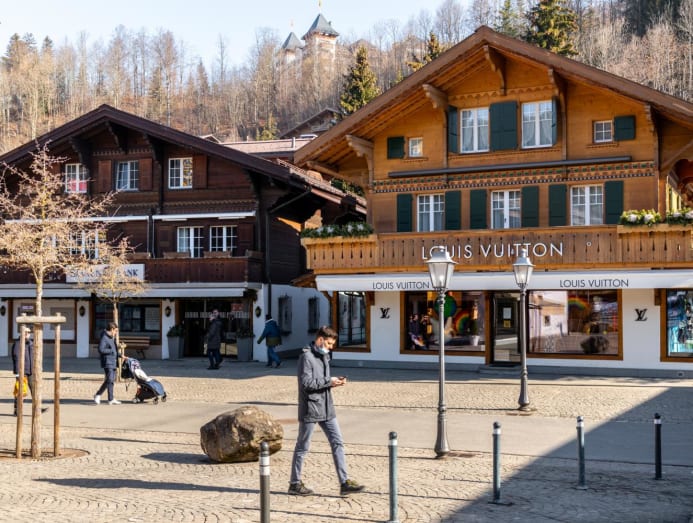 In Switzerland, discretion is key in general but legend has it that there are even secret underground tunnels in Gstaad, which celebrities use to travel discreetly to the slopes to ski.
So you are unlikely to bump into them in the streets, on the slopes, in any of the posh ski resorts, or even while shopping at Louis Vuitton, Hermes or Chopard, for that matter. 
PEAK TO PEAK
Ecclestone happens to be a co-owner of Glacier 3000, which you should absolutely visit while in the vicinity.
Within just 15 minutes, you're whisked from the valley floor to 3,000m altitudes via gondola to the Peak Walk by Tissot, the world's first suspension bridge spanning two 3,000m summits.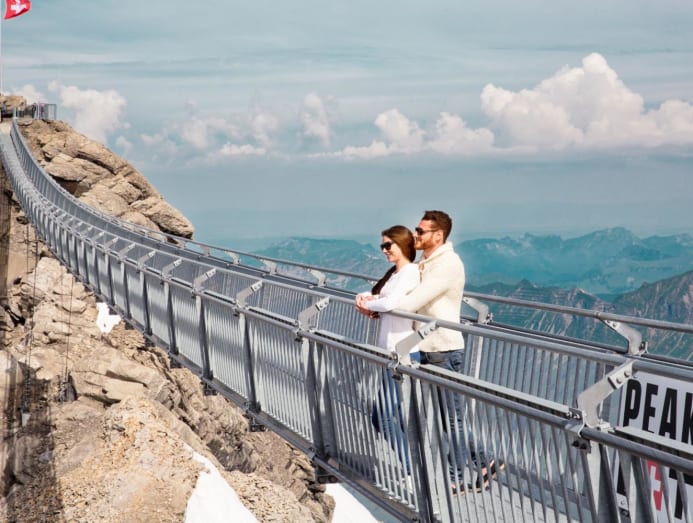 This is a feat not for the faint of heart or those afraid of heights, as you walk from peak to peak suspended at such a high altitude. But the views from here are absolutely stunning and well worth traversing this beanstalk in the clouds.
This once-in-a-lifetime experience will give you the bragging rights of witnessing all around you no fewer than 24 snow-capped 4,000m peaks including the majestic Matterhorn in Zermatt, as well as Eiger, Monch, Jungfrau, Grand Combin, and even Mont Blanc in the far distance.
Fun fact (particularly if you're architecturally-inclined): The summit station was designed by renowned Swiss architect Mario Botta.
ANTIDOTE TO ADVENTURE
Now the beautiful thing about Interlaken is that it proffers the perfect antidote to all that adventure, too. 
Ours arrived in the form of a haven of bliss named Victoria-Jungfrau Grand Hotel and Spa, christened after Queen Victoria herself, as this was a destination favoured by European nobility in search of a stylish respite from the busy big cities back in the day.
After our paragliding stint or day trips to Gstaad and the Top of Europe at Jungfraujoch, it was wonderful coming home to this beautiful hotel clothed in an elegant, 1940s aesthetic.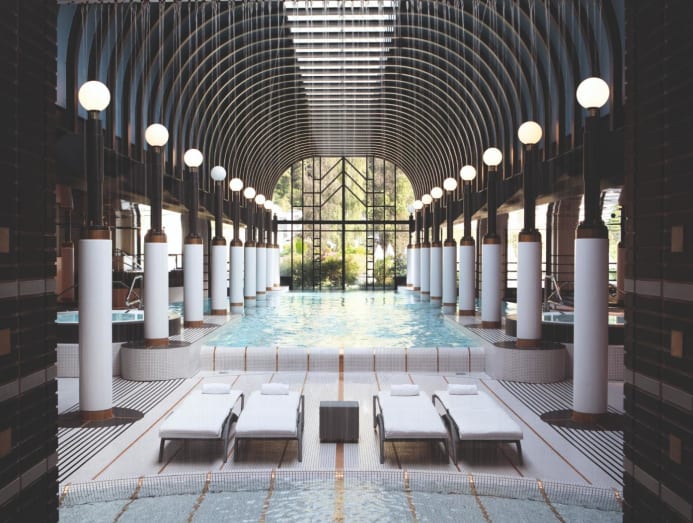 Each day, a sanctuary of calm would await at the boudoir-style Spa Nescens, offering a sprawling reprieve of world-class wellness offerings over 5,500 sq m, juxtaposed against the rugged mountain scenery visible from the outdoor brine pool. You could defrost in the sauna or steam bath, decompress in one of the relaxation rooms or book a massage or beauty treatment by Swiss cosmoceutical brand Nescens. 
What's more, this may not even be the Italian region of Switzerland but the pizzas at the in-house restaurant, Ristorante e Pizzeria Sapori, were phenomenal.
Just imagine what they would be like in Ticino, which sits on the Italian border. I guess we'll have to find out on our next visit to Switzerland.