What a gut-busting, 15-course lunch at Singapore's newest Japanese restaurant is like
At Sushi Kou, an eight-seater omakase restaurant serving Edomae (Tokyo-style) sushi, there are only two menus available: A 13-course or 15-course one, priced at S$380++ and S$450++ respectively.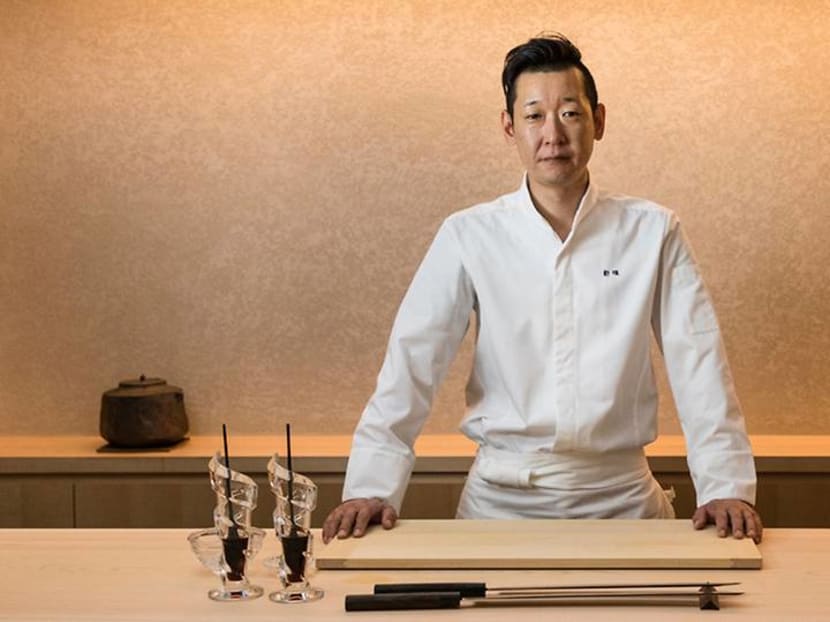 In pre-pandemic times, enjoying an Edomae sushi meal was a treat in itself. Now, in the new normal, it feels like the ultimate luxury to be able to savour each parcel of fish and rice, deftly and delicately shaped by – not to mention warmed by – the human hand.
So it was with great excitement that we took up the invitation to dine at Sushi Kou, an eight-seater omakase restaurant helmed by chef Yoshio Sakuta. The restaurant, located in Holiday Inn Orchard, officially opened on the first day of Phase 2 (Jun 19) after operating exclusively for delivery and takeaway for three weeks prior.
Admittedly, there was a little trepidation too. But our fears were unfounded. Would chef have to be gloved up to comply with regulations? (No) Would there be an acrylic barrier separating the dining counter from the preparation area? (No) Would we have to adhere to a strict set of dining rules, lest we offend the culinary gods? (No)
Chef Sakuta, who was most recently head chef at two-Michelin-star Shoukouwa Sushi Restaurant, proved to be relaxed, friendly and casual, traits no doubt owing to his upbringing in Sapporo. His knife skills were top, of course, courtesy of a 20-year career as sushi chef. It was a pleasure watching him wield the blades with such deftness.
Decked out almost entirely in blond hinoki (Japanese cypress) wood, the bijou space resembled a Hokkaido log cabin – a touch of chef's homeland. Only two menus are available, for both lunch and dinner: The Aya Menu (10 pieces of sushi plus three dishes; S$380++) or the Kou Menu (10 pieces of sushi and five dishes; S$450++). We were told that there was only one seating per service, to allow chef more time to devote to the preparation.
Asked about the relatively high cost of the meal, chef replied through an interpreter: "The price might be steep, but what diners get are premium ingredients, ones that are hard to obtain even for restaurants in Japan itself. We source fresh fish from Toyusu Market [in Tokyo] that is equal to, or better than, the finest sushi restaurants in Japan. 
"In addition, comparatively across high-end sushi restaurants, many in Singapore start at S$480 to S$500 for dinner, while in Japan the prices range from 25,000 to 40,000 yen, translating to about S$320 to S$500. The cost itself is not an accurate gauge because at Sushi Kou our ingredients are air-flown in, and this incurs shipping costs that we have to take into consideration too.
"Having said that, we continue to aim to manage at a price similar to that of a high-end sushi restaurant in Japan. We've lowered the profit margin to serve high-quality sushi to sushi fans and the discerning gourmands alike, in Singapore."
We were offered the 15-course Kou Menu to sample, and found the meal to be faultless in terms of flavour, texture and presentation. Without going into too much detail on each course – we reserve the pleasure of discovery for you, dear reader – a few key highlights deserve mention.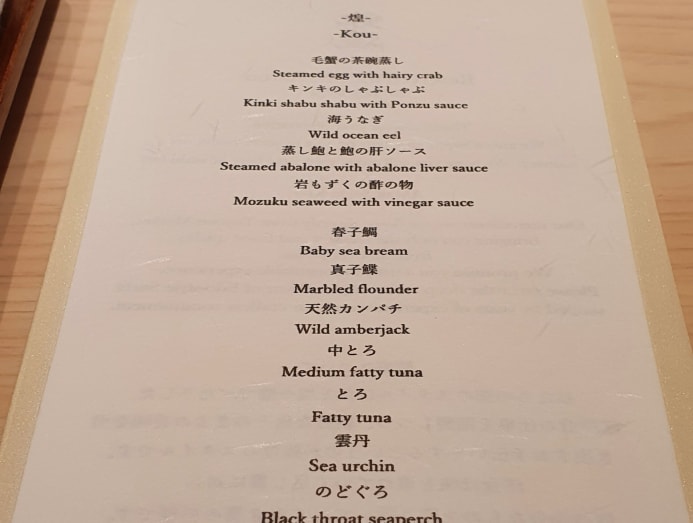 Of the five appetisers that were served before the sushi, the Mozuku Seaweed with Vinegar Sauce stood out for its delightful explosion of flavours and textures. There was the rich, umami creaminess from the bafun uni; the crunch from the conch; a herbaceous quality imparted by the shiso flower; the crispness from the junsai (watershield), a water plant from Akita; and the oceanic freshness from the mozuku, a brown seaweed from Okinawa. All these were bound together in a gelatinous, vinegary mixture – slightly reminiscent of – dare we say it, shark's fin soup.
Then there was the sushi.
We enjoyed chef's use of a squeeze of lime to accentuate the Marbled Flounder, the juice counterbalancing the oils from the fish beautifully. But then, citrus zest and seafood is always a happy marriage.
In the Black Throat Seaperch, freshly grilled fish was served on warm vinegared rice in a bowl, with a small squeeze of lime. We were urged to gently "break up" the fish with a spoon to release its aromatic oils to flavour the rice. The result was as comforting as a warm embrace.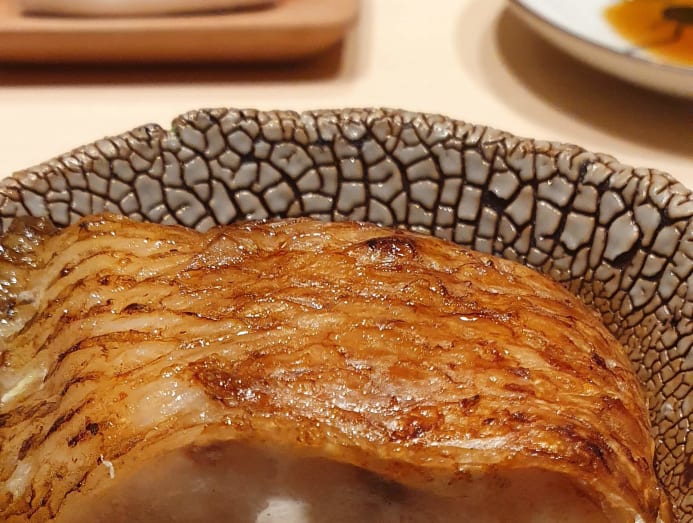 What does chef make of the "burden" of two Michelin stars from his previous post? Can we assume he hopes to repeat his success? "It would be a great honour for Sushi Kou to receive a Michelin star, but my top priority for Sushi Kou, and personally as a chef, is to impart the purest form of joy from tasting the food I plate."