Dreaming of sushi? Here are eight fine restaurants to satisfy that yearning
While we're holding out for Phase 2, these fine establishments are offering high-quality, takeaway sushi that can withstand travel in our tropical clime.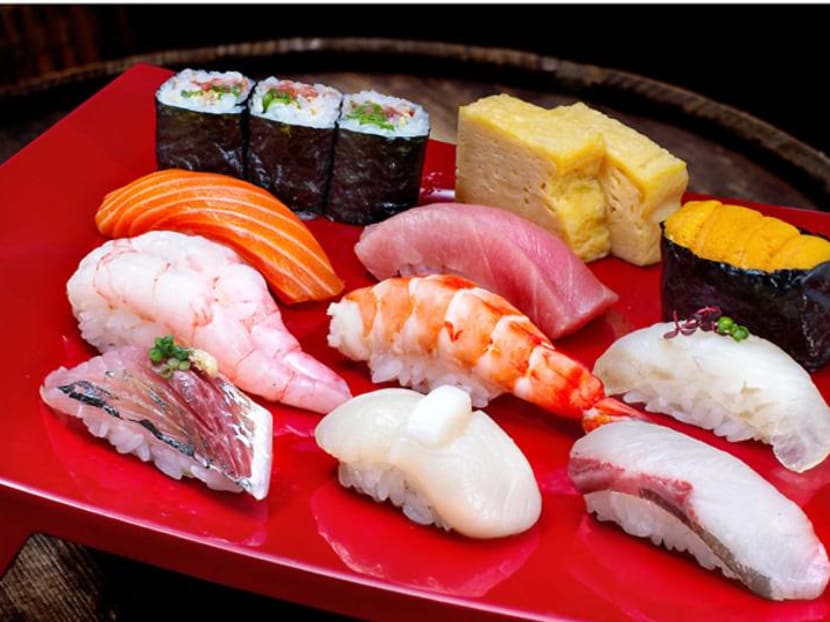 Sushi is about so much more than just rice and seafood. It is about shokunin, which loosely translated from Japanese, means the honing of a craft through dogged repetition.
It is about that special exchange of trust between sushi chef and diner, where the former puts his years of toil and experience into each carefully pressed morsel and the latter appreciates this deceptively simple gesture by savouring it in precisely the way he or she is told to do so.
But what happens when a pandemic dictates the tethering of this tangible connection?
To keep their businesses going and their regulars sated, sushi masters have adapted their craft so that their food can be enjoyed outside of their restaurants.
This calls for even more trust – trust that the seafood is fresh enough to withstand some travel in our tropical temperatures and trust that the diners will consume their sushi within a short, specified time frame. Trust, also, that diners understand that eating sushi, made by a wizened master or otherwise, is never the same exquisite experience without that integral personal connection.
That said, here are some fine sushi purveyors offering their wares for consumption at home.
AKASHI
If these were ordinary times, the Goh family would be celebrating Akashi's 25th year in business with a jolly old bash, their loyal customers and countless bottles of sake in tow.
Alas, the celebrations will have to wait, but that hasn't stopped this stalwart from offering their signature dishes for takeout (akashi.oddle.me/en_SG) at happily reasonable prices.
Sushi starts from S$33.80 for a 10-piece set comprising ocean-fresh slivers of the likes of yellowtail, sweet shrimp and tuna, and goes up to S$76.80 for a set of 18 delicious morsels.
Regulars who grew up on a steady diet of Akashi's offerings will appreciate the Reverse California Roll (S$14.80), with its lavish crown of flying fish roe. More decadent treats include Bafun Uni Sushi (S$52.80 for three pieces) and Aburi Foie Gras with Uni (S$30.80 for three). Islandwide delivery costs S$6.99 or is complimentary with a minimum order of S$50.
AKIRA BACK
There is nothing traditional about the sushi here, but that doesn't mean they aren't irresistibly divine. Great for those who prefer cooked seafood, Akira Back's takeout sushi (jwmarriottsg.oddle.me/en_SG) includes the Perfect Storm (S$25), comprising crisp shrimp tempura, torched salmon, cucumber and chipotle mayo, and the Green Monster (S$23), a veggie-friendly roll draped with avocado and cream cheese.
Our personal favourite: Brother From Another Mother (S$25), stacked with grilled unagi (freshwater eel), anago (sea eel) tempura, shaved foie gras torchon, and a rich blanket of ponzu mayo.
ASHINO
Chef-owner Taku Ashino's deft way with aging fish is renowned. Sushi at this austere restaurant is always deeply flavoured and with interesting textures that result from longer preservation of the fish before it is served.
If you're feeling fancy or festive, Ashino is celebrating its fifth anniversary with a Seasonal Special Don (S$255, enough for "1.5 pax"). For something not-so-decadent but exceedingly tasty, try the S$75 Barachirashi.
The appetisers here are also worth a gander. At S$175 for two people, you get the likes of flavour-packed homemade mentaiko (spicy cod roe), steamed abalone, firefly squid and lots more.
To order, WhatsApp 8318 3334 at least two hours in advance.
GINZA SUSHI ICHI
You may not be able to roam the islands of Hokkaido, but you can certainly get a taste of them with this Michelin-starred restaurant's Kegani Bento (S$130), laden with sweet crabmeat, ikura, uni and various cuts of tuna.
The Special Nigiri Sushi Set is great value for money at S$80. It comes with seven pieces of sushi, six pieces of rolled sushi, and tamago (Japanese omelette). To order, call 6235 5514 or WhatsApp 8878 1250.
KISHO
Distinctive craftsmanship defines Kisho's exquisite cuisine (ki-sho.com.sg/menu) and is evident even in the disposable boxes that the restaurant now must serve its food in.
For true luxury, ask for the Weekly Treasure Box (S$288), richly adorned with lush slivers of the freshest catch from the week. These might include abalone, sea urchin, tuna belly, scallops, and come with a dollop of caviar, an umami abalone broth and liver sauce for good measure.
The Omega Bakudan Don (S$130) makes a fine case for eating your fish oils. Heaped on a bed of well-seasoned rice are plump slices of otoro (Bluefin tuna belly), bafun uni from Hokkaido, shoyu-steeped ikura and a marinated organic egg.
There are also assorted tuna rolls on offer, from S$70. Call 6733 5251 or WhatsApp 9061 6109 for orders.
NISHIKANE
Sixth-generation sushi chef Nobuhiro Nishi makes a mean Saba Bo-Sushi (S$60), in which cured Japanese mackerel is pressed with top grade sushi rice.
His signature Chirashi Don (S$120, serves two) is an alluring sight; a mosaic of Bluefin tuna, marinated salmon roe, anago and other delights from Toyosu Fish Market in Tokyo set on a bed of shari-flavoured rice.
But it is his Nodoguro Uni Donabe (S$100) that'll leave a warm sense of satisfaction in your belly. Flecked with pieces of nodoguro (black perch), the rice is cooked in a traditional clay pot over high heat so that the tasty oils from the fish flavours the grains as they cook, imbuing them with a briny, savoury depth. Carefully laid coral tongues of uni on the dish's surface complete the decadence. To order, WhatsApp 9117 6264 at least an hour ahead.
SHINJI
This posh and popular sushi-ya has made some excellent sushi designed for enjoyment at home (shinjibykanesaka.com/online-ordering), at prices you wouldn't enjoy if you dined at the restaurant.
A dozen pieces of nigiri sushi made with unimpeachable seafood and rice seasoned with a pronounced lilt of vinegar will set you back S$160. The Nama Chirashi (S$140) sees rice and seafood presented in separate compartments; expect delights like uni, botan ebi (botan shrimp), otoro, shima aji (yellow jack) and cherry trout.
If you're in for a splurge, there's a S$200 Special Chirashi – a deluxe box blanketed with sea urchin, salmon roe, minced fatty tuna and a dollop of caviar to get the good times rolling.
SUSHI KIMURA
This 22-seater sushi-ya was among the first fine-dining establishments to adapt its sushi for takeaway when the circuit breaker hit.
Chef-owner Tomo Kimura's Toro Taku Rolls (S$50) are a joy to eat, with unctuous negitoro and crunchy pickled radish tucked between impeccably seasoned shari rice enrobed in a glossy sheet of nori.
The Premium Sushi Set (S$88) is excellent, with beautifully formed nuggets of pressed rice topped with luscious slivers of things like Japanese red snapper, sea robin, tuna, sweet squid and prawns.
Look out for limited specials such as Kamasu Bou (long red tail snapper) Sushi for S$45 each (of which only 10 sets were available), which naturally, sell out fast. To order, WhatsApp 8428 0073.