Which are this couple's – Jigger & Pony's founders – favourite bars in the world?
The globetrotting husband-and-wife duo of Indra Kantono and Gan Guoyi open their little black books to reveal their top spots for a tipple when they travel.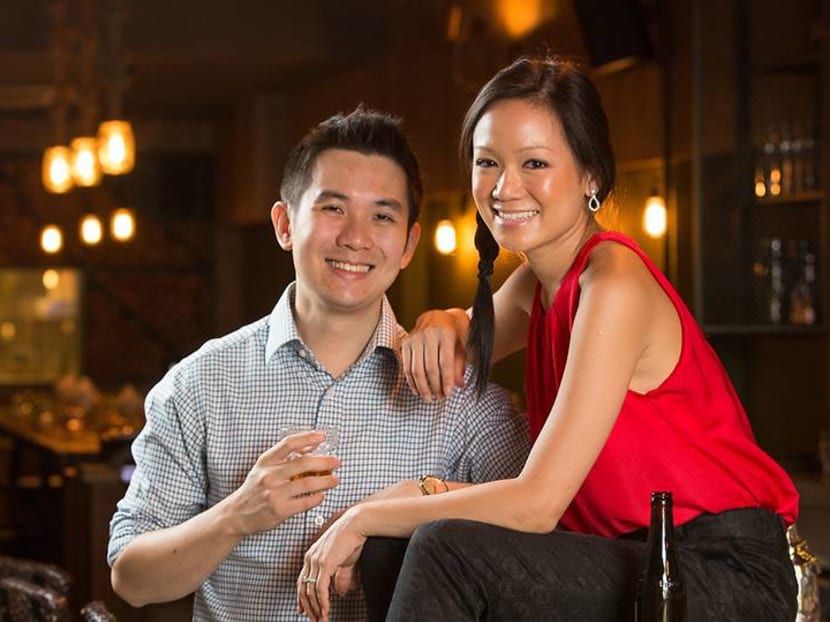 If you've ever been to any of the Jigger & Pony group's bustling establishments, chances are you might have spotted either Indra Kantono or Gan Guoyi mingling among the crowd. The husband-and-wife duo, who co-founded cocktail bar Jigger & Pony in 2012, are one of the industry's most consummate hosts. The atmosphere of conviviality they bring to their vibrant F&B outlets cannot be understated – it is a key reason why this homegrown brand continues to stand out in the crowded industry.
Today, the group runs multiple drinking spots around the city centre including Caffe Fernet and Gibson Bar. Sugarhall, a rum bar, shuttered in 2018, but that same year, their flagship cocktail bar, Jigger & Pony, made its debut on the prestigious World's 50 Best Bars list at #29. 
But wait, there's more. In December 2019, they launched Live Twice, a Japanese mid-century modern inspired cocktail bar on Bukit Pasoh Road. With vintage decor elements such as wooden wall panels, alcove nooks and two original, mint-condition Falcon armchairs, the cosy 40-seater bar is a great spot to nurse a spirit-forward (read: strong) concoction, or two.
Live Twice also pays homage to the Japanese culture of hospitality and its exacting mixology standards, a country which Kantono and Gan have a soft spot for. Not surprisingly, when they jet set, they're always on the lookout for unique watering holes to kick back at. They tell CNA Luxury about their poisons of choice and spill the beans on their favourite cocktail bars around the world. 
WHAT IS YOUR DEFAULT DRINK ORDER?
KANTONO: I usually start with something from the cocktail menu – perhaps a drink that the bar is most proud of or that is most representative of the menu as I want to understand what kind of experience the bar is looking to deliver. A few drinks in, however, and I usually default to a crisp, refreshing Whisky Highball. 
GAN: Currently, I would say a Whisky Highball is my common order. I tend to drink later in the night so a brown spirit like whisky has a nice calming effect on me, while the soda or water makes it refreshing. It's a great first drink to unwind with after a long night!
IN YOUR OPINION, WHICH CITIES AROUND THE WORLD HAVE THE MOST VIBRANT COCKTAIL CULTURE?
KANTONO: Cocktail culture is truly becoming more vibrant in pretty much every major city in the world, and none more so than in Asia. I really enjoyed my trips to Seoul last year – where newer bars like Bar Cham, Pussyfoot Saloon and Charles H. are presenting unique and compelling concepts that add to the cocktail diversity of the city. 
GAN: The same can be said about Bangkok as well, where the bartenders wear their passion on their sleeves. Bars like Vesper, Bamboo Bar and Q&A all have that "magic".
IS THERE ANYTHING THAT IS A STRICT NO-NO FOR YOU WHEN IT COMES TO BARS OR DRINKING?
GAN: Overproof spirit shots are strictly out of the question for me. They simply don't promote drinking better. We want to ensure our customers have an enjoyable night and remember the new memories created. Overproof spirit shots usually cause people to react adversely – they either don't enjoy the flavours or get too drunk and feel awful the next day. That's not hospitality.
SO TELL US, WHICH ARE YOUR FAVOURITE BARS AROUND THE WORLD?
KANTONO: Bar Cham in Seoul. This bar has a strong sense of place, from the Korean architecture with exposed wooden beams, to the modern cocktails that employ the use of traditional Korean liqueurs and ingredients.
Duck Down in Jakarta. It promises, hands-down, to be the most fun you will ever have in a bar. This underground dive bar is always my last stop on a night out in Jakarta. So much energy and so much celebration, every single night of the week.
GAN: Q&A in Bangkok. The interior is inspired by classic train carriages. If only trains could have a bar as elegant as this! It is small and cozy, and the distance between the bar seats and the bartender (usually the affable Mr B) is perfect for customers to strike up conversations with him about cocktails.
Coa in Hong Kong. This two-year-old bar by Jay Khan somehow captures the romance of Oaxacan mezcal culture and transports it right into the heart of Hong Kong. It has the perfect balance of being down-to-earth, yet ambitious, in its cocktail menu, while simultaneously being relaxed yet passionate.
BOTH: Lyaness in London. Ryan Chetiyawardana, also known as Mr Lyan, and his team are legends in the drinks circuit, and this bar showcases why they've earned that reputation. The bar is spacious to accommodate any occasion, has a convivial energy and the drinks are as geek-worthy as any.
DO YOU HAVE A FAVOURITE BARTENDER OUTSIDE OF SINGAPORE?
KANTONO: My two favourite bartenders in the world are Maura Maurett and Giorgio Bargiani at London's Connaught Bar. Whatever the circumstances, they are always smiling, and their smiles are always genuine.