I attended Kim Lim's extravagant birthday party in Bangkok. Here's what went down
CNA Luxury scored an invitation to Kim Lim's 32nd birthday bash in Bangkok. Take a peek inside the festivities.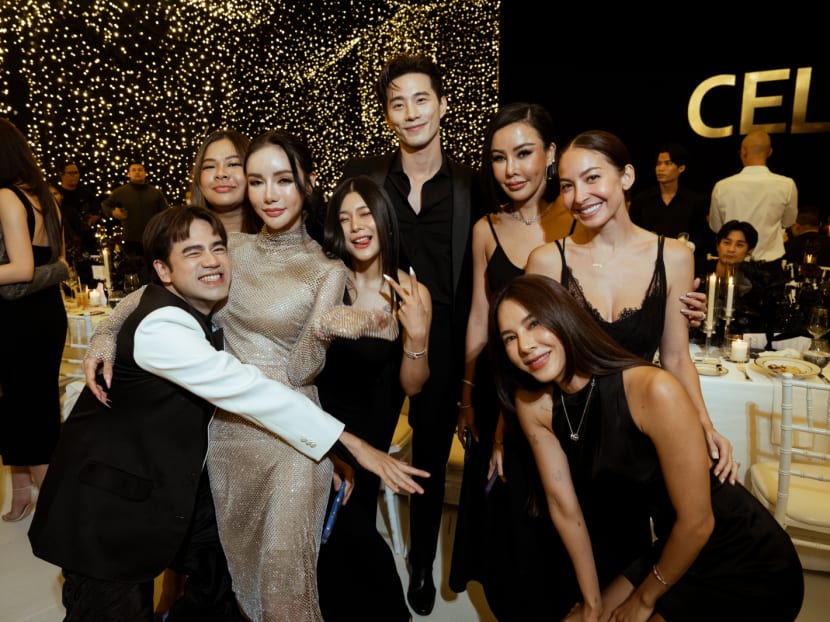 It is a widely known fact that billionaire heiress and beauty entrepreneur Kim Lim loves a good party.
Looking back at all the celebrations Lim has thrown thus far, there was that lavish "guo da li" ceremony, followed by an ill-fated Gatsby-themed wedding dinner in 2022, which featured a stunning backdrop of red roses and 15,000 black and gold balloons. And who can forget the mega Kandy Karnival Lim threw in July the same year in celebration of her 31st birthday?
Having written about her lavish parties the past year or so, I was naturally chuffed to finally receive an invitation to Lim's birthday party this year. After all, gawking over all the details of Lim's parties on social media is one thing. Actually experiencing it is another. One colleague mentioned it would be like living an episode of Bling Empire. Or a scene from Crazy Rich Asians.
After accepting the invitation (and making arrangements for my own flight and accommodation), a few questions ran through my mind. First – would I have to bring a gift, and if so, what would you give to someone who seemingly already has everything? Second – would football star Cristiano Ronaldo, who is a friend of Lim's, make an appearance? The answer to my second question was no, but the birthday girl did get a surprise greeting from another football star during the party. More on this later.
And so, I found myself on a flight to Bangkok. Details of the party were kept strictly under wraps prior to the event day. All I knew was that it would be held at Capella Bangkok, and we were asked to dress in black-and-white party outfits. Lim would be celebrating her 32nd birthday on Jul 23. Now, turning 32 isn't really a milestone one would typically celebrate with a big party. But hey, if you're Kim Lim, you can jolly well do whatever makes you happy. 
This is the first time Lim has hosted her party overseas, and Bangkok was chosen because the entrepreneur is in the midst of expanding her beauty businesses – which include brands Illumia and Papilla Haircare – in Thailand. Black and white was deliberately chosen as the theme as a stark contrast to the pink Barbiecore of last year's Kandy Karnival. Instead of tapping into her girly side again, according to notes from Lim's team, the black and white theme was meant to "depict how she has grown as a woman".
I expected Lim to spare no expense for her party, but as I arrived at Capella Bangkok that evening, a piece of advice from Bling Empire star, the late and great Anna Shay (may she rest in peace), rang in my ears. In Season 1 of the Netflix reality show, Shay cautioned Kevin Kreider, "Don't be impressed by things."
Yet, impressed I was. The first sign that this was not your typical birthday party was when I exited my Grab ride (a humble Honda SUV) only to turn around and see guests coming out of a Ferrari sports car. Dorothy, we're certainly not in Kansas anymore. 
You have to hand it to Lim. She really does know how to throw a party. As with all her other soirees, Lim worked with her trusted planner Lelian Chew of The Atelier & Co for this birthday bash. Planning apparently took six months.
The evening was meant to begin with cocktails at the courtyard lawn, which was elaborately decorated with floral displays and gigantic alphabets spelling out Kim Lim. Alas, a downpour meant that guests moved indoors earlier instead, with a dinner reception held in the ballroom.
Close to 300 guests were invited to the party, including family, friends, business associates, media guests and several celebrities from Singapore, Thailand, Indonesia, Malaysia and Korea.
Spotted at the party –  Singapore actors Carrie Wong, Glenn Yong and Aileen Tan. Former model Ase Wang, DJ Jean Danker and celebrity hairdresser David Gan were present as well. The guest list also featured many influencers, including YouTuber Jian Hao Tan and wife, the pink-haired Xiaxue and more.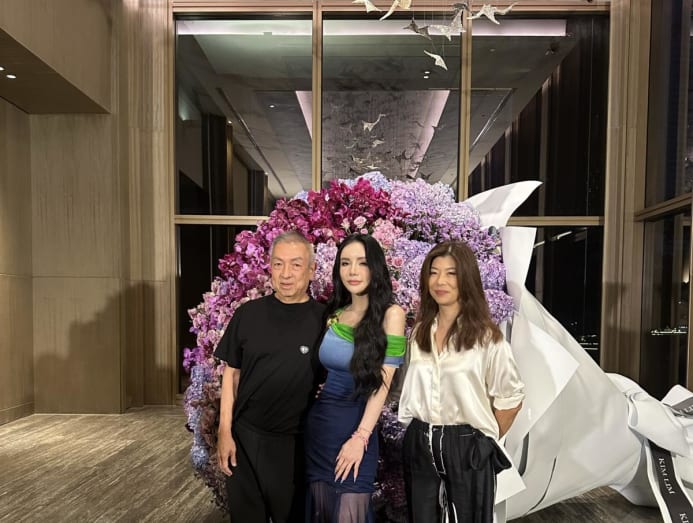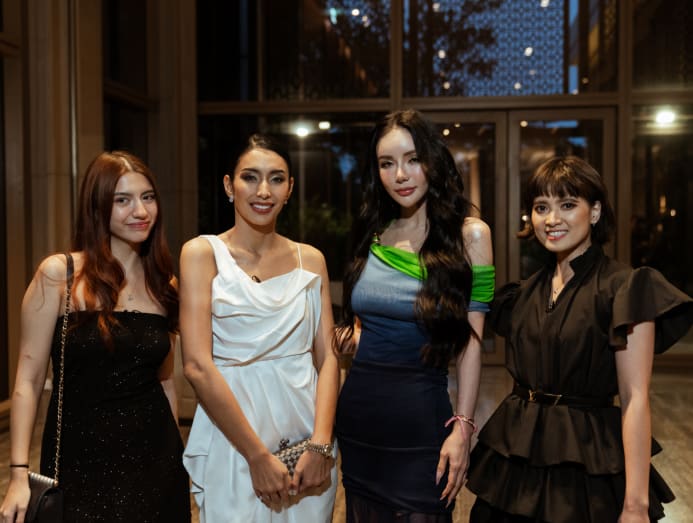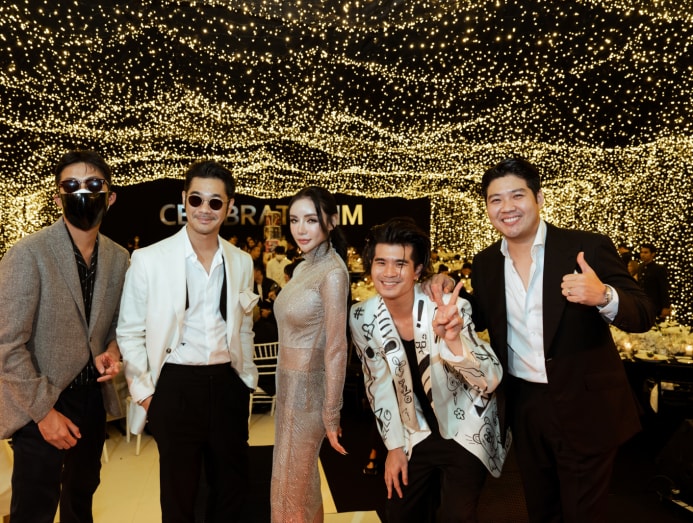 While most people struggle to get a single bouquet of flowers for Valentine's Day from our partners, sitting at the entrance to the ballroom was a gigantic bouquet for Lim – made from a whopping 50,000 stems of orchids, hydrangeas, eustoma and roses. As the doors to the ballroom opened, phones were immediately whipped out. Over a million fairy lights were used to turn the ceiling into a starry night sky.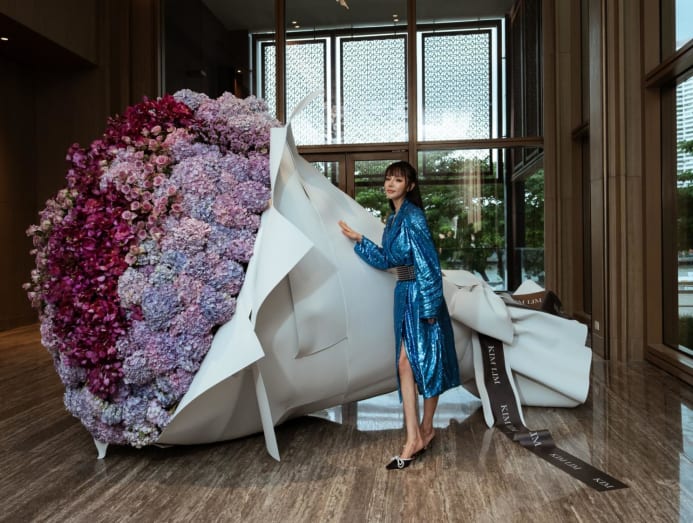 At the centre of the ballroom was a showcase of 32 edible cakes by Creme Maison bakery, including a revolving cake tower featuring several of Lim's magazine covers over the years. On each table, there were rows of white and black monochromatic florals. Lest guests forget who they were there for, at the back of the ballroom, decorative letters spelled out Celebrate Kim.
Lim had three outfit changes for the night, starting off with a flowy gown by Ferragamo, followed by a sequinned dress by Sportmax. She then changed into a collared dress by Dolce & Gabbana for the after-party.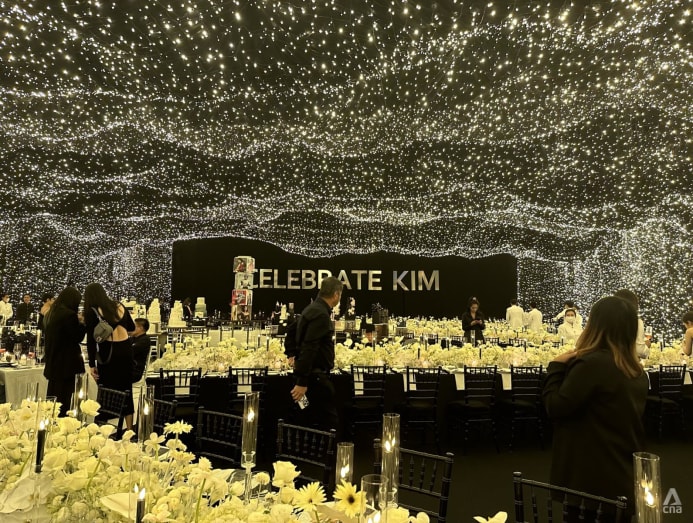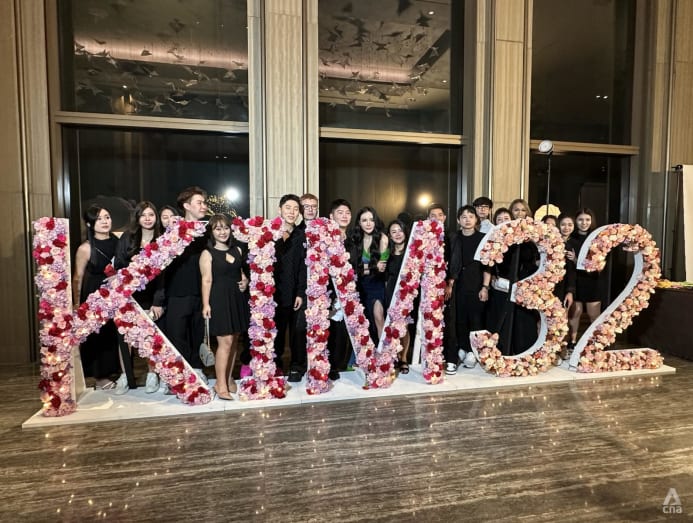 The hostess had several surprises in store for her guests. Early in the evening, what must have been someone's annual salary's worth of fireworks were set off over the Chao Phraya river. She had also booked famous Thai band Getsunova to play a set, much to the delight of her Thai guests.
Lim's famous friends who couldn't make it for the party surprised their pal with a video greeting. These included football star David Beckham, who sent Lim "lots of love from Miami". Bling Empire star Kane Lim wished Lim "health, happiness and success", ending off his greeting with "Huat ah!"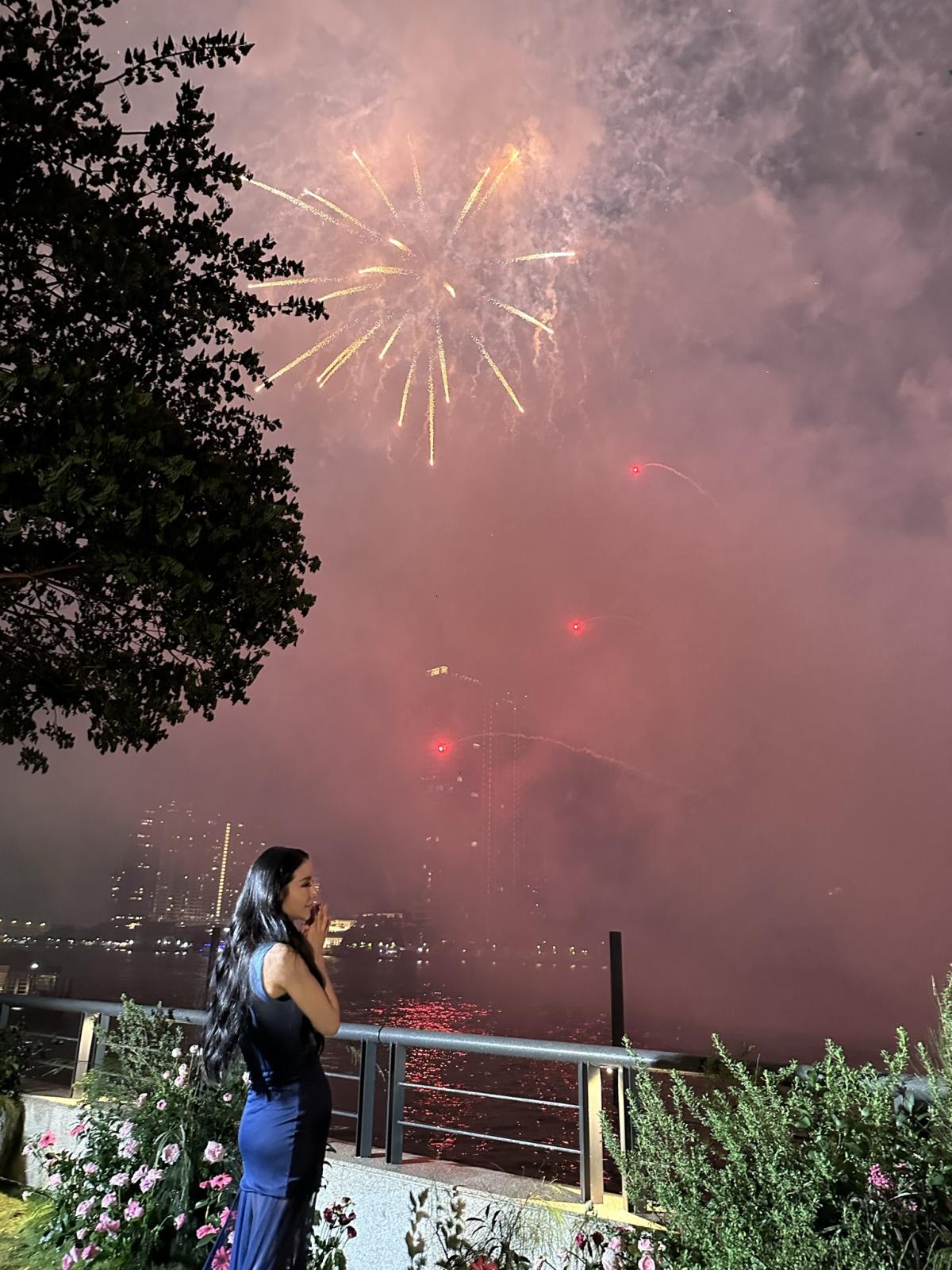 Close to 10pm, the black curtains at the back of the ballroom were torn down to suddenly reveal a dance floor, complete with a DJ stage as Lim set off a giant confetti gun.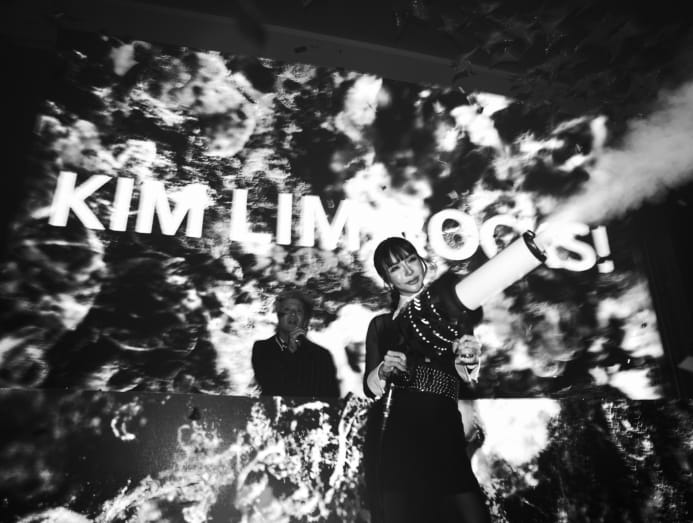 A press release from Lim's business team shared that the elaborate event was not only an opportunity to celebrate herself, but to celebrate the "milestones that she has accomplished" along with "those around her who have contributed to her success". It also made it a point to highlight how the heiress has a "heart of gold", and now that she is mostly based in Thailand, will be "looking for ways to give back to society".
No other details were revealed, so we'll just have to stay tuned for more on Lim's new life in Thailand. Will there be more extravagant blowout coming up? Well, for someone who loves to party as much as Kim Lim, you can definitely count on it.