Fit for a king: Where to mark the Coronation of His Majesty King Charles III across the UK
Pomp, pageantry and Union Jack flags are all set to flutter across the UK on May 6 to mark the coronation of His Majesty King Charles III.
With his wife Camilla The Queen Consort by his side, King Charles III will arrive at Westminster Abbey in a procession from Buckingham Palace, known as 'The King's Procession'. The service will then be conducted by The Archbishop of Canterbury, a mix of longstanding tradition with reflections on the role of a modern monarch.
His Majesty The King will be crowned with St Edward's Crown which was made in 1661 for King Charles II and features a solid gold frame set with priceless jewels including rubies, amethysts, sapphires, garnet and topazes.
There have only been a total of 39 coronations since William the Conqueror back in 1066, making King Charles the 40th ‒ and the first since his mother Queen Elizabeth II was crowned back in 1953.
As a result, it makes for a serious excuse for the nation to party. Here are some of the finest experiences, dinners, cocktails, hotel stays and more to mark this unique slice of British history.
FOUR SEASONS HOTEL LONDON AT TEN TRINITY SQUARE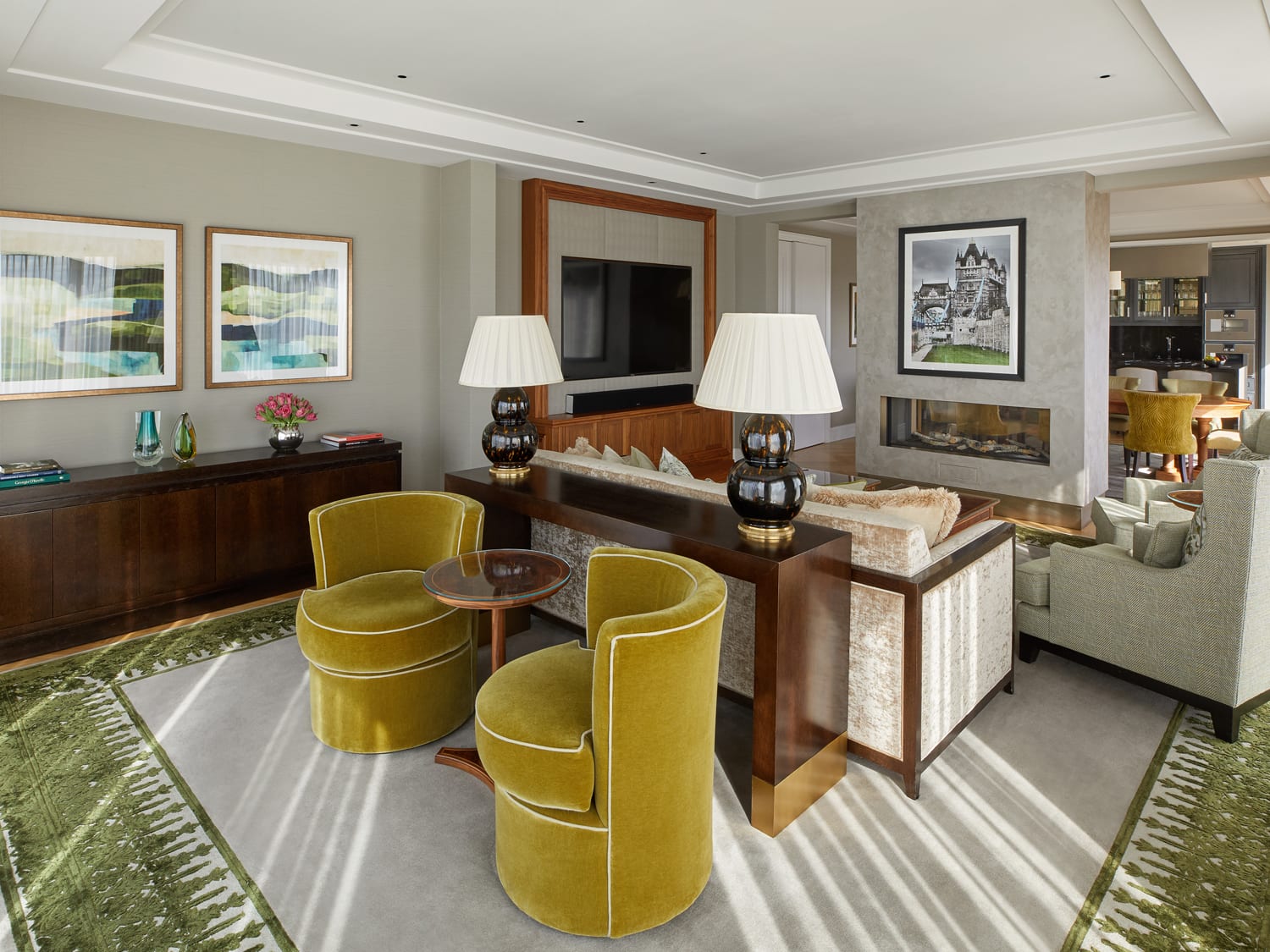 Sitting directly opposite The Tower of London, Four Seasons Hotel London at Ten Trinity Square boasts some of the most historic royal views in the capital. The remarkable home of the crown jewels and the Yeoman Warders better known as Beefeaters dates back to 1086, so it's no surprise that it inspires the hotel's coronation packages.
Live Like a Royal features a Crown Jewels Afternoon Tea where the finger sandwiches, pastries and scones are inspired by the treasures over the road at The Tower. The Crown is modelled on St Edward's Crown, while The Garden draws inspiration from the King's gardens at his former home of Highgrove House, while even the scones are served with lemon curd ‒ one of the King's favourites.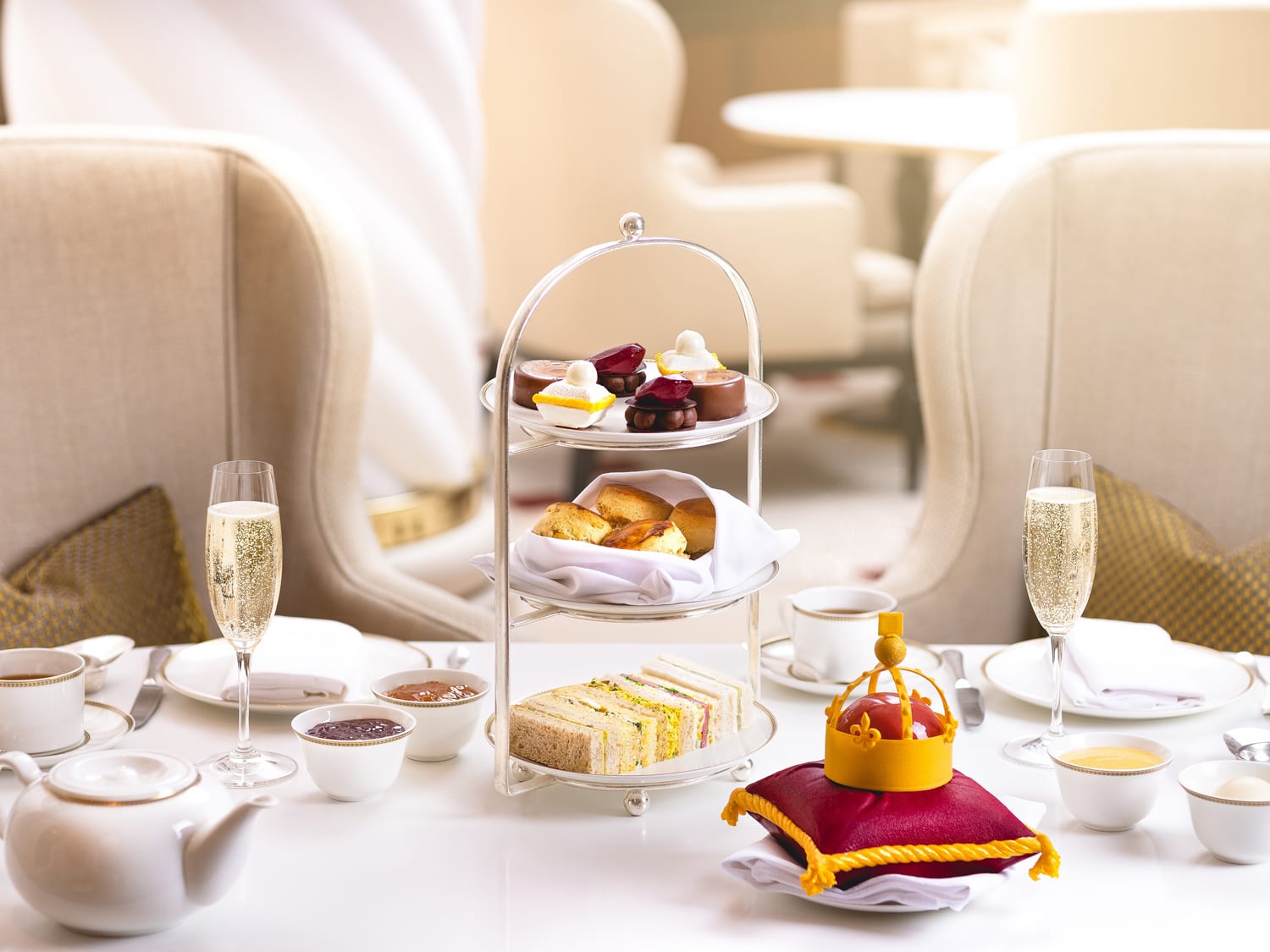 To toast his Majesty, they have crafted The King's Ritual Martini featuring essence of Louis XIII Cognac for that royal touch, along with a crown cleverly crafted from orange peel. Then to recover from all that celebration, head to their luxurious spa for a Rose Crown Treatment with a crown massage to soothe the scalp.
Live Like a Royal is available until the end of August, with accommodation in their Specialty Residences ­‒ the Crown Residence, The West Tower Residence, The East Tower Residence and the Royal Residence ‒ starting from £6,000 (S$10,000) per night inclusive.
Another hotel with a pretty much unbeatable royal location and views comes at Fairmont Windsor Park. It sits adjacent to historic Windsor Great Park, looking up towards the magnificent eleventh century castle which is one of His Majesty's homes.Their Coronation garden party features an outdoor screening of all the action, live music and a luxury picnic hamper which showcases the best of British produce and recipes. Understandably, Coronation chicken features ‒ the dish created for Her Majesty Queen Elizabeth II's coronation 70 years ago ‒ as does Scottish smoked salmon with lemon and caper cream.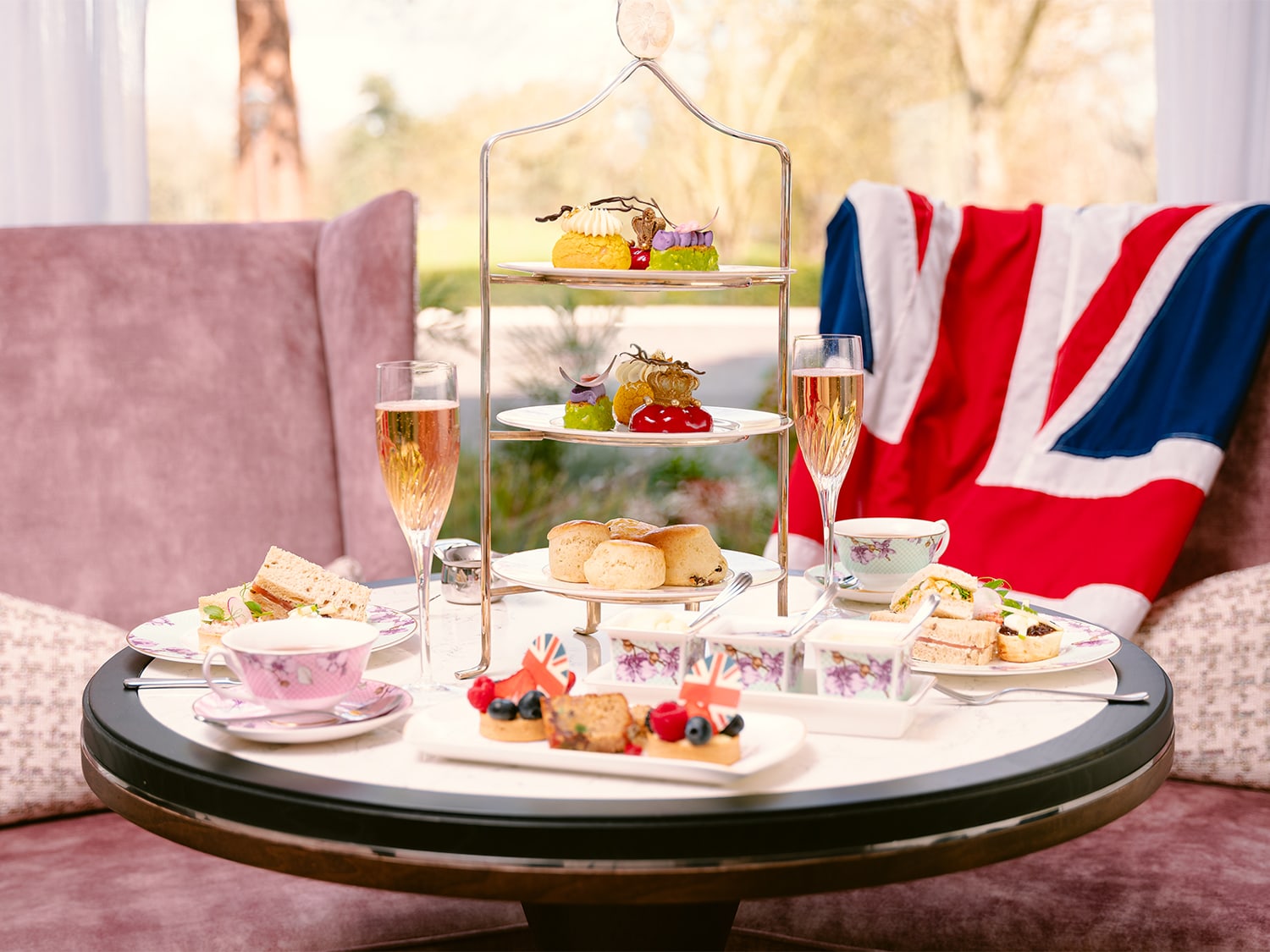 Hot food stands add to the carnival atmosphere which lasts from 10.30am through to 5.30pm in the afternoon, while Rathfinny English sparkling wine is also on the  menu.
Non-resident guests can still buy tickets, but why not let the celebration continue in the hotel's opulent rooms and suites by booking a special overnight room package? It also includes breakfast on the private terrace and a treatment in their spa.
Tickets start from £150 (S$250) per adult, while overnight room packages are available from £829 (S$1,391) for two in a Fairmont King Room, including garden party tickets and breakfast.
MANDARIN ORIENTAL HYDE PARK, LONDON
Since 1902, members of The Royal Family including King Charles III have been welcomed on multiple occasions at Mandarin Oriental Hyde Park, London. From banquets to charity events, they have walked the elegant marble floors and now guests have the chance to follow in their royal footsteps in a stay fit for a king.
Available from May 1 to May 31, the stay includes suite accommodation overlooking the green expanse of Hyde Park, where the resplendent Royal Horse Guards ‒ a British army cavalry regiment who perform ceremonial duties and escort the Sovereign for State and Royal occasions ‒ can be seen daily.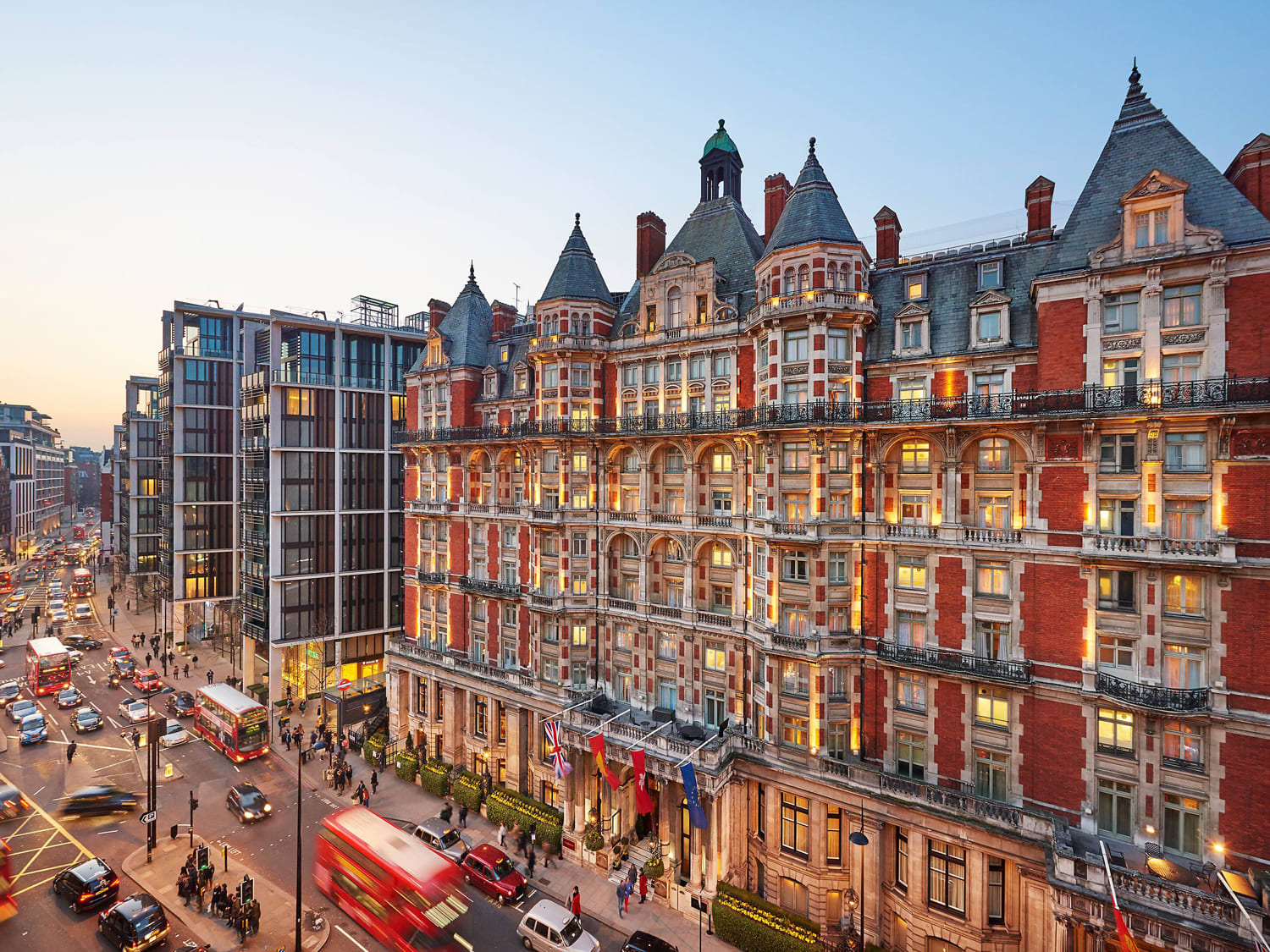 At their Michelin-starred restaurant Dinner by Heston Blumenthal, the legendary British chef oversees a four-course menu that celebrates and recalls dishes served at the Coronation banquets of British monarchs from throughout the centuries. A Coronation chicken tart reminds of Queen Elizabeth II, veal sweetbread harks back to King James II in 1685 while the aptly-named Beef Royale recalls King George IV in 1821.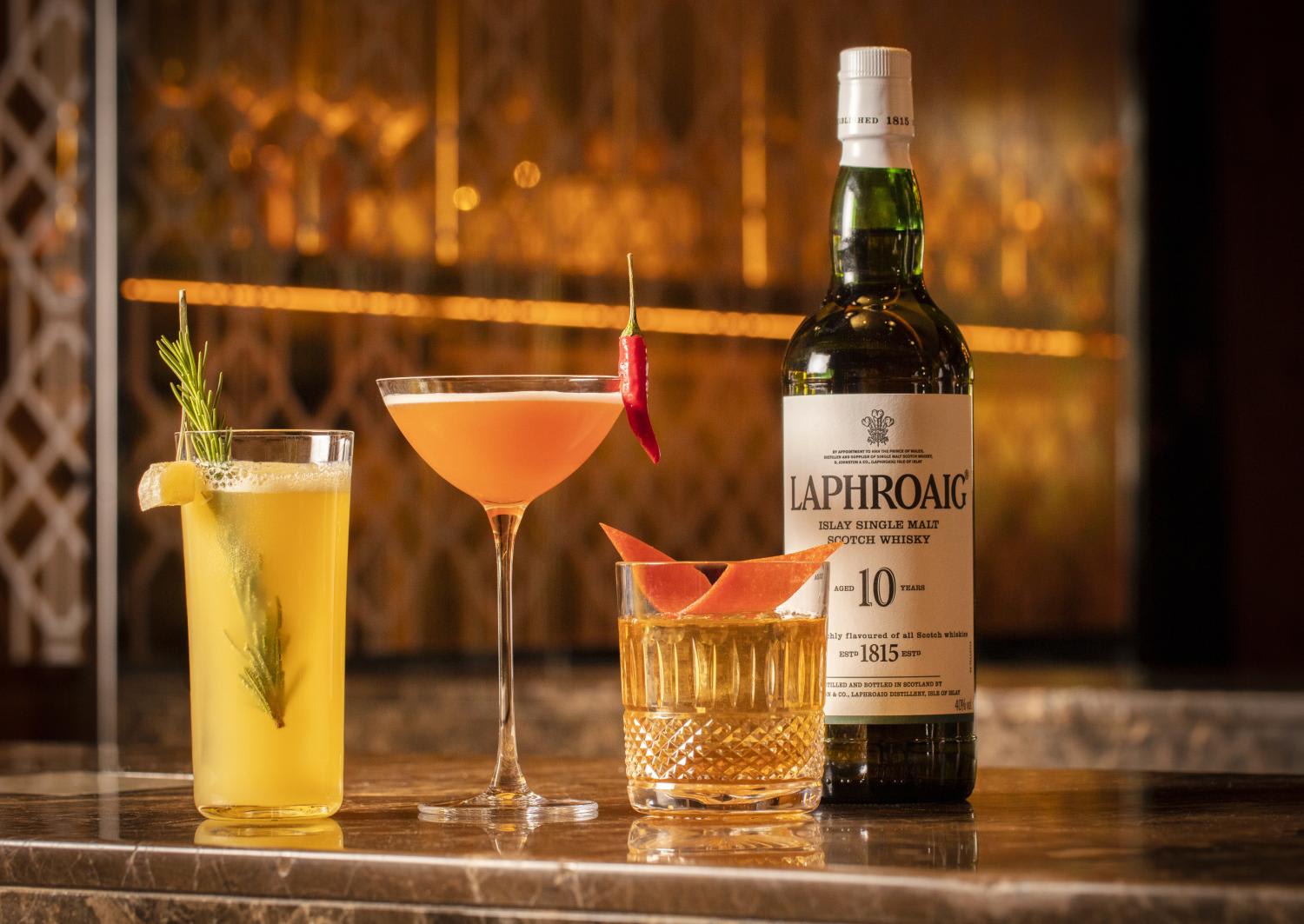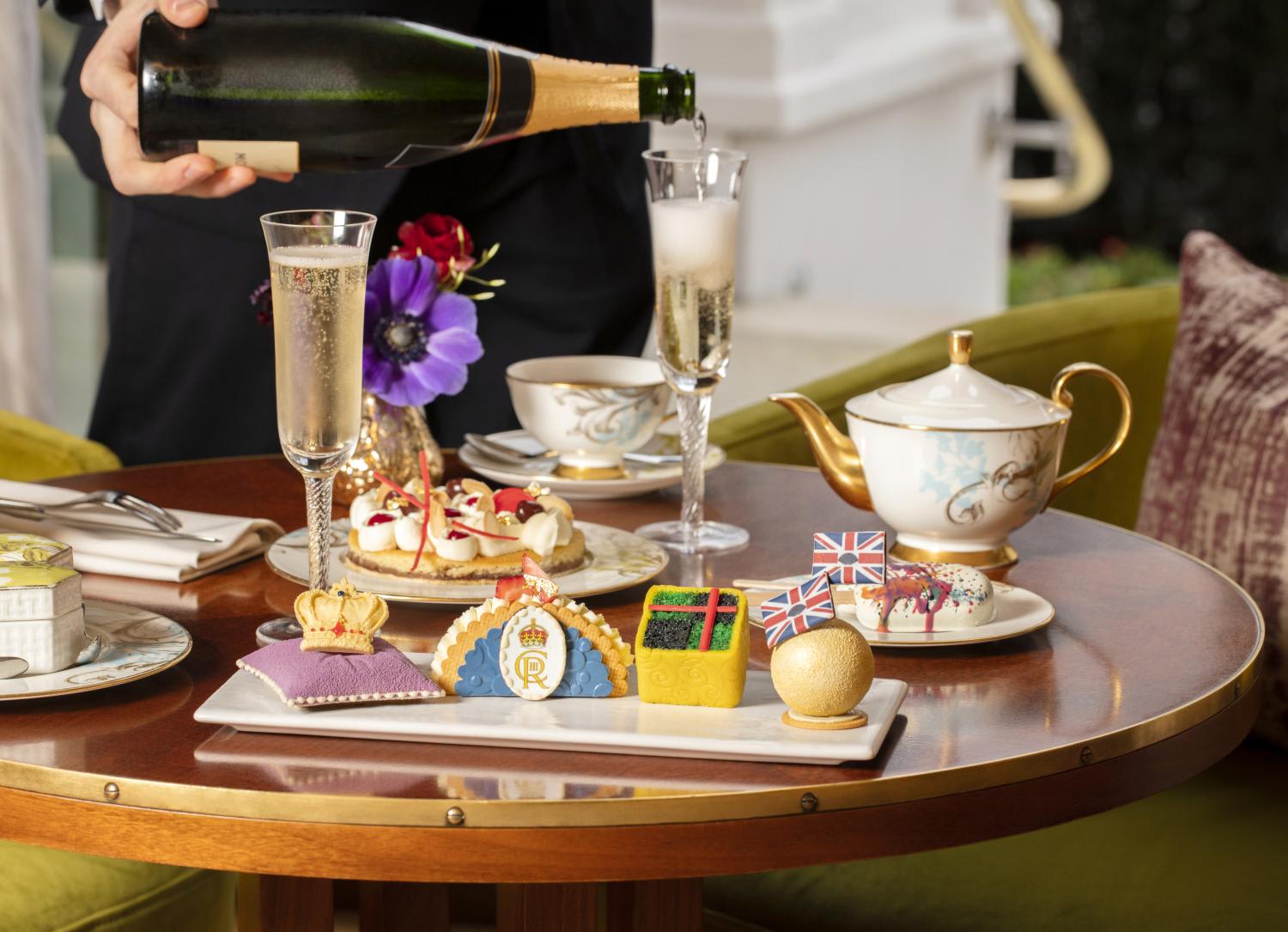 There's the chance to sip a cocktail featuring the King's favourite whisky ‒ Laphroaig ‒ while guests also get to take home a hamper curated by Highgrove, the King's private residence where his gardens have grown renowned organic produce for years.
Prices start from £3,488 (S$5,857) per night for the 646 sq ft Superior Suite including a four-course menu, hamper and bottle of Laphroaig whisky.
THE FIFE ARMS
The Fife Arms sits in Scotland's Cairngorms National Park, a beautiful and remote region which has long been a favourite with the royal family. That's thanks to Balmoral Castle, built in the 1850's by Queen Victoria and Prince Albert, which lies just 15km from The Fife Arms in the small town of Braemar.
In 2019, The Fife Arms itself was opened by none other than the (then) Prince of Wales himself. The 46-room property is offering a special afternoon tea with dishes including Dunkeld smoked salmon and a classic Victoria Sponge served alongside your choice of teas, Ruinart Champagne or whisky.
Talking of drams ‒ and given you're in Scotland ‒ there's also the chance to sip on a flight of Scotches beloved by royals in Bertie's Whisky Bar. After Johnnie Walker blue label, Glenlivet 15-year-old and a Widdy Cocktail ‒ inspired by Queen Victoria's favourite aperitif of Royal Lochnagar and claret ‒ you  wrap with a Laphroaig 10-year-old sherry cask finish. And then presumably sleep very soundly indeed.
The Fife Arms' Nature & Poetry Suite starts from £434 (S$728) per night the weekend of May 5 including VAT and breakfast.
THE LANESBOROUGH
Another London hotel boasting a remarkable royal location, The Lanesborough overlooks Hyde Park Corner and the grounds of Buckingham Palace. The King's Coronation Celebration is their special royal accommodation package which includes a luxury transfer from Heathrow or King's Cross St Pancras, a dedicated butler and breakfast.
Once in your room or suite, you'll be greeted with a bottle of champagne and a Coronation themed amenity, before a meal fit for a king ‒ or queen ‒ with their five-course Kings Coronation Celebration dinner at The Lanesborough Grill from Chef Shay Cooper. Celebrating the best produce of the British Isles, you'll dine on scallops from The Orkney Islands off the far north coast of Scotland, a Coronation crab salad and a main of hogget, a mature sheep which is one of King Charles' favourite meats.
For even more dining, there's a Kings Coronation Sunday lunch featuring large joints of British beef ‒ how could it be anything else? ‒ which  are carved tableside from ornate, antique trolleys.
The Kings Coronation Celebration package includes accommodation, transfers, breakfast, amenities and a five-course dinner. Package rate starts from £1,212 (S$2,035) per room, per night based on two sharing one Deluxe Room. Available from May 2 to May 12.
In the west of England in
Gloucestershire's Forest of Dean and the Wye Valley,
towards the Welsh border, Tudor Farmhouse is a former farm that dates back to the 13th century. Today it's home to a chic boutique hotel of twenty bedrooms and suites, a place to recharge in peace surrounded by wooden beams and tangible history.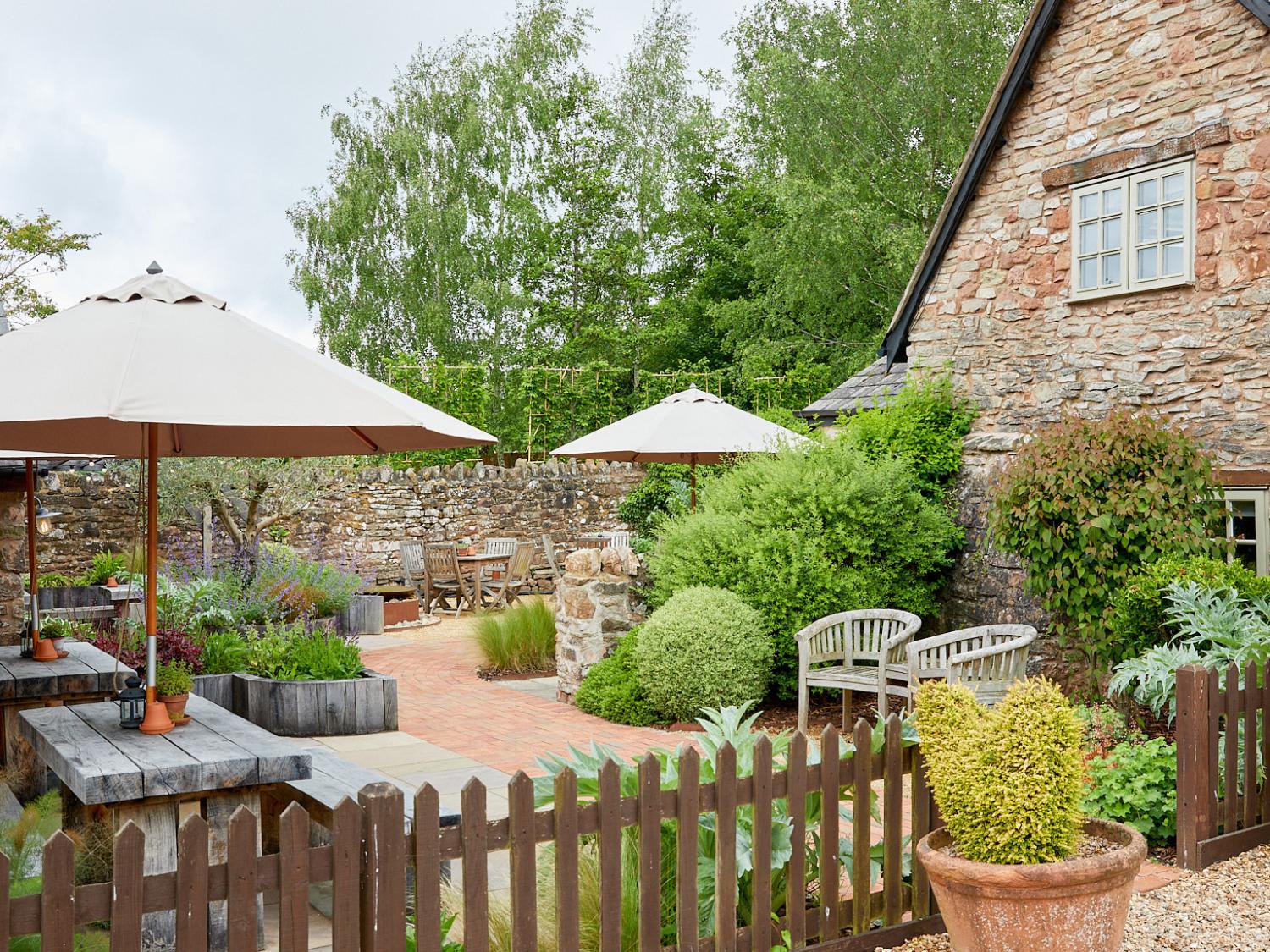 It's surrounded by stunning walking routes, which is probably just as well given the food which is laid on at their proudly and quintessentially English afternoon tea. Produce comes from no more than 32km away and is crafted into sandwiches, cakes, scones and more. Most of all, it's a place to reflect and relax, letting you choose to take in as much ‒ or as little ‒ as you'd like of the nation's Coronation fever.
The Best of British two-night package rates start from £620 (S$1,041) for a Hatchling Room including dinner both nights, afternoon tea for two, two cocktails and a bottle of British wine. 
PRESTONFIELD HOUSE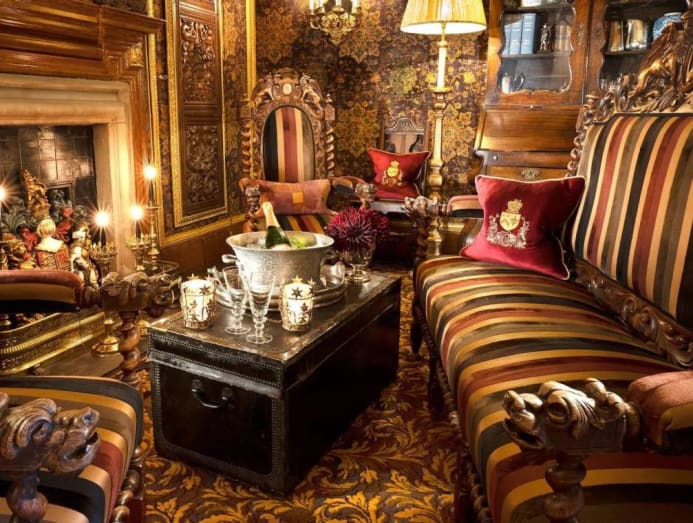 Scottish five-star retreat Prestonfield House was designed some 400 years ago by Sir William Bruce, no less a figure than the King's architect. Over the centuries it has played host to multiple members of the Royal Family, particularly Queen Elizabeth II who availed of it during her 80th Birthday celebrations in Edinburgh.Coronation celebrations in style await with a tour of Holyrood Park, getting there in a classic car. There's another Coronation cocktail too in the form of The Royal Warrant, which blends Royal Lochnagar whisky with orange bitters for a twist on an Old Fashioned.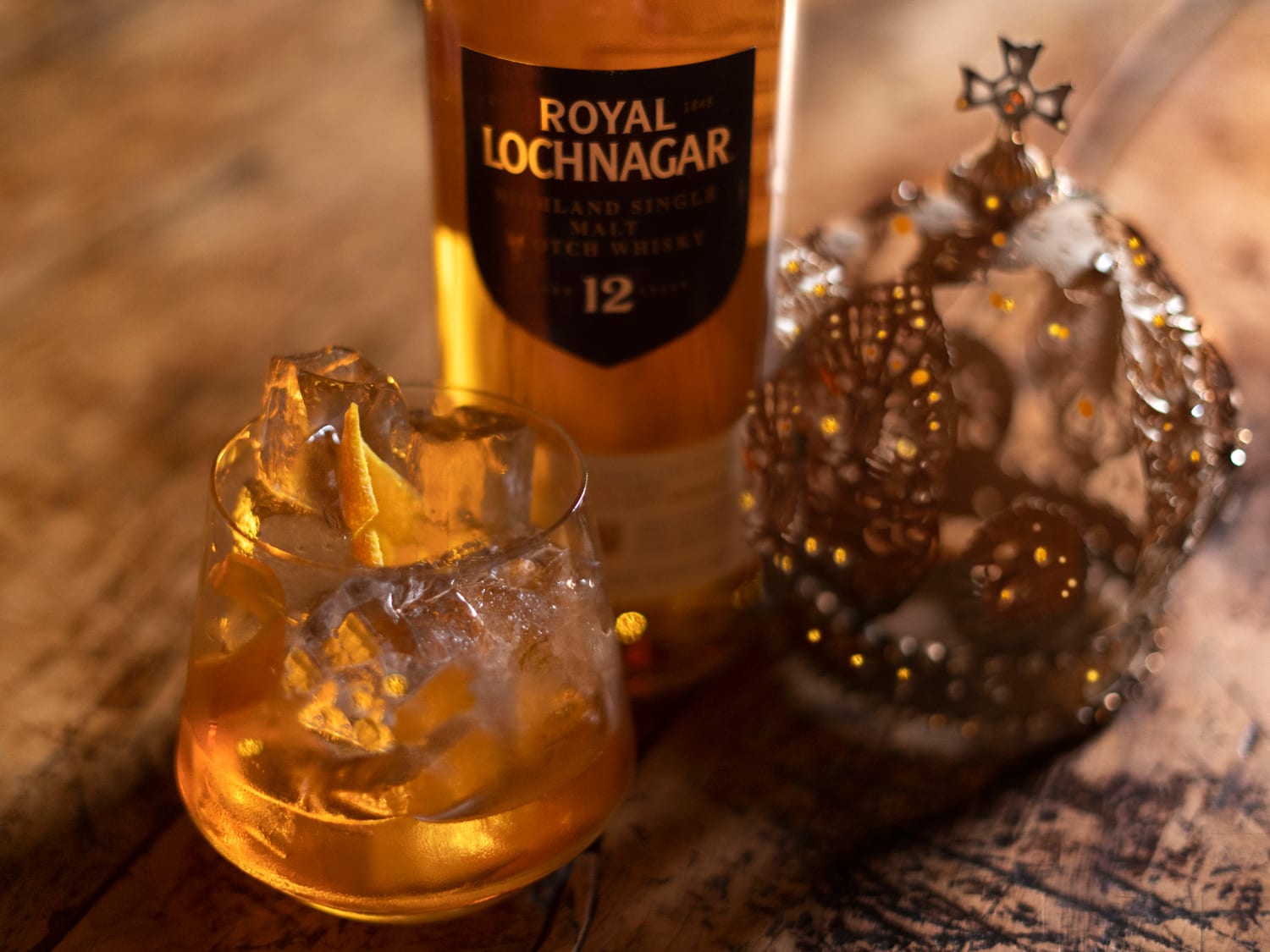 The afternoon tea includes a number of The King's favourite dishes as well as some taken from his mother's 1953 Coronation such as the fabulously cheesy Welsh Rarebit.
Room rates for Prestonfield House start from £375 (S$630) per room, per night including breakfast. 
SEAHAM HALL
Finally, up in the beautiful north east of England, Seaham Hall in County Durham has a special offer ‒ for certain dog owners. If you happen to own a King Charles Cavalier Spaniel, then a third night is on them when you book a two-night stay ‒ and bring your royally-named pooch along with you.
The property's 21 rooms and suites are all dog-friendly ‒ as long as they're well behaved, that is. King Charles Spaniels will receive a 'pup pack' with treats, a towel, bowl ‒ and yes, even some 'pawsecco' to join in the toast to His Majesty.
Available from May 1 to Jun 30. Nightly rates start from £295 (S$495) in a Junior Suite on a B&B basis.