Kirin's new Fuji whiskies have arrived in Singapore
The beverage giant has rebranded its Fuji whiskies, launching a range of four products, one of which is a limited-edition Canadian-style 30-year-old single grain whiskey.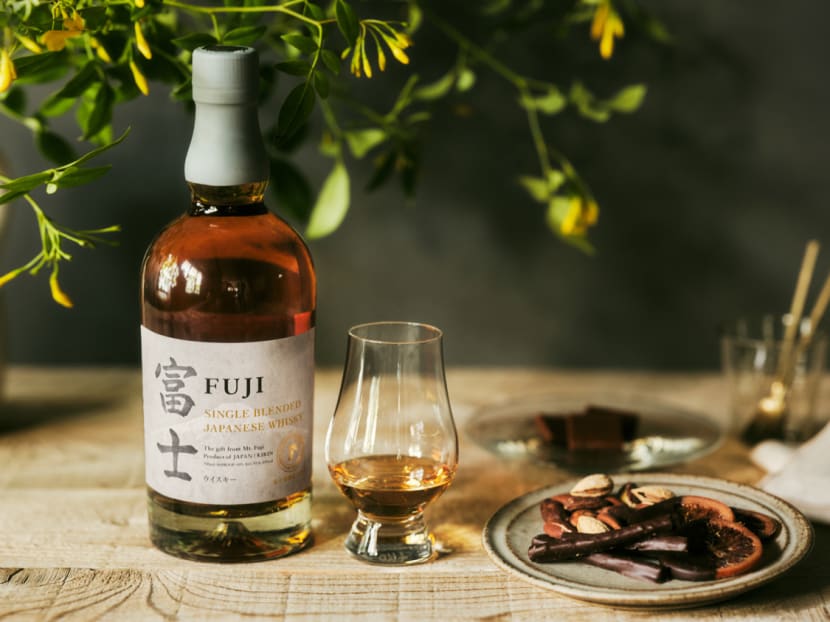 Better known outside of Japan for its beer than spirits, Japanese beverage giant Kirin has rebranded its Fuji range of whiskies, launching the new labels here in Singapore last month (Feb 2023). The rebranded spirits were released in Japan in 2020 before they were launched in the US in 2021, and China and Australia in April 2022.
To whisky aficionados and industry observers, the rebranding campaign from Kirin appears like a strategy to gain more market share in the Japanese whisky scene, especially in the rare and limited-edition segment, which in recent years has been dominated by releases from Suntory's Yamazaki. As the third largest whisky producer in Japan after Suntory and Nikka, Kirin will feel it has the chops to woo more whisky drinkers to its side.
First, a little name change was in order: Fuji Gotemba, its distillery located at the base of Mt Fuji in Shizuoka Prefecture, is now known as Mt Fuji Distillery. The whiskies, which were previously labelled as Fuji Sanroku ('foot of Mt. Fuji'), are now known simply as Fuji. Whiskies under the previous label will no longer be produced to make way for the new range of Fuji whiskies.
Jota Tanaka, master blender of Kirin, said the previous name of Fuji Sanroku was a bit of a tongue twister. "Not many foreigners could pronounce 'Sanroku'," he said. "Since we wanted to introduce our whiskies to [international drinkers], we wanted a name that was easy to remember. Everyone knows Mt Fuji."
The distillery, established in 1972 as a collaboration between Kirin and Seagram (a now-defunct Canadian beverage group), was also in need of a spruce-up. "Everything was getting old," said Tanaka. "So we are reinstalling new stills, some of which are small pot stills that will allow us to create different styles of malt whiskies. We are looking for new challenges."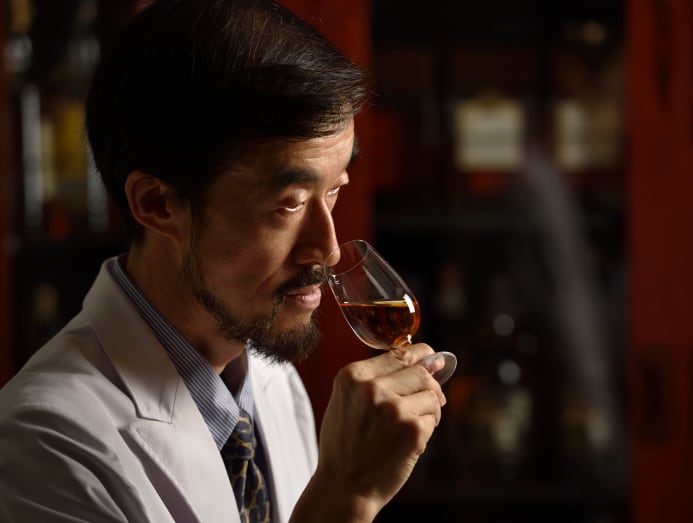 Tanaka himself is not one to settle for the status quo. Known as the "outsider" by his Japanese colleagues, he is straightforward and loves a debate; a trait that is peculiar in a culture known for its indirect communication. After joining Kirin in 1988 as a trainee, he was sent to Napa Valley to work at Raymond Vineyards winery — then a Kirin acquisition — for a few years. He also found time to study for his Masters degree in oenology at UC Davis and though he wanted to remain in California, he was transferred back to Japan.
While working as a blender at Fuji Gotemba distillery, he heard that Kirin had acquired Four Roses distillery, a bourbon producer, in Kentucky. He volunteered to be sent there, moving there in 2002. "At first, the people at Four Roses were sceptical: 'What can the Japanese do here?'," he recalled. He ended up working there for seven years.
MALT AND GRAINS
Tanaka said his time at Four Roses has come in handy in his current role as Kirin's master blender. Fuji's Single Grain Whiskey is a blend of what Kirin describes as 'heavy' bourbon-type grains, 'medium' Canadian-type grains, and 'light' Scottish-type grains.
Unlike some Japanese distilleries, Fuji makes no secret of where its grains come from: Non-GMO corn is imported from the US, rye grain from Canada, and malted barley from the UK. All mashing is done at the distillery.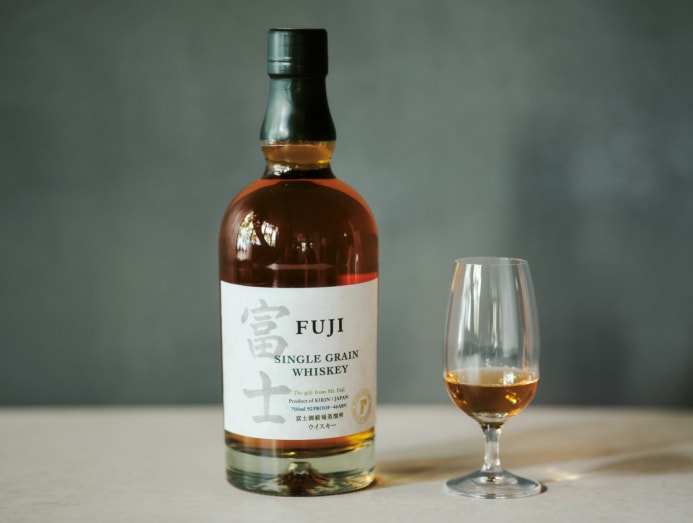 Tanaka thinks their Single Grain Whiskey is more elegant than a typical bourbon from America. "Bourbon in general tends to be harsher, it has a stronger kick," he said.
We found the Single Grain Whiskey to be rich and tropical with floral touches. It is one of four Fuji whiskies launched here — the others are the Single Blended Japanese Whisky, the Single Grain Whiskey 30 Years Old, and the Single Blended Japanese Whisky 2022 Masterpiece. They are available from Asiaeuro Wines & Spirits, Fuji's Singapore distributor.
The Single Blended Japanese Whisky is a blend of malt and grain whiskies as the distillery has pot stills for malt whisky production, and kettle and column stills for grain whisky production. The 'Single' in its name refers to the fact that the blends came from a single distillery — Fuji. This contrasts with a blended Scotch whisky, which is a blend of malt and grain whiskies from various distilleries.
The Single Grain Whiskey 30 Years Old and the Single Blended Japanese Whisky 2022 Masterpiece are Kirin's limited-edition releases, retailing at S$4,800 and S$2,000 respectively from Asiaeuro Wines & Spirits.
Prized as the distillery's oldest expression, the Single Grain Whiskey 30 Years Old was distilled in 1988 and is made from Canadian-type grains. It picked up the World's Best Grain Whisky award at the World Whiskies Awards 2020.
Grain whiskies don't often get the respect they deserve but that's probably because the vast majority in the market aren't aged for long before they are released and drinkers associate their simple flavours for a lack of complexity. Fuji's 30-year-old ambrosia shows that a grain dram can taste beautifully layered if a producer can age it for an extended period. It has a striking honey and dark chocolate profile that leads to accents of orange peel, oak, and nutmeg. Only 120 bottles are available in Singapore.
The Single Blended Japanese Whisky 2022 Masterpiece, limited to only 240 bottles here, is the latest release that was once exclusive to the Japanese market. A blend of 30-year-old whiskies and various whiskies finished in ex-Merlot casks (sourced from Yamanashi-based Japanese winery Chateau Mercian, which is owned by Kirin) and ex-beer barrels, the spirit flaunts notes of creme brulee, incense, rye, cherries, and lychee.
For Tanaka, the 2022 Masterpiece is a unique addition to the Fuji line-up as it harnesses Kirin's multi-faceted distilling and winemaking arms for its production.
"Sometimes, people ask me: 'What is a Japanese whisky style?'," he said. "I tell them there is no clear definition for that. I think what makes us unique is our careful attention to detail."