The ultimate Kobe beef journey: On the road in Japan with Tokyo's Wagyumafia
Loved by celebrities like David Beckham, Ed Sheeran and others, Wagyumafia is arguably Japan's coolest Kobe beef purveyor. CNA Luxury joins charismatic chef and founder Hisato Hamada on a sojourn from auction to kitchen.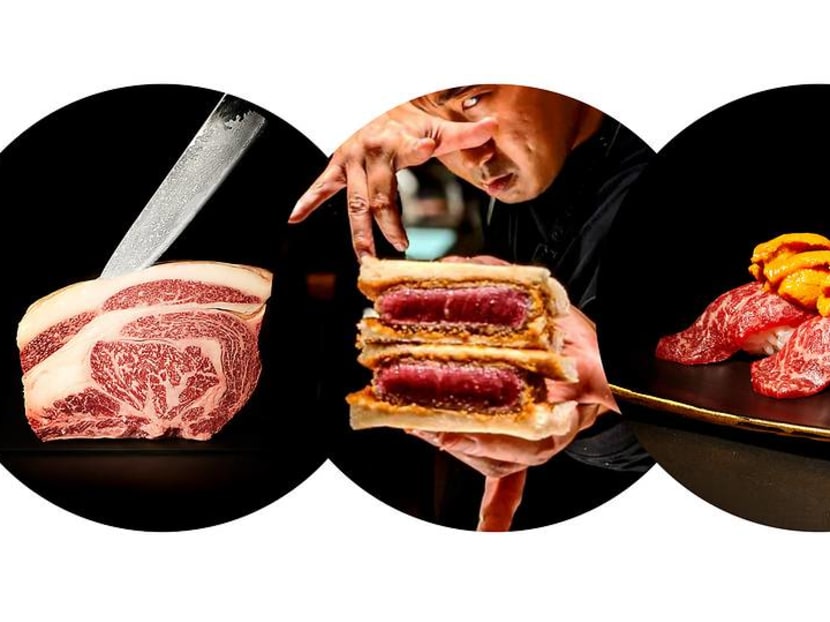 All roads lead to Rome, but all wagyu roads lead to Kobe. And if wagyu is Champagne, then Kobe is Dom Perignon, believes the Vice Governor of Hyogo Prefecture, home to the famously expensive, exclusive and sought-after Tajima wagyu beef, more commonly known as Kobe.
As statements of intent about arguably the world's finest beef go, the aforementioned couldn't be clearer.
We're in Kobe at the start of a week with Wagyumafia – the world's coolest Kobe purveyors loved by celebrities like David Beckham, Ed Sheeran and many more – that will reveal so much about the incredible marbled and effortlessly melting beef. Wagyumafia currently have four restaurants in Tokyo, one in Hong Kong, an imminent opening in Manila and plans for more around the world.
First, a quick reminder on what makes it so special. "Wa-gyu" simply translates as Japanese cow, the most common breed of which is the Japanese Black which has three bloodlines – Tajima, Kedaka and Shimana.

However, only pure Tajima, bred, raised and slaughtered in Hyogo Prefecture, can be certified as Kobe beef. Only around 4,000 cattle a year make this grade, the vast majority of which are for domestic consumption, hence the global scarcity – and correspondingly high price.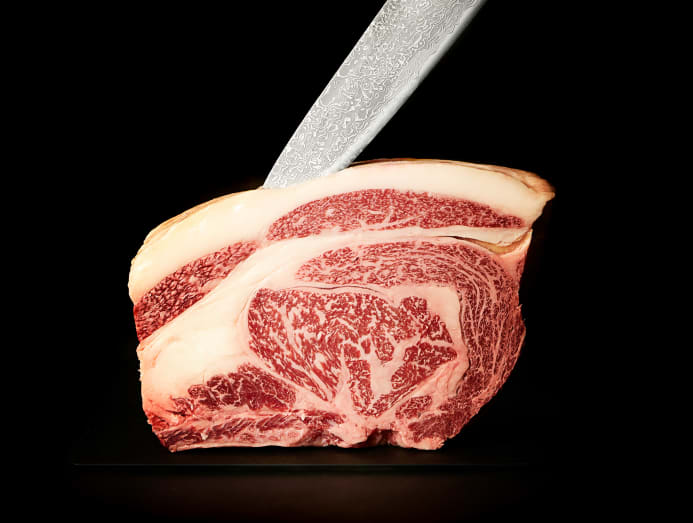 Hisato Hamada, the charismatic chef and founder of Wagyumafia, famed for his photo poses, was joined by five stellar chefs from around the world for the weeklong Kobe Beef Summit: Richie Lin from Mume in Taipei, Paul Carmichael from Momofuku Seiobo in Sydney, Jordy Navarra from Manila's Toyo Eatery, Richard Ekkebus from Hong Kong's Amber and finally Tomos Parry from Brat in London.
In the mountains two hours north of Kobe, we started with incredibly rare access to the 101st Kobe beef auction. Buyers and farmers crammed into a compact amphitheatre space to bid up to US$90,000 (S$122,000) for just one cow. As they did so, auctioneers in orange robes called out the prices, before farmers who hand raised the cattle then provided thank you gifts of flowers or sake to the buyers.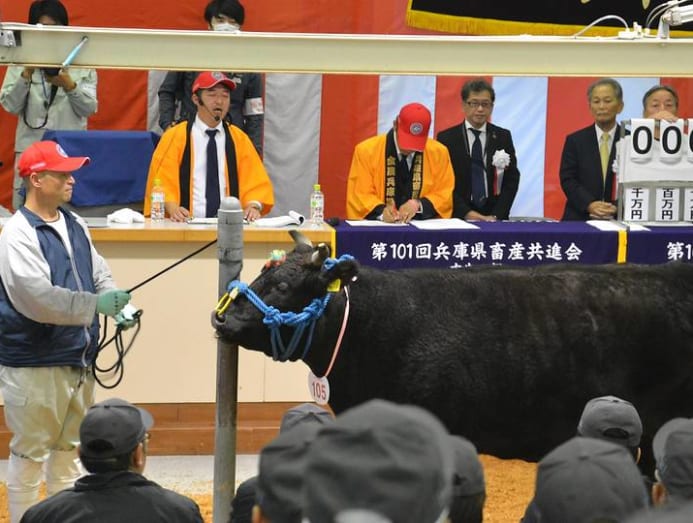 The auction and surrounding pens were spotlessly clean, without the usual farmyard smells – and also very quiet. Why? Seemingly because they're so relaxed and happy, leading lives where they're very well looked after, rarely more than 150 to 200 animals on any one farm.
Herds are so small partly due to the lack of grazing space, meaning they invariably grow up in barns, something which helps them develop their famously marbled flesh. Kobe wagyu is up to 25 percent marbled fat, a stunning figure compared to USDA Prime which runs around 8 percent.
And sorry to disappoint, but those myths about being fed beer, given massages and played classical music? All bull, as it were, at least according to one of the farmers we spoke to: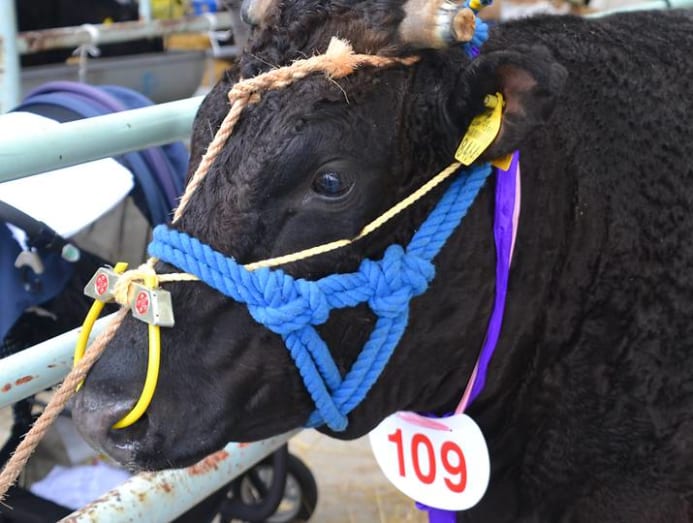 "I have 150 cows – if I massaged them I wouldn't have time to do anything else!"
Another buyer at the auction was Wagyumafia's Hamada, snapping up the second most expensive cow for US$65,000. In total, he buys around 100 full-grown Kobe cattle each year for his growing restaurant empire, one we were to see in full flow.
The most Instagram-friendly way that Wagyumafia serve it is in their famous "sando" sandwiches, the Chateaubriand version of which can run a cool US$180. Hamada's trademark sando pose has also become Instagram gold in itself. A recently-opened Yakinikumafia spot lets you grill your own, while you can also #slurplikeaboss – their words – with some of the world's most expensive and decadent beef noodle soup.
The final night of the Summit bought a very special menu of dishes crafted by the five chefs featuring Kobe. Richard Ekkebus chose the 147-day aged striploin, serving it with seaweed, kabocha and steak sauce. 
Tomos Parry, famed for his grill restaurant in London's East End, cooked skewers over binchotan charcoal, serving them with a vibrant take on salsa verde, all while trying to catch updates from his beloved Wales during the Rugby world cup. 
The most striking dish was the "jewel box", an aptly-named explosion of decadence where rice provided the base for Kobe, uni, caviar, the finest tuna and much more besides.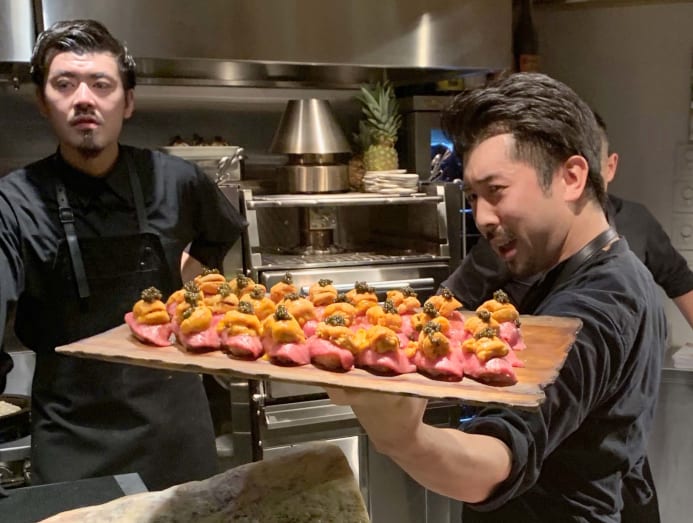 Hamada was clearly delighted to have spent a week with his fellow chefs and could not have been prouder to see them cooking his beloved Kobe: "It's been my dream to showcase our beef to the world. When I started exploring this industry it was very old-fashioned – not in a bad way – but it was difficult to change things. It's interesting to see how we've changed and evolved to now showcase this beautiful wagyu through the dishes of these five incredible chefs."