Three-Michelin starred chef Anne-Sophie Pic's new restaurant opens at Raffles Hotel on Jul 5
One of the world's top female chefs with a total of seven Michelin stars under her belt, Anne-Sophie Pic makes her much-anticipated debut in Singapore with La Dame de Pic at the Raffles Hotel.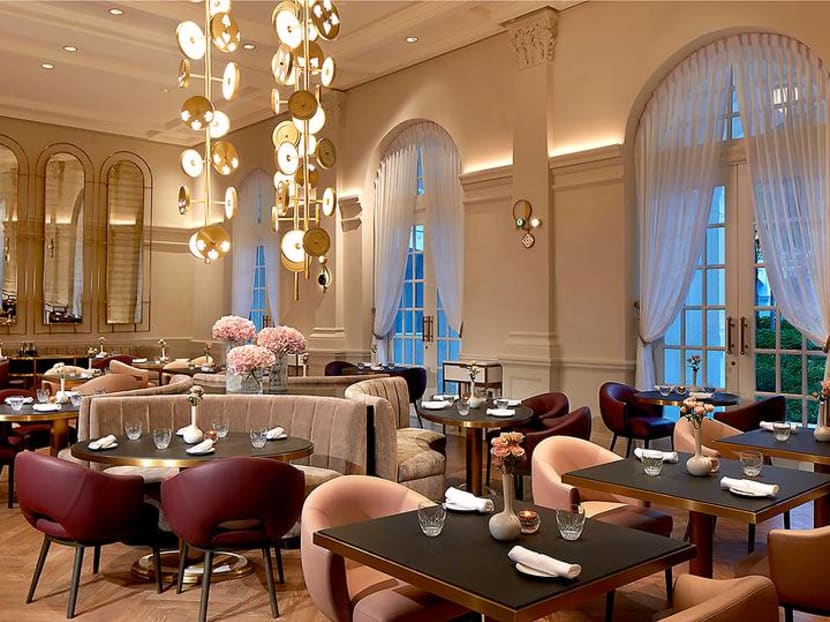 We live in feminine times. Pantone's Colour of the Year 2019 is "Living Coral", a vibrant shade of pink resembling the coral used in jewellery making. On the red carpet, celebrities like Harry Styles and Jared Leto are showing up in sheer fabrics and dresses. In Paris last week, Dior's Kim Jones showcased his Spring Summer 2020 men's collection against a backdrop of pink sand and crystal shards, with clothes splashed in Pepto-Bismol hues. The set was designed by artist Daniel Arsham, whose idea it was to present a futuristic world that had been unearthed.
The future, according to Arsham, looks to be just as, if not more feminine, than the present. Which would make the latest outpost of Anne-Sophie Pic's growing culinary empire at the Raffles Hotel thoroughly on-point. Everything about the restaurant, from the cuisine to the decor, is a sublime expression of femininity. La Dame de Pic is a play on the chef-restauranteur's family name, translating to 'queen of spades'. Appropriately, tabletops are punctuated by single stalks of peonies, the queen of flowers.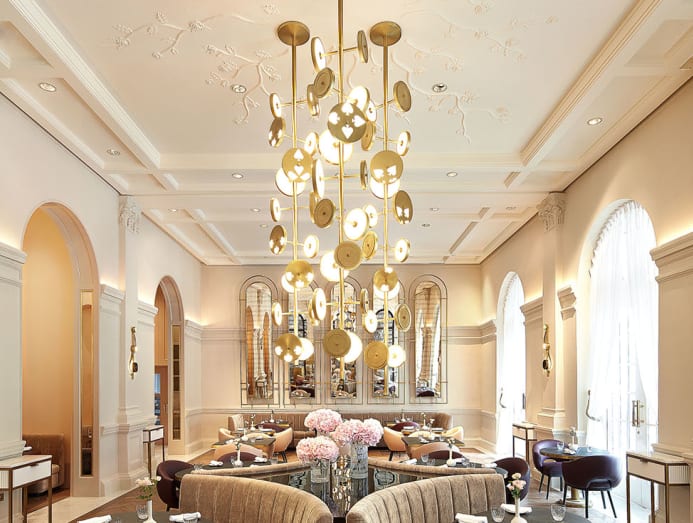 La Dame de Pic – which opens on Friday (Jul 5) – is the first of many eateries to usher in the refurbished Grand Dame herself, Raffles Hotel (opening on Aug 1). It takes over the space formerly occupied by the Raffles Grill, and presents a 46-seater dining hall outfitted by New York-based studio Champalimaud Design.
Alexandra Champalimaud daubed the light-filled space in a pastel palette: Blush, mauve and grey, enlivened by plum and metallic accents. Bas reliefs on the ceiling display peony motifs that radiate from the restaurant's centrepiece, an enormous brass chandelier composed of tiers of discs with laser-cut spades. No starched white linens here: The ambience is meant to be unfussy and inviting.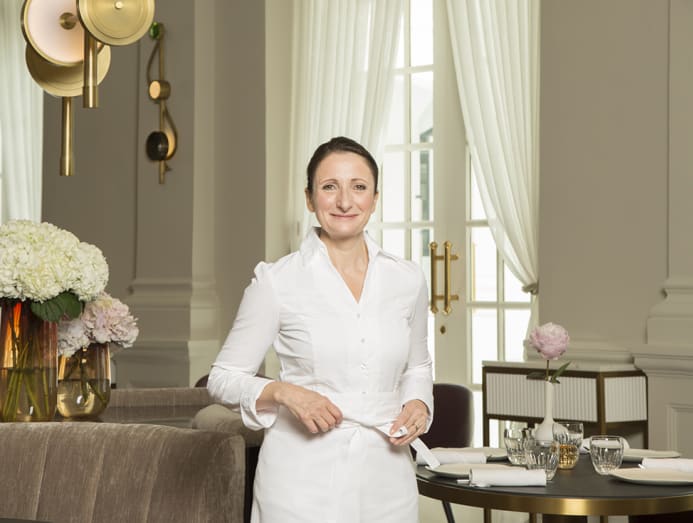 The queen of spades herself is a third-generation Michelin-starred chef. Her great-grandparents Eugene and Sophie Pic established Maison Pic in Valence, France, in 1889. With their son Andre at the helm, the restaurant earned three Michelin stars in 1934. Pic almost never made it into the culinary world; she pursued a career in luxury management in Japan and the US, but passion drew her back to the kitchen.
The Japanese influence is evident in her cuisine, most notably in the use of Tajima- and Saga-wagyu beef. We were served the Saga variety during a recent media tasting, but the Tajima variety will be served once the restaurant opens. The former has a Beef Marbling Standard (BMS) of 2 to 6 (corresponding to A2 to A4) while the latter has a BMS of 3 to 5 (A3 to A4).
Cooked simply – seared over coals, with a light sprinkling of sea salt – and served with beetroot rose, lovage and beef jus, the wagyu was outstanding. There was a fine balance between meat and marbling. (The Tajima-wagyu beef will be accompanied by smoked beetroot and an osmanthus-infused mushroom broth).
Balance and harmony – that Japanese influence again – seemed to underpin much of Pic's menu. So too were delicate, refined flavours and textures. Nothing too obtrusive here: like an Hermes cashmere blanket, you're enveloped in a cloud of congruity and comforted by the reassurance of quality.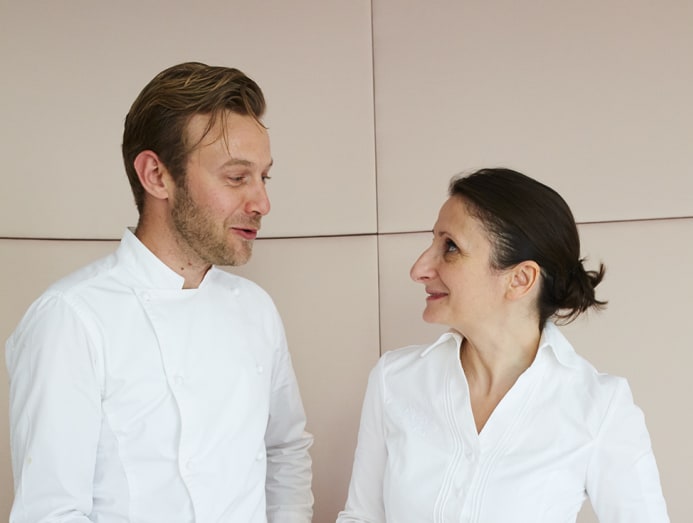 Japanese nuances are not the only ones informing Pic's seasonal, set menu offerings at the Raffles (a Set Lunch is priced from S$128++, while a Set Dinner is S$198++). The kitchen here, by the way, is helmed by chef Kevin Gatin, a Pic protege of more than eight years. To give diners a sense of place, she incorporates Southeast Asian influences as well.
The appetiser and dessert items on our four-course menu reflected this. The appetiser of Berlingots, or pyramid-shaped morsels of pasta (a Pic signature), was infused with herb of grace, also known as Chou Cao. It gave the French fondue filling a green note, although the fondue itself was unexpectedly light and gossamer-like.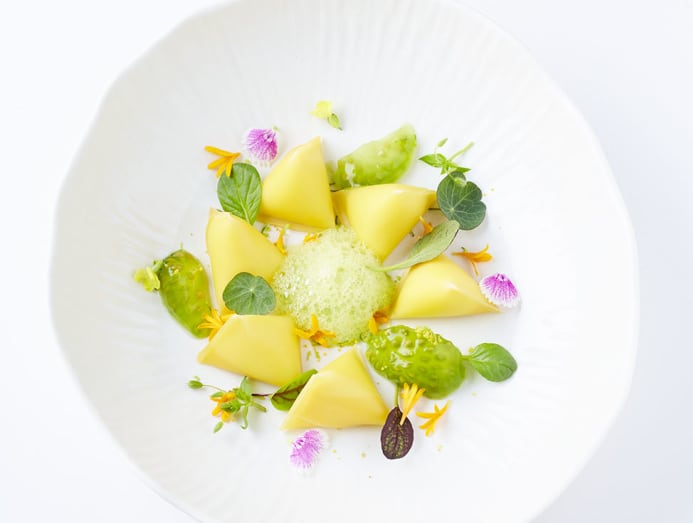 As for the dessert – Gariguette Strawberry and Rosat Geranium – Pic used a confit of Batak berries, a pepper native to Sumatra that's picked by ethnic Batak people. Not unlike Sichuan peppercorns, the berries release strong citrus notes that uplift and invigorate the senses, making the dessert a refreshing antidote to the oppressive heat outside.
When it comes to food, Pic traverses the globe. But when it comes to wine, Pic can't help but stay close to her roots: A Valence girl through and through, the wine list leans towards Rhone Valley producers. The menu is curated by Paz Levinson, Pic group Executive Sommelier, together with Stephane Soret, Raffles' Director of Wine and F&B.
Of particular note were the collaborative efforts of Pic and M. Chapoutier, a producer of organic wines in Tain-l'Hermitage, a village just a few kms north of Valence. The Saint-Peray 2017, composed mainly of Marsanne, and redolent with bracing green apple notes, was a crisp accompaniment to the Berlingots.
The Cornas 2014, meanwhile, was the ideal accomplice to the Saga-wagyu beef. Entirely composed of Syrah grapes, with rich fruits and spices titillating the nose and palate, it had decidedly soft tannins that gave the wine a rounded, well balanced quality. Will La Dame de Pic surge to pole position in this year's Michelin Guide Singapore, and claim the three-star rating that was sorely missing from the 2018 rankings? We think there's a high chance.