3 days in Luang Prabang, Laos: Sacred rituals, waterfall hikes and elephant encounters
In Luang Prabang, time stands still, but there are adventures for those who seek them.
I'll be the first to admit that when I think of a short getaway in the region, Laos does not immediately come to mind.
Still, I've been intrigued by stories of the former Lao kingdom capital of Luang Prabang, renowned for its status as a UNESCO World Heritage site, a title it earned in 1994.  
It is said that at Luang Prabang, a town located along the Mekong and Nam Khan Rivers, time stands still. The streets are devoid of traffic lights and the sounds of car horns. Traditional Lao architecture is juxtaposed against French colonial touches. Buddhist monks, clad in saffron-coloured robes, line the streets every morning to collect their daily alms. Locals live a slow but happy way of life.
As a Southeast Asian getaway, Laos is often over-looked by Singaporean travellers in favour of neighboring Thailand, Malaysia or Indonesia. But as I discovered on my trip to Luang Prabang, it is often the least talked about destinations that are the best-kept secrets.
IMMERSING IN LAO CULTURE
At five in the morning, I was perched on a stool on the side of a street, holding a bamboo basket filled with sticky rice. I was a member of an intimate group of journalists staying at La Residence Phou Vao, A Belmond Hotel given the opportunity to take part in an alms-giving ceremony, or Tak Bat, a longstanding and sacred tradition in Laos Buddhist culture. Every morning during sunrise, locals gather on the streets of Luang Prabang to give out alms, usually homemade sticky rice, to monks.
The alms-giving ceremony is just one of many cultural experiences offered by the luxury hotel. That morning, we had risen at 4am, and a member of the hotel's culinary team had guided us through the process of cooking the sticky rice.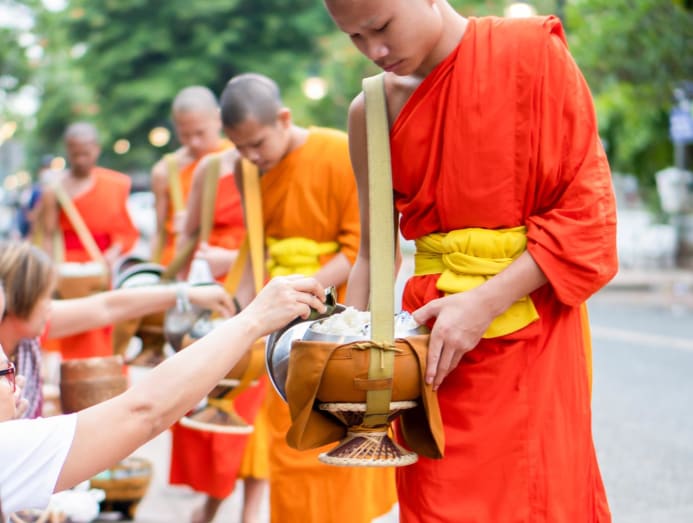 At first, I struggled to keep up with the pace in which the monks – ranging from little children to young men – walked swiftly and silently past us, their alms bowls outstretched. Later on, I discovered that rolling the sticky rice into small balls beforehand would ensure that I was ready before a new group approached. It was a tip I picked up from Madame Lar, a local villager who has participated in the ceremony every day for the last 40 years. La Residence Phou Vao works together with Madame Lar in support of her family's tradition.
I was also told that the food collected from the morning alms giving ceremony will be shared among the monks when they return to their temples, forming a part of their daily meals. After the alms giving ceremony, we proceeded to a nearby temple, where we offered breakfast to the monks.
A HILLTOP HIDEAWAY
The opportunity to take part in the alms giving ceremony is just one of many immersive local experiences offered by La Residence Phou Vao. A day earlier, when we first arrived on the property, we were warmly welcomed with a Baci ceremony, a centuries-old tradition designed to garner good fortune and to celebrate life events such as weddings or the birth of a child. Elders from a local village tied white cotton threads – symbolising peace, health and prosperity – on our wrists, and we were reminded to keep them on for at least three days, or until the threads fall off naturally.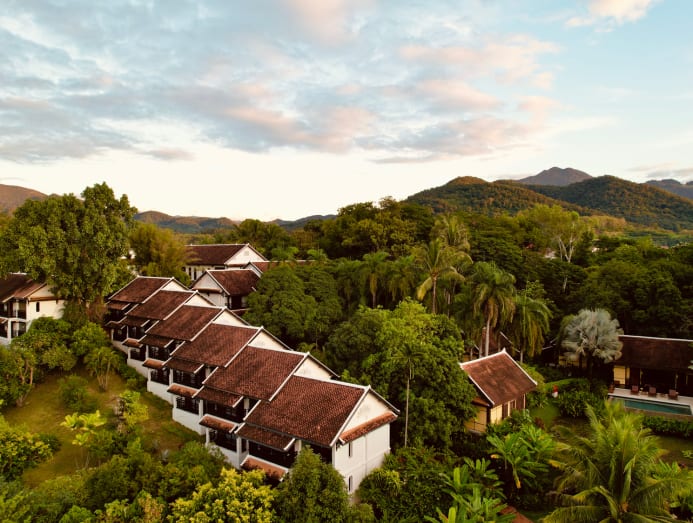 Stepping into La Residence Phou Vao is akin to walking into a time capsule. The colonial-style retreat derives its name from its location – Phou Vao hill is known as "the hill of kites", where Lao princes in the past would come to fly their kites.
There are only 34 suites on the property, each with its own private balcony. There's something about being handed a physical key to your room, and stepping onto polished parquet flooring that creak with every movement, that really takes you back in time.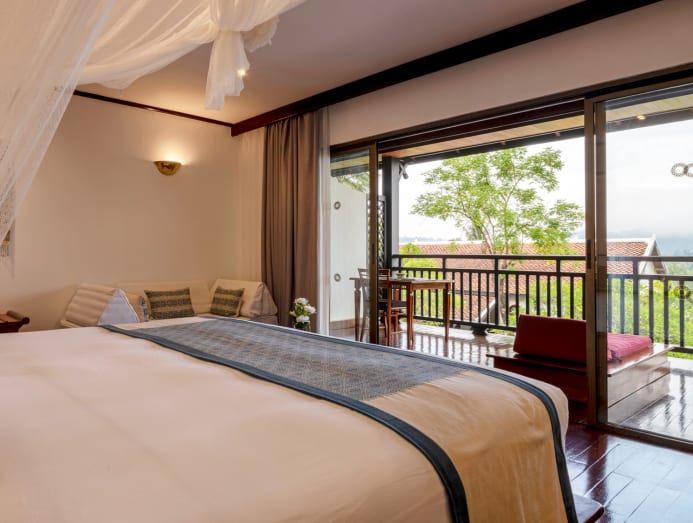 Still, my Mountain and Pool View Junior Suite was adequately sumptuous, complete with a spacious private balcony provided a view of the pool and the Lao mountains in the distance. In the middle of the room lies a wooden canopy king-sized bed, decorated with traditional handmade Lao textiles. The bathroom, almost as big as the room itself, houses an amazingly luxurious terrazzo bathtub.
Other amenities on the property include a spa, yoga pavilion, zen garden and a picturesque infinity pool overlooking the majestic Lao mountains. The view of the sacred Mt Phousi, Luang Prabang's highest hill, can be seen in the distance. Sitting at the top of the hill is the magnificent Phousi Temple, its golden stupa shimmering against the sun. 
THE FLAVOURS OF ASIA AND LUANG PRABANG
Upon discovering that there is only one restaurant at the hotel, I did wonder if we would be bored of the food selection after a three-day stay. But I soon realised that my worries were all for naught. 
In September 2022, the hotel announced the launch of its flagship restaurant, Tam Nan. The name of the restaurant translates to "legendary" or "legend" in the Lao language and fittingly, Tam Nan pays homage to the region's traditional cooking techniques.
At Tam Nan, executive chef Larisa Vesterbacka uses slow cooking techniques to bring out rich Lao flavours. For example, orlam, a famous Luang Prabang soup dish, is meticulously prepared by stewing the broth in a clay pot for 24 hours. The buffalo meat used in the dish is also marinated, salted and then sundried for three to four days. Tam Nan uses 95 per cent local ingredients, sourced within a 100km radius from the hotel grounds.
Vesterbacka was born in South Russia and moved to Laos over a year ago. The experienced chef is particularly passionate about Asian cuisine, having spent a total of 15 years cooking and travelling across countries such as China, Thailand and Cambodia. Her expertise in Asian cuisine shines through at Tam Nan. Alongside Lao specialties, guests can also find several Asian-inspired dishes on the menu. One morning, I was pleasantly surprised to find Hong Kong-style egg waffles on the breakfast spread. Another night, we ordered Vesterbacka's signature roasted duck, a dish aptly named From Beijing to Luang Prabang.
Vesterbacka put on a show for us, rolling in an entire stone slate into the restaurant. Right before our eyes, she plated an array of "rainbow sauces" – ranging from savoury to sweet – on the slate board, turning the dish into a work of art.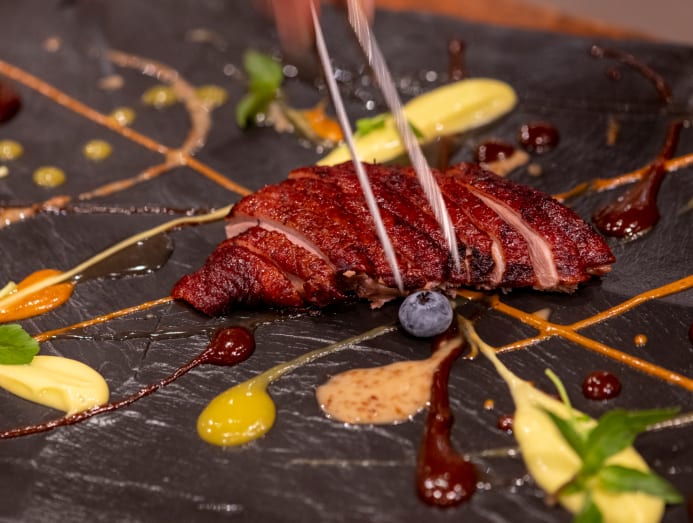 "We use breadfruit seed to cook our roasted duck," Vesterbacka revealed one evening when we sat down for a chat in the restaurant. "It adds a smoky flavour to the dish for a richer taste. We prepare and serve our duck on a hot stone slate with seven kinds of our signature sauces. This is so you can try our duck with different kinds of sauces, for seven different kinds of taste."
Throughout our stay, we savoured a different menu at Tam Nan. Dishes that stood out include Vesterbacka's crispy eggplant salad, featuring deep-fried eggplants with miso sauce, crispy shallot and lychee. Vesterbacka also serves up an excellent spicy and sour soup named Along the Mekong River, offered alongside white fish and Lao fermented vegetables.
There was one staple that came with every meal – Lao sticky rice with a selection of three sweet and spicy sauces. As an appetiser to our meals, we rolled the sticky rice by hand and dipped it into the accompanying sauces.
"I want to share our love for Lao cuisine and give our guests a taste of the local food, along with the best of Asian cuisine from around the world," Vesterbacka said. "There are many different kinds of tastes when it comes to Asian cuisine, and this makes for an interesting dining experience."
For those with food allergies, the menu at Tam Nan features an extensive list of allergens for those with dietary restrictions, indicating dishes that contain nuts, gluten, soy, milk, eggs and more.
WATERFALLS & WILDLIFE
Life in Luang Prabang is all about taking things slow, but there are adventures for those who seek them. One morning, we made our way to the breathtakingly beautiful Kuang Si Waterfalls, where the waters of Kuang Si cascade down the rainforest canopy, flowing over limestone rocks and creating pools of turquoise waters. There was also a lavish private breakfast spread prepared by the hotel staff waiting for us. The view certainly made for a picturesque backdrop as we enjoyed our first meal of the day.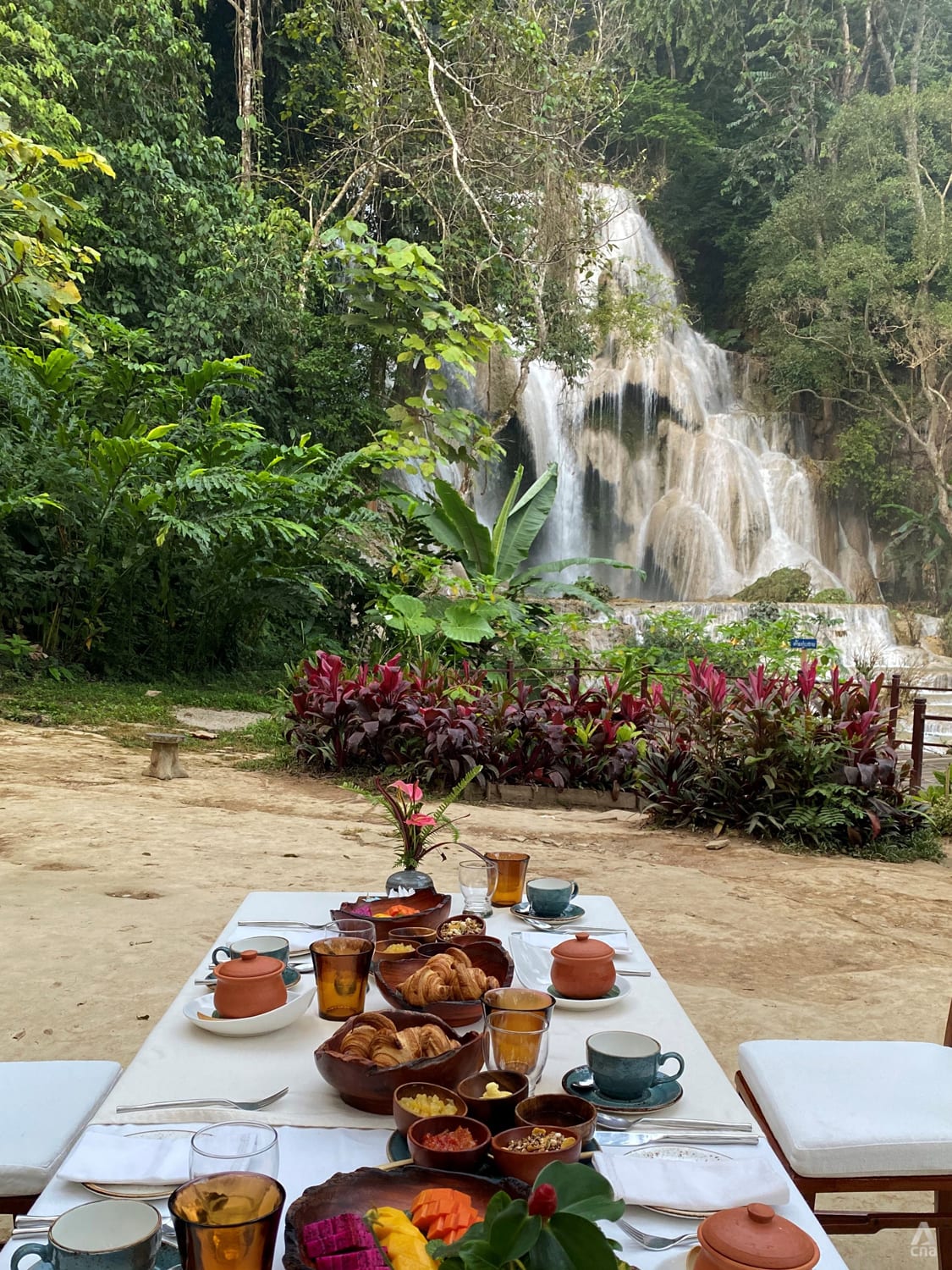 After filling our bellies, we proceeded to hike up the waterfall. The terrain turned out to be rather tricky; I tried my best not to slip at sections that were particularly steep. For seasoned hikers, it takes about 15 to 20 minutes to reach the top, where on a clear day, you'll be greeted by a spectacular view of the waterfall, along with a view of the Lao countryside. Alas, it was cloudy on the day of our visit, but still, there was something rather poetic about taking in the view of a rainforest shrouded in mist.
The hotel also arranged a visit to the MandaLao Elephant Conservation Centre, where we came face to face with two gentle giants. Elephants have an almost mythical status in Laos, a country once known as the "Land of One Million Elephants". In reality, according to MandaLao, due to the illegal wildlife trade and degradation of their habitat, it is estimated that fewer than 400 elephants now live in the wild in Laos.
MandaLao is Luang Prabang's first non-riding elephant sanctuary, covering over 80 ha of forest where its rescued elephants roam freely, without any chains. Our encounter with these animals started with learning how to prep their food – bananas stuffed with sticky rice – followed by an up-close feeding session. We then embarked on a slow jungle trek alongside the elephants, taking in the quiet of the jungle. Having such a close encounter with these majestic creatures did make me feel nervous at first, but witnessing how calm (and not forgetting cheeky) they were soon put me at ease.
MAKING MEMORIES
Other activities we experienced in Luang Prabang included a city tour with a visit to the ornate Wat Xieng Thong temple, the religious emblem of Luang Prabang. Built in the 16th century, the temple grounds were once used as the location for Lao king coronations. It is also home to a treasure trove of Buddhist and royal artefacts.
On another afternoon, we embarked on a leisurely cruise down the Mekong river, complete with delicious canapes for tea and our hotel host Phonevilai Ounsawath serenading us with songs of local folklore.
The experiences offered by La Residence Phou Vao also include rice farming, motorbiking through the countryside, a trip to the Pak Ou Caves and more. These activities are offered to guests at additional cost and are also open for bookings to the public. Prices range from LAK 630,000 (S$49) per person for a rice farming experience to LAK 12,240,000 (S$948) per trip to the Pak Ou Caves for a group of four.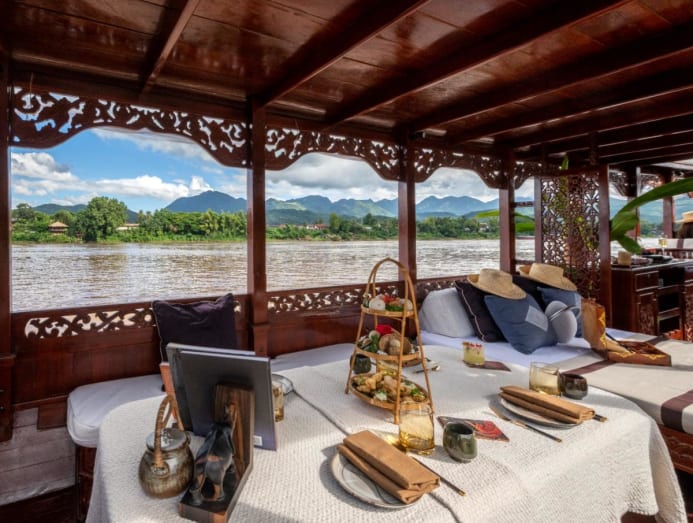 Whether it was taking part in the sacred alms giving ceremony or feeding the elephants, I returned home with some unforgettable memories of Luang Prabang. The experience was only made more memorable by La Residence Phou Vao's friendly staff, who served as our guide to this enchanting town.
A three-day itinerary is certainly not enough to experience all that Luang Prabang has to offer but that just gives me all the more reason to go back again.
CNA Luxury was in Luang Prabang at the invitation of La Residence Phou Vao, A Belmond Hotel.