Out of Bounds: Hotel art is going beyond walls and here's why it's exciting
Far from uniform paintings, luxury hotel brands like Belmond are doubling down on art and making it a central part of the guest experience.
Spotting a masterpiece in your suite is one thing, seeing an iconic hotel transformed by contemporary art is another. But on a warm, overcast day in June, that is exactly what was unveiled at Belmond's Le Manoir aux Quat'Saisons — a lattice-like stainless steel sculpture by Italian artist Loris Cecchini intertwined with the greenery wrapping the building's facade.
"It's the first time in 40 years that I've allowed anyone to touch the face of my home," said chef Raymond Blanc with a tone that's a mix of surprise and pride. Over the last four decades, the visionary chef and hotelier has been nurturing this special slice of Oxfordshire in the UK, crafting an exquisite country escape with a sprawling working garden at its centre. From the Michelin-starred restaurant to the characterful interiors, Blanc has been deeply involved in every detail including the curation of the art collection. He chooses the artists himself and collaborates with them on the creation of the piece and its placement. There's a towering acorn sculpture that greets you at the driveway, as well as smaller pieces peppered across the hotel's suites. Nothing, however, is as daring as Cecchini's gleaming installation.
Called Arborexence, 2023, the welded stainless steel sculpture is not only the first to be placed directly on honey-coloured brick facade of Le Manoir but also one in which the artist was given free rein. Echoing the organic movement of the ivy that drapes the building, the sculpture gently embraces the historic structure peeking through the plants but also stands out in its stark modernity. It's impossible not to be drawn to it when you see it — the juxtaposition of a storied manor house and an abstract art installation could have been jarring but it exudes a sense of natural harmony.
ART IN THE PARK
This temporary installation is part of MITICO, Belmond's progressive art programme in partnership with Galleria Continua that brings various artists and their work into their stable of extraordinary hotels. The aim is to push the boundaries of art and the role it plays in a hotel, while also sparking conversations.
"When we debuted MITICO in 2022, we wanted to offer guests the opportunity to see cultures through a different lens, tapping into each individual destination's essence and beauty. More than a celebration of talented artists and their works against the backdrop of Belmond's landmark properties, MITICO deepens our long-standing connection to the arts community, connecting art lovers and supporting artists in this meaningful dialogue between art and landscape," said Arnaud Champenois, senior vice president of brand & marketing at Belmond.
Art has always been an integral part of a luxury hotel and properties like The Fife Arms in Scotland and Villa La Coste in Provence are noted for significant art collections housed within their spaces. Newer hotels like Patina Maldives also feature one-off commissions such as James Turrell's Skyspace Amarta, which undoubtedly brings art-loving travellers to the Fari Islands. Art is fast becoming a distinct differentiator, especially key to attracting circles of guests that hop from Art Basel Hong Kong to Frieze in London.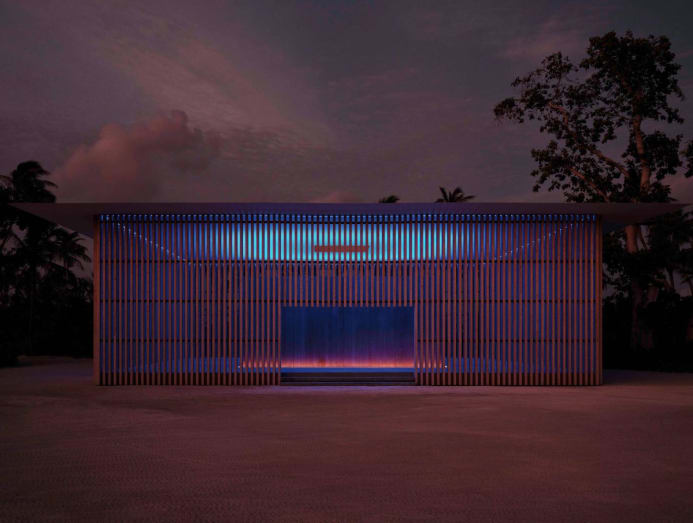 "Modern luxury travellers want unique authentic experiences that enable them to forge a deeper connection with their destinations, the communities that live there and the loved ones they are sharing the experiences with. Art plays the perfect role for this," Champenois stressed. "We believe that it is more important than ever for the arts community, artists and destinations to have a platform to showcase art and culture. It is our role as custodians and curators to facilitate this."
A MESSAGE WITHIN
The latest chapter of MITICO expands from its maiden edition in 2022, which only spanned Belmond's properties in Italy. From Spain to Brazil, seven artists are participating this year showcasing a wide array of work in which the hotel serves as their canvas. All in all, the result is a captivating outdoor gallery that's only open in the next couple of months.
Apart from providing a memorable and photogenic moment, this year's themes explore topics such as colonisation, immigration, sustainability and more. For Lorenzo Fiaschi, founder of Galleria Continua, the magic lies in finding the right match to transmit the message. It's crucial to pair the artist and the hotel correctly in order to have a smooth process and an impactful outcome.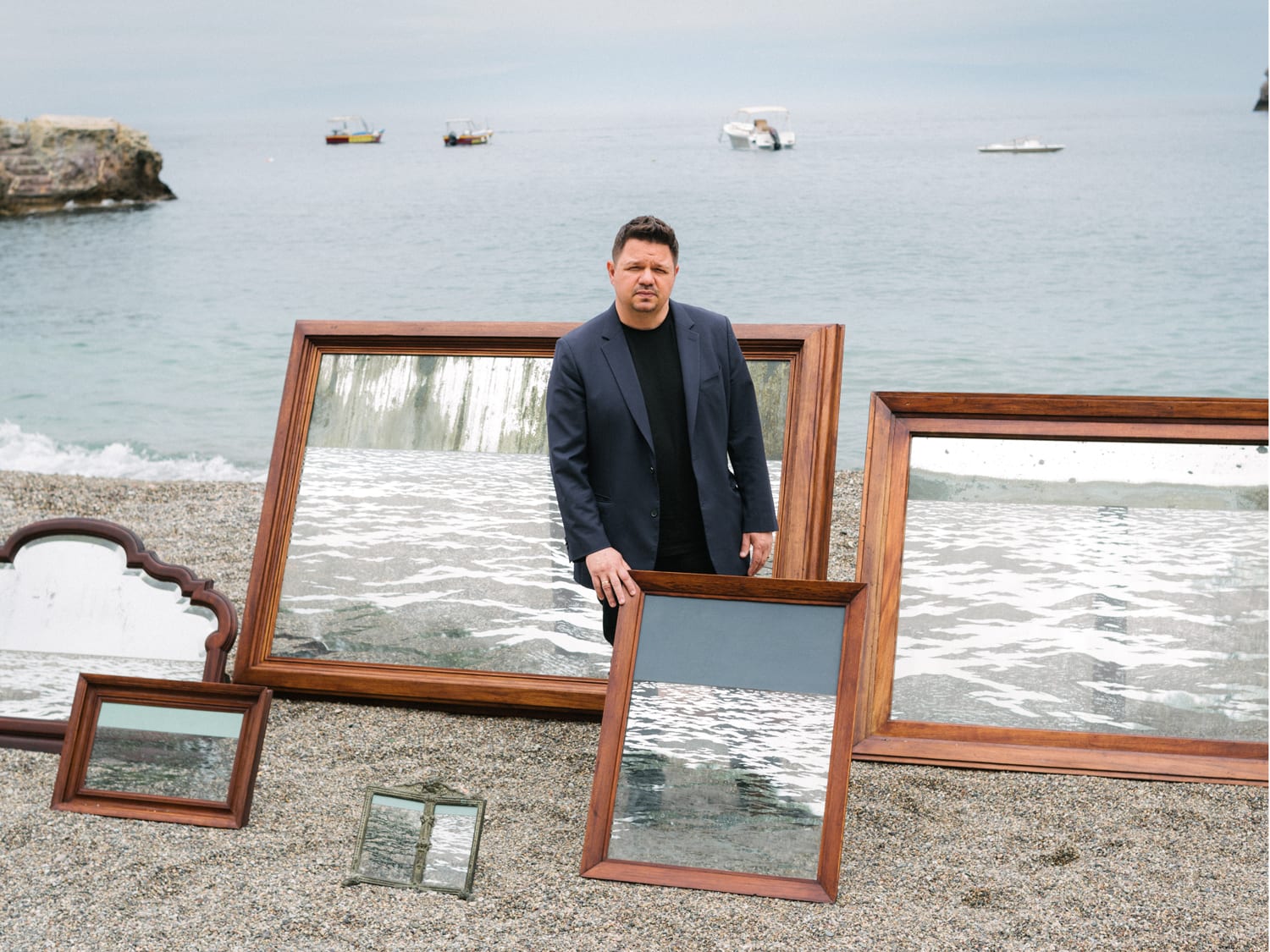 "When we came to Le Manoir in November 2022, we didn't have a set idea of what to make or where to place it. But learning about how important the garden was to Raymond and his guests made the choice of going with Loris easier," said Fiaschi, referring to the award-winning Italian artist who is known for his work rooted in nature. "Loris is often inspired by nature and his choice of materials offers a contrast to the spirit of Le Manoir itself."
In the beginning, there was contention on the suggestion that the sculpture be placed on the facade, as well as hesitation about the fact that it was made of cold, reflective stainless steel. "When I first saw the proposal, I had suggested making the finish a bit more subtle. Maybe copper or something with more of a patina," said Blanc. There was a lovely banter among Blanc, Fiaschi and Cecchini during the launch event, displaying a hint of tension that underlines a creative endeavour made up of great minds. Ultimately, the respect and trust needed for an artistic venture of this scale to be a success was cemented, resulting in a piece that makes a lasting impression and yet does not look out of place.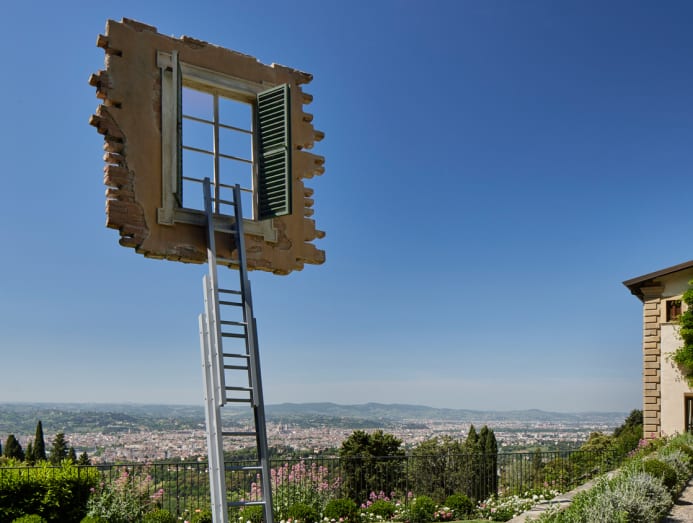 And though Arborexence 2023 is meant to be on display at Le Manoir until next March, perhaps it will follow the destiny of other MITICO creations. Since its launch last year, Belmond has since acquired Window & Ladder by Leandro Erlich, which remains at Villa San Michele, perfectly framing the view of Florence. "Belmond's purpose is to perpetuate the legendary art of travel. We continuously ask ourselves 'what can we preserve from the past' and 'how can we contribute or even write our own chapter of history' Art, to us, is a vehicle and a window to the cultural identity of the present time, and working in this way with Galleria Continua makes it accessible to art enthusiasts or someone new to the arts scene alike," said Champenois.