At this private island resort in the Maldives, it's hard to get away
With superlative dining experiences, a sprawling wellness centre and its own golf course, Velaa Private Island in Madives is a perfect hideout to play luxury castaway.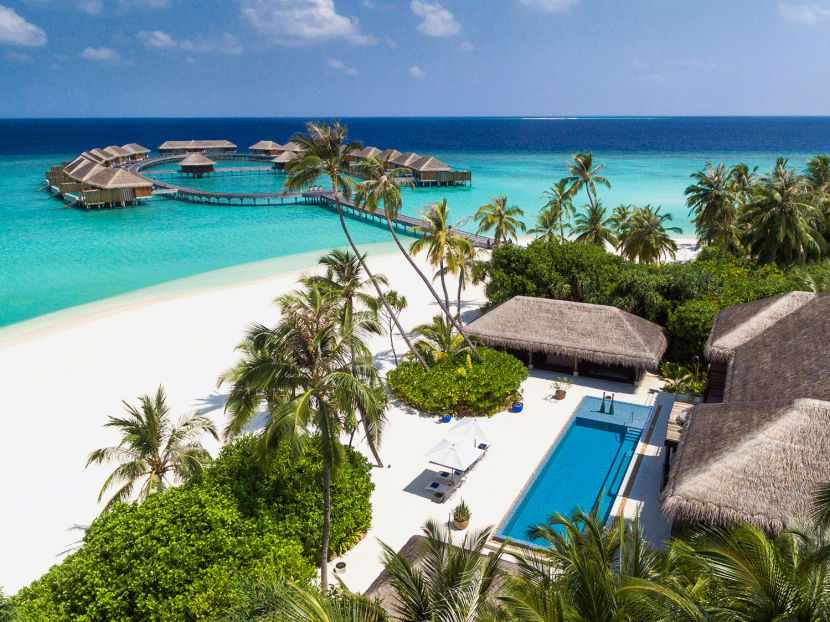 During the worst of the pandemic, while the rest of us sheltered in place at home, a handful of the world's wealthiest individuals sought refuge on one delicious slice of paradise. On this opalescent island hidden away in the middle of the Indian Ocean, the privileged few shared space with little else but hermit crabs who spend all day scrambling drunkenly across blonde sands.
Like at most Maldivian resorts, these guests were held captive to the four dining establishments dotted across the almost-20-hectare island. Yet nary a complaint was heard about the food, testament to Velaa Private Island's reputation as home to some of the best cooking across the archipelago.
The pandemic may now be a distant and merciful memory, but Velaa Private Island remains amongst the most sought-after refuges in the Maldives thanks to its exclusivity and uniquely luxurious offerings.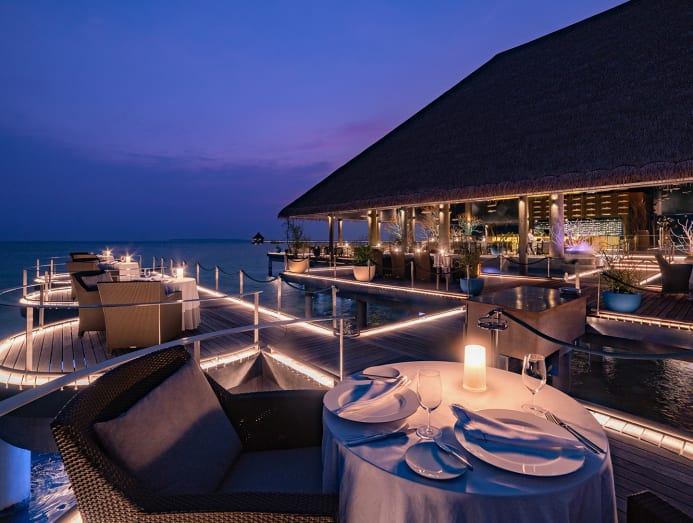 Its flagship restaurant Aragu, for starters, is the only one in the Maldives to have found a fleeting place on the extended list of Asia's 50 Best Restaurants where it sat at the 96th spot in 2021. Culinary director Gaushan De Silva draws inspiration and proteins from the surrounding waters to create tasting menus that celebrate the Maldives' natural bounty in modern European style.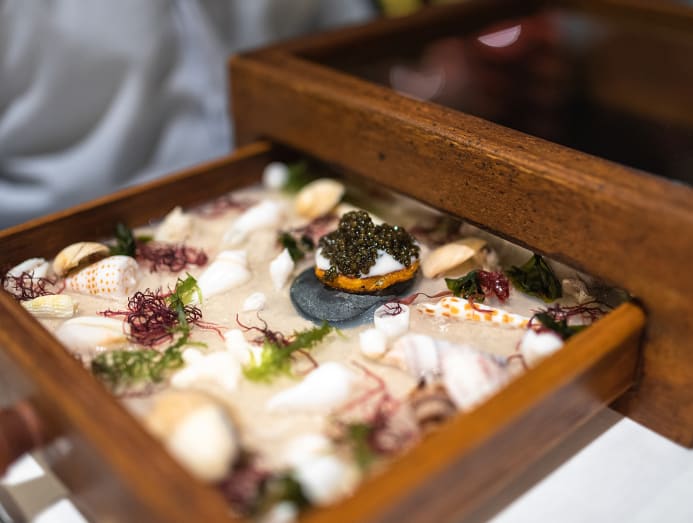 This is a restaurant that calls for celebration. In an archipelago celebrated for its barefoot luxury and come-as-you-are dress code, Aragu dictates that guests dress up for their meal. No t-shirts, shorts, or sports trainers. It doesn't matter if you are wealthier than Jeff Bezos or poorer than an island church mouse — dress against Aragu's dress code and you'll be turned away… back to your luxury villa with rack rates that start from US$2,550 (S$3,479) to US$6,000 per night, depending on when you visit. Jackets, shoes and anything one might need to adhere to the dress code can be purchased from the island's gift shop, which incidentally, also carries three limited-edition Ulysse Nardin Diver's watches and pieces made exclusively for the resort by labels like Missoni and Fendi.
When we arrive at Aragu at sunset, we are glad that we've donned our dresses and heels, difficult though they may be to walk in the soft sand. Set on a standalone structure that juts out of the island, Aragu's terrace was built to wow at dusk when the last wisps of light soften into the darkness.
Chef Gaushan and his team make clever use of traditional Maldivian flavours, elevating them to haute cuisine. Rihaakuru, a thickish fish-based sauce, for instance, is added to a roasted garlic-infused cream that surrounds a mound of sushi rice enrobed in yellowfin tuna sashimi. Crowned with a confit egg yolk and a flower-shaped tuille, this an edible emblem of the best that this island has to offer. It is also a dish that wouldn't be out of place at any of the world's finest restaurants.
Elsewhere, the food is simpler but no less impressive. At all-day dining establishment Athiri, set on the sandy shores of the sweeping ocean, familiar Western favourites are offered alongside traditional Maldivian staples like tuna curry with warm, fluffy chapatti. Velaa's wine cellar is a destination unto itself. A literal ivory tower, the cellar spans several storeys, holding more than 500 bins, from boutique wineries and grand marques to undeniable treasures like Domaine de la Romanee Conti vintages from 1956 and 1978.
FEEL BETTER SOON
The morning after dinner at Aragu, I hop on my butler-driven buggy to Eveylaa Wellbeing, a sprawling wellness village that opened last May. A spinal disc tear has been a thorn in my back for the past month and I am told that resident osteopath Dr Sergey Boltunov could hold the remedy that I am desperate for.
Tall and burly, with the bright pink complexion of a Russian exposed to the tropics, Sergey waves away my attempts to show him the results of my MRI. Within seconds of our meeting, he declares that my problems stem not from my back, but from a part of my stomach called the root of mesentery. In thick Russian-accented English, he declares that this is where my unresolved emotions reside. "Unless you fix that, you will always have back pain and stomach spasms," he said pointing to the left side of my abdomen where, indeed, I am prone to spasms.
After five minutes of "adjustments", osteopathic parlance for pinching and deep massaging to relocate muscles to the right places, Sergey hands me off to Irina, who will massage my ails away. Massage, as it turns out, is a strong word for what follows. I am prodded with her steely thumbs and spanked with a bamboo pole to a writhing pulp, but the pain is worth it. Their ministrations provide welcome relief from my backache, far more than three weeks of physiotherapy have.
I suppose this is why Eveylaa is a popular wellness destination for the wealthy who to stay for extended periods to straighten out their kinks. Osteopathic treatments aside, Eveylaa offers Ayurvedic treatments, trained general practitioners who provide medical diagnostics such as blood analysis and food intolerance profiling, and facilities like a floating pod and European steam room. Why settle for interminable waits at a sterile clinic when you can swan into this private facility, receive top-class treatment, and return to your villa in time for icy sundowners?
HOME FOR THE HOLIDAYS
Speaking of villas, Velaa is a harbour for 47 residences that include Beach Pool Villas, Private Residences, Water Pool Villas, a Romantic Pool Residence and a two-bedroom Ocean Pool House.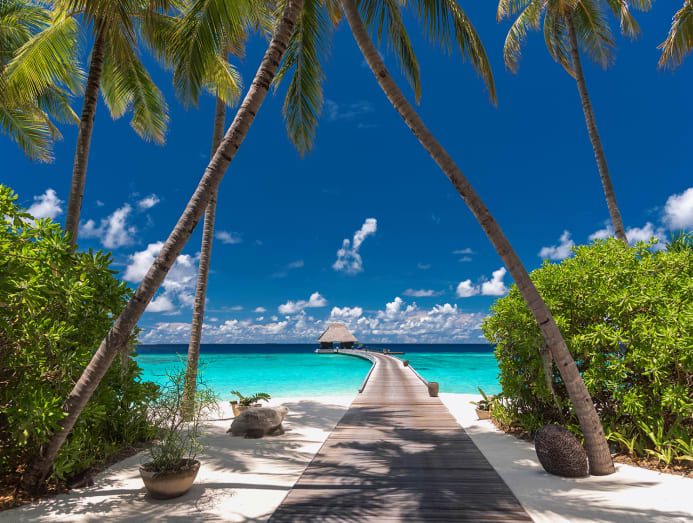 Each comes with a dedicated butler and is built to impart a feeling of exclusivity, with spaces that segue seamlessly into one another. Our Beach Pool Villa opens out to what feels like our own private slice of beach, with lush tropical flora serving as partitions between the villas that bookend ours. If your neighbours are quiet (ours aren't), you could feel like you are the only people on the island.
Velaa sits on the Noonu Atoll, reachable by a scenic 45-minute seaplane ride from Velana International Airport. Private jets can opt to land closer at Maafaru International Airport from which Velaa can arrange a 35-minute over-water transfer.
Built by Czech billionaires Radka and Jiri Smejc, Velaa was smartly designed to inspire guests to linger for more than a few days. The water sports options are incredible, with everything from hoverboards and Jetovators, to foil surfing, diving and jet skis. Velaa's Golf Academy boasts its own nine-hole course designed by Jose Maria Olazabal and one-on-one tuition with PGA professionals.
Which did we partake in during our time at Velaa? We ate and lazed and ate some more. Sometimes, that's all anyone needs in paradise.