Since Phase 2, Singaporeans have flocked to spas. What are they booking?
After months of being cooped up at home, locals have longed for stress relieving body massages, luxury spas told CNA Luxury.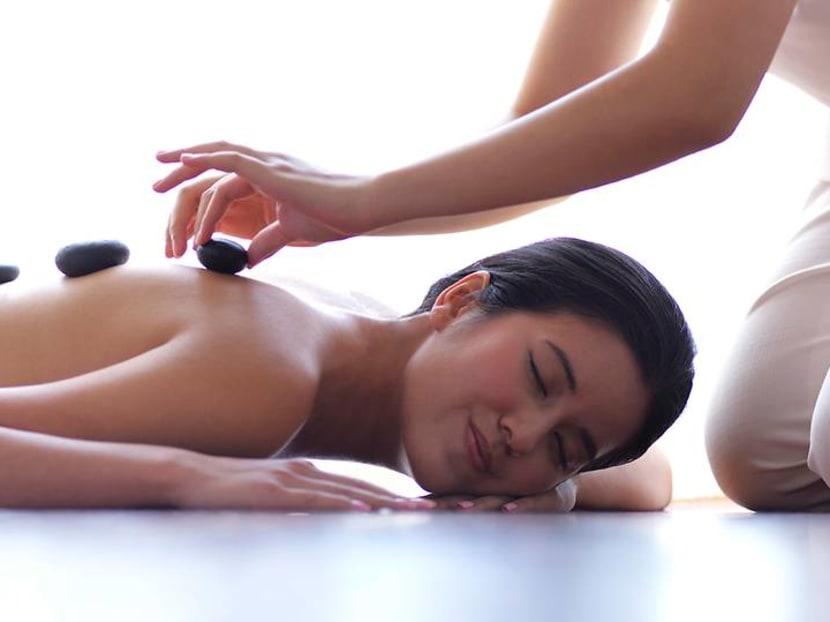 The circuit breaker period had us all cloistered indoors in our homes for a grand total of 56 days. There were many things that we missed being able to do, including socialising with friends, dining out, and sweating it out at a gym.
A pampering day at the spa was also sorely missed, according to several luxury spas that CNA Luxury spoke to. When Phase 2 was announced and spas and wellness centres were allowed to resume activities, these establishments experienced a surge in bookings. 
The reopening of spas was welcome news for many, who began penciling in a session to get the kinks out of tense muscles, no doubt brought on by the stress of uncertainty, and perhaps the sedentary lifestyle that came with working from home.
SURGE IN BOOKINGS
Prior to the reopening of Auriga Spa, located at Capella Singapore, the spa already had a long waiting list of customers. "Once the reopening was announced, we saw a huge surge in bookings for the upcoming month," shared Cassandra Forrest, Director of Spa & Wellness at Capella Singapore. 
"Demand during opening weekend was strong and we've continued to do our best to accommodate guests' requests and ensure that the experience is enjoyable."
Although booking numbers are not the same as pre-circuit breaker levels as the spa is still missing tourists and business from the hotel itself, Forrest said that the spa is 80 per cent back to normal. "We have very limited spaces available during the weekends," she said.
"There was indeed a surge in enquiries and bookings, mainly concentrated over the first opening weekend," a spokesperson from Willow Stream Spa, located at Fairmont Singapore, concurred.
So SPA, located at Sofitel Singapore Sentosa Resort & Spa, also reported a surge in bookings. "Potential guests were calling in to book for a slot. In total, we have seen a 20 per cent increase in terms of bookings," a spokesperson said.
Similar to Auriga Spa, Raffles Spa, located at Raffles Arcade, highlighted that booking numbers are still not as high as pre-circuit breaker. "It is not a surge that we are experiencing in Phase 2 as compared to when the spa was opened back before circuit breaker. More accurately, there is a higher concentration of bookings when Phase 2 began and spas were allowed to operate," a spokesperson said.
BODY MASSAGES, COUPLE TREATMENTS MOST POPULAR
In all, massages that help to relieve muscle tension have been popular at local spas. At Auriga Spa, the Stress Reliever specialty treatment is one of the most popular bookings. The treatment includes a deep back massage, including the shoulders and neck, followed by a nourishing scalp massage and a cleansing facial. "The Stress Reliever massage is always a great choice for those who work at a desk all day, and especially now with all those working from home," Forrest revealed.
Spa-goers have also missed their favourite therapists during the circuit breaker as well. "Guests return for a specific therapist with more than 20 per cent of bookings requesting a specific therapist," Forrest added. She also shared that guests typically make bookings for a body massage first, followed by facials and other treatments. "Once they gain confidence, bookings for facials and body treatments follow," she said.
Similarly, So SPA also reported popularity in body massages, in particular its Sentosa Massage. The restorative massage incorporates both Eastern and Western techniques to rejuvenate and and recharge overworked muscles.
A day at the spa has also emerged as a popular couple activity for those who were unable to step out for a date during circuit breaker, or were separated and unable to meet. "The period has been relatively short to recognise any significant trend, but we have generally received more requests for couple treatments and the use of our wet spa facilities," Willow Stream Spa shared.
CLOSE INTERACTION NOT A CAUSE OF CONCERN
With spas experiencing a surge in bookings, one can't help but wonder if safety and hygiene are causes of concern, especially since spa treatments require close interaction and skin-to-skin contact.
However, most spas that CNA Luxury spoke to shared that safety and hygiene are not a major concern for spa-goers. "Most people are beyond happy to return to the spa. Human contact is very important and it is something that has been removed for the past few months," Forrest said. However, Forrest also indicated that she has spoken to some customers who have had concerns.
"Most people are beyond happy to return to the spa. Human contact is very important and it is something that has been removed for the past few months." – Cassandra Forrest

Auriga Spa staggers customer appointments, as well as assigns one therapist to follow-through all treatments with the same customer. Some of its treatments have been removed from the menu in order to minimise cross contact amongst guests. 
"We also stopped serving food and beverages to customers and removed shared items such as magazines and newspapers. Additionally, the spa now has a pre-booking system for guests who wish to use wet facilities, such as the steam room, to enable crowd management," Forrest added.
Raffles Spa reported that customers have not expressed any concerns to date. "Our therapists use both masks and face shields and where appropriate, gloves when performing the treatments. Naturally, SafeEntry registration, temperature taking and general safe distancing measures are all in place at the spa, which has received its SG-Clean certification since April 2020," the spa said.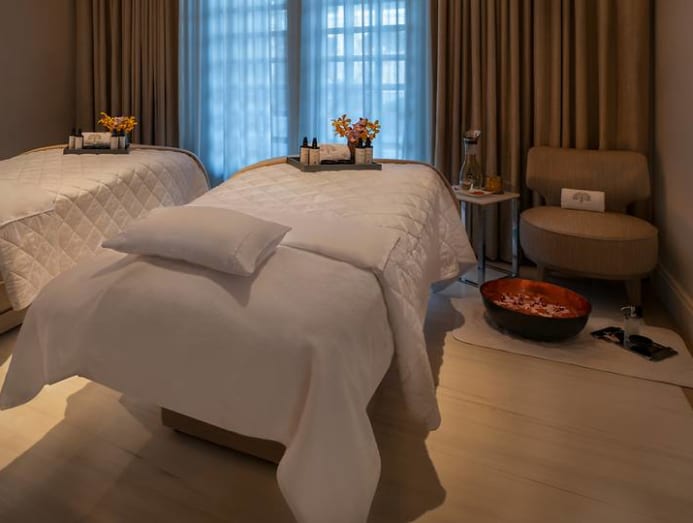 Other measures taken by Raffles Spa include requesting guests to shower prior to treatments, as well as limiting the spa capacity to two guests at any one time. A 45-minute allowance in between appointments has been put in place for deep cleaning of the treatment room that was used.
Over at Willow Stream Spa, the spa has implemented heightened standards of hygiene and cleanliness, including a reinforced cleaning programme with frequent disinfection of all high touch areas and safe distancing measures. However, guests also appear to be "surprisingly" unconcerned about close contact with staff.
"In fact, when we shared that it is a safety guideline and requirement for our therapists to be in PPE, including face shield, gloves and mask, not everyone wanted a massage with gloved hands," the spa said.