The Macallan Double Cask Divided Experience is an immersive night of whisky, food, art, and science
The pairing game is strong here.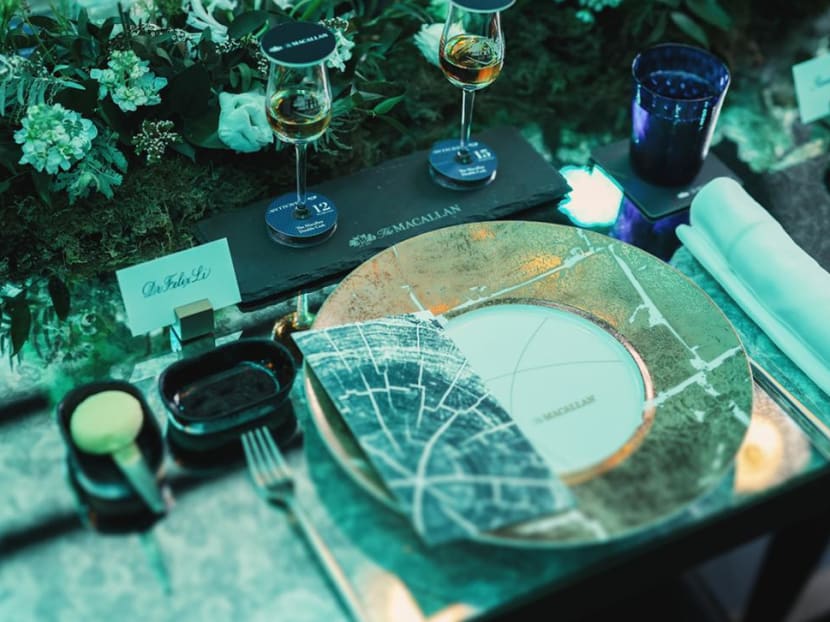 Dinner is never just a meal these days. If we're to be honest, to be wowed now is rarely just about food, because we're spoilt. Blame it on the plethora of delicious offerings that you can find from all ends of our tiny island city, at different price points even. As our palates grow more refined and sophisticated, so do our demands. Good food and drink are de rigueur and great service is also expected. Increasingly, what more people are hankering for is an experience. Even better when it's Gram-worthy.
Serving this up on all counts is The Macallan Double Cask Divided Experience, that bills itself as an immersive, multi-sensory culinary adventure with whisky, art, and science. Translation: Expect to be wowed by this dinner spectacle.  
The private dinner is inspired by The Macallan's close association to the natural environment surrounding its estate in Speyside, and the liquid journey of each bottle of Double Cask (the 12-, 15- and 18-Years Old are presented for the evening).
By using kinetic technology, spatialised sound and beautiful floral arrangements, the Private Dining Room at the Raffles Hotel is dramatically transformed to reflect the elements of the four seasons – spring, summer, autumn, and winter – and to transport you to The Macallan's Speyside home. The seasonal leitmotivs are again reflected in the food, a specially curated menu from Osteria BBR by Alan Ducasse, one of the world's most decorated chefs (he has 21 Michelin stars under his belt).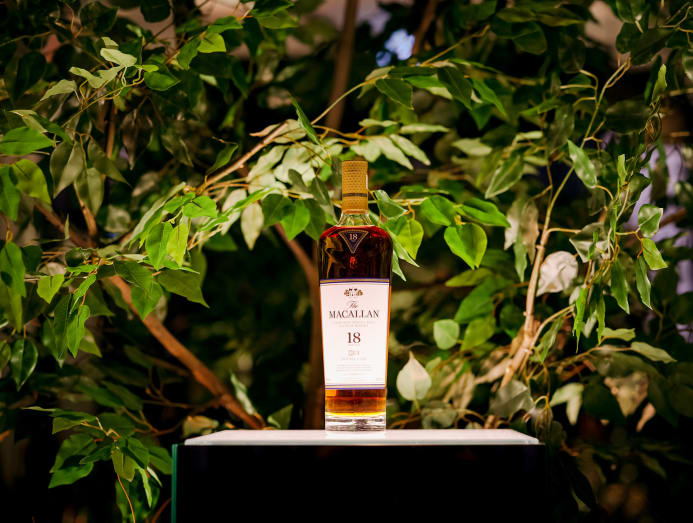 The night unfolds with a starter course of Hokkaido Sea scallops and a medley of summer root vegetables, paired with The Macallan's signature-sherried style Double Cask 12 Years Old with vibrant dried fruit aromas. The Macallan Double Cask 15 Years Old that is fruity with hints of ginger and pepper, and with a slightly unctuous mouthfeel, is a complement to the second and third course. The former is a saffron-infused risotto with poached lobster, the main, a veal tenderloin, Milanese style.
To end dinner on a sweet note, is of course The Macallan Double Cask 18 Years Old. Aged in oloroso-seasoned American and European oak casks, and with burnt caramel and sweet citrus notes warmed with woody spice, the dram is a balanced juxtaposition to the rich yet light chocolate mousse. Spoiler alert: Your olfactory senses will be teased first with a unique ritual that infuses the air with the whisky's intoxicating aromatic notes.
There are limited seats for the private dinner for Oct 27 , Nov 3, Nov 4, Nov 7, Nov 11 and Nov 18. Reservations for private dinner bookings can be made here .