Maison Elle: The fashion magazine opens a hotel in Paris
Elle has beaten other major titles to become the first to launch a hotel — but seems more focused on being comfortable than cutting-edge.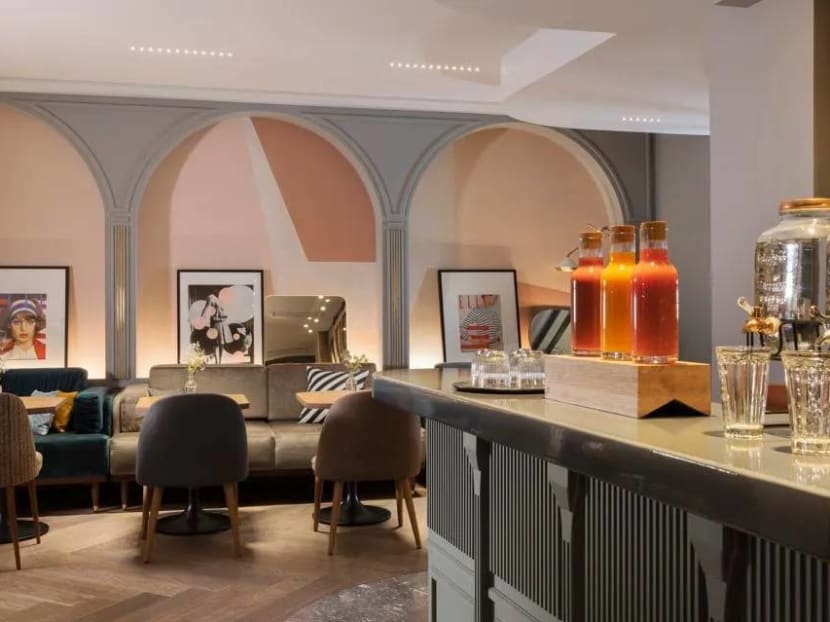 Numerous fashion brands have their own hotels, so perhaps it was only a matter of time before a glossy magazine wanted in on the trend. Although Elle doesn't have quite the same pop-cultural cachet as Vogue, it has beaten its rival to launching the first hotel from a major magazine.
Elle was founded in Paris in 1945 with the same mix of current affairs and fashion that it still features today. Now, Elle and spin-offs such as interiors magazine Elle Decoration come in 78 editions worldwide. Owner the Lagardere Group also licenses the brand to cafes, hair salons, eyewear and even paint. The hotel, which opened shortly before Christmas last year, is a collaboration between Lagardere and French hospitality business Valotel (which has nine other hotels in the country). The partners say they plan to open "several dozen" Elle hotels in Europe, China and south-east Asia and are currently selecting a property in Bangkok.
LOCATION, LOCATION, LOCATION
A five-minute stroll from the Arc de Triomphe, at the end of the Champs-Elyees, the hotel is in a prime spot for one of Paris's most famous shopping areas. Maison Elle itself is tucked down a slightly charmless side street that doesn't exactly scream glamour (nearby businesses include a launderette and a clothes shop for very tall men). However, during my stay it had the advantage of being quiet, apart from when a Serge Gainsbourg lookalike wandered down the street playing "La Vie en Rose" on a trumpet.
CHECKING IN
Fashion magazines used to revel in their exclusivity, but a prescriptive attitude to what's cool has lost its currency thanks to social media. And Elle was always more relatable than Vogue. However, I'm still surprised that Maison Elle isn't aiming for more of a statement: the decor by Paris-based architectural designers Laurent & Laurence is inviting but hardly cutting edge.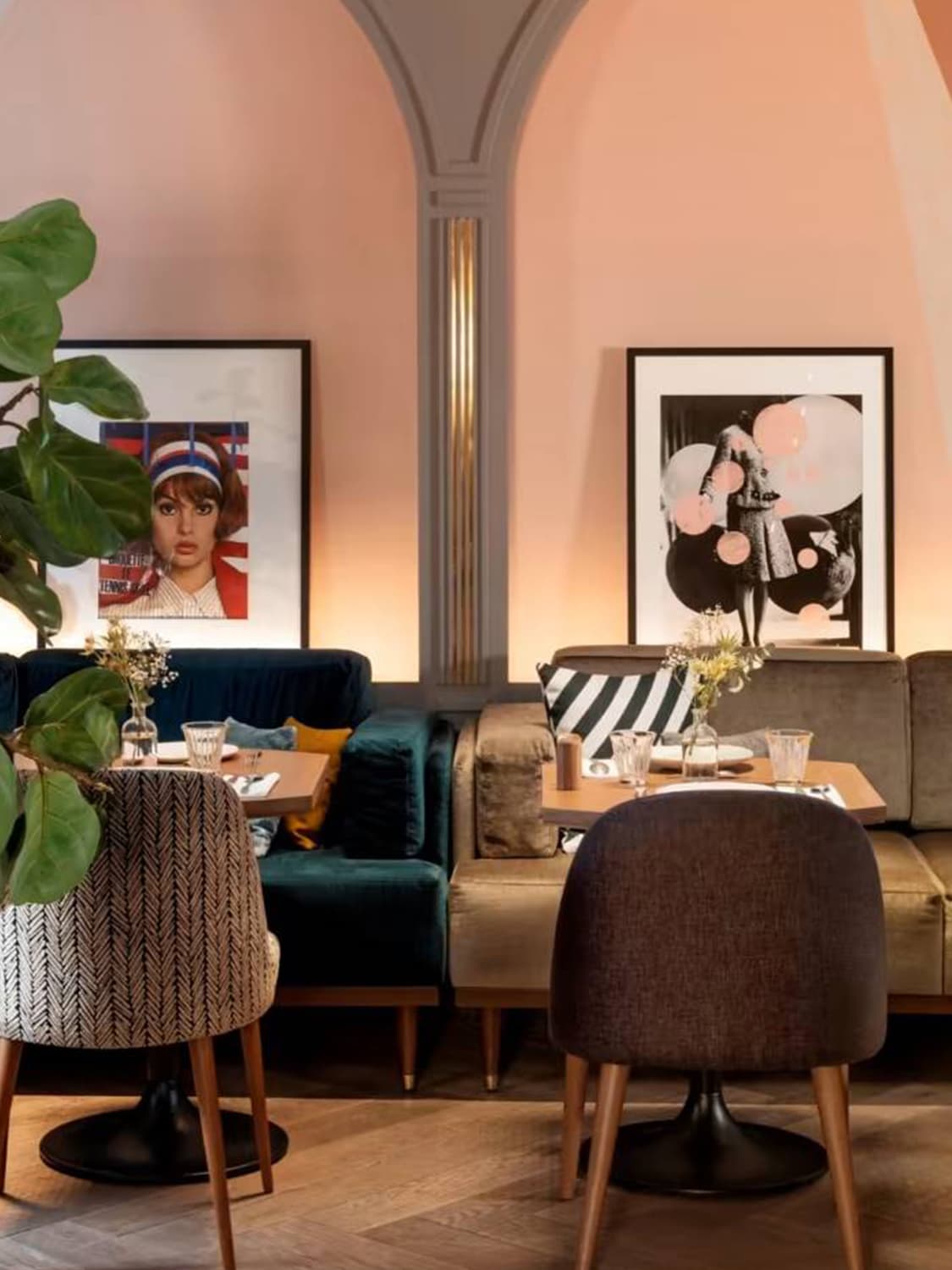 Some of the communal areas suggest a female millennial who's tried to recreate Soho House at home with velvet sofas, Tom Dixon lamps off eBay and strategic Monstera plants. The art (by Laurent & Laurence), including a black-and-white photo of a model overlaid with the words "Take Your Time", looks a bit like someone has asked an AI art generator to "make some inoffensive girlish art for a new Parisian hotel".
But it seems the relatable vibe is intentional. Pascal Donat, CEO of Valotel, tells me he's not just aiming for a "branchée" or fashionista customer — rather he has in mind a fortysomething woman who works and has children, but essentially wants some "me time". I can't tell if I feel fantastically seen or a bit patronised at finding myself reflected almost exactly in this demographic. I think the hotel succeeds (in part thanks to friendly staff) in being an easy, welcoming place to stay, but I would usually opt for somewhere either more directional and hip, or with traditional character: An escape from the bourgeois scene at my not-edgy home in London.
Donat says the decorative shutters on the facade of the building are never closed, but "they are there because it's a message we sent to your subconscious to say it's a real house". In keeping with the "comme à la maison" philosophy, a homely vibe pervades the communal areas on the ground floor. There are small tables for work or coffee, with upholstered chairs on one side and a wall of green and grey velvet sofas on the other, under alcoves painted soft pink.
Beyond that is a kitchen-like area where breakfast is served, with a coffee machine and help-yourself drawers of juice and water. The "library" features mid-century-style sofas and coffee tables arranged with copies of Elle and Elle Decor. Decorative accents are interiors-influencer territory — coral ornaments and Alexander Calder-inspired mobiles — while a small "concept store" sells Elle merch including yoga cushions and striped tops. Said tops, paired with red trousers, form the staff uniform, which makes the "créatrice d'expérience" (an unbelievably upbeat twentysomething in charge of suggesting Elle-like activities for guests) look like the epitome of the cool French girl but would make me look as if I was on my way to perform mime at a kids' party.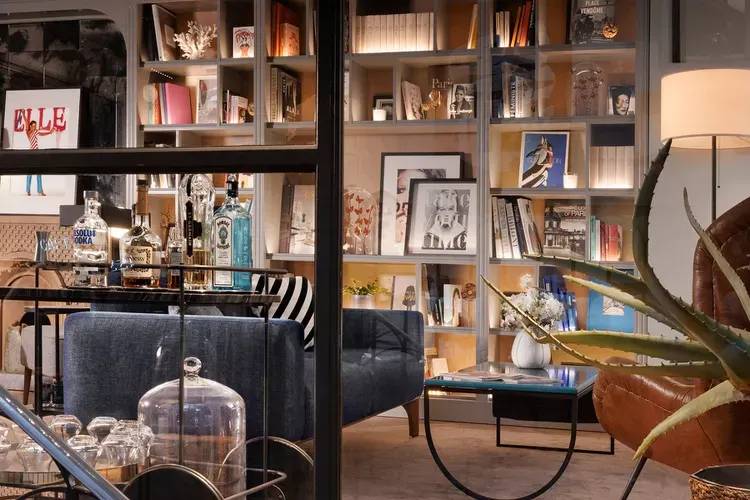 There are also overt fashion themes, and each of the 25 bedrooms is inspired by an element of the French wardrobe. So one room has zigzag striped walls in homage to the mariniere stripy top, and a gratuitous pullout mirror just for taking full-length selfies; others are inspired by flannel or denim.
My room was the Atelier Suite, intended to evoke a modern bohemian studio and the relationship between artist and muse — although it seemed more like the flat of a single, male graphic designer to me. Black, white and grey prevail, with a bed on a raised platform finished in industrial-looking grey plaster, a grey sofa, glass coffee table, bathroom with black-and-white chequered op-art tiles, and fireplace with a fake fire. Natural linen curtains apparently suggest a woman wearing her boyfriend's shirt. The basics were good: Decent shower, comfy bed, nice and quiet (although no view other than a wall). However, I did practically orchestrate my own Jean-Michel Jarre light show while switching the lights by the bed on and off in increasing irritation as I tried to work out the buttons.
WHAT TO DO?
The basement spa has a steam room and sauna, as well as treatments using natural products from German skincare brand Dr Hauschka. I liked the fact that facials and massages are focused more on relaxation than using hyped ingredients to look younger. The most obvious pastime nearby is shopping, but this area is more about mainstream brands than the charming boutiques in the Marais. I wandered around Parc Monceau and its quaint follies, then took a 15-minute metro ride to Montmartre for Sacré-Coeur, pink cafés and street art.
WHAT ABOUT THE FOOD?
The hotel doesn't offer dinner, just breakfast and afternoon tea. Breakfast is boulangerie-fresh croissants and pastries, cereals, seeds and "detox" juices, cheese and fruit, with eggs and bacon to order. Think Sunday morning with great hosts. The hotel's food "event" is afternoon tea, with loose-leaf teas from French specialists Nunshen: I opted for jasmine but found it smoky and overpowering. Maybe I'm stuck in a Tetley rut.
The cakes are created by the CinqSens patisserie of chef Nicolas Paciello, but on the afternoon I arrived they hadn't been delivered. When I got my hands on a pistachio raspberry finger, though, it was good. The créatrice d'expérience recommended nearby Chez Gabrielle for dinner. My order of scallops and chanterelle mushrooms in cream and Noilly Prat delivered on my hopes of a classic Parisian neighbourhood restaurant.
OTHER GUESTS?
No sign of supermodels wearing sunglasses indoors. Instead I spotted a millennial media couple wearing clear-rimmed glasses, while a fortysomething woman who lives a few streets away told me she sometimes comes for a staycation: another example of the target demographic in action.
The average price of a room is €250 (s$365), without breakfast, while the average for a suite is €420. I found a "Cabin Room" in May for €209 for one weekday night.
Carola Long was a guest of Maison Elle, 14 Rue Brey , and Eurostar, which typically runs 14 daily services each way between London and Paris, from about £118 (s$195) return.
Carola Long © 2023 The Financial Times
Source: Financial Times/bt