More intimate, but just as special: Singapore's Malay weddings evolve
With fewer people on the guest list, COVID-19 has trimmed down traditionally grand weddings within the Malay community, with vendors having to adapt to this "new normal". But intimate ceremonies can be just as meaningful, they say.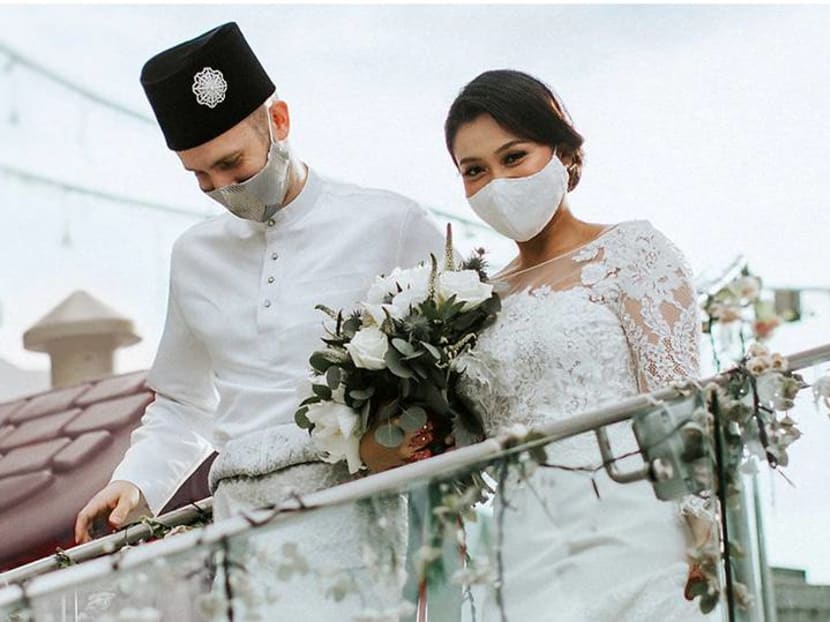 Changing guidelines, postponements, cancellations. There's no denying that the COVID-19 pandemic has taken a toll on the wedding industry in Singapore as a whole, with couples having to navigate ever-evolving scenarios.
Within the Malay wedding industry, business owners that CNA Luxury spoke to shared that they have seen an overall decrease in weddings taking place since the pandemic began. For many in the industry, including planners, caterers, decorators, bridal designers and photographers, the effect has been profound. 
In pre-pandemic times, Malay wedding ceremonies were typically grand affairs, with a guest list that can go up to the thousands. Wedding planner Wedding by LQ, which has a decor and catering service, shared that since COVID-19, the company has seen a 70 per cent drop in weddings. 
"Our clientele base is mostly from the Malay community, who are still hoping to hold a large-scale celebration as inviting [a large number of] guests is a tradition. Some do understand that COVID-19 is here to stay, and have slowly changed their preferences to smaller weddings in order to adapt to the new norm," said founder Mariana Eunos. 
Even for those who do decide to go ahead, restrictions have forced couples to reconfigure several aspects of their nuptials. Malay weddings are usually divided into two segments – the akad nikah (solemnisation ceremony), followed by the majlis bersanding (wedding reception). For the latter, a buffet lunch or dinner is usually served to guests.
With buffet dining no longer allowed for weddings, vendors have had to shift to serving sit-down meals instead. The reduced guest list is also something they have to grapple with. "The catering side of our business is the one that's mostly affected. There's a huge difference from serving 1,000 guests to serving 50 to 100 guests," shared Zareeza Butt, founder of wedding decor and catering company The Chic Wedding.
"The catering side of our business is the one that's mostly affected. There's a huge difference from serving 1,000 guests to serving 50 to 100 guests." – Zareeza Butt

FEWER GUESTS, LESS FRILLS
With a smaller guestlist, "client preferences have definitely changed", Zareeza said. "With a lesser number of people invited, couples try to keep their event as brief and simple as possible. Usually with a guest list of 1,000 people, clients would be spending more because they have 1,000 people to impress and celebrate with. But with just 100 people or lesser, they end up not spending much on things like decor at all."
In terms of bridal outfits, Mastura Esnain, founder of wedding boutique and services company Anggun by Mastura, shared that in a pre-pandemic wedding, a couple would typically opt to wear at least three pairs of outfits. The first is for the solemnisation ceremony, the second is a traditional outfit for the reception, while the last is evening wear for the cake-cutting ceremony. These outfits can be rented off-the-rack from companies that offer bridal packages.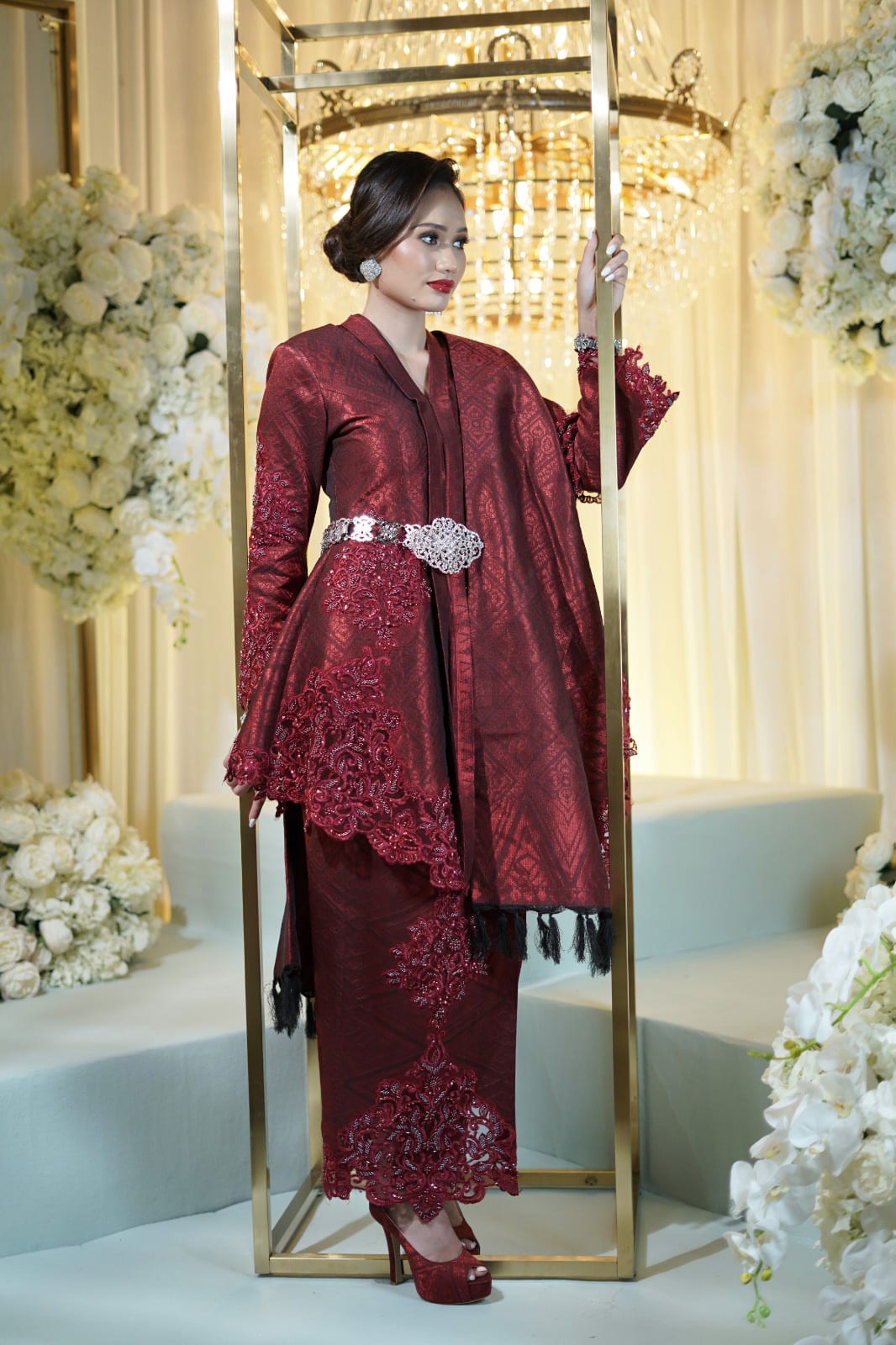 However, Mastura shared that now, "the number of outfits is usually only one pair for the solemnisation ceremony or at the most two pairs if the couple decides to do an outdoor shoot. Reason being the event timing has been cut much shorter due to the lesser number of guests allowed."
Those who do not wish to rent their outfits can also choose to customise them based on their ideal designs at an additional cost. However, boutiques such as Anggun by Mastura have seen a decrease in customisation requests. "Events are more simplified now, thus couples are not willing to spend too much on this," Mastura said.

"Events are more simplified now, thus couples are not willing to spend too much." – Mastura Esnain

EVERYTHING UNDER ONE ROOF
It is not all doom and gloom for the industry, however. For vendors willing to pivot, the pandemic has sparked new business opportunities, especially when it comes to venue rental.
While Malay couples have increasingly strayed from traditional wedding ceremonies held at void decks or community centres (CCs) in recent years, the pandemic has only exacerbated this trend.
"At one point in time, void deck weddings were not allowed and CCs were strict on measures, making it harder and more stressful for couples to hold their weddings at these places. Clients have now moved towards a 'new normal' where they want to hold their wedding at a private venue," said The Chic Wedding's Zareeza.
While previously couples had the option to rent a venue and engage multiple external vendors for catering, decor and bridal services, they now want a more holistic wedding package, where everything is provided "under one roof", Zareeza added.
With this in mind, in May this year, The Chic Wedding launched its own fully styled wedding hall, Casa Bayu, located at Upper Serangoon Shopping Centre.
Similarly, Wedding by LQ launched Forty Four – a venue space located at the ground level of Pasir Panjang Recreation Club. The venue has two event halls – the Dainty Ballroom and the Majestic Ballroom.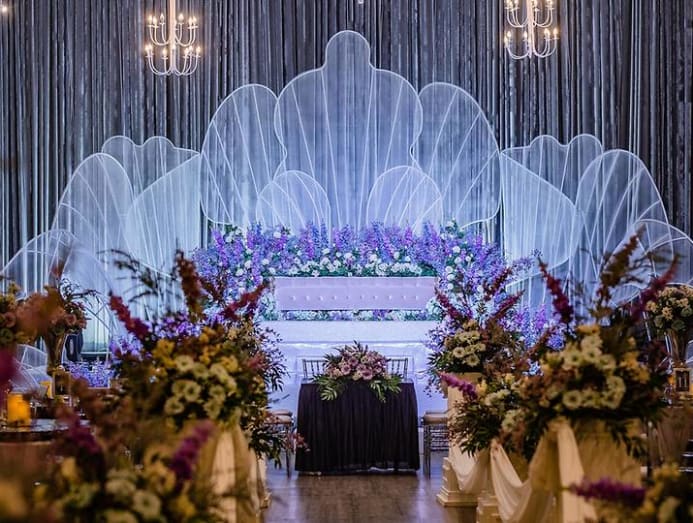 In December 2020, Anggun by Mastura opened Anggun On Stevens, an event hall located in the Orchard Road district. "COVID-19 made me decide to take up our current venue at Stevens Road and business has been doing well ever since we launched. Our venue is fully booked from October to December 2021. We have recently signed up for another hall on the second floor of our current space and renovation works are under way," shared Mastura.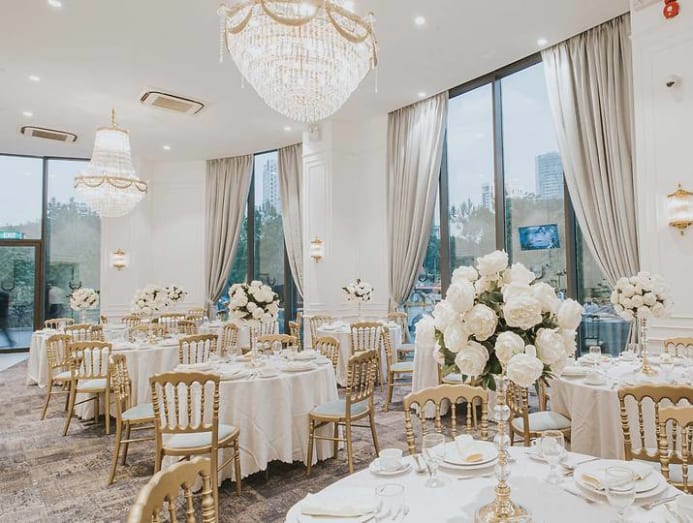 Meanwhile, local wedding entrepreneur and designer Fatimah Mohsin, founder of Fatimah Mohsin The Wedding Gallery, turned her restaurant, 555 Halal Thai, into a wedding location in May this year. Named Paradise Pavilion, the location is situated within the peaceful and scenic surroundings of Gallop Kranji Farm Resort.
"I saw the potential in the space as a quiet getaway from city life now that we're all restricted from leisure travelling. Paradise Pavilion provided this great space and view which I felt was much needed in the very saturated local market. Couples are definitely more open to trying out non-traditional approaches to their big day," Fatimah said.
'SMALLER WEDDINGS ARE HERE TO STAY'
Malay wedding ceremonies may have shrunk in size and scale, but professionals in the industry believe that intimate celebrations can be just as special. "I believe it's all about perspective. The past year has shown that it is possible to have smaller-scale Malay weddings that are still beautiful, emotive and meaningful without sacrificing any of our cultural and traditional practices," shared Afiq Omar, founder of photography studio Colossal Weddings. 
"From a photographer's perspective, these weddings hold a lot more opportunities for us to capture meaningful moments, and this is simply because the guests attending the wedding are those that truly hold a special place in the couple's hearts.
"From a business perspective however, we definitely have to rethink and go back to the drawing board, because I personally believe these smaller weddings are here to stay," Afiq added.
Fifty per cent of Colossal's clients are Malay couples. To keep up with changing restrictions, Colossal Weddings launched a series of intimate wedding photography packages. The packages are available in two duration options – one-to-two hours, or two-to-four hours.
"While we value photo quality and do our best to maintain it despite the challenges, prospective couples are not as willing to book the usual longer duration packages anymore. Therefore, introducing these new packages have allowed couples to still sign up with us, yet have a peace of mind that should the situation gets better, they have the option of upgrading their packages," Afiq said.
Fatimah of Fatimah Mohsin The Wedding Gallery believes that "at this point, us as vendors, we just have to try and build up confidence among the couples to hold their ceremonies and for them to believe that their big day won't be short of any special significance or warmth, even during this pandemic.
"With the ever-changing stipulations by the government, what we can do as planners is to keep up to date so that couples don't feel like they're left to fend off issues on their own, that we're there to work with them and take the stress off their shoulders as much as possible," she added.
Her advice to couples getting hitched during this period is to "to keep your heads up and just brace for what's to come. Things can only get better once we find a proper solution to the pandemic, and everyone should stay hopeful and positive till then."
"The past year has shown that it is possible to have smaller-scale Malay weddings that are still beautiful, emotive and meaningful without sacrificing any of our cultural and traditional practices." – Afiq Omar