Snorkelling with whale sharks, underwater dining and meeting a heron named George in the Maldives
The first international resort brand to land in the Maldives, 25-year-old Conrad Maldives Rangali Island emerges from a multi-million-dollar sleep with a modern uplift while keeping its natural charm and commitment to sustainability.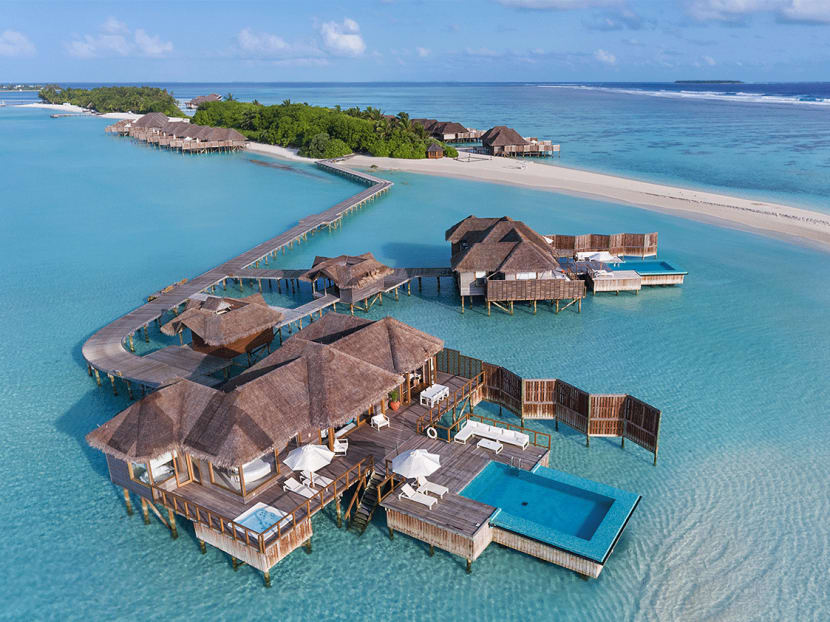 Our snorkelling guide Nathalia Souza Samper shouted excitedly: "We spotted one! Stand by, everyone!"
I quickly put on my flippers and snorkelling mask, and on Samper's direction, jumped into the ocean.
CNA Luxury was invited to a five-day-four-night preview of the newly renovated Conrad Maldives Rangali Island and that morning was the highlight of our trip: Snorkelling and spotting whale sharks.
The excursion almost didn't happen. There were cloudy skies with ominous dark clouds looming in the distance earlier that day. Our guides also explained that sighting a whale shark would be challenging given the lack of sunlight and poor water visibility.
Conrad Maldives, which is a 30-minute seaplane ride from the capital Male's Velana International Airport, is one of the best bases for spotting the world's largest fish species. The resort is in the South Ari Atoll, where whale sharks are commonly found, and a 25-minute boat ride, or in our case, a luxury yacht with cabins and bathroom facilities, is all you need to reach the hot spot.  
You are guaranteed of spotting one anytime of the year. Well, almost. "We say 95 per cent of the time, just in case," said Samper, who is Conrad's resident marine biologist from Ocean Group Maldives.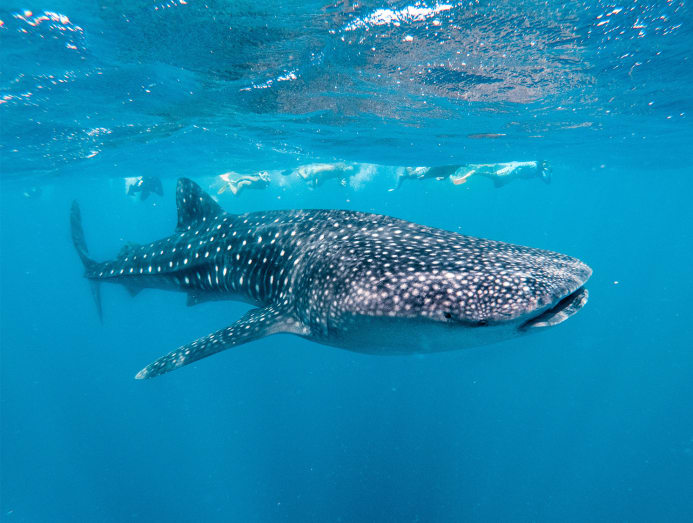 During the peak season from November to April, up to 30 boats can be circling the area. Today, there were only three others besides ours, and we had a few minutes' head start as we saw the shark first before the news was relayed on a shared Telegram channel among the dive guides.
The reaction from our competitors was swift. Suddenly there were dozens of people in the water. Samper pulled a couple of us in the direction of our 6m, white-spotted target, which was gliding languorously below, oblivious to the commotion overhead.
That awe-inspiring moment of being so up close with the magnificent creature was short-lived though. Barely 10 minutes later, it disappeared into the murky depths.
Almost on cue, the dark clouds rolled in and rain fell like sheets. We cut short the snorkelling and clambered back onto our yacht, which bounced like a four-wheel drive over potholes for the rest of the way back.
This is the Maldives conundrum: You can go during the low season from May to October when the crowds are thin – most resorts are only half full during this time – but the weather can segue from sunny skies into torrential rain within minutes. And how do you choose among the over 150 resort islands in the Maldives? If you want to see all the firsts in one place, Conrad would be it.
First underwater restaurant in the Maldives? Check. First undersea residence that has seen the likes of the Kardashians and Paris Hilton as guests? Conrad's three-bedroom, two-level The Muraka, which costs from US$10,000 (S$13,750) a night, is the one. First to have an underground wine cellar, overwater villas and a spa with glass flooring? Check, check, check.
Impressive firsts aside, nature and sustainability are at the heart of the 151-villa resort, which is built on two natural islands: The larger family-friendly Rangali-Finolhu Island and the adults-only Rangali Island.
Going barefoot or wearing flip-flops is the best way to walk around, as soft sand is everywhere, including the main reception area and restaurants. My accommodation was one of the newly refurbished deluxe overwater villas with thatched roofs.
There are now floor-to-ceiling glass doors to merge ocean vistas seamlessly with the interiors, which are warmly clad in textiles and dark warm wood. The addition of an infinity pool (great for 'gram worthy shots of floating breakfast trays) extends the horizon, and you literally step into crystal clear waters from the deck stairs.
The two-bedroom Rangali Ocean Pavilion with Pool and the new Over Water Spa treatment rooms also have glass-panelled floors to ensure that no one misses out on any marine action even during a relaxing massage.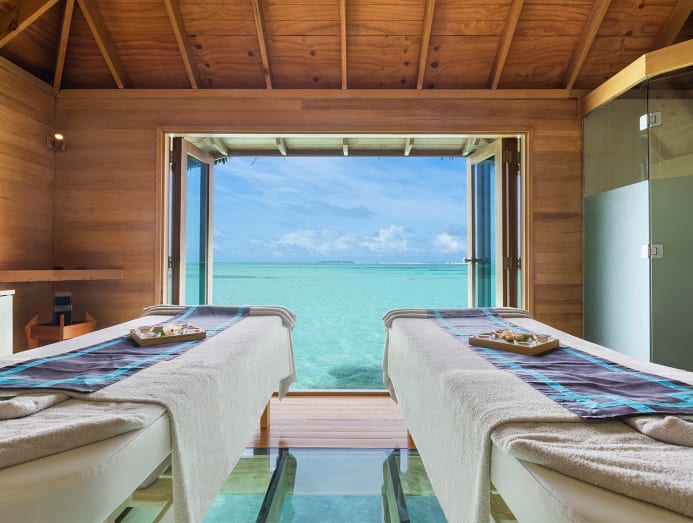 Casts of crabs along the beach and monitor lizards scurrying across the footpath were frequent sights, so were the resident sentinels, herons George and Georgette, who had an uncanny way of appearing wherever we went.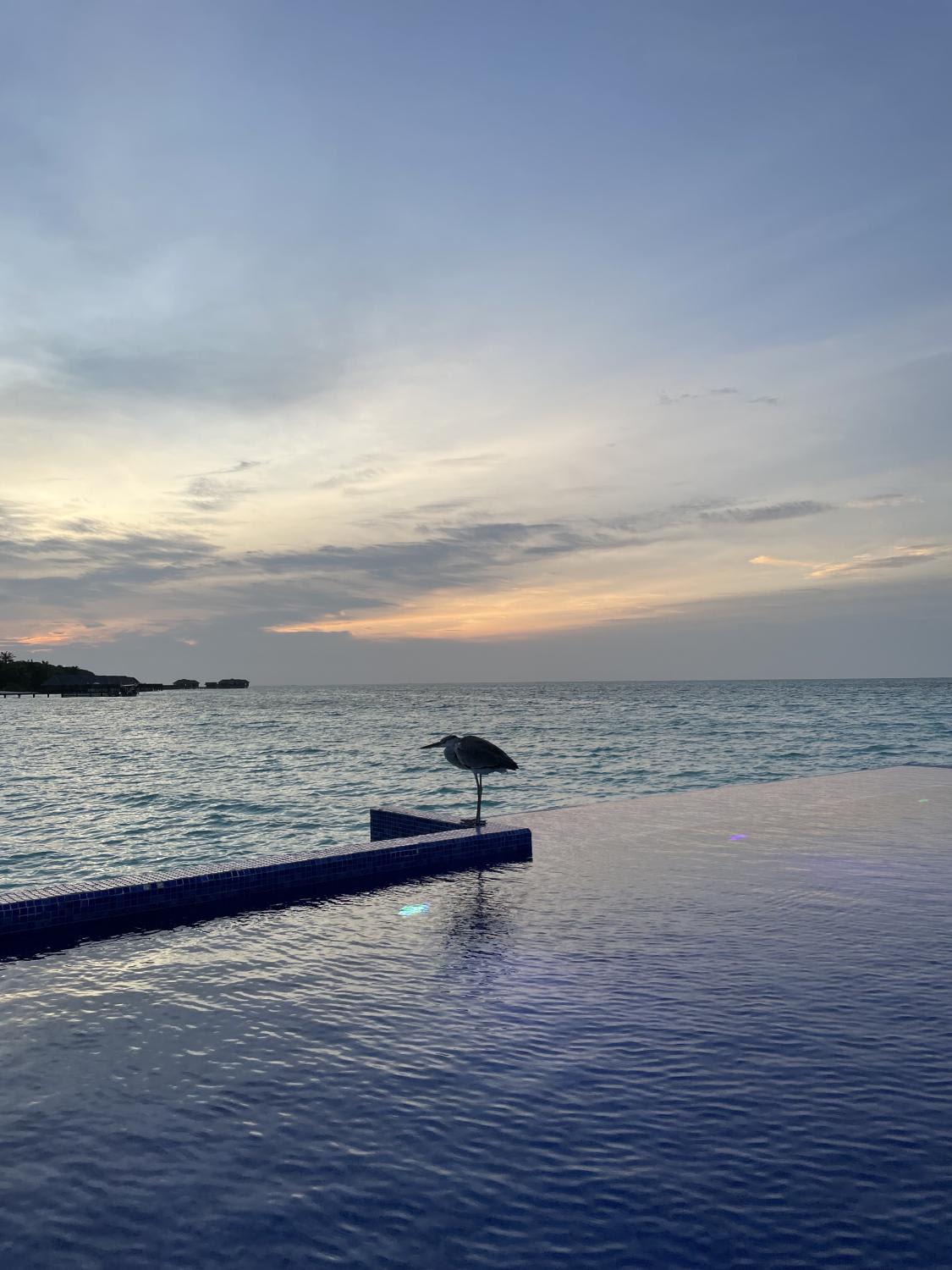 Bliss was defined by strolls along the 500m boardwalk connecting both islands, and sitting around my villa, feet dangling over the waters and a glass of champagne in hand, to spot colourful reef fish, white- and black-tipped sharks and the occasional manta ray.
To ensure that all this beautiful reef life is preserved, the resort launched a coral regeneration programme in 2017. Early this year, coral lines made from ropes replaced the previous method of using metal frames. We played a small part by attaching coral fragments to a rope and accompanied marine biologist Samper to plant them in the house reef.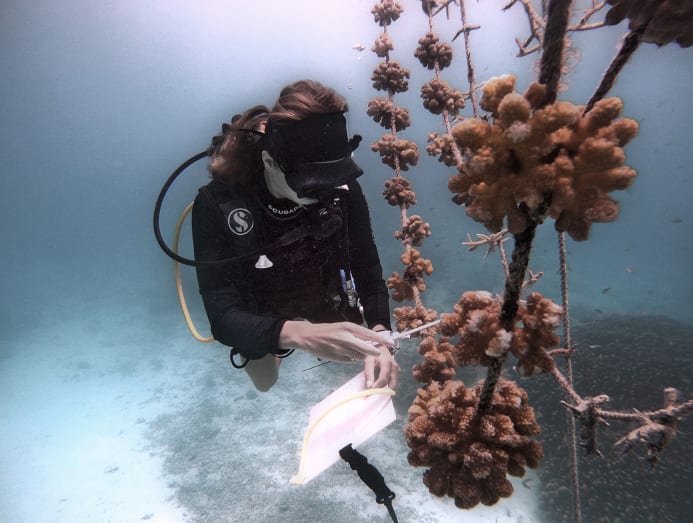 Sustainability also extends to eating well and heartily at the resort. There are 12 food and beverage concepts including a wine and cheese bar with volcanic sand from New Zealand and myriad romantic private spots on the beaches.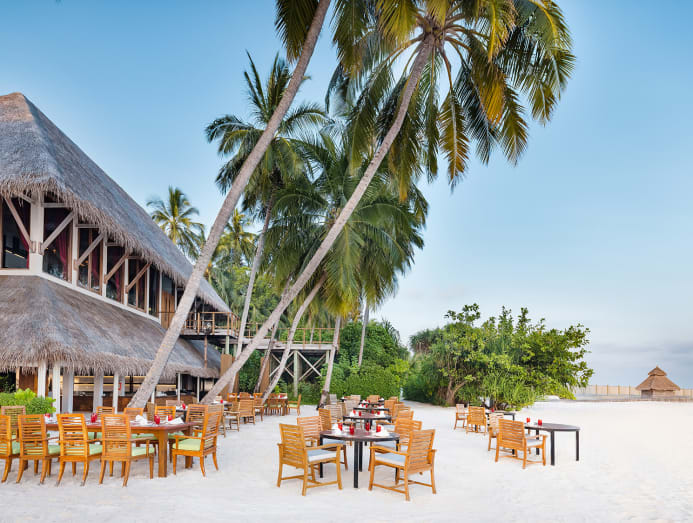 From a delicious Maldivian tuna omelette with fresh green chilli at breakfast to sweet grilled Maldivian lobsters under the stars and macarons made from herbs grown in the resort's hydroponics garden, it is all about minimal waste and maximum taste.
The array and creativity were impressive. Ufaa by Jereme Leung justified the resort's bold proclamation of having the "first authentic Chinese restaurant in the Maldives" with "wok hei"- laden dishes such as stir-fried Australian angus beef and chicken in black bean sauce.
Executive chef Christian Pedersen revealed his prowess in highlighting ingredients with balanced flavours  – a yellow fin tuna tartar with roasted coconut and passionfruit encapsulated the beauty of Maldivian produce, while 21-day fermented mango and creamy avocado puree gave a surprisingly delicious twist to sous vide reef lobster.
And when food from the backyard not only lands on the table but is also used to heal, it's a home run to my favourites list. Instead of an ointment, I was handed aloe vera leaves from the resort's hydroponics garden when I got abrasions from snorkelling.
Hilton's Asia Pacific vice-president for luxury and lifestyle Nils-Arne Schroeder shared: "With the pandemic, guests want comfort but also something unique and special, especially for food and beverage. They also want to connect with the community. For us it's making sure that we keep this island the way it has been for the next 25 years so that future generations can enjoy it the same way we did."
Conrad Maldives may have taken on a more modern outlook but its "heartware" of nature conservation is certainly firmly in place. And I hope this never changes.
CNA Luxury was in Maldives at the invitation of Conrad Maldives.