Marina Mandarin to be renovated, renamed Parkroyal Collection Marina Bay
The hotel's iconic 21-storey atrium will remain, but the new design will incorporate more eco-conscious features such as a landscaped vertical wall and glass with UV protection to reduce electricity use.
Following a rebranding, the classic Marina Mandarin hotel has now been renamed to Parkroyal Collection Marina Bay. The new hotel, which will be transformed in phases, is designed with care for the environment in mind. 
Speaking to CNA Luxury, Choe Peng Sum, Chief Executive Officer of Pan Pacific Hotels Group (PPHG), explained the motivation behind the transformation. "People who travel often are now seeking a new experience, one that differs from the standard cookie-cutter hotel. More people are also becoming environmentally conscious and long for a hotel that caters to that."
Once completed by Q1 2021, the hotel will be transformed into a unique "garden in a hotel". It will retain its 21-storey atrium designed by John Portman, an American neofuturistic architect widely known for popularising hotels with multi-storied atria.
Calling the design of the former Marina Mandarin "special" and "iconic", Choe added, "We will still celebrate John Portman's design, but we are modernising it and making it more sustainable."
The indoor atrium, currently one of Southeast Asia's largest, will feature a giant skylight made with UV-treated glass, reducing electricity use by allowing natural light to spill in. The atrium will also be transformed into a lush garden with sculptural pavilions shaped like bird cages. These pavilions will be illuminated in the night.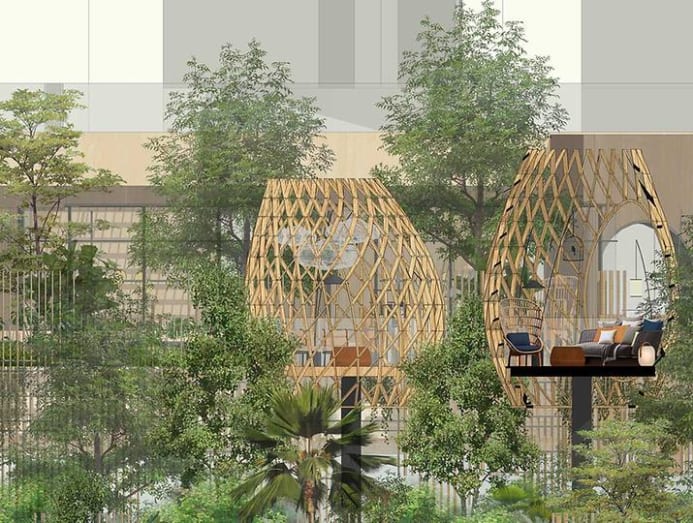 "Many of our guests are here for corporate or work meetings," Choe noted. "With responsibilities such as conference calls throughout the night to attend to, many are very stressed out. We will have areas in the hotel for them to have a quiet moment to themselves, such as these pavilions."
A sky-bridge that stretches across the atrium on level 4 will give guests an immersive treetop experience. The hotel has already unveiled a soaring 13-metre high green landscaped wall, which greets guests at the entrance.
Guestrooms will also be renovated to feature natural materials such as timbre flooring. Rooms will be fitted with water filters to discourage the use of disposable plastic water bottles, while amenities such as toothbrushes will be made from environmentally-friendly materials such as corn starch. "These are small touches, but they are in line with our focus on sustainability," said Choe.
Plans are underway to refresh the hotel's F&B offerings as well. Well-loved halal restaurant AquaMarine will transform into Peppermint, featuring open kitchens and greenhouse-inspired private dining areas. The restaurant, which will be kept halal, will serve organic and sustainable food.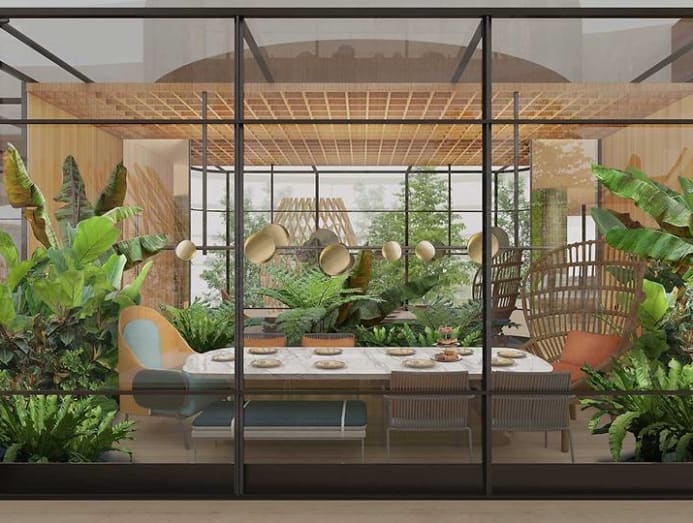 For a holistic wellness experience, the hotel also hopes to introduce wellness activities for guests to take part in. "These could be activities such as yoga, Zumba, or CrossFit classes, which we intend to offer for free," Choe revealed.
Alongside the Marina Bay property, PPHG's newly-launched Parkroyal Collection portfolio also includes Parkroyal Collection Pickering, renamed from Parkroyal on Pickering. New properties will be added to the collection across the region over the next five years.