What can diners expect at newly refurbished Chinese restaurant Min Jiang?
The 38-year-old establishment at Goodwood Park Hotel reopens on Thursday (Oct 8). Here's what you can look forward to.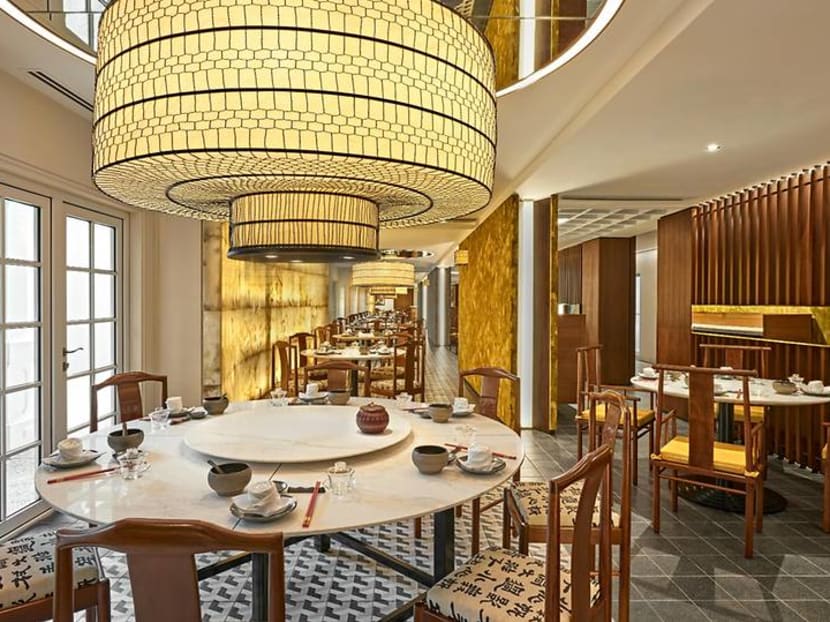 Since its opening back in 1982 – as three different restaurants before merging into one in 2004 – Min Jiang at Goodwood Park Hotel has been lauded for its excellent food, service, and resplendent setting. 
But having been around for almost four decades now, it was only timely that the beloved restaurant closed its doors for a much needed refurbishment.
The restaurant reopens on Thursday (Oct 8), beginning a new chapter in its storied history. So, what can diners expect? 
For starters, the interiors of the restaurant have been enlivened with a sophisticated, chinoiserie aesthetic. Contrasting tiled flooring in the main dining hall have been enriched with textile panels in hues of warm honey, elegant silver-grey and luscious teal. Onyx panels are featured on the walls, while wooden chairs are given either patterned or mustard fabric upholstery.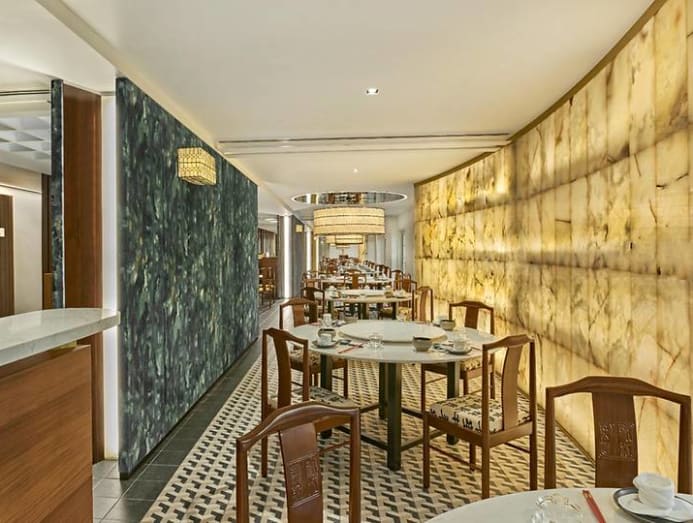 For a modern touch, white polished marble is used for tables and service counter tops, while wooden design elements evoke a sense of warmth throughout the restaurant.
Parallel to the outdoor dining terrace, the hall looks out to tranquil views of the hotel's main swimming pool. The linear layout is interposed by custom handcrafted pendant lighting, referencing Asian fishing baskets. These pendant lights emanate an ambient, mellow glow in the evenings, setting the tone for a cosy or romantic dinner.
The six individual private dining rooms are elegantly outfitted with hand-woven jute carpets in mustard-gold, boasting the same overhanging pendant lighting. Foldable sliding panels in similar honey and silver-grey fabric open up the pillar-less space to combine for larger events.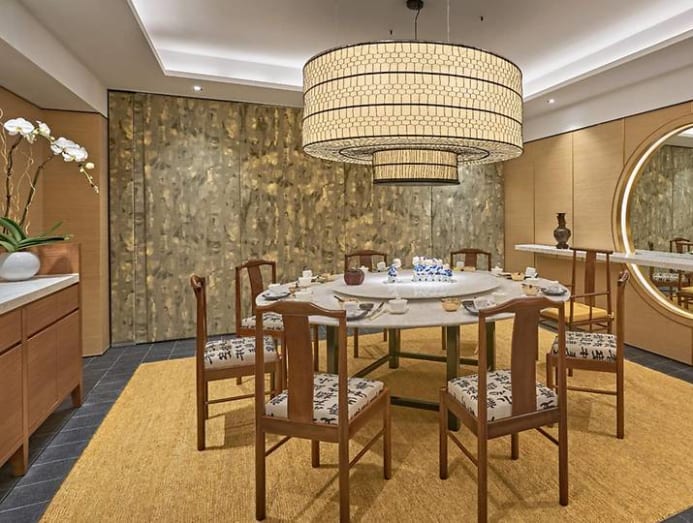 With master chef Chan Hwan Kee returning to helm the kitchen, restaurant regulars would be glad to know that Min Jiang's signatures and house specialties remain on the menu. 
These include barbecued meats such as the popular Honey-glazed Barbecued Iberico Pork. Other longstanding dishes include the fortifying Min Jiang Hot and Sour Soup, Spicy Sliced Red Garoupa Soup with Preserved Cabbage, flavourful Sauteed Prawns with Dried Red Chilli, fragrant Camphor Tea Smoked Duck Fillet, as well as the tantalising Mongolian Chicken with Almond Flakes.

Also remaining on the menu is the restaurant's dim sum lunch pushcart service, a classic offering seldom found in Chinese restaurants these days. New flavours are now available, including Steamed Pumpkin Ball, Deep-fried Homemade Squid Tofu with XO Sauce and Deep-fried Bacon Roll with Enoki Mushrooms and Prawns.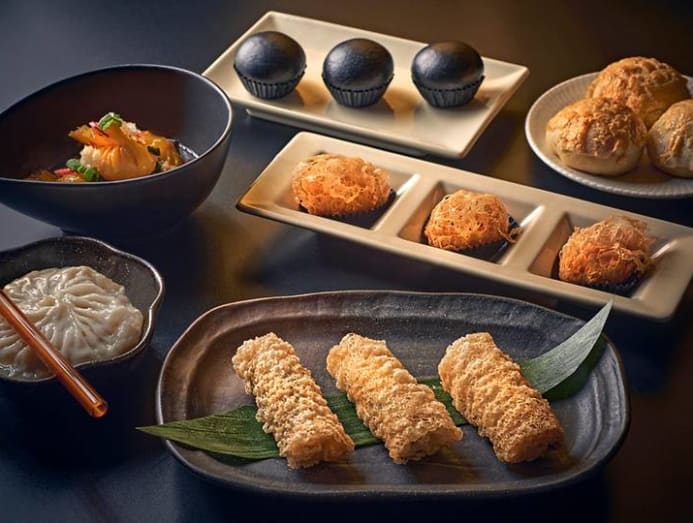 The creatively presented Min Jiang Land and Sea Quartet features a rabbit-shaped Steamed Prawn and Carrot Dumpling, accompanied by Deep-fried Pork Char Siew and Pine Nuts in Glutinous Pastry fashioned like a carrot. Alongside these flavours are Steamed Squid and Sea Cucumber Dumpling and Steamed Prawn and Chinese Stem Lettuce with Tobiko Dumpling, formed like a sea cucumber and starfish respectively.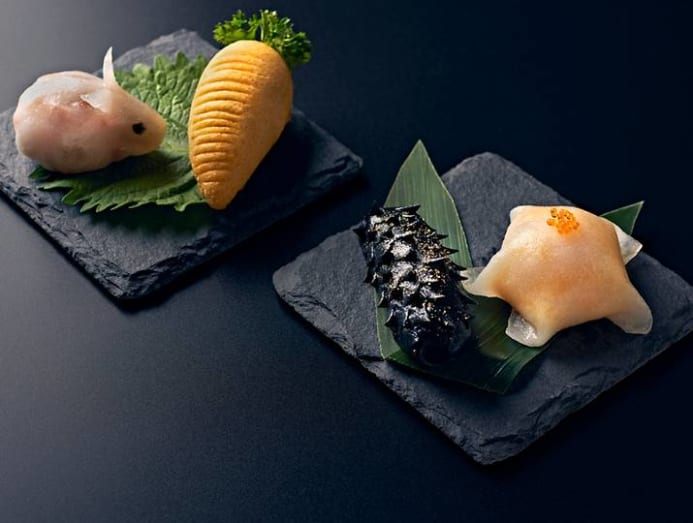 Diners can also look forward to a range of newly minted dishes that articulate Chan's culinary mastery. 
These include Deep-fried Stuffed Dough Sticks with Shredded Abalone and Enoki Mushrooms, which enhances the enjoyment of eating crispy dough fritters stuffed with minced seafood paste thanks to the addition of a rich, savoury sauce and strips of Australian abalone, carrot and mushrooms, topped with deep-fried julienned leeks.
The Roasted Chicken Skin with Prawn Paste in Sesame Pockets is a remake of a traditional sesame encrusted baked flatbread or "shao bing" that envelopes a variety of fillings.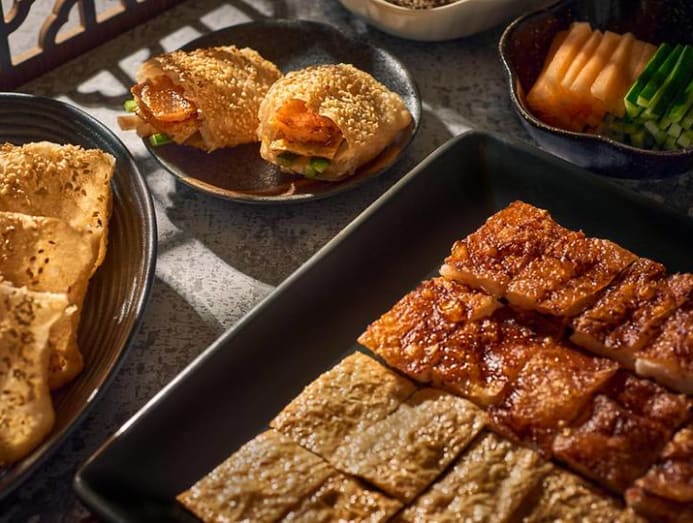 Well-loved desserts are also reinterpreted in creations such as the Deep-fried Purple Sweet Potato Crispy Milk with gula melaka coconut syrup, and Chilled Hasma, Red Dragonfruit and Lemongrass Jelly with Honey Sea Coconut.