Braised pork belly, salt baked chicken: Min Jiang presents local dialect favourites
From now till Dec 31, tuck into a delightful array of nostalgic Cantonese, Hakka, Hokkien and Teochew dishes, all in one sitting, if you wish.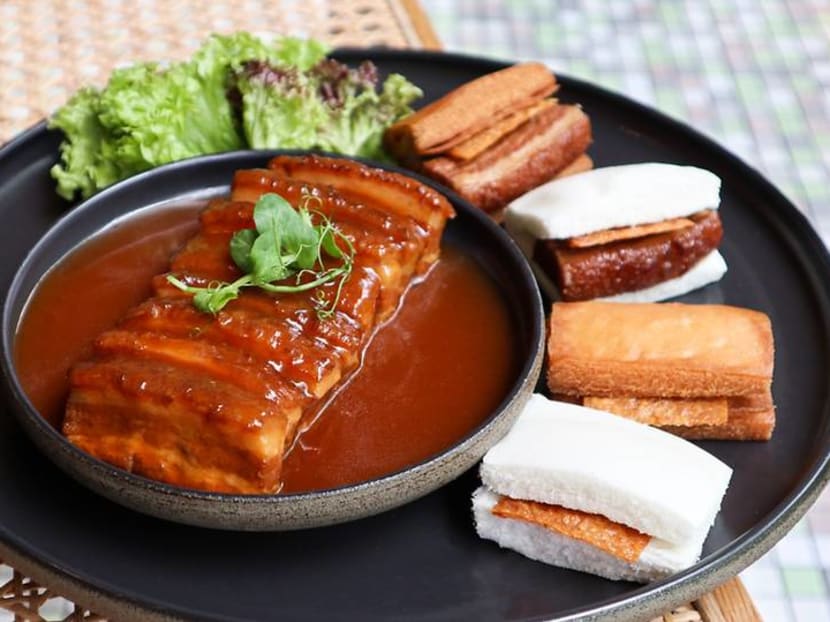 Singapore offers a myriad of dining options, but nothing feels quite as comforting as dishes that remind you of home. 
As part of Goodwood Park Hotel's 120th anniversary year-long celebrations, the hotel's contemporary Chinese restaurant, Min Jiang at Dempsey, is presenting an ensemble of local dialect favourites that comfort with their nostalgic flavours.
From now till Dec 31, master chef Goh Chee Kong is presenting his take on classics from the Cantonese, Hakka, Hokkien and Teochew dialect groups. These familiar favourites have been refined to suit today's palates, are are presented with a contemporary touch, all while retaining the flavour profiles beloved by the various groups.
The Steamed Quail Eggs "Siew Mai" in Truffle Oil (S$7.80 for four pieces) is a classic Cantonese dim sum that is rarely found on menus these days due to its elaborate preparation. Goh has enhanced this dish with the addition of choice ingredients, such as truffle oil and flying fish roe.

Usually a component in Min Jiang's signature Heritage Platter, the Deep-fried Crabmeat with Chicken Liver and Salted Egg Yolk (S$26 for four pieces) is presented as a delectable small bite instead. 
Rooted in Teochew traditions, this dish is a fruit of labour that encompasses multiple steps – steamed Sri Lankan crabmeat is combined with egg white, then layered with grilled chicken liver and a whole salted egg yolk before being wrapped in caul fat and deep-fried.
The Traditional Salt Baked Chicken (S$48 for whole chicken) is a quintessential Hakka dish with a cooking style featuring a salt crust that not only isolates the marinated chicken from direct heat but also retains moisture within during the steaming process. The result is a tender, juicy, naturally sweet and fragrant whole chicken.
A spin on the Hokkien traditional dish, the Braised Pork Belly served with Steamed and Fried Buns (S$36 per order) will satiate with its tender pork belly that has been braised then steamed for at least five hours in a flavoursome gravy served with both deep-fried and steamed buns for variety. Crispy deep-fried beancurd skin is also sandwiched in the buns for an added crunch.
To end off the meal is a well-loved Teochew dessert, Yam Paste with Ginkgo Nuts and Pumpkin accompanied with Deep-fried "Pumpkin" (S$12 per person). Goh follows the tradition of frying the yam paste with fragrant oil for an extra dimension of savouriness. It is accompanied by a pumpkin-shaped deep-fried glutinous rice ball with a luscious red bean filling.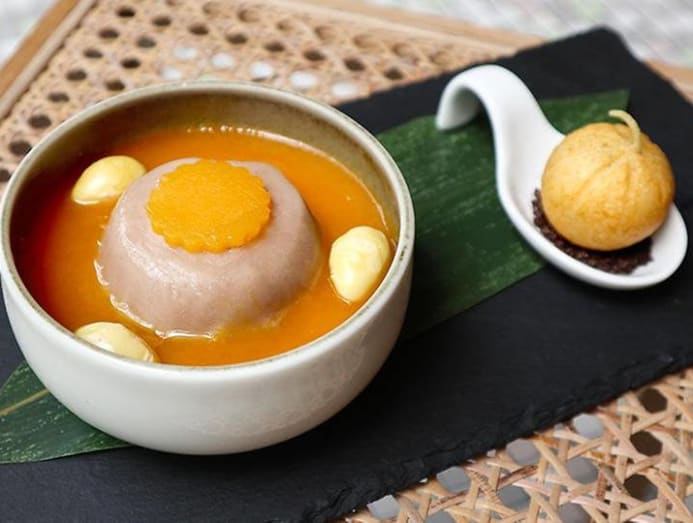 Min Jiang's Renditions of Local Dialect Favourites is available daily for lunch and dinner daily. Takeaway and delivery are also available, and orders can be placed online here