Why Malaysia's muskmelon 'agropreneurs' are now growing square watermelons
Malaysian agropreneurs Mono Premium Melon made news earlier this year when they successfully grew prized Japanese muskmelons in Putrajaya, Selangor. Now, they're continuing this momentum with new crops and efforts to "excite" the market.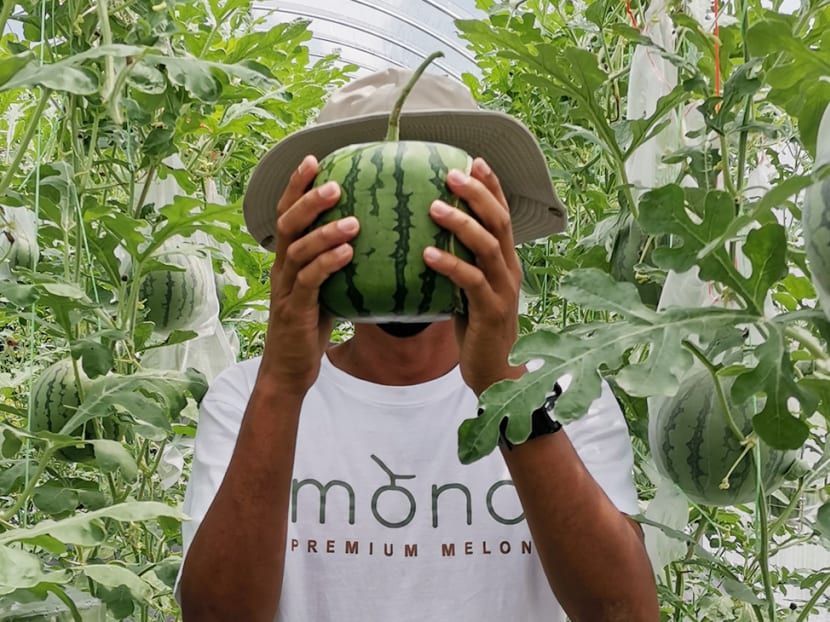 To say that 2021 has been a difficult year would be an understatement. As the world grappled with adapting to a post-COVID-19 landscape, three Malaysian agropreneurs reaped the fruits of their dream project.
Seh Cheng Siang, Mohd Sofian bin Ali and Yeo Chen Swee, known collectively as Mono Premium Melon, caused a sensation with their first muskmelon harvest in April 2021 as this proved that their proprietary agro-system allowed this precious crop to be grown in tropical Putrajaya, Selangor. Since then, the trio have been busy sharing their knowledge and spreading a message of positivity that where there is a will, there is definitely a way.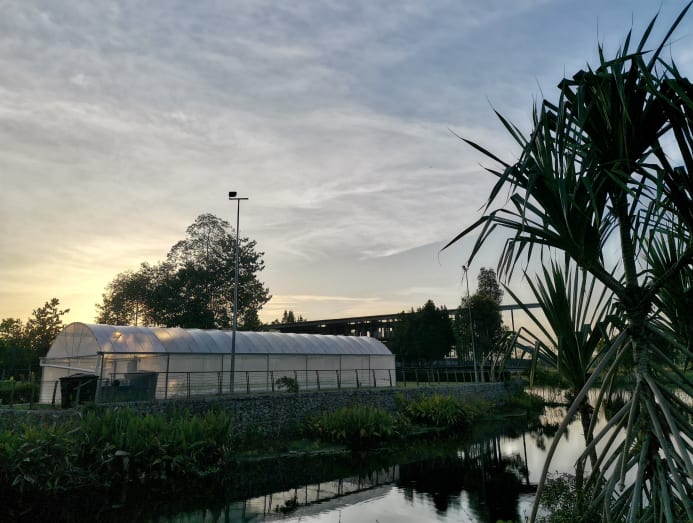 Since the agropreneurs had successfully grown one of the most expensive fruits on the market, they decided to shift their focus to growing something that was at the other end of the spectrum. They wanted to grow something generally considered a cheap crop, the generic watermelon, but with a twist – the trio would challenge themselves by growing the melons in a square shape.
"Technically, growing square-shaped watermelons is very challenging, due to a few factors," explained Seh. "Firstly the selection of watermelon type is crucial. It needs to taste good and look nice but must not crack easily. Secondly the farmer needs to ensure you get a nicely shaped fruit, in that if it's too small of a fruit, it won't form a square and if it's too big, it will cause the fruit to crack.
"Lastly, we must make sure there's a consistent supply of water and nutrients for uniform growth. Generally, until the second we take out the square-shaped fruit from the mould, we would not dare to say we have successfully grown a square-shaped watermelon."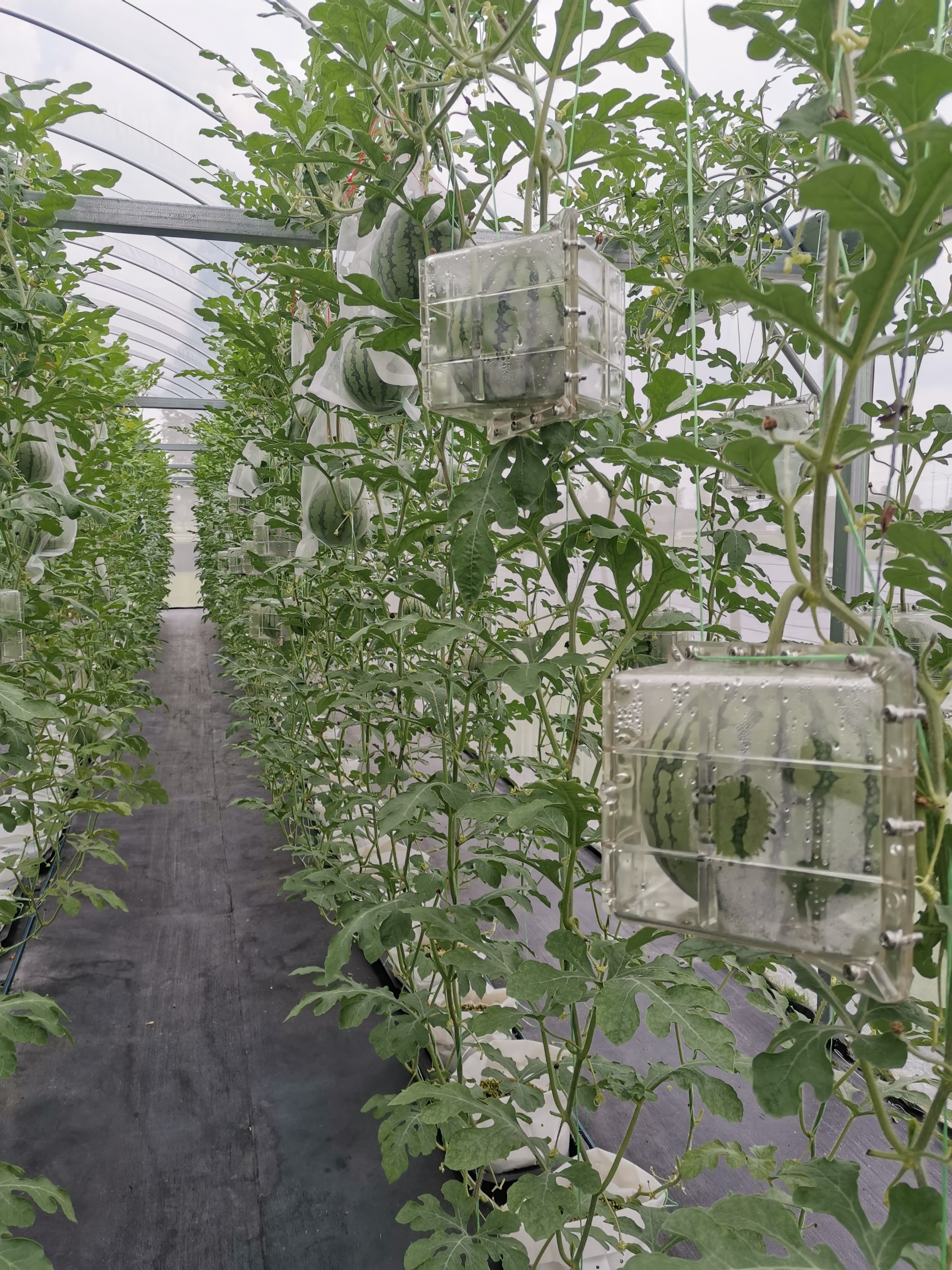 Along with its growing activities, Mono decided to launch a Pay What You Want scheme to allow their followers to experience their products while giving them the freedom to decide how much to pay for it.
"This scheme empowers our fans to decide on the value of our produce. It also eliminates their worry of whether our product is worth a given set price and possible risk of disappointment. For us, we can make sure we always sell at the 'right' price that is decided by our consumers. For both buyers and sellers, it creates a friendly win-win exchange that is centred on value and trust," enthused Seh.
This scheme was implemented in a Merdeka Flash Sale over the end of August where consumers could choose from buying one muskmelon, one square watermelon or two mini watermelons. The outcome for this was encouraging, with more than 50 per cent of consumers choosing pay either RM88 or RM108 (S$28.50 or S$35).
From an outreach standpoint, Mono also launched a melon plant adoption program as a response to the many requests to visit their farm. How does this work? While Mono will take care of the plant, the adopted "parents" may visit their plant in compliance with movement restriction orders and with prior appointment.
During this time, they may witness the entire growing process and receive their plant straight from the farm during harvest. Since the new planting season started in October, the harvest is expected sometime in mid-January 2022, just in time for Chinese New Year.
When news of their first drop of muskmelons began to go viral, the trio were approached by other aspiring agropreneurs eager to start farms of their own. "We were happy to advise many of them as we wanted them to start their farms properly. This is important because at the end of the day, to make sure the agriculture is sustainable, the farmer first has to be able to make profit," said Seh.
To support this, Seh explains that they have set up a sister company, Irritec Sdn Bhd, to provide smart farming solutions. "Through this company, we help new agropreneurs set up new farms and provide technical advice on the growing," explained Seh. "We have helped set up eight farms in five months and have had enquiries coming from the Maldives, Singapore, Thailand, the UAE, Bangladesh and Indonesia."
Mono, however, will continue working towards showcasing what Malaysian growers can grow. "Our principle will always remain – Malaysian-grown for Malaysians. We believe if we do it properly, growers can produce premium and high-quality produce that's better or of equivalent quality compared to imported premium fruits," enthused Seh. "Japanese muskmelons will still be our key crop, but we will be expanding to different types with orange flesh and different aromas."
While these agropreneurs have been successful thus far, they remain realistic about farming, preferring to temper their positivity.
"There are no guarantees in agriculture. Even if you have the most advanced technology and the most experienced farm manager, one hit of bad weather or disease outbreak can damage your hard work. This is not to scare people away, but would-be famers need to be mentally prepared for things like this," cautioned Seh.
"So, what we can do with Irritec Sdn Bhd and Mono Premium Melon is to provide all the technologies and technical know-how that can help to reduce the risks for all those external uncertainties. We believe the right technologies can help the farmer to troubleshoot more accurately and help with better decision-making."