Meet the Malaysian 'agropreneurs' growing S$200 Japanese muskmelons
In Putrajaya, three Malaysian farmers have perfected growing prized Japanese muskmelons, one of the world's most expensive fruit, using a system they devised after years of trial and error.
The Japanese muskmelon and its eye-watering prices have long been the stuff of desire and incredulity. Like Kobe beef, these melons are pampered and bred with meticulous care to ensure each fruit is the platonic ideal of its species.
In the unlikely federal territory of Putrajaya, Malaysia's administrative capital, Seh Cheng Siang, Mohd Sofian bin Ali and Yeo Chen Swee have started a farm under the brand, Mono Premium Melon, growing these prized fruits.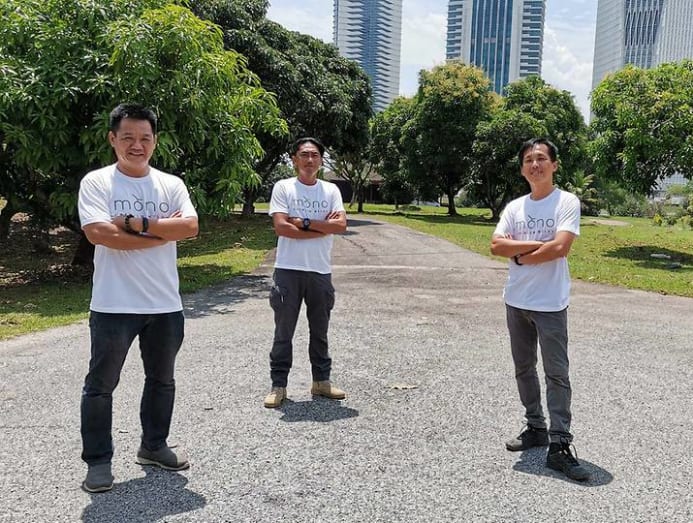 Seh, an expert in hydroponics and fertiliser, Sofian, an agriculture engineer, and Yeo, who specialises in agrochemical and pest and disease management, have many years of agriculture industry backgrounds under their respective belts.
They had been growing melons for more than 10 years but with their combined expertise, recently discovered the correct combination of technologies to be able to grow this notoriously finicky crop successfully, even in a tropical environment.
"Due to COVID-19, we can't travel out of the country, including Japan, so we decided to bring a bit of Japan to Malaysia." – Seh Cheng Siang
"We chose the name Mono as it comes from the Japanese phrase Mono-No Aware – which means that beauty is subjective, and it's our sensitivity to the world around us that makes it beautiful. In particular, the transience of the physical world and our awareness that beauty is impermanent makes us appreciate it more," explained Seh.
While the inspiration for the name came from a poetic place, the impetus behind setting up Mono Premium Melon came from a desire to convince Malaysians that growing a prestige crop like muskmelons was not impossible.
"We've met many good local growers that can grow good quality local fruits but they don't have the know-how and platform to market it properly to the end-user," said Seh. "As such, we set up Mono as a way to showcase to Malaysia that we could use a B2C business model to reach end-users directly, making sure that our produce reaches them in the way that we would like to present."
Extensive research was done on various types of Japanese melons beforehand to find a variety that was suitable in terms of heat tolerance, disease resistance, eating quality and appearance. After many rounds of testing with seeds exclusively imported from Japan, the Arus variety was chosen because it worked best in Malaysian weather and the trio's smart planting system.
"We received lots of positive and encouraging feedback on the growing and fruit quality. We were also surprised to be contacted by some VIPs who were interested in what we were doing." – Seh Cheng Siang
This system is a combination of an Autopot hydroponics system, a Nido Internet of Things (IoT) Controller, and several technical practices. The Autopot hydroponics system is a "plant-driven" watering and feeding system which delivers precise amounts with zero run-off, while the Nido Controller is used for the management and monitoring of pH, temperature, water level and humidity, to name but a few – all of which can be monitored from a smartphone.
The technical practices are where things become less technical, ironically. For starters, the melons are "serenaded" with specially composed music with binaural beats and isochronic tones to stimulate growth. The melons are also regularly polished with a soft cloth or glove, a practice called tama-fuki, to enhance their flavour and encourage the forming of the distinctive net-like pattern found on the melon's skin.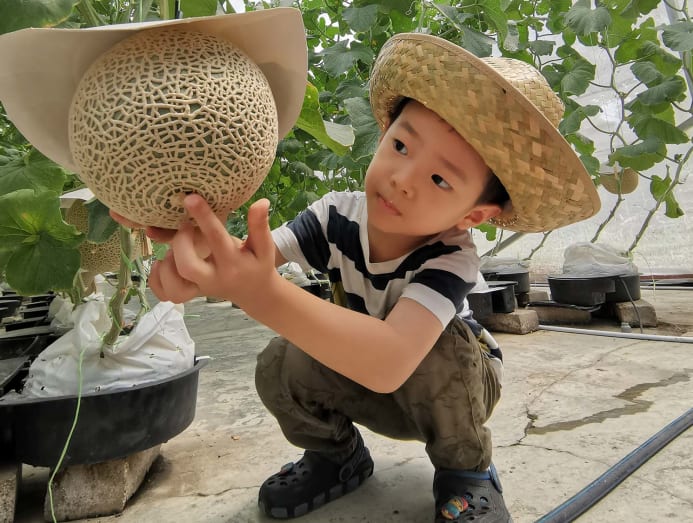 Since Mono Premium Melon was set up, they've harvested their crop once in April this year and the 200 melons, which were marketed online, were sold out. The melons sold for RM168 (S$54) each, which is about a third of the price the Japanese varieties normally go for. In Singapore, prices range from S$150 to S$200 for a single melon at specialty grocers and Japanese supermarkets. 
The "agropreneurs" were delighted at the buzz their melons caused and believe they managed to prove that local growers can produce good quality fruits.
"We received lots of positive and encouraging feedback on the growing and fruit quality. We were also surprised to be contacted by some VIPs who were interested in what we were doing," Seh said with a smile.
At the moment, Mono Premium Melon is focussing on the Malaysian market with an eye to working together with local restaurants that share their same beliefs, although they are also open to export if there's an opportunity to do so.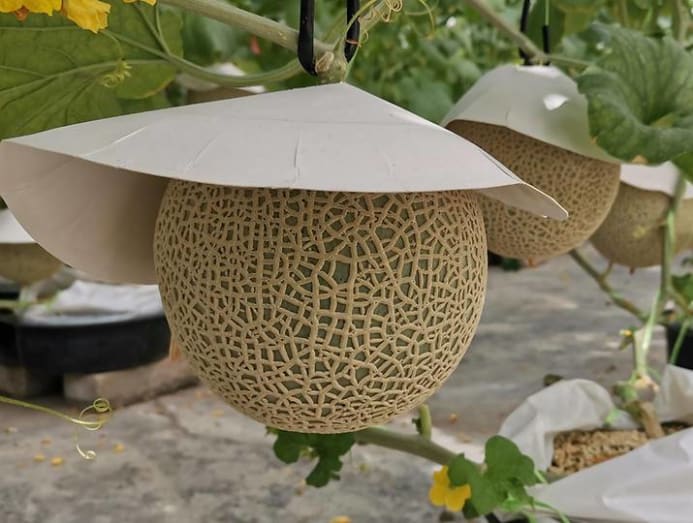 For a fledgling enterprise, Seh reveals that while the COVID-19 pandemic has been hugely challenging to the industry, the trio have taken it as an opportunity instead.
"Because of COVID-19, the supply chain and value chain between grower and end-user is getting closer. This means that growers can get in touch with their customers easily without going through layers of middlemen, wholesalers, retailers or transporters as people are more familiar with e-commerce and online purchasing," stated Seh.
"Starting anything properly is a key point and that's the advice I would also give new 'agropreneurs'. Also to think out of the box." – Seh Cheng Siang
Indeed, the trio's positivity is fuelled by the support of their respective families, whom they cite as their inspiration. They attribute their achievements in growing muskmelons successfully to believing in themselves and laying the proper groundwork for the endeavour.
"Starting anything properly is a key point and that's the advice I would also give new 'agropreneurs'," said Seh. "Also to think out of the box. For example, if we were to have done anything differently in this enterprise, we would play better music for our melons, like some unplugged or live band music. Seriously!"
As Mono Premium Melon navigates the future and looks forward to its next harvest, Seh reveals that they are working on expanding their production to ensure a more consistent supply. They also hope that Mono will inspire many young or new "agropreneurs", not to mention bring some joy to their fellow Malaysians: "Due to COVID-19, we can't travel out of the country, including Japan, so we decided to bring a bit of Japan to Malaysia."