Are outrageous flavours a must to win the mooncake war every year?
While creativity is important – think unusual, decadent flavours like truffle carbonara, negroni, kaya, or bird's nest with custard – chefs emphasise the importance of taste and quality over trends.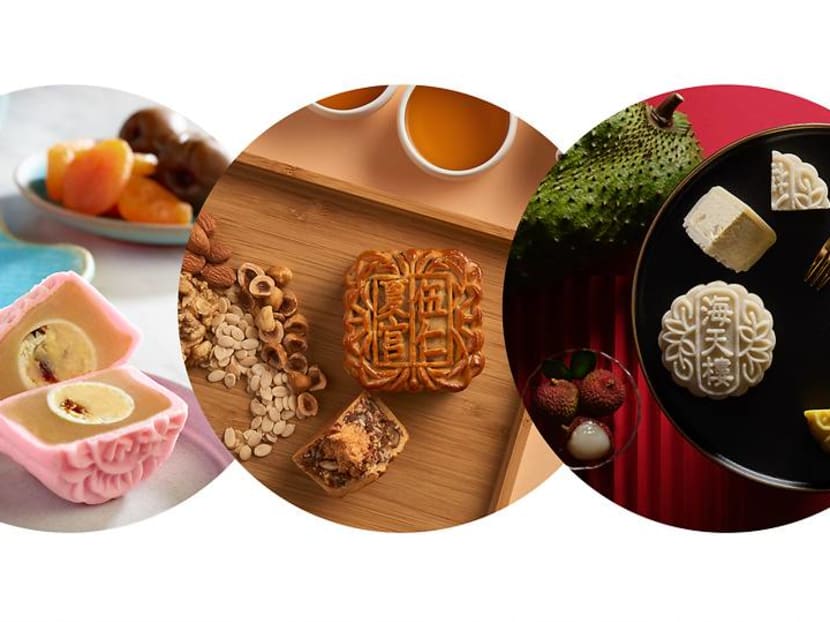 The Mid-Autumn Festival heralds harvest time in Asian countries such as Vietnam, China, Japan and South Korea. It is traditionally celebrated with family dinners, lighting paper lanterns while admiring the full moon, and feasting on mooncakes.
This year, it falls on Oct 1. In Singapore, it is the time for hotels and restaurants to roll out enticing offerings to capture the tastebuds and wallets of consumers. Naturally, competition is all around: Sinpopo's online mooncake fair counts 38 participating brands, while Oddle Eats has 31 different options to choose from.
Chefs tell CNA luxury that planning for mooncake flavours starts from as early as right after the previous year's festival, to six months before the current year's.
Taste, ingredient quality and consumer trends lead the decision process. The tried-and-tested winning formula? Stick to the hits – think Raffles Hotel Singapore's Champagne Truffle, which has been around since the 1990s; Goodwood Park Hotel's D24 Durian, which was among the first of its kind to be launched in the 80s; and the Bird's Nest with Custard and Hazelnut Royaltine Chocolate mooncakes from Four Seasons Hotel Singapore's Jiang-Nan Chun restaurant – and add some new magic every year to pique curiosity and tickle fancies.
"Increased competition during the mooncake season makes it crucial to be creative and entice guests with new flavours in addition to traditional flavours." – Eric Tan
PERENNIAL FAVOURITES VS NEW FLAVOURS
The public's choice of mooncakes often depends if the purchase is personal or as a gift.
Regent Singapore's executive chef Angelo Ciccone said: "Guests will explore adventurous flavours at their own time, but tend to gift the fail-safe traditional ones to loved ones, elders and corporate clients."
Cantonese restaurant Yan's general manager Shek Chi Kuen agreed, saying: "In past years, we have kept to flavours that our customers know and love, such as yam and the traditional baked mooncake with white lotus paste. Our corporate clients who purchase mooncakes as business gifts also have a preference for familiar favourites, which you can't go wrong with."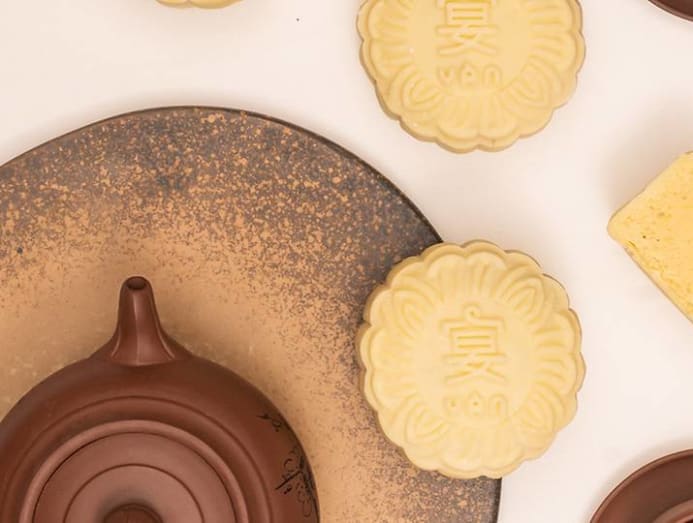 While the familiar guarantees sales, new creations draw interest. Mandarin Oriental, Singapore's executive chef Eric Tan said: "Increased competition during the mooncake season makes it crucial to be creative and entice guests with new flavours in addition to traditional flavours. But we don't face direct pressure to go according to the trends as our emphasis will be on the quality of ingredients used as well as the unique combination of flavours."
This year, the hotel's bestsellers such as the baked Low Sugar Silver Lotus Paste with Single/Double Yolk and Lychee Martini and Chocolate Truffle snowskin mooncakes are served alongside new ones such as the pleasant Lugu Oolong Tea with Melon Seeds and Oolong Tea Infusion with Dried Apricot and Pumpkin Seeds.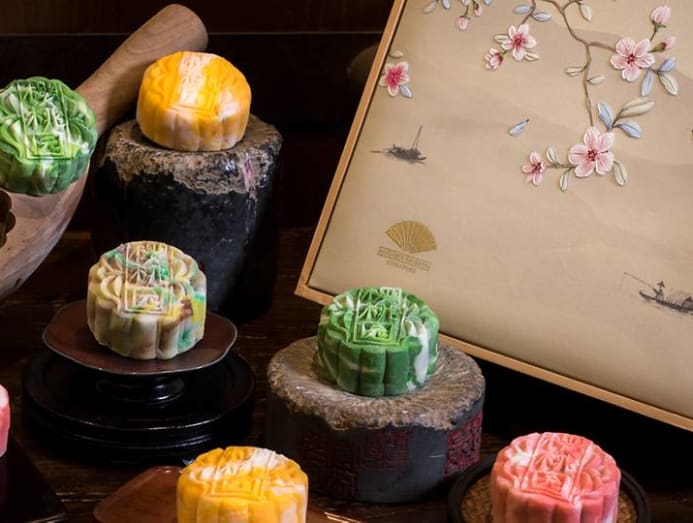 Leong Kwok Sing, dim sum chef of Regent Singapore's one-Michelin starred Cantonese restaurant Summer Palace said that although the team feels the need to be creative, "we don't go out of our way to create an outrageous combo".
They did, however, push the envelope with a savoury-sweet truffle carbonara snowskin mooncake last year. Based on the mixed reviews, it is not likely to make a re-appearance. Ditto for flavours such as negroni and kaya, whose original flavours Leong felt were lost during the testing.
Regent's new offerings such as the Double Espresso and Almond Marzipan, and the Pistachio, Fig and Amarena Cherry are deliciously balanced and well worth the calories. So are the traditional crowd pleasers – the Signature Black Sesame Paste, Gryphon Green Tea with Melon Seeds and Parma Ham and Pork Floss with Assorted Nuts.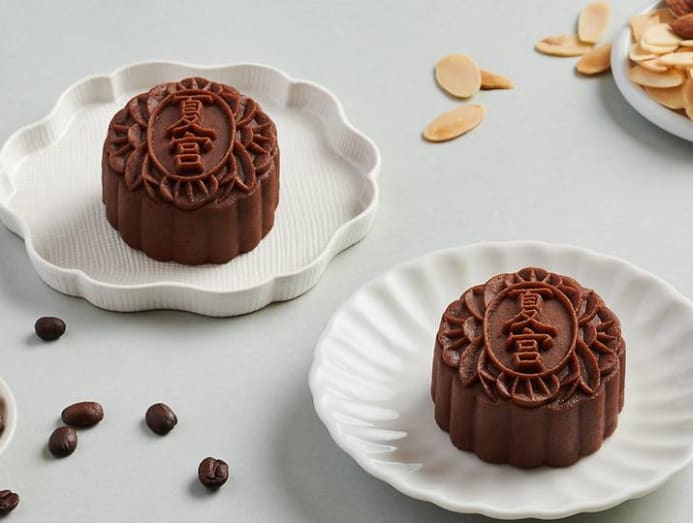 Specialising in a certain flavour and texture combination helps to build up a fan base. Executive chef Ben Zeng of Cantonese restaurant Hai Tien Lo at Pan Pacific Singapore has been capturing local palates with creative takes on the familiar.
Zeng said: "Our snowskin mooncakes showcase western flavours, incorporating non-traditional ingredients such as chocolate as well as Southeast Asian tropical fruits such as soursop and lychee which are refreshing to taste, especially in Singapore's hot climate. Hai Tien Lo's snowskin mooncakes are also crafted to taste similar to ice cream, which helps entice fans of the frozen dessert."
Ritz-Carlton, Millenia Singapore has stuck to its bestselling Mao Shang Wang durian and Lycheetini snowskin mooncakes, with different fruit liqueur-infused and cocktail-inspired variations over the years such as Berrytini, Mangotini, and Irish Martini.
Executive chef Massimo Pasquarelli said: "Sometimes less is more. We prefer to focus on perfecting our classic baked mooncake flavours and perennial favourites that our customers have come to know us for, instead of constantly trying to think of outlandish flavours each year."
Quality is a must and many stick to tried-and-tested ingredient sources. Cantonese restaurant Yan has been going to the same supplier for its white lotus paste fillings for many years and only launched its Mao Shan Wang durian snowskin mooncake last year when it found a reliable supplier.
General manager Shek Chi Kuen said: "We believe that taste is the most important factor, especially for baked mooncakes with lotus paste. We have been sourcing our white lotus paste from the same supplier in Hong Kong. They may not be the cheapest on the market, but we can trust them to deliver pure white lotus paste that is always consistent in quality."
"Sometimes less is more. We prefer to focus on perfecting our classic baked mooncake flavours and perennial favourites that our customers have come to know us for, instead of constantly trying to think of outlandish flavours each year." – Massimo Pasquarelli
TRENDY AND HEALTHY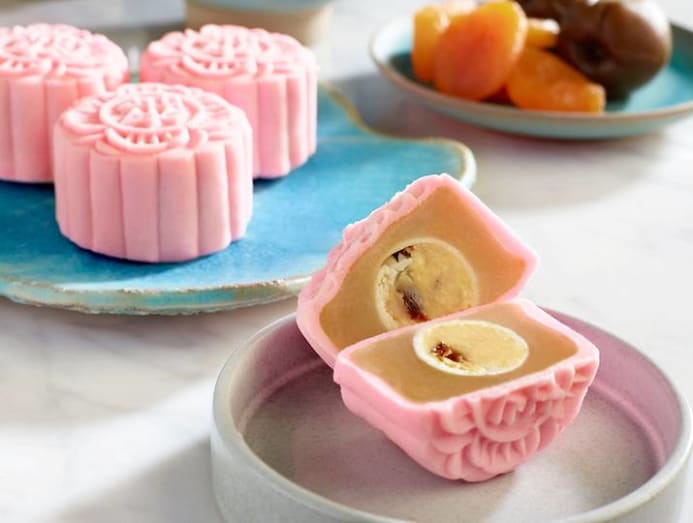 Consumer trends still play a major role in flavour decisions. Raffles Hotel Singapore's executive pastry chef Tai Chien Lin said: "When we observed an increased interest in superfoods, we created an Acai Berry and Chia Seeds snowskin mooncake in 2018."
This year's new flavour is an Apricot and Sourplum snowskin mooncake inspired by the Plum-Pickled Tomatoes with Crunchy Turnip & Sweet Vinegar, one of the most popular signature dishes of chef Jereme Leung at his contemporary Chinese restaurant, Yi by Jereme Leung.
"The new Apricot and Sourplum as well as Yuzu and Osmanthus mooncakes are also introduced because we noticed a greater appreciation for refreshing fruity flavours," Tai said.
Demand for healthier options has prompted a flurry of low-sugar versions on the market, such as Shangri-La Hotel, Singapore's white lotus seed paste and Pan Pacific's Jade Paste with Melon Seeds.
This year, Shangri-La has new Mini Vegan Mooncakes containing pumpkin and lotus paste, caramelised pumpkin seeds, and a sweet pumpkin sphere replacing the traditional egg yolk. But it's not just a gimmick. "We strongly believe in offering flavours that would ultimately deliver on quality and not just novelty," said a hotel's spokesperson.
A spokesperson from Goodwood Park Hotel added: "We've noticed that there are more consumers who request for mooncakes that are less sweet. Hence our white lotus seed paste mooncakes are a good choice for them. Consumers also seem to enjoy more of refreshing flavours for snowskin mooncakes. These mooncakes are easier to finish as they are light on the palate."
And while combinations such as mangosteen, chiku pandan and buah long long with sour plum sound like delicious ideas on paper, they were deemed either too faint or acquired during trials to be suitable for market launch.
So hot favourites are likely to stay and get better on quality and presentation, and we can still look forward to creativity on the plate, guided – hopefully – by some common sense in what's palatable and not.
"In past years, we have kept to flavours that our customers know and love… Our corporate clients who purchase mooncakes as business gifts also have a preference for familiar favourites, which you can't go wrong with." – Shek Chi Kuen