Mid-Autumn Festival 2021: Not sure which mooncakes to get? Try these
From traditional bakes and vegan varieties, to premium flavours like black winter truffle and aged mandarin peel, this year's crop of mooncake offerings is as varied as they come.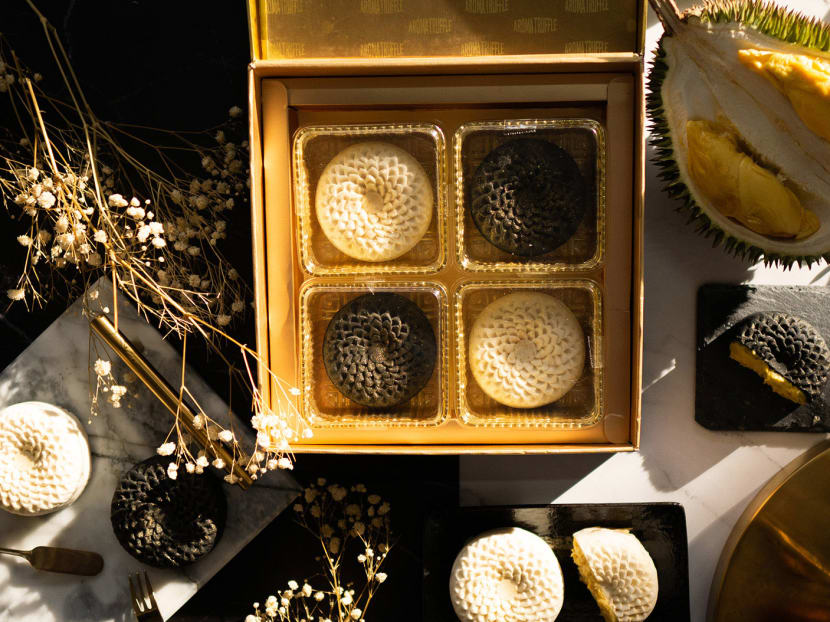 We blinked and September is upon us. Which means autumn is nigh and we should be planning for a trip to someplace cool and saturated with the warm colours of fall. We will, however, have to make do with paper lanterns and mooncakes, a rather wonderful reminder that the world turns regardless of our moods and whims. This year's range of mooncakes is as varied as ever, with more new flavours to sample and classic ones to delight in yet again. Not sure where to start? Try these.
BLACK WINTER TRUFFLE MAO SHAN WANG DURIAN MOONCAKES FROM AROMA TRUFFLE
Since they made their debut in 2019, these pungent (or fragrant, depending on how you feel about durians and truffles) confections have flown off the shelves almost as soon as they are made available. At the time of writing, its manufacturers said 2,000 out of its 4,000 boxes are still available.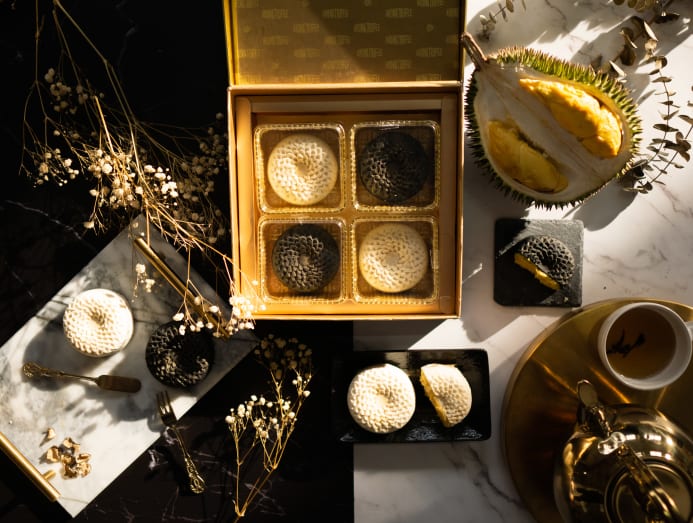 Encased in a snowskin made from Japanese mochi flour is a rich filling of Pahang mao shan wang durian flesh flecked with black winter truffles that imbue the fruit with earthy depth. The onyx-skin version is showered with gold dust in case you need an extra dose of edible ostentation. Prices start from S$108 for a box of four mooncakes.
SMOKED DUCK WITH ASSORTED NUTS AND LIME MOONCAKES FROM JIANG-NAN CHUN
Those with a yen for more savoury mooncakes will welcome the return of this Smoked Duck with Assorted Nuts and Lime number (S$80 for a box of four) from Four Seasons Hotel Singapore's signature Chinese restaurant.
Inspired by Jiang-Nan Chun's popular Peking duck, which is prepared in a mesquite wood-fired oven, these mooncakes capture the familiar smokiness and flavour of the dish wrapped in a traditional baked crust. Also on the menu are new Kumquat and Lemon snowskin mooncakes (S$82 for a box of eight minis) and another filled with custard and a heart of bird's nest (S$92 for a box of eight minis).
VEGAN CUSTARD MOONCAKES FROM GREEN COMMON
Miyoko's vegan butter gives these baked Vegan Custard Mooncakes (S$54 for a box of six) a tender, golden crust that enrobes a custard filling made with plant-based milk, agave syrup and flaxseed powder.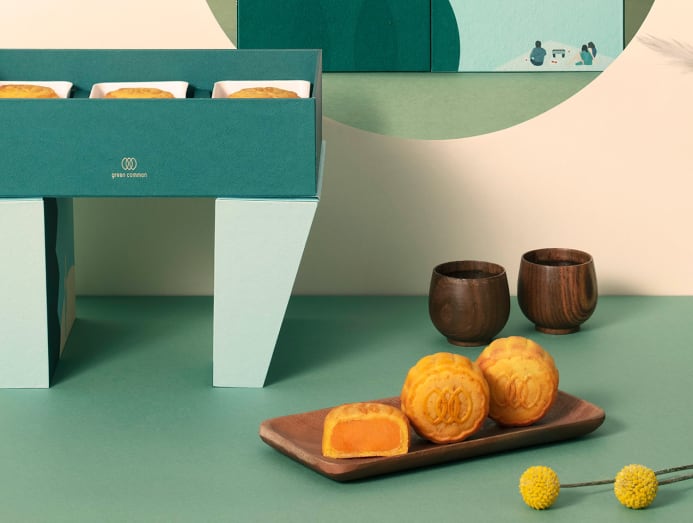 Plant-based maximalists might also like the Vegan Mixed Nuts Mooncake gift set (S$56 for a box of six), which offers flavours like Mixed Nuts with Blueberries and Purple Sweet Potato, and Figs with Pistachios and Oats. Pre-order by Sep 12 for collection between Sep 6 and Sep 21.
TRADITIONAL MOONCAKES AND TEA SET FROM MARINA BAY SANDS
There is often value in simplicity. Case in point: Marina Bay Sands' mooncake set featuring three mooncake flavours, namely Low Sugar Lotus Paste with Melon Seeds, Premium Pandan with Melon Seeds, and Yam and Lotus Paste with Salted Egg Yolk. The latter sees salted egg yolk dipped in Chinese wine before it is enveloped in a silky blend of steamed yam and house-made lotus paste.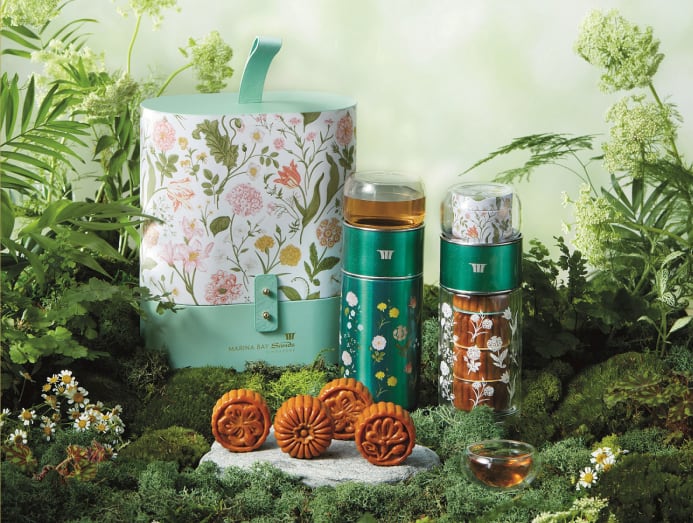 All are encased in a Cantonese-style dough enriched with Hong Kong flour, grapeseed oil and manuka honey. Each set (S$88) comes with a pretty pair of double-walled tea-infuser tumblers that are filled with eight diminutive mooncakes and two tins of Imperial Pu-Erh tea leaves from TWG Tea.
FIFTY-YEAR AGED MANDARIN PEEL AND RED BEAN MOONCAKES FROM SHANGRI-LA SINGAPORE
In Chinese culinary culture, aged mandarin peel is often worth more than gold. To that end, the 50-year Aged Mandarin Peel, Rose and Red Bean Paste Mooncakes (S$148 for nine pieces) from Shangri-La Singapore might be considered a steal.
Introduced as part of the hotel's 50th anniversary celebrations, these mooncakes are housed in a cylindrical box inspired by the mountainous landscape of Shangri-La. Fashioned after Shang Palace's popular sweet red bean soup, the mooncakes' silky filling is resonant with the deep, citrusy flavour of the aged peel, tempered by the delicately floral hint of rose.
LUXURY BAKED MOONCAKE SETS BY SYUN AND TABLE65
Aside from numerous snowskin and traditional mooncakes from Resorts World Sentosa's stable of restaurants, check out the luxury baked mooncakes from Japanese restaurant Syun and modern European eatery table65. The two-piece set (S$88) comprises a Golden Bamboo Charcoal Mooncake with Australian Black Truffle and Whisky-soaked Yuzu Peel with Sakura Mooncake.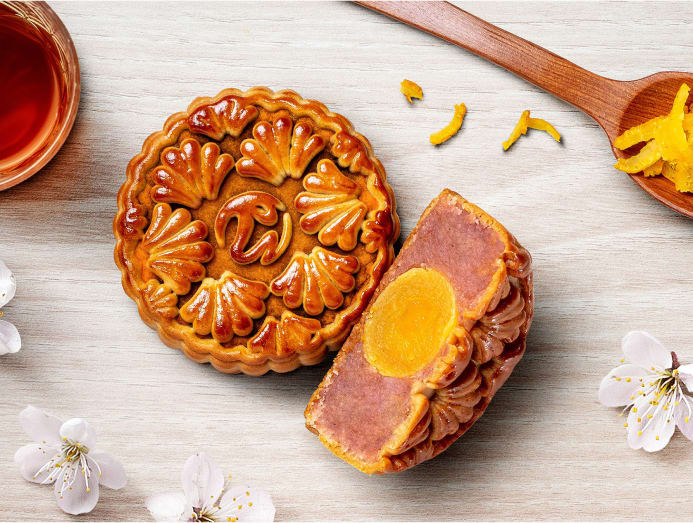 The former is filled with black sesame paste, custard, Australian black winter truffle and walnuts, while the latter will delight whisky lovers with its honeyed tones of Hibiki Harmony Whisky that saturate its white lotus paste filling with a salted egg yolk at its centre.
MINI EGG CUSTARD MOONCAKES FROM THE PENINSULA
These popular mooncakes filled with a delicately sweet-salty custard are specially flown in from Hong Kong where chef Tang Chi Keung oversees their production.
First debuted in 1986 at The Peninsula in Hong Kong, these bite-sized baked mooncakes (S$83 for a box of eight) are filled with a custard made from premium-quality duck eggs, butter and coconut milk, calibrated to yield the perfect balance of rich flavour. These petite indulgences are best eaten after a light warming in the oven. Available till Sep 21 at B2 Takashimaya and Level 1 Tangs at VivoCity.
RAINBOW SNOWSKIN MOONCAKES FROM TWG
Away with the drear and dread of the past year and in with a new season of colour and brightness. Such is the spirit behind TWG Tea's Rainbow snowskin mooncakes, which as their name suggests, come in the brightest hues patchworked across their surface. Beneath it is Moon Dance Tea-infused lime lotus paste paired with lemon and lotus cream.
The Rainbow mooncakes come as part of a set of four (S$70) that includes Pure, a snowskin mooncake with white lotus paste infused with New World tea, roasted coconut, chocolate pearls and a white chocolate mango truffle; and Ruby, with white lotus and orange paste flavoured with Sweet France tea and a white chocolate raspberry truffle in its centre. The mooncakes are housed in a whimsical red music box.