Mooncakes for 2022: The weird, the wonderful and the ones filled with durian
With the mid-Autumn festival coming up, we check out the unique mooncake offerings across town.
The humble mooncake has come a long way from the old biscuit-y pucks of pastry filled with sweet, dense pastes. Today's mooncakes are such a far cry that they may not even come in the forms we know and love anymore.
Chocolate truffles, French-style tarts and numerous other manner of confections find their way into the annual scrum, begging to be bought and devoured in the name of the mid-autumn festival. Even the child-friendly piggy biscuits seem to have given way to rabbit-shaped pastries instead.
That said, the versatility of the snowskin mooncake still reigns supreme. Their squishy, supple skins made from glutinous rice flour are ideal canvases beneath which chefs can magic just about anything into a filling, from chocolate truffles to durian flesh. Their less traditional form also allows restaurants of every ilk to get in on the action.
FAR FROM TRADITIONAL
Modern European restaurant Table65 at Resorts World Sentosa has created a Pearl Of The Sea Snowskin mooncake featuring a filling of white chocolate ganache enrobed in sencha and white lotus paste. If you think you've seen it all in a mooncake, we bet you haven't seen onyx orbs of caviar worked into a champagne snowskin confection, have you?
More unusual ingredients go into Ocean Restaurant's Ocean Sapphire Snowskin Mooncake. Think an Aonori dried sea lettuce-flavoured green pea paste, candied lemon, sea salt buckwheat biscuit and roasted pine nuts encased in an acai berry snowskin.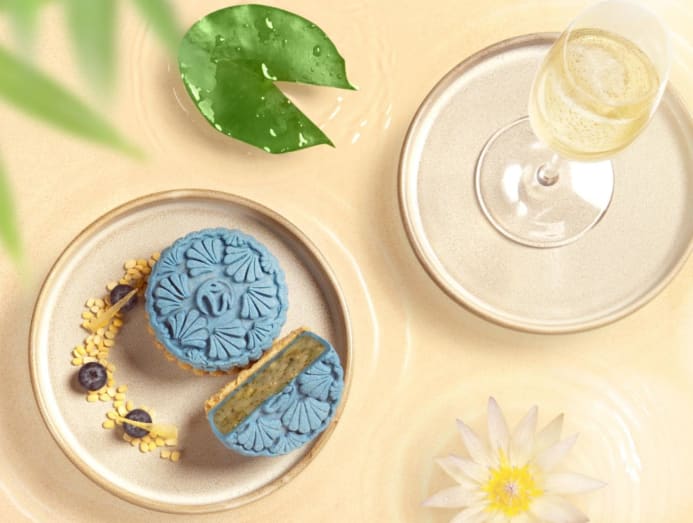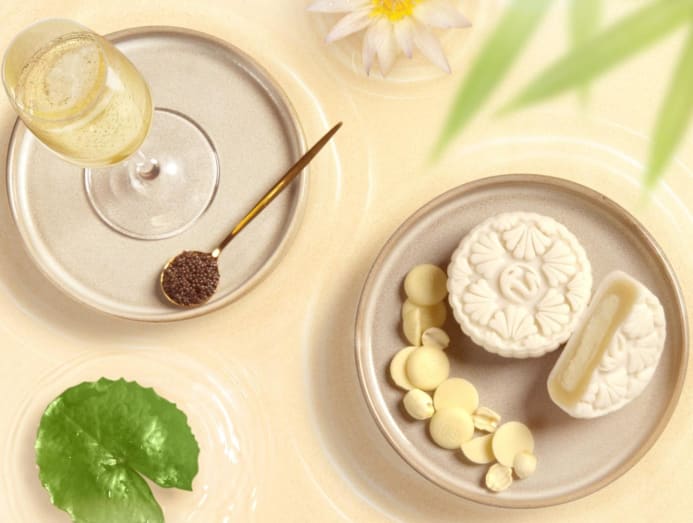 With offerings so unique, why not throw in a bottle of champagne for good measure? The pair of mooncakes from Table65 and Ocean Restaurant comes with a 750ml bottle of Perrier-Jouet's NV Grand Brut Champagne for S$218.
Every year, the chefs under Regent Singapore's roof come together to create a collection of mooncakes inspired by the cuisines they serve. Italian buffet restaurant Basilico's rendition is a Seirass Ricotta and Amalfi Lemon number, while upscale bar Manhattan's version sounds like a literal cocktail-to-confection exercise, with a filling infused with red wine, rooibos tea, mezcal, Laird's Applejack brandy and fresh citrus. Both are sold at S$53 for a box of four mini mooncakes.
THE FLAVOURS OF DIFFERENT LANDS
If Janice Wong has her way, Singapore's love for all (edible) things Japanese will send sales of her Taste of Japan collection soaring to the moon. The box of eight snowskin mooncakes (from S$66) features flavours like Kombu Wasabi Chestnut (the wasabi is infused in the snowskin); Bergamot Sea Salt, "evocative of the sea air and citrus groves of the Seto Inland Sea"; and Calpis Sakura, which captures the two things I love about summer in the one country that Singaporeans really want to visit without a tour guide in tow.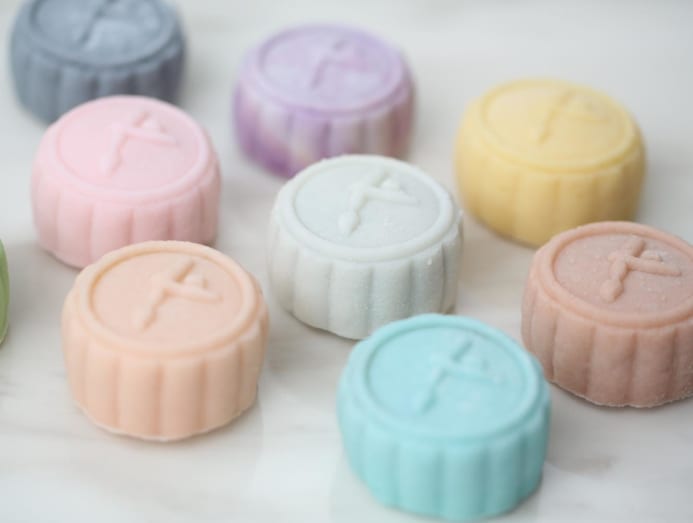 Mooncake season isn't complete without a bevy of durian creations. In one of its options, Taiwanese pineapple cake purveyor SunnyHills squirrels the creamy flesh of Mao Shan Wang durians harvested from trees in Pahang Malaysia that are more than 18 years old (presumably when they are at their best fruit-bearing years) beneath an acai-flavoured snowskin (from S$85.30 for a box of four). In another, the snowskin is made with the addition of coconut flesh and encases the flesh of D24 durians harvested from trees more than 22 years of age (from S$69.50 for a box of four).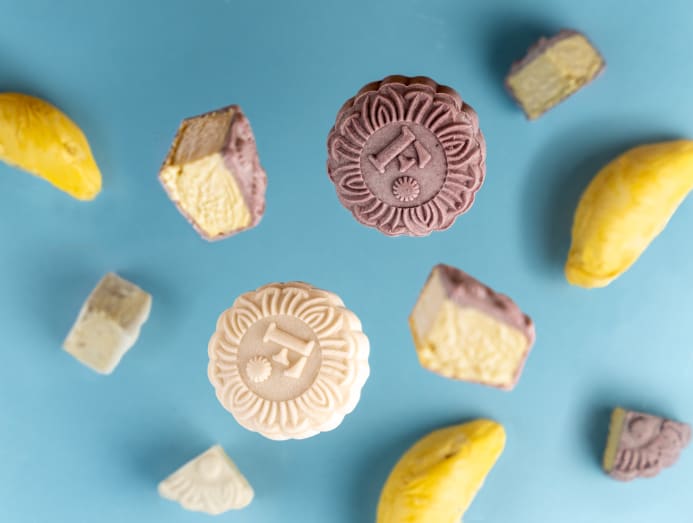 TWG Tea's snowskin mooncakes have always been distinctively bright. Not for them subtle pastel snowskins but rather crayon shades of hot pink, red and Christmas green.
This year, their bold hues get a jolt of gold. Aptly named Illumination (from S$88 for a box of two), the mooncake's snowskin is so generously embellished with gold leaf that it will leave a shine around your lips after you sink your teeth into them. Inside, the white lotus paste suffused with fruity notes of Immortal Moon Tea is studded with crunchy white chocolate pearls and hides a white chocolate truffle filled with mango confit.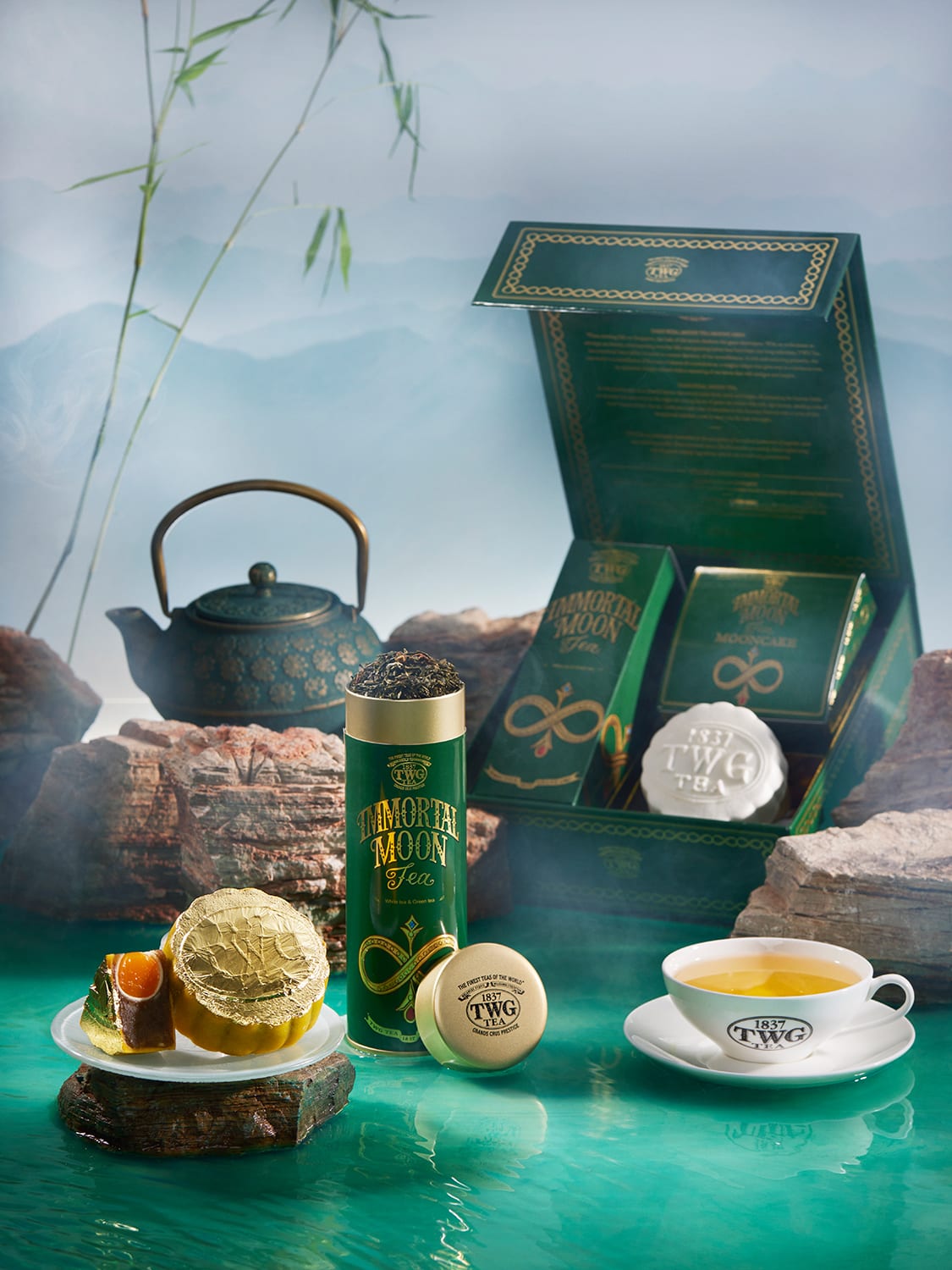 To get children (or Instagrammers) excited about mooncakes, look to Sunday Folks' Tugether Again Mooncake Basket. The word 'tugether', incidentally, is not a typo but a portmanteau of the Chinese character for rabbit – 兔 (tu) – and the word 'together'.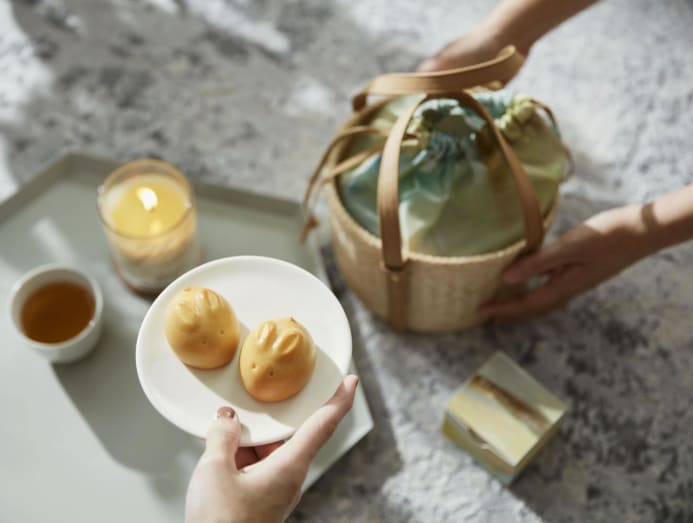 The pretty rabbit-shaped baked pastries hold a smooth shiro-an or white bean filling flecked with yuzu zest (S$88 for six). Also part of their appeal is the Bynd Artisan bamboo and vegan-leather basket that they come in, which can be a stylish way to store the bits and bobs that have been lying around for far too long on your side table.