S$2.1m for a bottle of Macallan? The most expensive whiskies sold at auction
Rare Japanese whiskies have been commanding stratospheric prices, and old Macallans continue to set new auction records.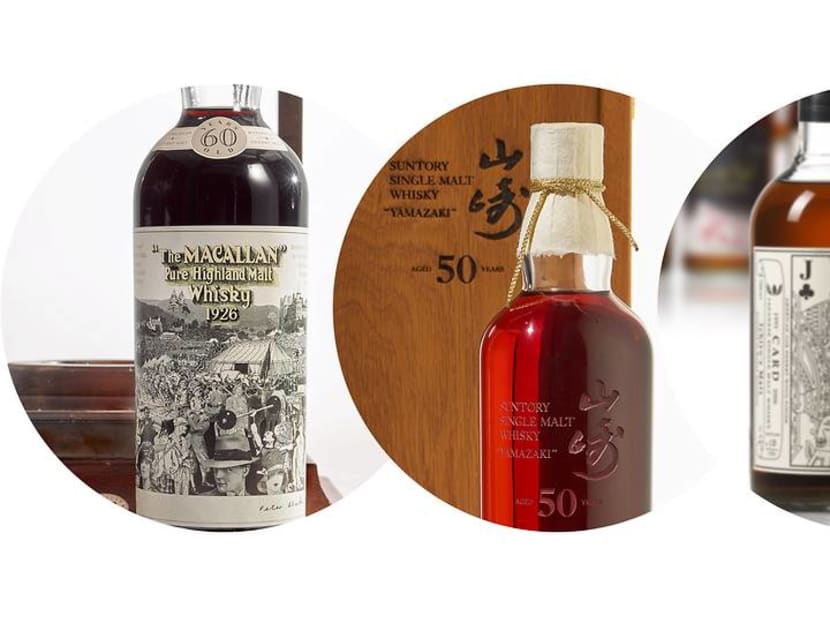 There are many forces behind the shortage of age-statement Japanese whiskies: Whisky enthusiasts, Bill Murray, the media (yes, mea culpa), and auction houses. Japanese whiskies have been commanding stratospheric prices at auctions in recent years, with Suntory's old Yamazaki elixirs leading the charge.
The Yamazaki 50 Year Old was sold for HK$2,695, 000 (S$470,000) at Bonhams Hong Kong last year, setting a new record for the most expensive Japanese whisky sold at an auction. Only 50 bottles were produced for the first edition of this 50-year-old, which was aged in Japanese mizunara cask.
Hanyu Ichiro is another Japanese label with a growing fanbase. In 2015, Hanyu Ichiro's Full Cards Series commanded HK$3,797,500 (S$665,000) at Bonhams Hong Kong, an auction record for a single lot of Japanese whisky. The set of 54 bottles, which are named after playing cards, were created by Ichiro Akuto, a descendant of the defunct Hanyu distillery.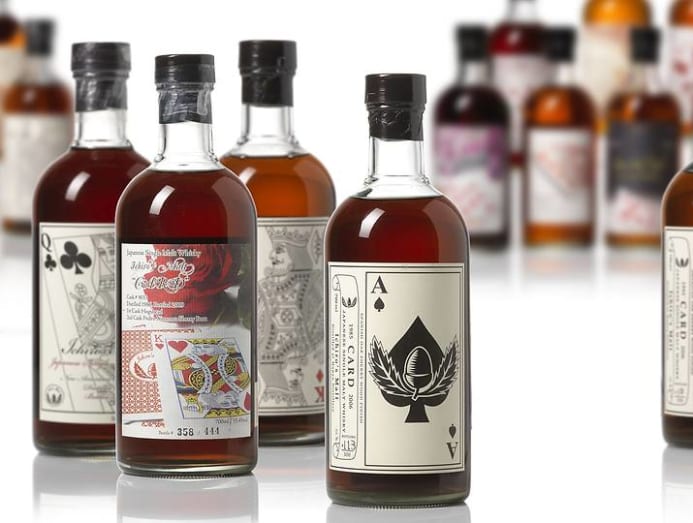 "The [Full Cards] Series came from the remaining stock of Hanyu distillery," said Daniel Lam, Bonhams' director of wine and spirits, Asia. "Akuto released a total of 54 editions of the Cards Series between 2006 and 2014, with many early editions already opened and consumed. It is an extremely rare opportunity to be able to have a complete series, so much so that at the time of the Bonhams' sale in 2015, there were only three collectors in the world who were known to have a complete set."
Good news if you have a rare and old Macallan somewhere in your bar cabinet. At Sotheby's New York last October, a Macallan 1926 60 Year Old with a label by Sir Peter Blake sold for US$843, 200 (S$1,170,000) – the most expensive spirit sold at an auction in North America, and the highest price for a single spirit in Sotheby's history.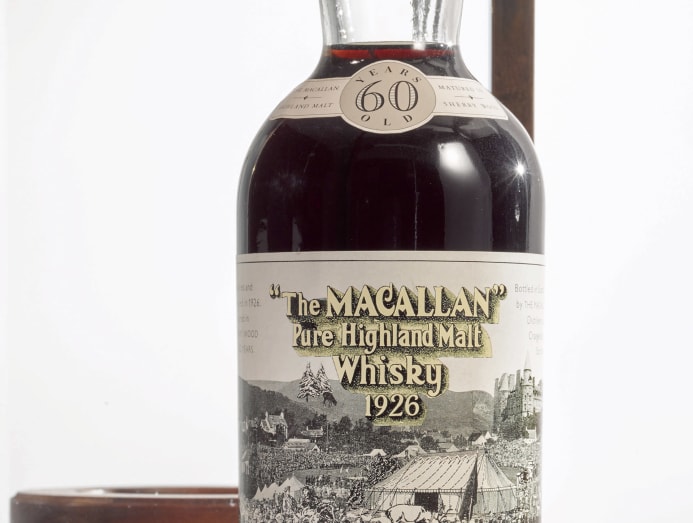 The Macallan 1926, which spent a six-decade slumber in a sherry cask, is the distillery's oldest vintage. Of the 40 bottles produced, only 12 had their labels designed by British artist Sir Peter Blake, who is known for creating cover art for The Beatles, Eric Clapton, and The Who.
A month later at Christie's London, the Macallan 1926 made headlines again: A single bottle with a label of Macallan's Easter Elchies House painted by Irish artist Michael Dillon sold for £1.2 million (S$2,100,000), a new world auction record for a bottle of whisky. Tim Triptree MW, Christie's international director of wine, said the Macallan distillery was initially unsure that the bottle still existed. "It was last seen at Fortnum & Mason in London in 1999," he added.
Another notable mention is the 1996 American Hogshead Cask from Macallan, which went under the hammer for HK$3,430,000 (S$600,000) at Bonhams Hong Kong last November, setting a world auction record for a whisky cask. The 22-year-old dram was also the most valuable per bottle cask sold in auction, with 310 bottles – each valued at HK$11,064 (S$2,000) – expected to be produced from it.