How some Singaporeans are celebrating Mother's Day with their mums
From picnic breakfasts and home-cooked dinners to indulgent spa days and staycations, Singapore's society set are showing their love to mum in their own grateful ways.
During last year's Mother's Day, Singapore was still in the grips of the "circuit breaker". Families who wanted to celebrate the occasion had little choice but to do so at home. 
This year, families have a bit more freedom to do as they please – taking into consideration the newly announced restrictions, of course – so filial sons and daughters are sparing no expense in their efforts to treat mum right.
ANDRE HUBER, EXECUTIVE DIRECTOR, HUBER'S BUTCHERY & BISTRO
We usually go out to eat for Mother's Day but with the current restrictions, it's not possible for my family to have dinner out with my brother's family and my parents.
As such, I will be cooking for Mother's Day this year. I just bought an infrared grill that cooks up to 900 degrees Celsius so I will be grilling some steaks and my mum's favourite lamb cutlets.
My mum has always been the cook of the house so it is gratifying for me to cook for her instead and just let her relax and enjoy a nourishing home-cooked meal.
My father was strict and raised us with a no-nonsense and disciplined approach while my mum was softer and more caring, loving and forgiving.
I'm a mix of my parents and she inspires me to be kind, loving and devoted to my family, and making sure I am present to raise my kids properly.
ANDREW LI, CEO, ZOUK GROUP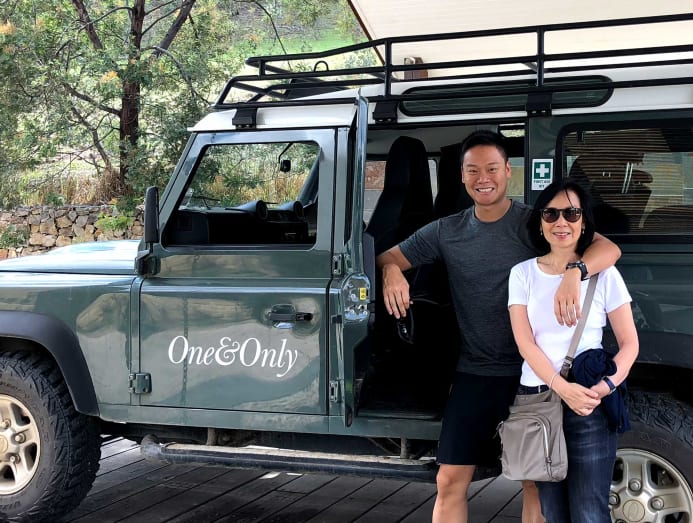 On a typical Mother's Day, I'd send my mother a big bouquet of her favourite orchids along with a handwritten card as she's based in Hong Kong.
This year, I am lucky enough to have her in Singapore so I've planned a full-day itinerary of her favourite things to do and eat for a good ol' mother-son bonding session.
We'll take a scenic stroll down Henderson Waves with my dog Toro, before heading to a dog-friendly cafe for a leisurely brunch and then to Coconut Club for my mother's favourite dessert, cendol.
We'll then drop Toro back home before making our way to Capella for an afternoon of relaxing spa treatments. In the evening, I'll whip up a crab and lobster pasta and sticky spare ribs and pair it with her favourite Burgundy white.
I'm always thankful for her unconditional love, support and trust. She entered the workforce only at the age of 38 after bringing up my brothers and I, and was hugely respected in the life sciences field after a 27-year career.
Her accomplishments in an extremely competitive industry is what inspires me to overcome whatever challenges I face in both my personal and professional life.
CHLOE NG, LAWYER
We would usually go out for a meal together on Mother's Day, but this year, we are going to do a Sentosa getaway with a staycation at The Barracks Hotel since we can't travel at the moment.
For dinner, we will be heading down to my favourite restaurant in Sentosa, The Cliff at Sofitel Singapore Sentosa Resort & Spa. I've also arranged a spa session with my mum at Capella's Auriga Spa so that we can spend quality time together.
One of my mother's greatest attributes is her kindness and love. She inspires me to do things with passion and be the best I can be. She is my role model and greatest style inspiration.
KELLY KEAK, MANAGING DIRECTOR, MTM SKINCARE SINGAPORE

On Mother's Day, it's a tradition for my brother Kelvin to cook for the women in the family. 

This year, my mum and I will be spending some time together prior to Mother's Day. We've booked the Raffles Spa's Gem Suite Experience for Two to bring back precious memories of us in Korea and Japan, followed by a champagne high tea and jewellery shopping at MUS.za.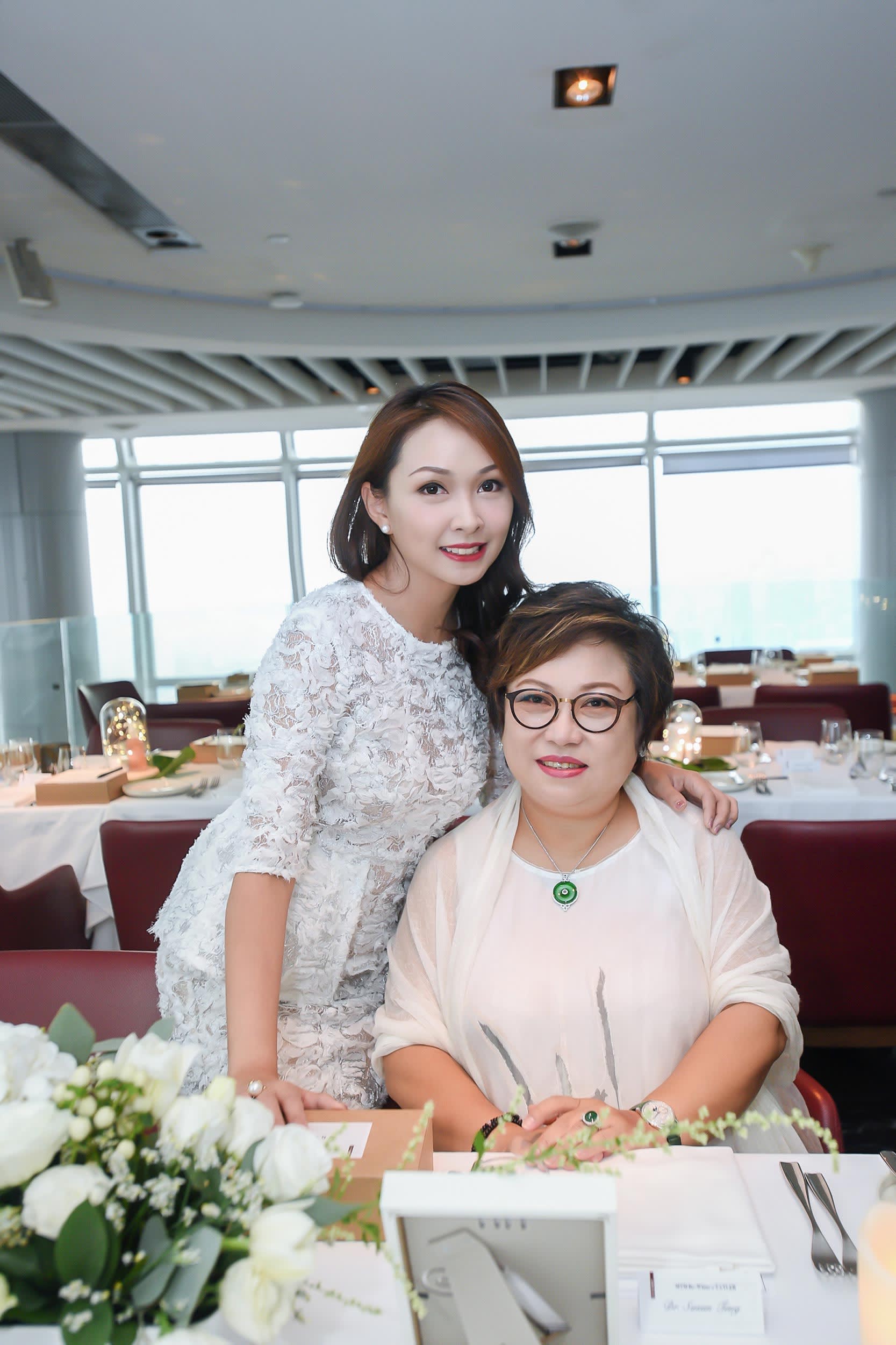 In the evening, my dad will join us for an omakase dinner at Tsubaki by Shunsui. I'm grateful for my mom's patience in standing by my wrong judgements and still supporting me when I fell during my younger days.
She made a career change at the age of 19 from a designer to a rookie in the skincare industry, and persevered for the next 40-plus years. I want to be like her: Strong, compassionate, and always having a heart for others before herself.
REBECCA EU, FOUNDER OF SOCIAL ENTERPRISE MEI'S OWN

My family is incredibly close and we would fly back on special occasions like these, even when we were living in different parts of the world.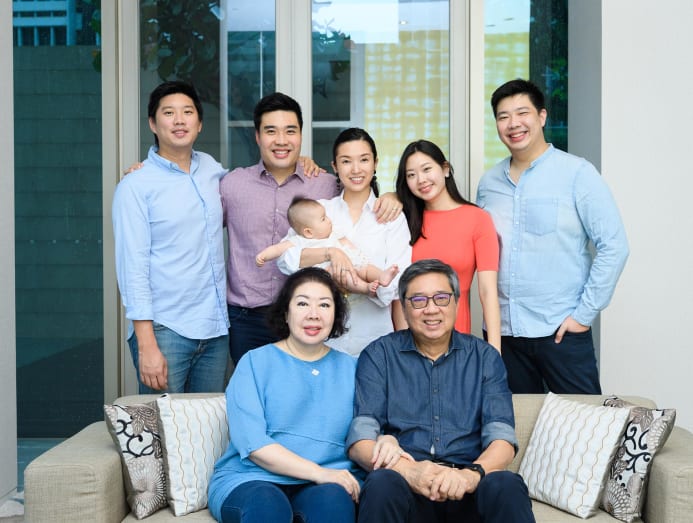 Now, my brother Richie and his wife Sae have moved back home from Hong Kong, and I, from Manila. We are planning to have a simple meal together, maybe visit Gardens by the Bay and I'll be spoiling my mum with a spa day.
My brother Ants is a great cook and I look forward to being a beneficiary of his culinary skills this year if he decides to prepare something for our mother. 
Last year we welcomed my niece Sena into the world so it is the first year my mother celebrates Mother's Day as a grandma. We are very excited. It is also Sae's first Mother's Day and we plan on surprising her with a little present as well!
Being a mother to four rowdy children is not easy, and given my father's busy schedule I am in awe of how my mother is able to keep the family very close and understanding of each other. I am constantly learning from her and hope I can try to be half the woman she is one day. 
TZE TZE LAM, EXECUTIVE DIRECTOR, ELECTRO-ACOUSTICS SYSTEMS PTE LTD
We would usually be away on a short holiday this time of the year. If we aren't travelling, we would be planning some quality time together to celebrate Mother's Day.
Since we are in Singapore, we plan to have a cosy Mother's Day celebration with my mum. Having not travelled for over a year now, we are missing some of our favourite cities and the simple pleasures unique to each.
I've ordered a hamper from London's Claridge's Hotel to recreate my mother's favourite afternoon tea in the city and incorporate some of the items in the hamper with locally sourced ingredients.
For dinner, it's a "trip" to Hong Kong at a Cantonese restaurant to enjoy her favourite dishes. There are many things about my mother I'm grateful for, and if I were to choose, it would be how she always has our best interests at heart. 
VIHARI PODDAR, FOUNDER AND MANAGING DIRECTOR OF VIHARI JEWELS

Our family would usually pack some fruits and sandwiches and head to East Coast Beach with my parents for a picnic breakfast.
In the evening we'd have dinner at a nice restaurant such as Sabai Fine Thai on the Bay, Prego or LingZhi. I always send flowers and balloons to my mother's house on that day and bring a cake to the restaurant to cut together with the children.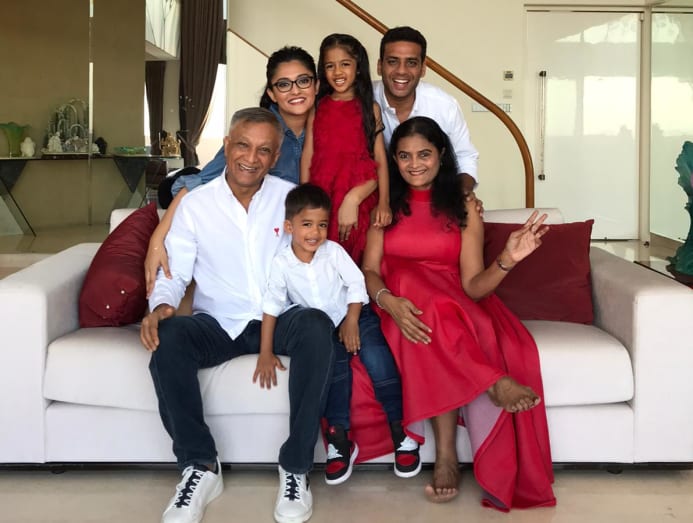 My mother's a very strong woman who inspires me with her strength and patience in good times and bad. She never over-reacts and always handles situations very calmly. She gives me advice and support to be a great mother, daughter, wife and sister, shows me right from wrong, and gives me the motivation to battle through life's ups and downs.
VIJAY PILLAI, CEO, CAERUS HOLDING
Every Mother's Day, I'd make sure my schedule is clear so I can dedicate an entire day to spending time with my mother. This year's pretty much the same.
I'd usually gift her a bouquet of tulips in her favourite shade of pink, take her to her favourite places during the day, maybe an afternoon tea at Lady M (her favourite is the Signature Mille Crepes!), before returning home for dinner with the rest of the family.
Her selfless love for the whole family is what I'm most grateful for. She's always putting her needs above others to ensure that every family member is well taken care of. Knowing that I have her support for everything I do means the world to me.