Who's behind Singapore's latest crop of gyms and fitness centres?
The burgeoning interest in health and wellness has spawned numerous fitness centres across the island, including Freedom Gym and Urban Den in the CBD. We speak to the proprietors to find out what they have to offer.
If the past two pandemic years have been taking a toll on your health – both physically and mentally – now is the time to make a change. Let 2022 be the year you seize life by the horns and do something that will make you feel and look better than you have in a long time.
And if you need a little extra oomph to kickstart your fitness journey, we've got your back. A slew of new gyms have just launched to offer that brand new start you have been craving.
Located within the central business district are two new gym brands, Freedom Gym at UIC Building – which boasts state-of-the-art equipment – and Urban Den at Change Alley Mall, a grungy-chic boutique gym.
Other fitness joints opening in the central area include Platinum Fitness' second outlet at Tanglin Mall, slated to launch in January, Sugar Boxing at Orchard Cineleisure and Popsicle Rhythmic Cycling at UE Square. The latter two are operated by Active Fitness, which has three other fitness concepts in Singapore.
And for Easties who may not wish to travel to the city for their fitness fix, The Flow Pilates by Lab Studios, a reformer-only fitness studio, will open in Joo Chiat in January.
Indeed, while the pandemic has impacted many lives and businesses, fitness and wellness is one industry that has been gaining traction as more people pay attention to their health. These new openings follow hot on the heels of 2021 launches including CRU Orchard, a spin, HIIT and yoga studio and holistic wellness and fitness club Trapeze Rec Club on Duxton Road.
NEW TO THE MARKET: FREEDOM GYM
In fact, a new entrant to the fitness club scene, Freedom Gym, was launched after co-founder James Koh Jiuh Wey gained an epiphany over the past year. "The pandemic really hit me. I felt that health was really important and that it was my best defence against illnesses," said Koh.
He began training with fitness trainer Alex Liu and was so impressed by Liu's holistic approach to fitness that included balanced and personalised training programmes with a good diet that the two teamed up to launch Freedom Gym in November 2021.
The 6,000 sq ft space, which cost S$1.6 million to renovate, features impressive equipment from brands including Arsenal Strength Gym Equipment, Kabuki Strength and Prime Fitness USA. More interestingly, it is designed to cater to both gym-goers as well as freelance fitness trainers as their own clients can access the gym without a membership.
This flexibility is likely to appeal to gym-goers who may not wish to be locked into traditional memberships in a time when many uncertainties abound.
"Everyone has a right to be at their peak health, and should not be hindered in achieving their best. We envision Freedom to be a place where freelance personal trainers can present their services and where clients can choose what's best according to their budget and goals," said Koh.
EXPANDING ITS HORIZONS: PLATINUM FITNESS
Another personal trainer-focused gym, Platinum Fitness, which currently has a branch at OUE Downtown, will also be launching a second 3,000 sq ft outlet at Tanglin Mall. In the last year, its freelance personal trainer business has accounted for about 70 to 80 per cent of turnover, said Marc Torel, its owner. The gym works with trainers by offering them a location to train their clients and use its facilities in the form of a revenue share.
"COVID-19 enhanced consumer demands to maintain their health. Personal trainers directly received that additional demand but sacrificed their own free time in order to support new customers," he observed.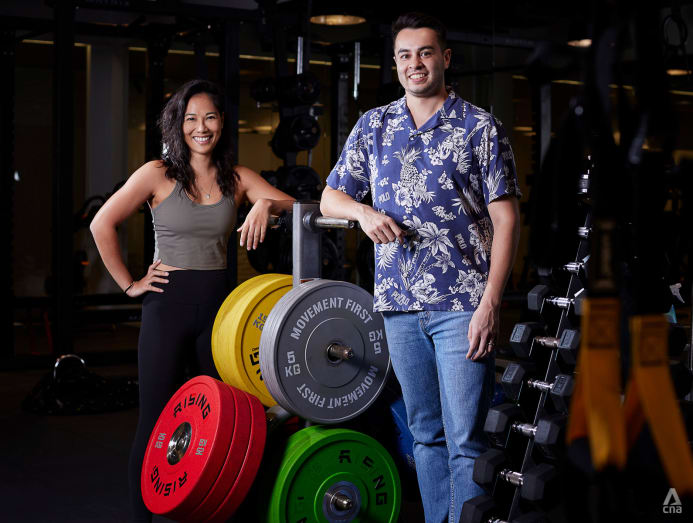 "Our intention in scaling is to continuously assist the freelance trainer community by centralising their operations through our facilities at no additional cost. Ultimately, their positive feedback justifies our means in creating an ecosystem in which we can all thrive."
A benefit of catering to a diverse range of trainers that specialise in different aspects of fitness means that the gym can cater to a wider group of clients beyond the usual 20- and 30-somethings. For example, the trainers at Platinum Fitness have areas of expertise beyond general strength and conditioning including postpartum, female-focused and senior-focused specialty training.
In the future, Torel is planning to introduce relaxation zones and to develop designated rooms that can serve various fitness verticals such as group personal training, industry training initiatives and rehabilitation practices to become a one-stop fitness hub.
SOCIAL NETWORKING WHILE SWEATING IT OUT: URBAN DEN
The opportunity to be in a safely distanced environment that allows for a small measure of interactions with other people has been another draw for gym bunnies in recent times.
"We want to create an environment where our members find like-minded friends and encourage one another to attain common exercise goals," said Wee Cheng Yan, Urban Den's Fitness Manager. "We may be in the middle of a pandemic, but our government is steering the country towards living with COVID-19 and opening up to a new normal. People miss social interactions due to the restrictions for the past two years. Exercising is certainly one positive way to enjoy social interactions while attaining health benefits."
What Urban Den offers is the insider, clubby vibe of boutique gyms together with the ample space and wide range and equipment of a larger establishment. "People are attracted to these boutique gyms because of the community vibe, which pushes them beyond their expectations and has a fun social element. However, these are generally very small boutiques with very limited equipment and focus on one or two types of exercises," observed Wee.
At the spacious 15,000 sq ft Urban Den, there is not only a fully decked out gym floor, there are also three studios to offer a wide range of classes. These include familiar favourites like BodyPump and BodyAttack that are set at a higher intensity, spin cycling sessions and recovery yoga.
Since its launch in November 2021, members have given positive feedback about the "grungy and dark aesthetic" of the gym as well as its "substantial" range of services, Wee observed.
ADAPTING TO CHANGE: TRUE FITNESS
Still, things have not necessarily been smooth sailing for the fitness industry. Capacity limitations and safe distancing measures, in particular, have impacted the ability of gyms to sign on more members.  
"True's gyms and studios are built for much larger numbers than the approved 50-person capacity. Hence, we had to implement a booking system with allocated time slots for members to access the gyms on a first-come-first-served basis," said Reina Lim, group chief financial officer and chief operations officer of True Group.
This impacts the appeal of big box gyms which used to allow members to freely access their gyms and attend as many sessions as they would like and has led to a loss in members who have been frustrated over booking matters, she said.
"The continued uncertainties of the pandemic, for example when we may go into another Heightened Alert, the impact of new variants or revised safe management measures has also resulted in members not renewing their contracts," said Lim.
Despite this setback, True Fitness decided to embark on a major makeover of its Novena outlet in November 2021 to better cater to its members. With class capacities reduced by more than half, the gym's management discovered that more members now prefer training on the gym floor and with personal trainers. So, the team made the decision to streamline rental costs by giving up one floor space and focused on providing members with the latest equipment to meet their training needs.
Now, the newly unveiled outlet boasts new boxing and functional training areas, turf flooring running tracks and fancy new equipment like Singapore's first Fitbench where full-body functional workouts can be carried out in just one station.
"Members are now spoilt for choice in this environment, where they have access to more performance-driven equipment not easily available elsewhere. They hardly need to wait to use each equipment, and the spaciousness among the free weights and equipment zone allows members to work out more comfortably than before," said Lim.
DIET AND NUTRITION PROGRAMMES
On top of putting in hours at the gym, it is also essential to pay attention to one's diet to ensure optimal results. "Diet and nutrition is as equally important as what you do in the gym. You're looking at giving your body the energy it needs to push, and you're looking at giving your body the right amount of macros (protein, carbs and fat) so you can build muscle mass and increase recovery time," said Freedom Gym's Liu.
To complement its fitness programmes, the gym has a nutritional plan in collaboration with Wafuken, a sous vide-themed restaurant in OUE Downtown where members can make an order at the reception area and receive their food after their session.
Separately, for those looking to experience a health reboot from the inside out, holistic wellness centre Balanced Living has a newly launched ten day gut makeover programme that helps to set you on the path to greater food consciousness.
This fuss-free programme comprises six days of meal deliveries, which includes wholesome yet hearty dishes such as a cauliflower rice salad and bread-free salmon burger, to help take the guesswork out of eating well. The meal boxes also come in sufficient variety so that you will not feel like a rabbit grazing on salad leaves for days on end.
Even better, the programme starts with an in-depth session with in-house practitioner Toni Baker, who is a whiz at sharing practical tips and advice on how to modify one's eating habits without coming across as being judgemental. Baker will also be available via WhatsApp through the duration of the programme to provide guidance where needed, which might just be the additional push some might require to finally commit to their fitspo goals.
So, ready, steady and reset!