Onsens and kaiseki: 5 new hotels in Japan to check-in to on your next holiday
Among the highlights: Japan's third Aman property, which will be located in Kyoto, as well as the legendary Okura Tokyo, which recently underwent a S$1.35 billion renovation.
Southeast Asian travellers can't seem to get enough of Japan – in 2018, the number of tourists visiting the country from Singapore rose to 437,280, an 8.2 per cent jump compared with a year earlier, while Indonesia posted a 12.7 per cent rise, according to statistics from the Japan National Tourist Organization (JNTO).
And now the country is set to become even more popular – if that's even possible – following a recent tie-up between JNTO and Singapore Airlines (SIA). The two organisations will work to promote the island-nation through digital platforms and new advertising campaigns in preparation for Japan's target of welcoming 40 million tourists in 2020 (a.k.a the year of the Tokyo Olympics), an ambitious leap from the 31 million that visited in 2018.
The surge in Southeast Asian arrivals mirrors a general trend in travel to the Land of the Rising Sun. Overall visitor numbers to Japan continue to grow, up 7.5 per cent for January 2019 compared with a year earlier. Adding to that welcome boost is the raft of new high-end hotel openings in the second half of 2019, making Japan an especially attractive destination for luxury travellers to visit, or re-visit, right now. Here are five of the most hotly anticipated newcomers.
AMAN KYOTO
A city of living history, the ancient imperial capital of Kyoto has long lured culture vultures for its wealth of temples and shrines, palaces and gardens. Aman Kyoto, the uber-luxe hotelier's third property in Japan, opens here in November 2019, in a garden setting close to Kinkakuji temple.
The resort's 26 rooms in latticed pavilions with minimalist geometry, tatami mats, and large windows to admire the greenery are influenced by traditional Japanese ryokans, dotted around 80 acres of forest and manicured gardens with moss-covered stone pathways. Each accommodation comes with an ofuro bathtub crafted from hinoki cypress wood, native to this part of Japan.
At the Dining Pavilion, Japanese haute cuisine mines the choicest hand-picked local produce, while the spa offers treatments using indigenous herbs and spices, including Kyoto green tea, tanba kuromame (black soy beans), local sake and cold-pressed camellia oil.
HALEKULANI OKINAWA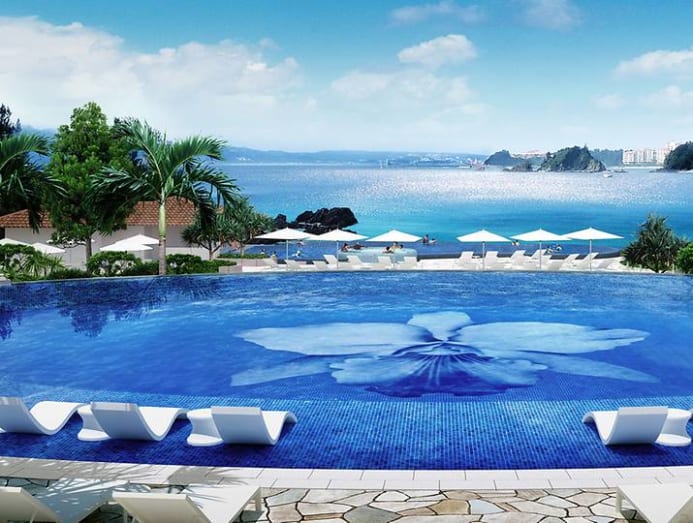 Notable as only the second Halekulani resort (the first, in Hawaii, has a history stretching back more than a century), the 360-room, clifftop Halekulani Okinawa opened in July 2019 on a 1.7km stretch of beach in Okinawa's Kaigan Quasi-National Park.
Each room comes with views of white sand and emerald waters, and among the choices are 47 suites and five villas (each with a private pool and onsen fed by natural spring water). Interiors, by New York-based Champalimaud Design, feature the traditional Halekulani seven shades of white as well as plenty of wood accents, from varnished floors to clean-lined cabinetry.
Five bars and restaurants span a range of cuisines: Aoki is traditional Japanese, while Kingdom, with curved banquettes, has a menu focusing on steak and wine. At Spectra, a wall of windows allow guests to drink in sigh-inducing sunsets over a cocktail. Facilities range from five pools (one has an orchid mosaic floor made from 1.5 million tiles) to a spa fed by hot spring water that has therapies incorporating local herbs like shell ginger and Okinawan mugwort.
HOSHINO RESORTS RISONARE NASU
Developed in the vein of the Italian agriturismo movement, Hoshino Resorts Risonare Nasu will launch in November 2019 with the express desire of reconnecting visitors to nature.
With a location in the Nasu Highlands north of Tokyo, it will feature 43 rooms tucked among the trees and a number of activities that embrace the outdoors, from making pizzas in a stone oven with ingredients that the guests harvest themselves, to summer water activities, to workshops to discover the variety of seasonal herbs in the environs.
In addition to Mount Nasu, a group of volcanoes in northeast Nikko National Park, the region is home to highland vegetables, herbs, and rice, lending the agriturismo a sense of inbuilt authenticity. Rooms are split between the main building and the annex, some spread over two levels, some featuring a water garden, but all inspired by local flowers that recur in the artwork. Plants and herbs grown at the onsite agri-garden supply the Mediterranean-inspired meals. To unwind, soak in a large public onsen that looks over the forest.
LAKE SUITE KO NO SUMIKA
Set on the banks of Lake Toya, a volcanic caldera lake southwest of Sapporo on the island of Hokkaido, and opened in early August, the Lake Suite Ko No Sumika is the sister property of its neighbour, Toya Sun Palace Resort & Spa.
Its 80 rooms feature traditional Japanese elements like open-air onsens and outdoor terraces, while their views of the lake also promise an ever-changing spectrum of colours from foliage that transforms throughout the four seasons.
Kaiseki, a multi-course journey sometimes labelled as Japanese haute cuisine, is the draw at Toya restaurant, where in addition to the culinary delectation, the design features an exterior water terrace that appears to meld into the lake. Fans of outdoor bathing will delight in the kojo no yu, a hot-spring, open-air bath that seems to float above Lake Toya.
OKURA TOKYO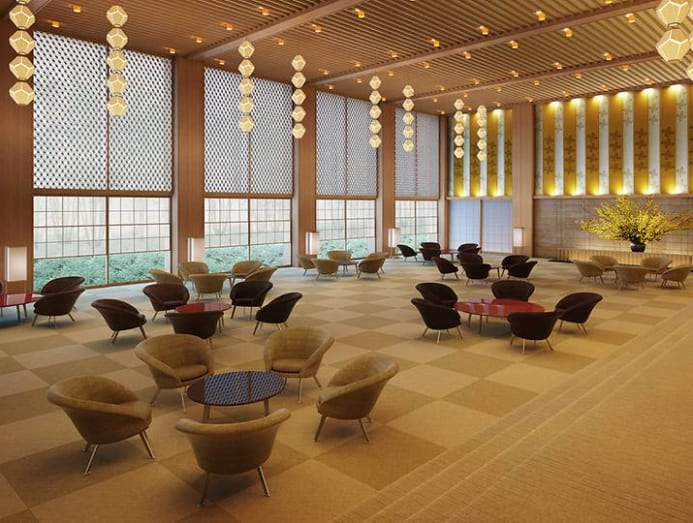 Unveiled in 1962 with a prime setting in the Akasaka district of Tokyo near the US Embassy, the Hotel Okura was a hit from the day it opened its doors, adding a South Wing in 1973 to join its original broad, low-rise modernist Main Wing.
But as Tokyo gears up for the Olympics, the hotel has undergone a monumental makeover. The Main Wing was demolished in 2015, and following an investment of US$980 million (S$1.35 billion), the updated Okura Tokyo will debut in September 2019 with two new towers.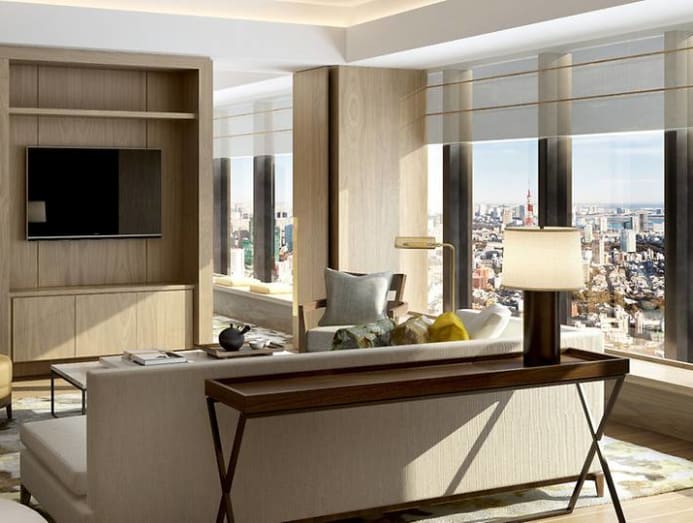 Accommodations will be divided between the mixed-use Prestige Tower, with 368 modern rooms and 18 storeys of office space, and the Heritage Tower that will feature traditional Japanese rooms with low-slung beds and shoji screens, and a lobby whose large panels are inspired by ancient poetry scrolls. French, Japanese and Chinese are among the dining options.