Ringing in the New Year at home? Gather the best food and drinks and make merry
From gourmet set meals and bottled cocktails to double-stuffed roast turkey and even whisky flights, this season's takeaway menus bear a multitude of options for those wanting to host without the hassle.
Phase 3 notwithstanding, this will be a New Year unlike any other. Everyone's in town, all the best joints have been booked full, and parties are limited to groups of eight. But home, as the old trope goes, is where the best parties are this year since the 10.30pm alcohol curfew doesn't apply in the privacy of our abodes.
In that spirit, we've gathered the best options for bottled cocktails, great food and drinks, so we can usher in the New Year safe and sound with our nearest and dearest. Here's to a better year ahead!
OLD AND RARE SPIRITS FROM ACADEMY OF DRINKS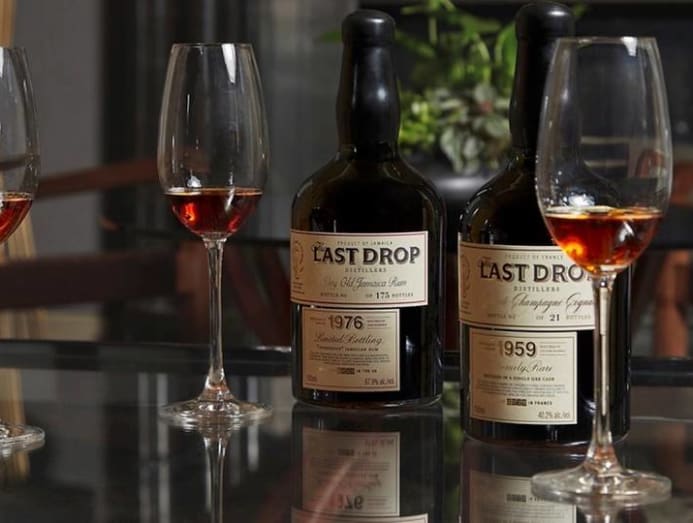 No need to stop at 10.30pm if you're drinking at home, so why not ring in the new year with a flight of whiskies from the famed Glenrothes Distillery dating from 1968, 1969 and 1970 (there are only 300 bottles of each available across the world).
This aptly named Last Drop Trilogy goes for a cool S$27,645. Academy of Drinks has also procured a Grand Champagne from 1925 (S$6,990), and a Kentucky Straight Bourbon Whiskey produced by the feted Buffalo Trace in 1980 (only 240 bottles available around the world).
Suffice it to say, quantities are limited in Singapore, so order early.
COLD CUTS AND PANETTONE FROM TABLESCAPE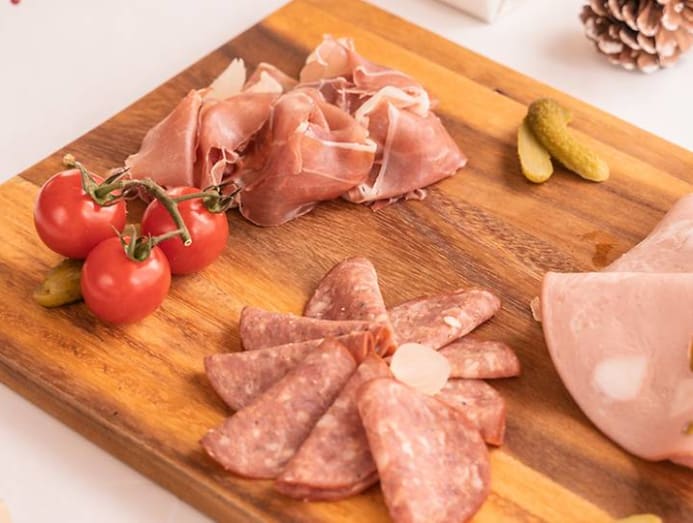 This takeaway dinner, complete with cold cuts and dessert, is a great way to graze through the evening with (several) drinks in hand. Nibble on the likes of Italian Parma ham, Spanish chorizo and pickles, before noshing on creamy pesto-draped burrata.
When you're ready for the heartier stuff, tuck into the delicious tangle of tagliatelle tossed in a rich ragu. Depending on the number of guests in your party, the festive meal (prices start from S$115.20) could come with an oven-baked, line-caught fish, braised lamb shank or roasted barbecue chicken. Enjoy the panettone, riddled with raisins, lemon zest and candied orange, for dessert or at brunch the morning after.
DINNER WITH GIN AND TONICS FROM THE WHITE RABBIT
The White Rabbit's Festive Indulgence Set (S$148 for two people) is just that: A decadent meal comprising truffle and brie brioche, beet-cured salmon, classic lobster bisque, Iberico pork collar ham, and a dark chocolate caramel tart to finish.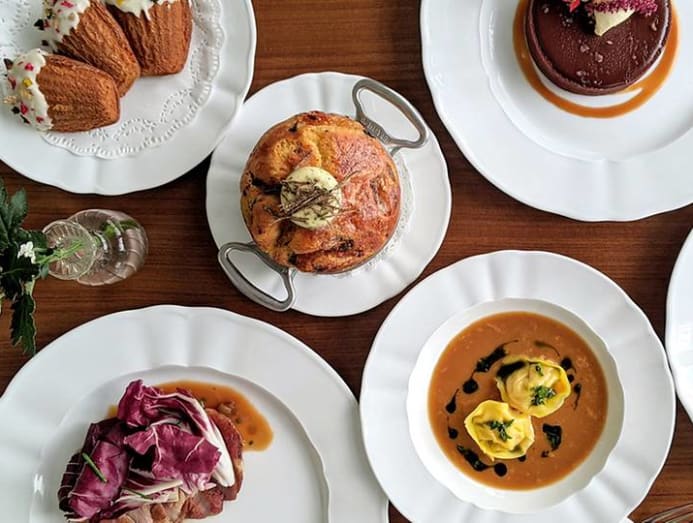 For larger groups, order the Festive Gourmet Set (S$188, feeds four), which comes with tin of 8 Gems caviar, beet-cured salmon, lobster bisque, roasted black truffle chicken and a black forest log cake.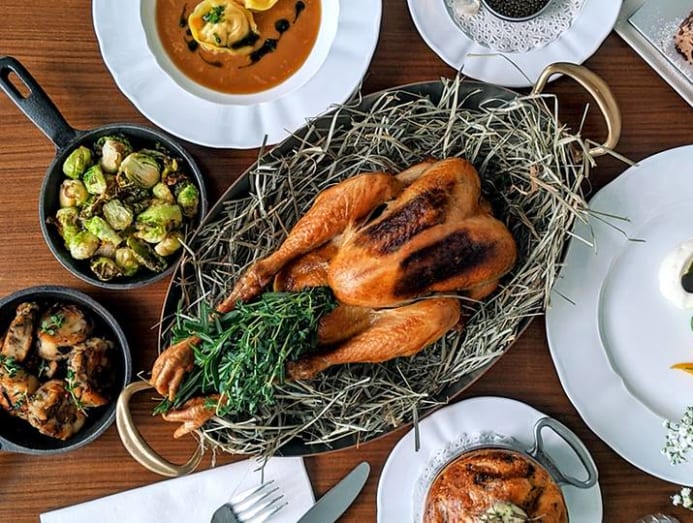 To wash that all down, there's a Botanist Gin & Tonic set (S$240) that comprises two 700ml bottles of gin and 16 bottles of East Imperial tonic. The online store also boasts a whole bunch of a la carte dishes, wines (we like the Chateau de Bernes Espirit Mediterranee, S$50) and champagne.
Now you're all set for a proper adult dinner party.
DOUBLE-STUFFED DEBONED ROAST TURKEY AND APEROL SPRITZES FROM DA PAOLO GASTRONOMIA
If you've been waiting for Phase 3 to kick in before sharing a turkey with more than five people, then here's your chance to get a load of the excellent double-stuffed roast turkey from Da Paolo (S$268).
Filled with both an Italian pork sausage-and-truffle stuffing and a chestnut-and-mushroom stuffing, this easy-to-slice number was the moistest bird from all the turkey offerings we sampled this year.
Alternatively, go for the less extravagant but no less succulent deboned roast chicken (S$88) with cranberry sauce and a stuffing of sweet potatoes, chicken sausage and herbs.
Also check out the Aperol Spritz Cocktail Kit (S$79), which comes with a bottle each of Aperol, prosecco, soda water and garnishes that will yield a dozen glasses.
BOTTLED COCKTAILS FROM PONY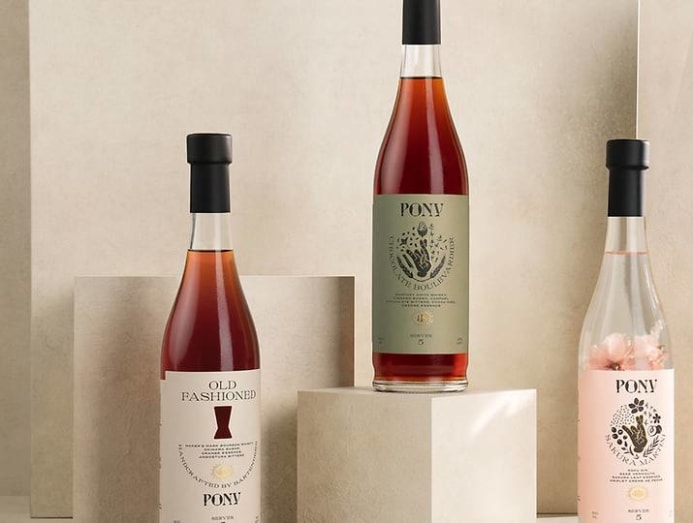 One of the best things to emerge from the pandemic is the rise of bottled cocktails. Where cocktails at home once meant busting out the shaker and slicing too many lemons, today's options are decidedly more convenient.
In fact, it's as easy as opening a bottle and decanting its contents into gorgeous glasses. To wit: Jigger & Pony Group's bottled cocktails sold under the newly minted Pony label.
Available in 200ml or 500ml bottles, expect premium spirits like Roku Gin, Maker's Mark Bourbon Whiskey, and Suntory Chita Whiskey mixed into offerings such as the Negroni (S$32/S$74) and Sakura Martini (S$34/S$78).
A TRADITIONAL CUBAN MEAL AND WINE
It's not often you'll get a traditional Cuban meal in the comforts of home, which makes Cuba Libre's festive takeaway menu a great opportunity to try one.
Sample the cerdo asado (S$100), a slow-cooked pork shoulder, which comes with your choice of two sides that include offerings like Cuban black beans and rice, marinated cassava, fried plantains or roasted spring vegetables. The restaurant has also picked out a bottle of wine that best suits its food – SL Malvasia Spumante Dolce (S$29.96), a sparkling Italian plonk from Emilia-Romagna with floral notes and a hint of peach.
Order at least three days in advance.
FESTIVE COCKTAILS FROM JUNIOR THE POCKET BAR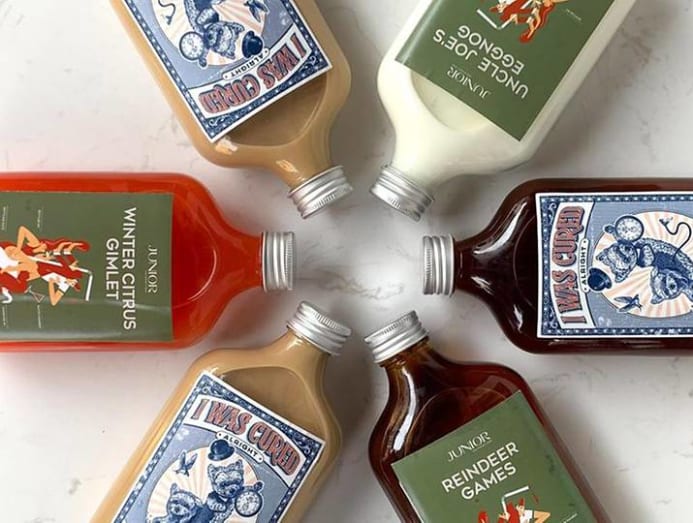 To really get into the holiday mood with a drink or three, there's Junior The Pocket Bar's collection of Christmas cocktails, which are now available in 250ml bottles.
Choose from Uncle Joe's Eggnog, complete with whipped cream, egg, winter spices, rye whisky, cognac and PX sherry; and options like Swiss Miss, made with Hokkaido Milk, green chartreuse, dark rum cinnamon, and a large marshmallow for all the festive feels. These cocktails are priced at S$35 per bottle or S$188 for a holiday pack of six flavours.