Now trending: Low and non-alcoholic drinks that give the kick without the hangover
Forget Shirley Temples. Bartenders are crushing mocktails with creative ingredients and a slew of non-alcoholic spirits that look and taste like the real thing.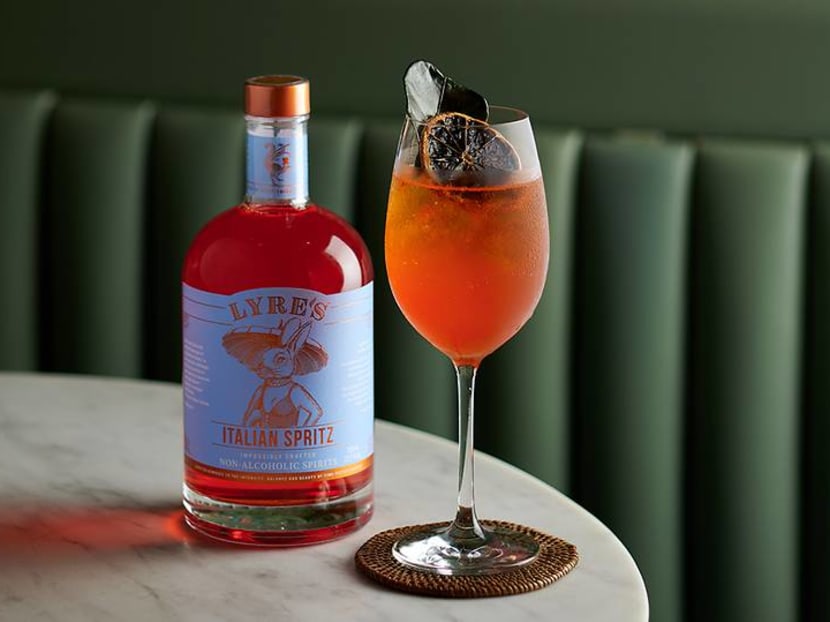 Everybody goes to a bar to drink alcohol, right? Wrong. According to Bacardi's 2020 Cocktail Trends Report, 83 per cent of bartenders said that low-alcohol options were popular and "mocktail" bubbled up 42 per cent more often on online searches in 2019. In the UK alone, the no- and low-alcohol spirits market is forecast to grow 81 per cent by 2022.
Europe and the US are way ahead of the curve, but the Asia-Pacific region is also catching up fast. Data from Global Market Insights shows that the APAC low-to-no-alcohol (LNA) beverage market is estimated to grow more than seven per cent from 2019 to 2025.
The competition is definitely swizzling and Singaporeans' openness to new F&B ideas means that we often get first dibs on new releases. Last year, Singapore was the first country in Asia to launch the Heineken 0.0 beer and the second after Japan to get ex-Noma chef William Wade's non-alcoholic wine label Non.
This year, we were the first, together with Hong Kong, to be the launchpad for Lyre's, whose alcohol-free spirits have an incredibly similar heady profile to the classics they mirror.
Health and wellness concerns are the key drivers for this growth, but so are those who are abstaining for religious reasons or simply want to enjoy a drink without a hangover.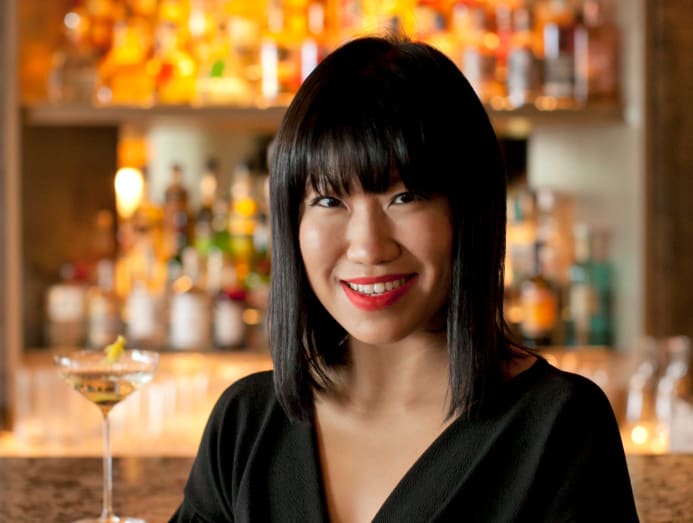 Michael Han, director of beverage distributor Plan B, which carries the world's first distilled non-alcoholic spirit Seedlip, and Non, added, "Just because people aren't drinking alcohol, it doesn't mean they want to compromise on the experiences they have. They expect the same qualities in non-alcoholic drinks as they would in a cocktail or craft beer – a sense of occasion, complex flavours, and considered presentation."
Bars that CNA Luxury spoke to – Ah Sam Cold Drinks Stall, Atlas, Barbary Coast, Don Ho, IB HQ, Jigger & Pony, Manhattan and MO Bar – say that while these drinks are not likely to overtake the real deal, there is a growing demand for thoughtfully crafted choices.
ON A NON-ALCOHOLIC BAR-HOP
On a recent bar hop with Lyre's through three bars – Ah Sam Cold Drink Stall, Don Ho and Manhattan – we were impressed with the creative drinks that used spirits such as Lyre's White Cane Spirit (white rum), Aperitif Rosso (vermouth) and Amaretti (amaretto).
Ah Sam Cold Drink Stall's Head Bartender Russell Ong has observed more families with children having meals at the gastrobar. So he came up with the Grapefruit Spritzer and Lavender Mojito, so that kids "can have fun 'adulting' with their parents".
Other drinks such as Don Ho's Smooth Amaretti with almond milk, apple, passion fruit and mint, and Manhattan's New Element made with a Lyre's Coffee Originale, banana cordial, sparking coconut water and chocolate bitters make sure that you can still hang out at cool places on weekdays and still look fresh for the next day's 9am meeting.
At Junior The Pocket Bar, the speakeasy known for its rotational concepts and edgy cocktails, non-alcoholic options were previously off-the-record and bespoke. Now, the menu at its new Ann Siang Hill digs includes a "homebrews and highballs" section, where owner Joe Alessandroni takes a fermented approach with ingredients such as salt-cured citrus, passion fruit kombucha and sour tamarind, with the option of having them boozy or not.

Alessandroni said, "What sets cocktails apart from other types of drinks is the intensity of flavour that comes from using big, bold spirits as the foundation. The challenge was to recreate in-your-face flavour and a full-bodied mouthfeel without the spirits. Otherwise you just have a tasty lemonade. It is doubly important to nail the traditional flavour profile and texture of a traditional cocktail if we're serving non-alcoholic drinks to cocktail lovers."
INCLUSIVITY, NOT EXCLUSIVITY
After all, it's about inclusive and convivial hospitality, where customers can have a good time with any friend they want, teetotallers and pregnant buds included. Jerrold Khoo, Bar Manager of the Jigger & Pony group, said: "Some people may question the point of ordering a non-alcoholic drink at a bar. But when you're in the mood to forgo the booze, there's no reason why you and your friends can't enjoy a night out at one of our venues with our non-alcoholic options."
The group's Gibson Bar, Jigger & Pony and Italian restaurant-bar Caffe Fernet, use Seedlip in mocktails such as Virgin Lobster Mary and Woo Woo.
Kamil Foltan, co-owner of IB HQ, said: "You can attract a new clientele and make great margins. You can also achieve some exceptional food pairings with non-alcoholic offerings, sometimes cleaner and more delicate than with alcohol."
Overcoming bad first impressions was undoubtedly the biggest challenge for bartenders. Jesse Vida, Atlas' Head Bartender, shared: "The misconception around non-alcoholic options come from a bad reputation they have. Mocktails are considered average, often sweet, full of fruit juice, an afterthought."
When Manhattan first opened in 2014, non-alcoholic drinks were mostly composed of juices, syrups, cordials and soda, said Head Bartender Sophia Kang. "Skeptical customers only became more open when the bar dabbled in quality ingredients such as freshly pressed juices, steeped infusions and quality tea."
Don Ho's Head Bartender Kai Ng said that his guests initially needed to be convinced of the "price-to-performance value" and whether the bar's mocktails were truly non-alcoholic. He said: "This is to be expected as the non-alcoholic cocktail and spirit movement is fairly new so it's our duty to educate consumers and convince them by being creative with new techniques and products."
Expect more options with the arrival of new players such as the newly-launched non-alcoholic aperitif Melati, which is currently being served at restaurants such as Odette, Esquina and Nouri.
Founder Lorin Winata says that the 26 Bali-sourced botanicals in the debut bottle are selected in consultation with an Ayurvedic specialist and a food scientist. "Melati is not only a 'replacement' for alcohol, it's a restorative product, which uses rare botanicals – such as chokeberry, sencha, red kampot pepper and star anise – that work together to help detoxify the liver, increase blood flow, spark digestion, and support general wellbeing."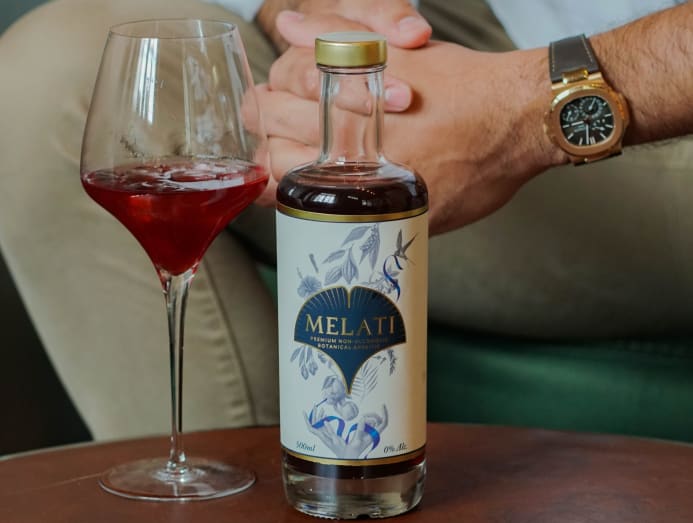 Ah Sam's Ong said: "We believe the trend will continue upwards as there will be an increase in both quality and quantity when it comes to non-alcoholic spirits and liqueurs. This allows bars to be even more imaginative with the creation of non-alcoholic cocktails."
"You can also achieve some exceptional food pairings with non-alcoholic offerings, sometimes cleaner and more delicate than with alcohol." – Kamil Foltan