Why are more Singapore restaurants serving non-alcoholic beverages?
Pundits from some of Singapore's most creative fine dining establishments – Zen, Preludio and Cloudstreet – ponder the fast evolving success of bespoke drink pairings that are alcohol-free.
Lauded for its ability to elevate the dining experience, the pairing of a fine meal with a curated array of mouthwatering beverages has in fact grown to embrace an increasingly creative selection of alcoholic and non-alcoholic drink alternatives. 
The pleasure after all remains a subjective one, so increasing the quantity and quality of drink choices makes good business sense – particularly when the restaurant's cuisine is best expressed in a multi-course showcase of creative dishes. 
Common sense also dictates that the more diverse the palate the restaurant has to work with, the easier it would be for its sommelier to recommend a truly complementary outcome; and maybe even surprise a few diners.
The process of developing a suitable programme though is less straightforward. We can, for example, appreciate how the astringency of tannins in a beautifully structured wine pair well with proteins and fat.
We also know that the body of a good wine – determined in part by the amount of alcohol in the wine – plays an equally important role, and that too can be matched by an alcohol-free concoction. But replacing wine with a suitable zero proof nip is a complex process.
TASTY INTROSPECTIONS
As challenging as it is, complementing a six- or eight-course meal with a selection of delicious drinks sans a possibly intoxicating aftermath continues to be a global trend.
And it's not simply because diners are seen to be drinking less, affirms Aaron Jacobson, general manager and beverage director at Restaurant Zen. Inspired by the responsibility to cater to both drinkers and non-drinkers, he notes how "people who don't drink or don't want to drink on a specific evening, should be given at least half as many options as someone who drinks has… besides water, tea or soft drinks".
He added: "It's the next frontier in high-end restaurants with serious food and beverage programmes, and I'm glad its happening."
The restaurant's initial selection of non-alcoholic alternatives starred mainly infused juices; a similar programme was being offered at Zen's sister restaurant, Frantzen, in Stockholm.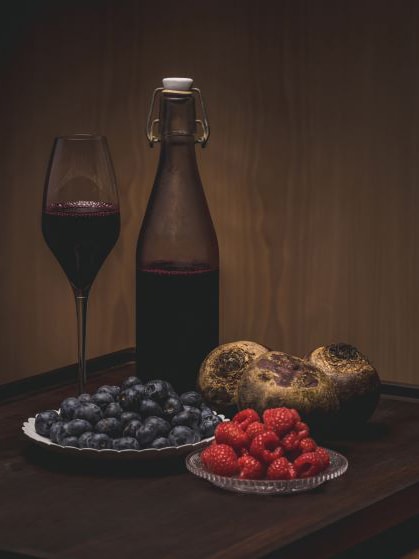 But it quickly became apparent that the high amount of residual sugar in raw fruit juice were keeping most guests here from finishing their drinks. Taking charge of the beverage programme about a year after Zen's opening, Jacobson was certain that the solution was to invest in non-alcoholic ferments – to eliminate the sugars in the fruit juices while coaxing out secondary flavours.
"I soon went down a rabbit hole and ended up with not just fruit juices, but tea extracts and vegetable juices; from vegetable juice ferments to all kinds of weird things," he mused, noting as well how he had more time to dive in with "single-minded focus" when restaurants in Singapore we forced to pause regular dine-in service in line with the guidelines of the country's first Circuit Breaker.
"And that is where I really crossed the threshold (and) into very complicated multi-step ferments that take upwards of one to two months before they are ready for harvesting," he said.
One fine example is the Shisandra Noir, named after the fact that Jacobson meant to create a drink that mimicked the qualities of red wine – specifically a thin-skinned red varietal that is slightly herbaceous, such as a Grignolino.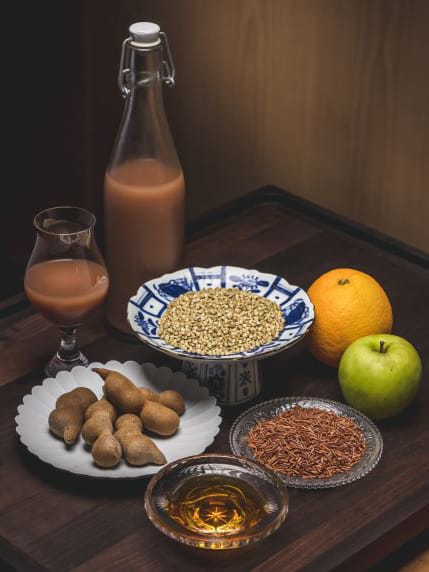 "People who don't drink or don't want to drink on a specific evening, should be given at least half as many options as someone who drinks has… besides water, tea or soft drinks." – Aaron Jacobson
"I take blackcurrant, redcurrant, blueberry, raspberry and juice them, after which I ferment the juice for a week," he explained. He then makes a simple syrup-tea using Shisandra (five-flavoured berry) and Kinome leaf, which he injects into the pressurised bottle of juice that has been fermenting. This is left in the wine cellar to ferment for another two-and-a-half weeks.
Another uniquely complex concoction is inspired by the Yamahai menthod of making sake, cheekily dubbed the Lapland Yama-fly in a nod to its use of cloudberry. Red rice is toasted at a very specific temperature for a specific amount of time, before it is filtered to make "a very textural" rice milk.
He added: "While this is happening, there are two types of caramel made from buckwheat using apple and orange juice, respectively. They are blended into the rice milk in specific amounts to tone down the bitterness of the rice; the drink is finished with cloudberry and tamarind juice." 
The upside to having a bespoke selection of beverages is immediately obvious in the number of customers who return for the pairing. This alone would justify the meticulous and long-drawn creative process required, which Jacobson says includes a chef devoted to fabrication and management.
BELIEVE IT OR NOT
Cloudstreet, which serves modern European fair filtered through Sri Lankan chef-owner Rishi Naleendra's heritage and experiences, is another restaurant that relishes the similarly creative advantages of having a diverse drink programme.
Of the four pairings that it offers, three are wine-related while one is non-alcoholic, shares assistant sommelier Wolfhart Knipp, who highlighted the importance of catering to various taste and preferences at the same table, even if they included a mix of wine or cocktail drinkers, or straight-up teetotallers.
To be sure, this approach also represented an opportunity for the team to showcase beverages that were unique to Cloudstreet, as well as those "specially created to pair with and elevate our food for a more all-rounded dining experience", Knipp concluded.
Consequently, the embrace of such a programme, he adds, reflects an increased openness to try new flavours and experiences among diners today. And that's just one of the many good things about it.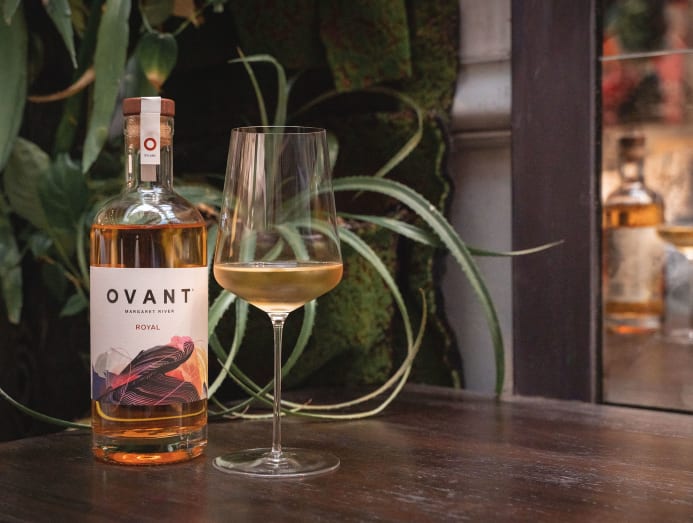 "There are endless possibilities when it comes to a non-alcoholic beverage programme; and developing our own recipes and tailoring our beverages to the food we serve is both a challenge and an advantage," he asserted. Given the restaurant's ever-changing menu, part of the aim is to also develop recipes that can be adapted or tweaked to pair with future menus.
One such creation is Cloudstreet's aptly named I Can't Believe It's Not Red Wine. Served in a Zalto stemware for the desired effect, the drink features a mushroom reduction topped with a vibrant concoction made with cherries that bring out the subtle smokiness of lapsang souchong, and finished with a hint of spice from the use of pink peppercorn. The fact that one would need to swirl various elements to blend the mixture before drinking only helps uphold the allusion.
The drink, he notes, pairs brilliantly with the restaurant's dish of presa Iberico pork with garlic shoot, terrine and kumquat. "The earthiness of the mushrooms really ties in with the terrine, whilst the acidity from the cherries complements the well-marbled pork and robust jus," shared Knipp, who was quick to stress that a restaurant needs to be a fun place to dine, that "there is no room for discrimination".
"There are endless possibilities when it comes to a non-alcoholic beverage programme." – Wolfhart Knipp
THE PERFECT TEASE
While some restaurants prefer to make each component of their drinks in-house from scratch, a large majority have found success working with a growing variety of feted brands of non-alcoholic distillations.
The team at Preludio, for one, is constantly on the lookout for new and exciting beverages, both alcoholic and non-alcoholic, shares its restaurant manager Mark Wong.
"For our non-alcoholic offerings, we currently have three in-house mocktails that change on a monthly basis based on their popularity, or availability of ingredients," he noted. They include the Mango Mule, which combines fresh mango, cucumbers, greek honey and spicy ginger ale to make a refreshing and sweet beverage that pairs well with the floral and fruity desserts or even the lobster pasta dish.
In contrast, the Best Date Ever! uses pureed in-season dates that are seasoned with sea salt and a touch of cumin for a unique sweet-savoury profile.
The third, dubbed Spice n Nice, was originally Preludio's cocktail pairing for a dish that combines mole sauce and jackfruit. "And because the cocktail was so well received, we went ahead and made one without alcohol," Wong revealed. Featuring verjus (pressed juice of unripened grapes) as its base, the drink is blended with an infusion of citrus peels and a dash of Tabasco for a lingering smack of spice; the omitted spirit in this case is Bourbon.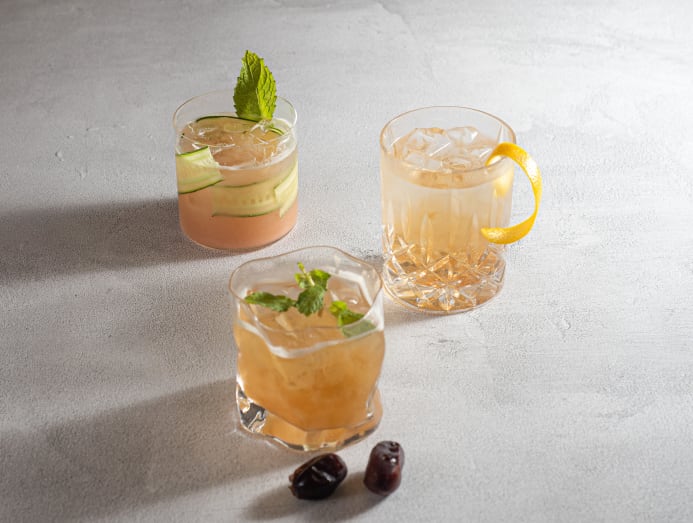 More importantly, the aim was to create an ideal pairing, which Wong was able to do, shares chef-owner Fernando Arevalo. "Spice n Nice is my favourite as it not only ends with a lingering hint of spice, but also has sweetness, sourness and tannin structure to interact with sauces and proteins," explained Arevalo.
He highlighted how the version with lapsang souchong tea lends a complementary touch of smokiness, while the tannic structure pairs particularly well with the Crimson, the main course starring Wagyu beef.
Wong added: "Preludio has had non-alcoholic drink offerings since our opening. As long as there is a demand for it, however little it may be, we will continue to have that option." The challenge would be in minimising wastage; as their mocktails are made fresh to order, gauging the number they would sell in a week is difficult.
It helps, though, that they carry the complete line-up of Seedlip's plant-based liquor substitutes, as well as the ever popular Non wine alternatives. This latter, Wong notes, had gained huge popularity about two years ago and is ever present in local restaurants. Interestingly, Singapore was the second country after Japan to secure local allocation of Non in 2019.
He added: "The story of Non pretty much sells itself. The owner (William Wade) used to work in Noma in Copenhagen as a chef but left and returned home to Melbourne, Australia and started Non as a means to get more people go non-alcoholic. They come in both sparkling and still versions and up to seven different flavours ranging from sour, savoury and sweet. We will also be looking to bring in the very popular Copenhagen Sparkling Tea as an option for diners in the near future."
And why not? Data from Global Market Insights alone estimates a growth of seven per cent between 2019 and 2025 for the low-to-no-alcohol beverage market in the Asia-Pacific. That's certainly a lot of people raising their glasses while staying on the wagon.
"Preludio has had non-alcoholic drink offerings since our opening. As long as there is a demand for it, however little it may be, we will continue to have that option." – Mark Wong