Turning ethical farming into an immersive travel experience just outside Sydney
Nosh Trekker's Paddock To Plate tour in Australia's Southern Highlands brings you up close to a family-run meat farm and restaurants that are proudly locavore.
In the age of mass-produced meat sold in soulless hypermarkets, a family-run farm continues to uphold its legacy of producing ethically farmed meat in the rolling hills of Australia's Southern Highlands.

In 1972, Joe Mauger established the first butchery in Burrawang, a village about an-hour-and-a-half drive south of Sydney, selling mainly beef and lamb from animals reared on his farm.

Today, his son, 60-year-old John, who took over the Maugers Meats business at the age of 18 when his father passed away, continues to supply top quality grass-fed and free-range beef and lamb to the community and restaurants in the region.

Besides the family farm located in the village of Robertson, the Maugers also own and run two butcheries in Burrawang and Moss Vale, as well as Laurel View Farmstay, which is the original 1950s farmhouse that John grew up in, and is now mainly overseen by his wife Vicki, 60, who makes sure guests are well fed with delicious cakes.

John's children, Leah, 36, Mat, 34, and Nicole, 31, help out in the business. Mat takes charge of the butcheries and Leah handles marketing and administration, while John manages the day-to-day farm operations. Nicole is currently on maternity leave.

In 2017, the Maugers started the Paddock To Plate tour with culinary tour specialist Nosh Trekker to give visitors an insight into the practices of a sustainable meat farm, including rearing and butchering techniques that have been used over three generations; what is grain and lot feeding, and why they are beneficial; as well as how the methods used by John's father have been proven to yield quality meat.

According to Suzannah Cowley, a Nosh Trekker marketing representative who worked with the Maugers on the tour details, participants can choose to stay in the neighbouring villages of either Burrawang or Bowral, and get private transfers to the farm the next day.

She shared: "From the moment they arrive at the farm, it is an immersive experience from hearing about the rich family story and observing how the cattle and sheep are reared, to witnessing their amazing knife skills in breaking down the carcass at the butcher shop and tasting the meat at nearby cafe, The Burrawang General Store".

For those curious to know what exactly constitutes a 100 per cent grass-fed or free-range animal, Mauger says that the tour will "give an honest and open view of farming practices where I cut through the glossy advertising and false claims".

He shares how his animals graze fully on grass or hay and silage (grass that have been cut and baled for later use, usually during the winter months) and are free to roam paddocks in a natural environment with dams, springs and trees to keep them happy and stress-free.

"I choose not to administer antibiotics or hormones to my animals, and I personally handle all of them in a gentle and calm manner," said Mauger. "I do not use electrical stimulators, savage dogs or rough treatment. Stress is one of the most significant causes of tough meat as it causes the muscles to tense, tighten and shorten."

The three-hour Paddock To Plate tour can be taken on its own, or included as part of a longer itinerary such as Noshtrekker's Wildes Meadow and Highlands Gateway tours that explore wineries and the scenic countryside, with personalised dinners by well-known local chefs passionate about highlighting Highlands produce, such as Thomas Pirker, executive chef at fine dining restaurant Katers, and Teena Crooks, a private dining chef who used to be the executive chef of Vault Dining Room in heritage-filled The Old Bank Hotel.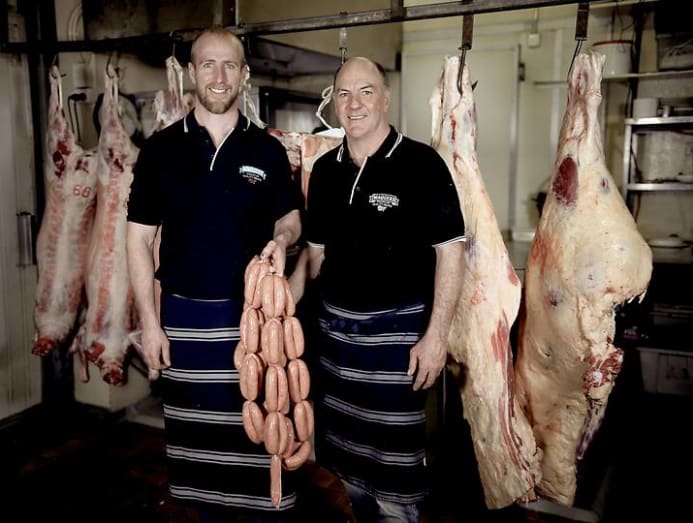 Cowley highly recommends Katers at Peppers Manor House, which is a 30-minute drive away from the Maugers' farm. It offers outstanding tasting menus of the freshest seasonal produce, including its own homegrown herbs and vegetables, in a magnificent country estate setting. The restaurant is an Australian Good Food Guide Chef Hat Award winner, and its menus list local producers such as Maugers Meats' beef and lamb, so you know where your food comes from.

Another local favourite: The Burrawang Village Hotel pub, housed in a historic building located opposite the Maugers' butchery, which supplies the meat used in hearty pub classics such as slow braised lamb shoulders, rump steak, and beef burger patties, all served in a casual convivial atmosphere.

For those who appreciate a community that supports each other in ethical food practices and spotlighting local ingredients, a trip to the Southern Highlands will be definitely be one worth sampling and savouring.