Finding inner peace in Vietnam's Nui Chua National Park and Amanoi resort
The newly minted UNESCO Biosphere Reserve of Nui Chua in Vietnam has much to offer the frazzled city dweller. There, an updated Aman resort leverages on the beauty of the area for the ultimate luxe wellness experience. 
By 6.15am, sunlight is already filtering through the brambly foliage that I am pushing through as I walk down a rocky path. I am accompanied by a crescendo of bird song as the day gains light – I have just watched the sunrise at Goga Peak, 125m above sea-level on a rocky promontory at 5.35am. The South China Sea and the skies grew into a tie-dye tapestry of yellows, turning the coastline of Vin Hyh Bay into a sliver of bullion.
Here at Nui Chua National Park in the Ninh Thuan Province in south-central Vietnam where the sun rises and sets early, I am cradled by Mother Nature. In the day – if I am out and about in the woods – I am swathed in dappled sunlight and serenaded by birds. In the night, a deafening silence fills my surrounds, punctuated only by the soft staccatos of cicadas. 
Nui Chua is a dry primeval forest spanning 29,000 ha. Home to 1,500 plant species, 160 bird species, and 160 animal species, of which 10 are in the World Red List of endangered species, this national park became an UNESCO Biosphere Reserve in April 2022.
I don't feel particularly stressed but when it starts to manifest in my productivity – not being able to focus and feeling constantly wound up – I know I have a problem. For this trip, I therefore wanted to connect with nature, where I have always found peace. 
The problem with the tropics is that a nature retreat might mean being devoured by mosquitos while trekking in muggy heat and muddy shoes. Not so at Nui Chua National Park since it is a drier ecosystem (with less mosquito breeding) except for the rainy months from November to January. Plus, it is home to the adorable furry-faced black-shanked douc langur, an endangered primate. But what made this destination especially attractive was the fact that Aman, the ne plus ultra of luxury resorts, has an outpost on the eastern coast of Nui Chua.
Having expanded from 44.8 ha to a total of 93.4 ha since the Jean Michel Gathy-designed resort opened in 2013, Amanoi has just launched additional family villas and residences in recent months. Many of the 44 units, set on rolling hills, are private villas, each with an infinity pool that seems to tip over jagged cliffs into the crystal-clear water of Vinh Hy Bay below.
Tapping into the natural resources of Nui Chua – both the forest and the sea – Amanoi has a whole host of wellness programmes for visitors with different goals, whether it is detoxification, fitness or just relaxation they want to work on. So spaced out are the accommodation villas and communal buildings like Main Pavilion (which houses the main restaurant, library and reception) and the beach club, that one has to walk a fair bit (or take a buggy). Since I am seeking mindfulness in nature, I walk.
And I am glad for that option. Much of the natural vegetation around Amanoi has been left untouched during its construction and expansion. While there are paths cleared for buggies, they are lined with trees like kapok and lagerstroemia, and also cacti. My meditative walks around the estate are accompanied by sunbirds, swallows, sparrows and the white crested laughingthrushes with their shock of white hair, for company. The air is redolent with the scent of ylang ylang, crown flowers and spider lilies. An occasional squirrel or rabbit crosses my path, before quickly darting into the bushes.
Although forest bathing is not currently available, I find the walks created by recreation manager Richard Dadule, who has been at Amanoi since its pre-opening, to be rewarding and rich. Take your pick from an easy 20 minutes ascent to Goga Peak to a 27km hike that takes 10 hours to complete (it starts at Amanoi, peaks at 1,039m and ends at the Cau Gay village where an indigenous people, the Raglai live).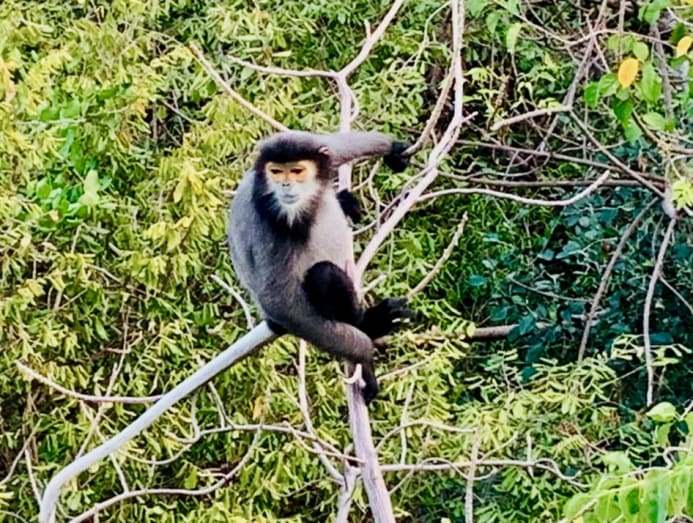 Dadule himself has taken guests on hikes where mouse-deer and long-tailed macaques were spotted. If you're lucky, you might even see the bug-eyed slow loris. Rarer is a sighting of the douc langur – since there are only about 1,000 of them in Nui Chua. This is a vast improvement from 400, according to
Truong Thanh Trịnh
, head of the Department of Science, Technology and International at Nui Chua National Park. He attributes it to anti-poaching laws which have been enforced since Nui Chua was designated as a National Park in 1996.
There is something about walking in the woods, if only one will slow down to listen to its heartbeat. You will feel an energy older than life itself.  
Some Asian cultures believe that something ancient resides deep in the woods. The Cham people of Vietnam (an Austronesian people whose history in Indochina dates to the 2nd century) are no exception. The Chams in Vietnam are mostly Hindus and believe that the woodlands hold spiritual forces. I meet Thap Van Da, a religious man during a Cham blessing ceremony. Post-ceremony, I was told that the Chams believe that if we are respectful, we can gain healing and knowledge from nature. Amanoi offers various experiences with minority groups like the Chams. The objective is to preserve their culture. At the resort itself, however, wellness treatments are non-allopathic, and in fact lean towards the esoteric. For instance, the spa treatments offered are based on ancient healing arts such as Ayurveda and East Asian Medicine, and also energy therapies such as sound meditation and chakra healing.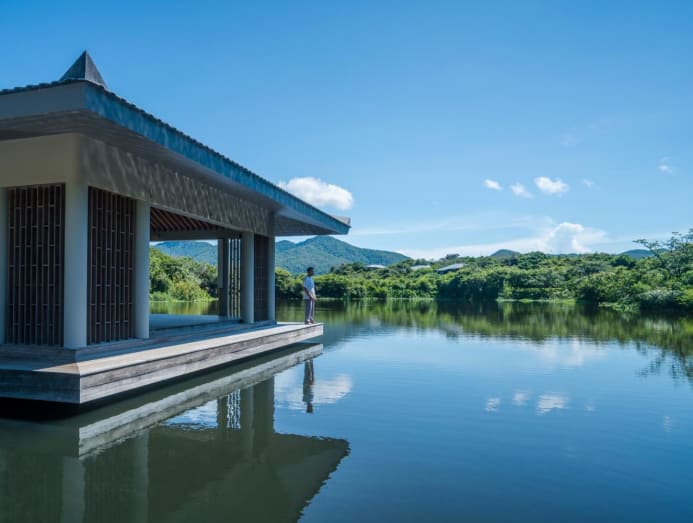 The Forest Wellness Villa I am staying in gives me exclusive use of a special pavilion right next door. It has a 15m infinity pool, a Russian sauna known as a banya, a cold pool, a warm jacuzzi, a treatment room and showers for two, along with a well-appointed sala for rest. Of course, at the pavilion, I can have treatments that will help me with my objectives – to feel grounded, and more present.
During a grounding massage – to collect my thoughts and anchor me to the present – a smoking ceremony uses black amber to remove negativity, followed by a Tibetan Ku Nye massage with a blended oil containing amber, sandalwood, jasmine and other ingredients. On another day, I undergo a half-day spa session in the banya. I first use a steam room, before alternating between plunges and dips into the cold pool and warm jacuzzi. After I have repeated this process a few times, I enter the banya where temperatures can reach up to 70 degrees Celsius. There, a therapist waits for me with a bundle of oak leaves (imported from Russia) in each hand. She is to "beat" me lightly with them. The Russians believe that the beating aids in muscle and joint pain relief, cleanses the skin and stimulates blood flow. "Pomylsya – budto zanovo rodilsya" means "washed – born again" in Russian. After two more rounds in the banya with a salt scrub and a mud body mask followed by a final dunk in the cold and hot pools, I certainly feel reborn and ready to sleep like a baby.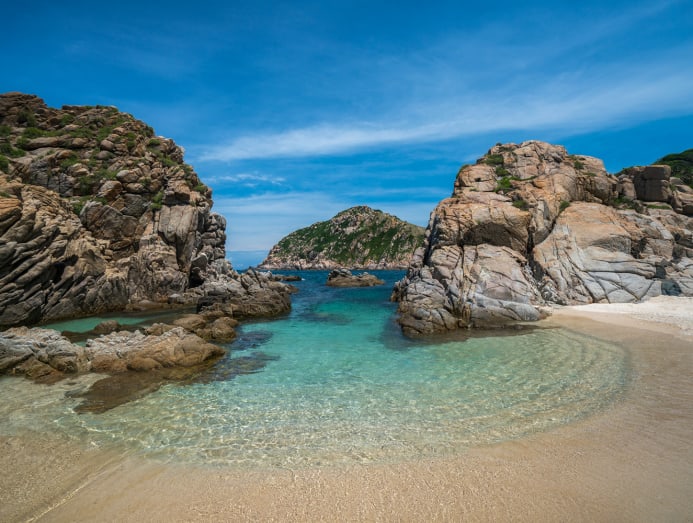 In a central pavilion at the spa that stretches into a tranquil lake dotted with floating lotus blossoms, acting spa manager Nguyen Thi Thanh Nhan carries out sound meditation on me using singing bowls. The intention is to use vibrational frequencies to support the treatment of physiological, mental and emotional conditions.
After a breathing and visualisation exercise, Nguyen asks me to lie down. I fall asleep soon after. Although I am drifting in and out of consciousness, I still feel deeply rested during the brief moments when I seem to have slipped into another dimension. When the hour is up, Nguyen gives a resounding strike to a bowl. I open my eyes and wriggle my toes, amazed at how refreshed I feel. Caressed by a gentle breeze, I exhale deeply, feeling thankful for such a pleasure.
Getting to Amanoi
In June this year, Vietnam Airlines launched twice-weekly direct flights between Singapore Changi Airport and Cam Ranh International Airport, the nearest airport to Amanoi. However, the flights have been cancelled. Insiders have shared that in anticipation of demand picking up, the flights are likely to resume in Q4 – making Cam Ranh airport a two hours and 30 minutes flight away from Singapore. Otherwise, Cam Ranh is a 70-minute flight from Saigon. Amanoi is 70 minutes away from the airport.