Southern comfort: Okinawa comes to Singapore at this restaurant in the JW Marriott
From the comforts of braised pork to the zesty relish of shikuwasa, sample the gastronomic pleasures of Japan's southernmost prefecture, Okinawa, at Akira Back. The restaurant's seasonal Flavours of Okinawa menu is available from today until March 1.
Okinawan cuisine is hard to come by in Singapore. There is only one dedicated outpost – the longstanding Nirai-Kanai izakaya in Liang Court (and now Great World City, too). From time to time, a handful of Japanese restaurants might add Okinawan specialities to their repertoire.
But that's about it, and that scarcity isn't about to change. Japan's southernmost prefecture remains a relatively niche destination for luxury travellers, although the opening of the Halekulani Okinawa last July could switch things up.
We were thrilled, then, to find out that modern Japanese restaurant Akira Back at JW Marriott Hotel Singapore South Beach has a weeklong (alas!) offer touting this rare cuisine. The Flavours of Okinawa is a four-course dinner menu (S$85++ per person) available from today until Sunday, March 1.
The subtropical chain of islands that make up Okinawa – affectionately known as the Hawaii of Japan – boasts a food culture influenced by China, Japan and even Southeast Asia.
One of its most ubiquitous dishes, Champuru (from the Malay "campur", or "mixed"), is a stir-fry consisting of ingredients that would not look out of place on a Chinese dinner table: Bittergourd, tofu, eggs and pork. Ditto the Rafute – pork belly braised in soy and brown sugar.
Okinawan food tends toward the rustic and down-homey, which makes Akira Back's finely-honed rendition all the more intriguing. It's the work of Chef de Cuisine Tomoyuki Kiga, who was inspired by a visit to the islands' local farms and fisheries in late 2019.
Kiga's menu blends Okinawan ingredients with non-native cooking techniques. In Buri – the second course – he presents the amberjack fish (smoked with cherry wood) ceviche-style, using a shikuwasa vinaigrette. Shikuwasa is a small, green citrus fruit native to Okinawa and Taiwan.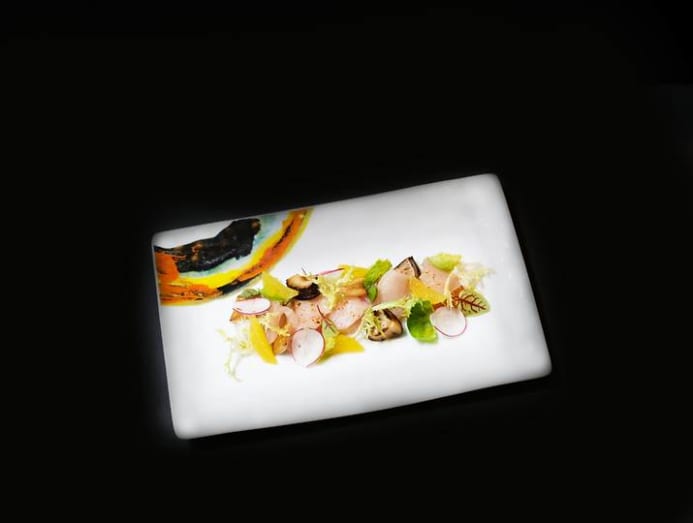 Like a ceviche, the dish has a refreshing, cleansing quality. It isn't a palate cleanser, of course – the umami from the shiitake mushrooms takes care of that.
Continuing the lightness in Rafute (the third course) is Kiga's use of pork ribs in place of fattier pork belly. Braised in the traditional sauce of sake and brown sugar (an Okinawan speciality), the ribs are slow-cooked in a water bath for 48 hours, making the flesh tender enough to fall easily off the bone, yet firm enough to give it some bite.
Richly flavoured, with a sweet-savoury-tart profile, the ribs are no less comforting to the palate than if pork belly were to be used.
That combination of sweet, savoury and tart is also present in the dessert, Mille Feuille, a sublime confection composed of strawberries, acerola cherry sorbet and Okinawan salted vanilla cream. The latter is an inspiration from a salted vanilla ice cream that Kiga tasted on his trip.
While in Okinawa, Kiga also witnessed the local tradition of storing freshly-caught fish in ice with a sorbet-like consistency. Because of the "softer" ice, the integrity of the fish is maintained for longer, ensuring its freshness.
The first course, Katsuo – seared bonito marinated in Tosa soy sauce – exemplifies this. The flesh is delightfully springy, as if the fish had just been hauled in a few hours ago. A bed of compressed watermelon and tiny dollops of a kaffir lime-herb puree amplifies the freshness.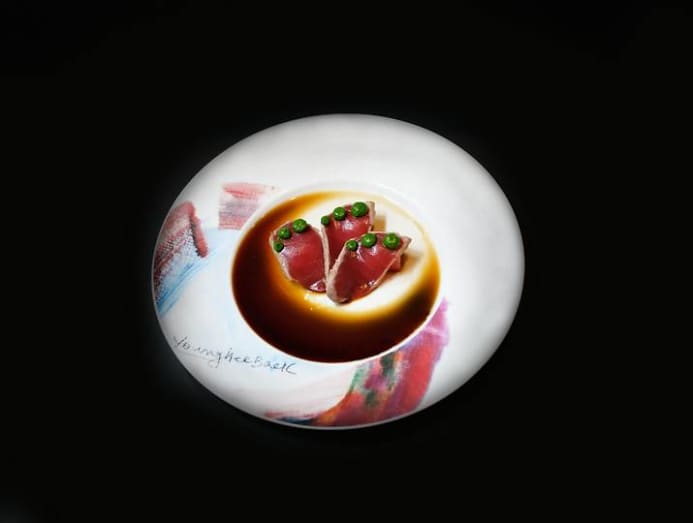 According to a spokesperson from JW Marriott, Flavours of Okinawa is part of the Akira Back's new approach for 2020, which is to offer seasonal selections based on ingredients from specialist growers and producers. In the past, the menu focused on "signatures" – a characteristic of the restaurant's 16 global outposts.
Flavours of Okinawa is the first seasonal menu for Singapore. As for what regulars – Korean-born Chef Back has a 40,500 following on Instagram (@chefakiraback) – can look forward to next is anybody's guess. Upcoming menus are blank canvases for now.
Flavours of Okinawa (S$85++ per person) is available from now until Sunday, March 1.