A look at Hilton Singapore Orchard, after its S$150 million renovation
Ahead of the Orchard Road hotel's opening on Feb 24, CNA Luxury previews the property, with general manager Cedric Nubul as our guide. Here's what caught our eye.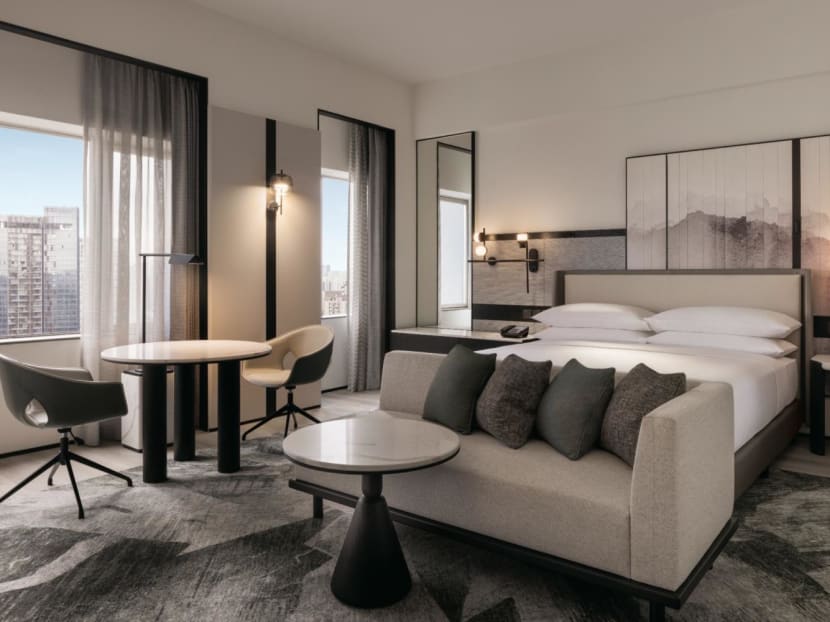 Exciting news in the Singapore hotel scene – after an extensive S$150 million renovation, Hilton Singapore Orchard is set to open its doors on Feb 24, a few days earlier than its scheduled opening on Mar 1.
Taking over the site that was once occupied by Mandarin Orchard, the hotel is located at the heart of the city's busiest shopping and retail destination.
Two days before its opening, I arrive at the hotel to meet with its general manager, Cedric Nubul. There's a flurry of activity – painters are rolling on the final coat of paint, cleaners are mopping the floors, electricians are installing light fixtures, and designers are fiddling about with the final touches.
Nubul himself, understandably, is running on adrenaline as he takes me on a walkthrough of the hotel. With a total of 1,080 newly refurbished guest rooms and suites split across two towers, this is Hilton's largest property in the Asia Pacific.  
"I am very proud to open this hotel in Singapore," said the French native. "Singapore is a very resilient country, always reinventing itself. It is a cosmopolitan city that caters to all types of customers from around the world. If we had to choose again where to open Hilton's largest property in the Asia Pacific, it would still be Singapore." 
As we walk through the hotel, one thing that stands out is that this is not your typical Hilton. When the hotel was at its original location beside Far East Shopping Centre and opposite Orchard Towers (the building has since been converted to another hotel, voco Orchard Singapore), Hilton was known locally as a no-frills, business hotel. It didn't come to mind as a compelling staycation option for locals, but that could all change with this new property.
Here's what caught our attention.
THE DESIGN
When Hilton first announced that guestrooms at the new hotel will feature a "botanical-inspired" design, I had some reservations. After all, there's no lack of nature-inspired hotels in Singapore, especially in recent times when biophilic design has become de riguer.
Was Hilton simply following a trend here, and how will it stand out?
As it turns out, Hilton's interpretation of botanical-inspired is one that's sleek, modern and refreshing. Throughout the hotel, dark wood is elegantly contrasted with green and grey tones. In both public spaces and guestrooms, natural light floods in.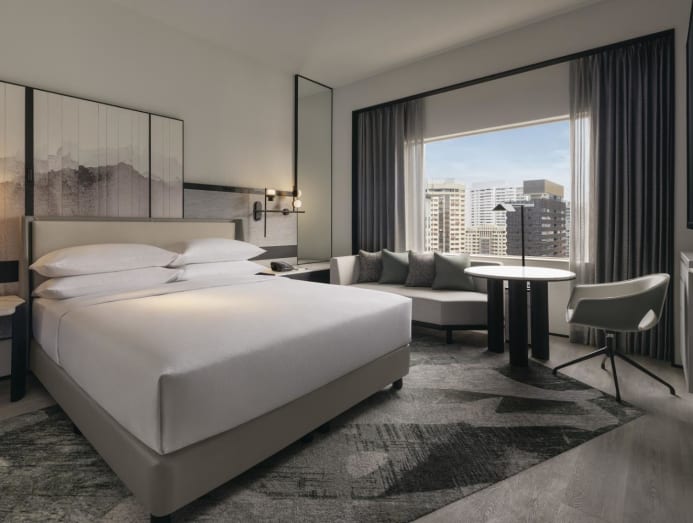 The design, brought to life by interior design firm Avalon Collective, is a nod to the heritage of Orchard Road. In the 1800s, before it evolved into the retail and shopping belt it is today, the area was once abundant with nutmeg plantations, pepper farms and fruit orchards.
"As guests walk around the hotel, we want to retell the heritage story of Orchard Road. It has influenced the hotel's colour tones and the way the spaces have been designed," said Nubul.
THE THOUGHTFUL FEATURES AND AMENITIES
Guest experience is also at the forefront of the hotel's design. Hilton Singapore Orchard offers five suite categories, including a sumptuous 1,657 sq ft Presidential Suite. Prices start from S$300++ per night for the King Deluxe Room and go up to S$3,000++ per night for the Presidential Suite.
Guestrooms are relatively spacious, designed as a calming sanctuary away from the hustle and bustle of Orchard Road. The bed area is framed by an abstract black-and-white panel artwork. 
What stood out were the hanging racks cleverly hidden behind the TV console. As the hotel is situated on a shopping belt, this is to make it easier for guests to easily unbox their purchases and hang them on the racks to admire, Nubul explained.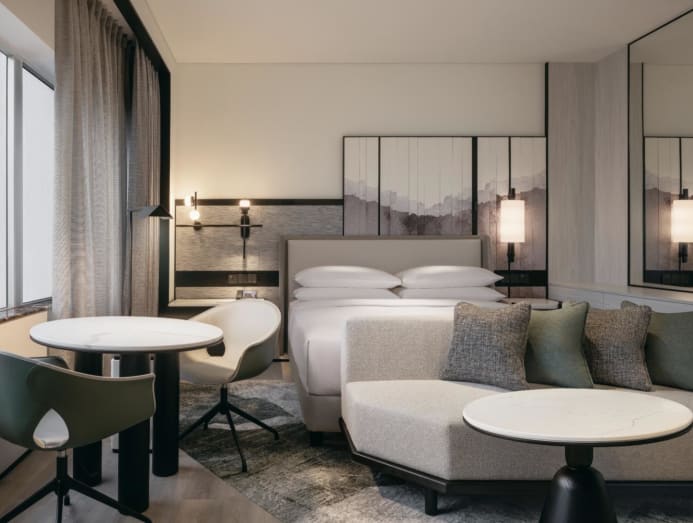 Another appealing feature for local staycationers – all rooms in the Orchard Wing feature both a separate standing shower section and a luxurious bathtub. How many times have we booked a staycation only to be disappointed that the room does not come with a bathtub?
Gym-goers will also be glad to find an expansive, well-equipped fitness centre on the sixth floor of the hotel. Sometimes, hotel gyms can feel like an afterthought, a tiny space with a handful of treadmills and weightlifting equipment.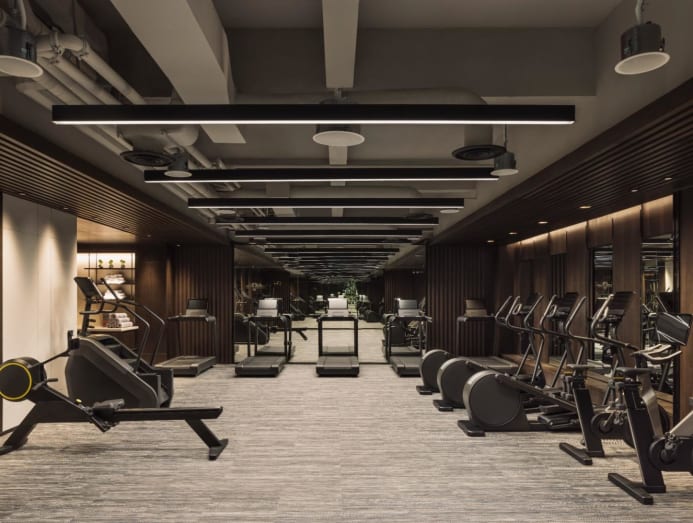 The gym at Hilton Singapore Orchard, however, features an impressive assortment of cardio equipment and strength-training machines to help guests keep up their fitness regimes while travelling (or while on staycation).
THE CULINARY OFFERINGS
Even if you're not an overnight guest at the hotel, Hilton Singapore Orchard is set to be a must-visit for foodies. There are a total of five culinary concepts. Popular Mandarin Orchard concepts Chatterbox (famed for its chicken rice) and two-Michelin-starred Shisen Hanten have both been retained.
New concepts include all-day dining restaurant Estate, which showcases flavours from around the world in a modern residential setting inspired by colonial living, designed by global hospitality design firm EDG Design. No matter where you choose to sit, you're guaranteed an Instagram-worthy spot.
Central to the dining experience are residential-style open kitchens where guests can watch the chefs as they whip up tantalising dishes. There's a raw and seafood kitchen, grill kitchen, noodle and wrap kitchen, and lastly, a wok-, fry- and premium BBQ kitchen.
Located adjacent to Estate is Ginger.Lily, a multi-faceted lounge and bar experience that transforms throughout the day. Designed to resemble a conservatory with natural light spilling in, the highlight at Ginger.Lily is its afternoon high tea. After sundown, guests can indulge in botanical-inspired craft cocktails featuring floral tinctures and infusions.
The hotel will also mark the return of famed LA-based restaurant Osteria Mozza in Singapore, opening later in the year. Previously located at Marina Bay Sands, the restaurant closed its doors in 2018. Helmed by celebrated chef Nancy Silverton, highlights include a free-standing mozzarella bar, an alfresco dining space, and a reinvigorated menu of Osteria Mozza's classic pizzas and pastas.
"Hilton Singapore Orchard boasts a compelling collection of five curated world-class dining experiences that will satisfy even the most discerning palates, with something for every taste and occasion," said culinary director chef Vijayakant Shanmugam. "From Osteria Mozza by celebrated chef Nancy Silverton to residential all-day dining restaurant Estate, we strongly believe our five concepts are set to elevate the city's culinary scene and poised to make Hilton Singapore Orchard a dining destination in the heart of Orchard Road."
THE EVENT SPACES
With Singapore gradually opening its borders to international travellers and lifting local restrictions on large-scale events and gatherings, Hilton Singapore Orchard is well-poised to cater to both business events and social celebrations such as weddings.
There are two pillarless ballrooms fitted with state-of-the-art LED walls, lighting and sound technologies that can cater to up to 1,000 guests.
What was once a parking lot has now been transformed into a collection of stylish meeting and function rooms. Business event spaces can tend to look sterile and corporate, but the meeting rooms inject a sense of lightness and vibrancy with pops of green and wooden accents. There is also an indoor Zen garden, while certain function rooms feature floor-to-ceiling windows that look out to greenery.
THE FOCUS ON SUSTAINABILITY
At the heart of the hotel is a focus on sustainability. "I'm very happy that both Singapore and Hilton have a common vision when it comes to sustainability goals and I've very proud of what we've been able to achieve," said Nubul.
For one, wooden key cards made with basswood will be given to guests, eliminating the use of plastic cards. Guests can also choose to access their rooms via a digital key available on the Hilton Honors app, a nifty feature for those who tend to worry about misplacing their key cards (like this reporter).
Rooms and suites feature energy-efficient functions. Within the guestrooms, guests will also find refillable bath amenities made from recyclable material. A custom-built water filtration plant and glass bottling system by Nordaq provides safe drinking water to guests without the need for plastic bottles.
The hotel is looking to pioneer several other initiatives, Nubul said. As he puts it: "Sustainability is no longer a choice. It's a responsibility for all large corporations."
Hilton Singapore Orchard is now open for bookings. For more information, click here.