exclusive Experiences
Exclusive first look: Inside Pullman's first hotel in Singapore, located on Orchard Road
Pullman Singapore Orchard features spaces for both business and play, including co-working spaces, a glasshouse restaurant and a beach club with a swim-up pool bar.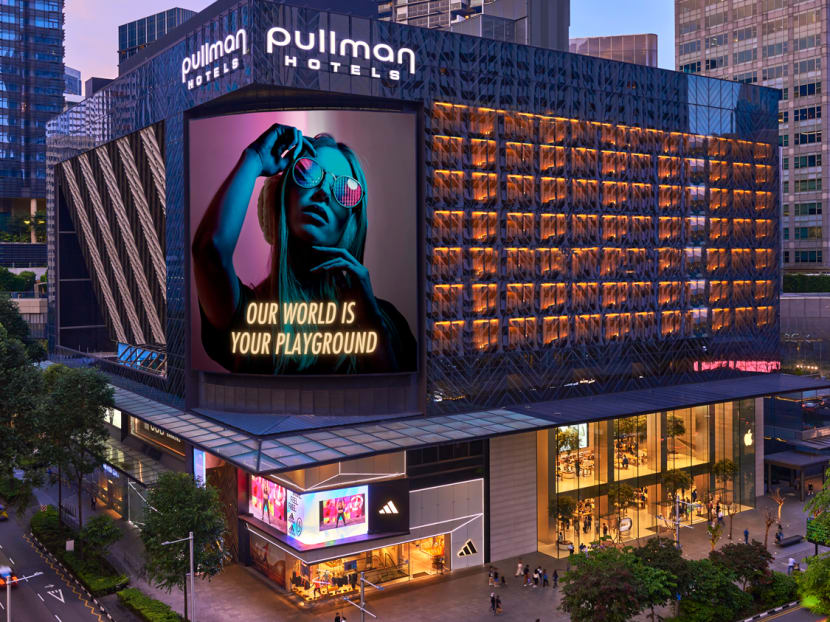 If you haven't heard already, the year 2023 will see the opening of several new hotels in Singapore, leaving vacationers and staycationers alike spoilt for choice.
One hotel making its debut in Singapore is Pullman Singapore Orchard. Occupying the former site of Grand Park Orchard in the city's famous shopping and entertainment district, the Pullman name is a premium brand under the Accor group, alongside M Gallery, Swissotel, Grand Mercure, Movenpick.
The Orchard Road property first marked its soft opening in December 2022, and in mid-February 2023, CNA Luxury was the first media guest to be given a walkthrough of the hotel by general manager Rob McIntyre. "Our World is Your Playground is the Pullman motto. So here at Pullman Singapore Orchard, we want to live by that and do all we can to elevate our guest experience," McIntyre said of the hotel's philosophy.
Billed as "the ultimate playground for today's new entrepreneurs", the hotel features various spots for both work and play. Taking cues from the shopping malls along Orchard Road, its signature spaces are designed to celebrate the world of fashion.
FIRST IMPRESSIONS
As we stepped into the hotel lobby, we were greeted by a contactless check-in counter. Here, guests can swiftly and efficiently check in by keying in their details and scanning their IDs. They also have the option of checking in prior to their arrival at the hotel through its mobile app. "This allows guests to head straight up to their rooms upon arriving without waiting around," shared McIntyre. But for those who prefer a human touch, staff are still on hand to assist with the check in process.
In place of the standard armchairs and sofa sets typically found in hotel lobby lounges, the lobby at Pullman features bleacher-style seating, inspired by the  configuration of fashion shows. There are also cleverly hidden power sockets that facilitate working while waiting for your ride.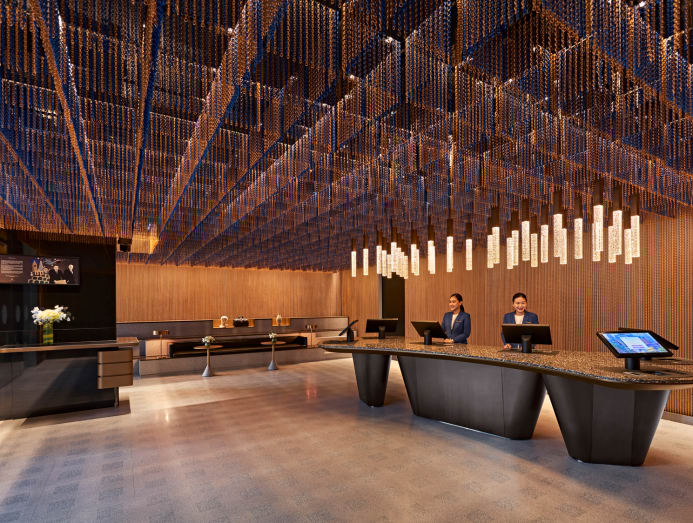 We then took a lift up to Level 4. To get to the rooms, we walked through a neon-lit walkway, which McIntyre shared is a popular photo backdrop among guests. This funky hallway is perhaps the first indication that this is not your typical business hotel.  
ROOMS & FACILITIES
There are a total of 326 rooms and suites at Pullman Singapore Orchard, which come in nine configurations ranging from Classic Rooms to the Presidential Suite. Room rates start at S$388++.
We took a peek at one of the Club Residence rooms, which are opened for bookings from Mar 1. Dark flooring and accents are contrasted with bold geometric artworks. A raised platform separates the bathroom from the bedroom area, but rooms without steps are also available for the elderly or physically impaired.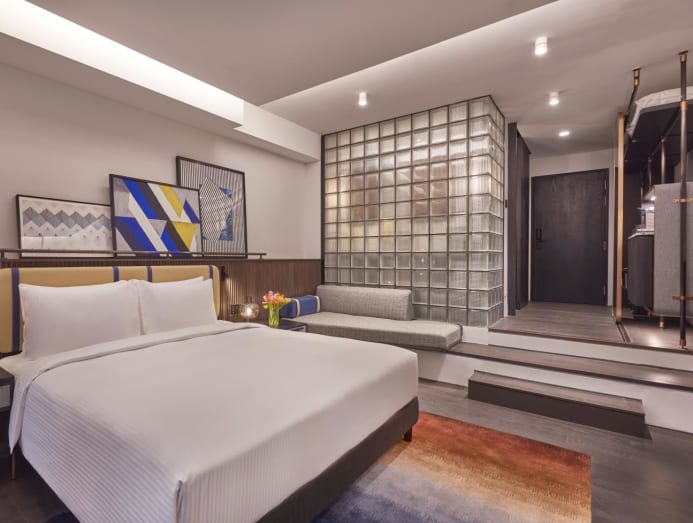 Club Residence and suite guests have exclusive access to the spacious Archive Club, which also opened on Mar 1. The Archive Club provides ample working spaces for guests, including private rooms for Zoom meetings or phone calls.
A total of three meeting rooms are also located on Level 4, named after three of the world's fashion capitals – Paris, Shanghai and New York. The Paris room also functions as a private dining space, equipped with a full karaoke set.
Meanwhile, the Atelier Lounge features a bar and various co-working spaces decorated with several fashion-inspired artifacts, ranging from fashion books to glove moulds and mannequins.
Food and drinks are served at all-day dining restaurant Eden, set in a stunning, light-filled glasshouse with live cooking stations. "Back in the day, fashion shows used to be held in these huge warehouses with glass ceilings," McIntyre said about the inspiration. The restaurant serves Asian cuisine with a modern twist, with dishes such as Beef Rendang, Satay Lamb Rack, Salmon Spicy Coconut Curry and more.
One of the most exciting areas at Pullman Singapore Orchard is the highly Instagrammable PSO Beach Club, with cosy cabanas, sun beds and a swim-up pool bar. On the side of the bar counter is a playful panel with buttons for guests to order cocktails, champagne or bar snacks. The PSO Beach Club is also open to non-guests.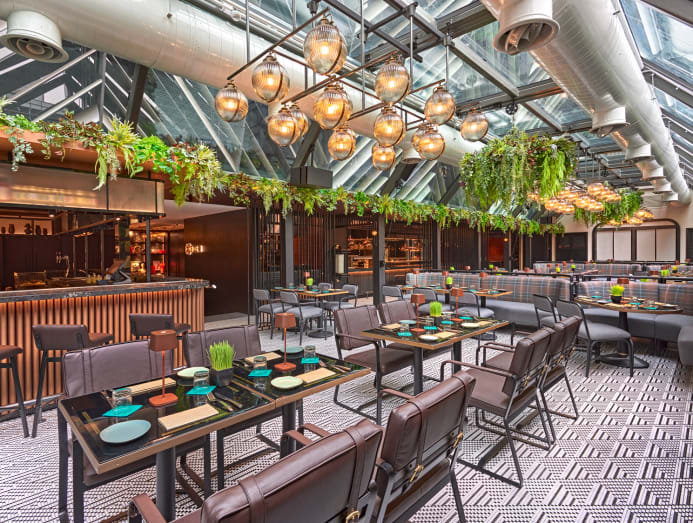 "Our guests are here for business, but they also want to stay somewhere nice where they can have some fun. We've created this environment where they have all the tools to conduct business exceptionally well, yet they can also have some fun," shared McIntyre. "We have a great bar, and they can sit in a co-working space with background music. Everything is designed so you can have a great hotel experience and work at the same time, as opposed to a very standard business hotel that can be a little bit dull."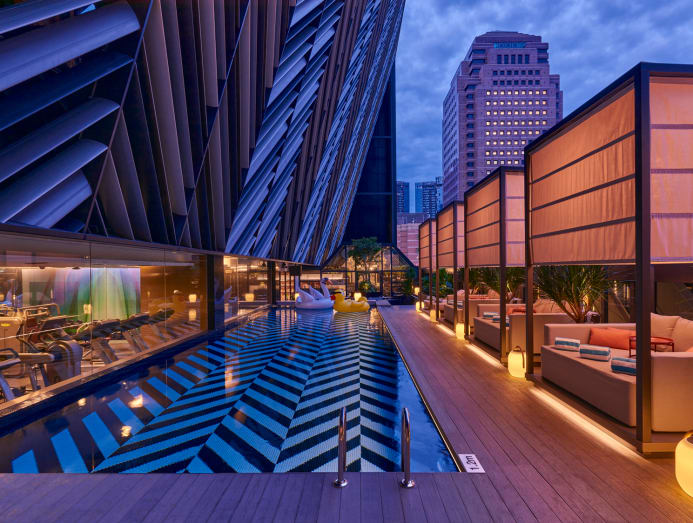 In terms of experiences, Pullman Singapore Orchard plans to host a series of collaborations and pop-ups to showcase a local side to Singapore that goes well beyond tradition, according to McIntyre. In fact, the hotel is already working with various local brands. Its cocktail menu, for one, is designed in partnership with Singapore distillery Oriental Spirits, while coffee is provided by local specialty roaster Common Man Coffee Roasters. Craft beers are from Singapore brewery Brewlander.
Other perks for guests include bootcamp access at Ritual gym, which is located in the same building. "And with our central location in the heart of Singapore's fashion district, we've secured exclusive shopping perks for all Pullman guests at Paragon. And we're just getting started," teased McIntyre.
'BLEISURE' AND THE PULLMAN PULL
On launching the first Pullman in Singapore, Kerry Healy, chief commercial officer of Accor's Premium, Midscale & Economy division in Middle East, Africa, Turkey and Asia Pacific said: "The reality is, [we aim to] open about one hotel a day as Accor. There are over 40 brands under Accor and Pullman is a brand that we've been driving very hard across Asia Pacific. We're always looking to bring in new brands where it makes sense, with the right opportunity and right location. So when this opportunity came up on Orchard Road, it was a no brainer."
The shopping and entertainment district of Orchard Road is the perfect location for the Pullman brand, Healy added. "Pullman is really about work-life balance. It's about removing those lines between work and play. It very much speaks to the entrepreneurial mindset. It doesn't necessarily mean you have to be a digital nomad, but just in terms of how you like to travel, what you like to do when you're in a destination and the way in which you structure your workday."
The pandemic has accelerated the desire among many to combine business travel with leisure purposes in order to get more out of a destination, Healy added. "We see the term 'bleisure' a lot, where more people are working remotely or have the flexibility to work from anywhere. At Pullman Singapore Orchard, you're in the heart of the city, at the heart of a shopping and dining zone."
In the second half of 2023, the brand will also launch Pullman Singapore Hill Street – its second property in the country. Pullman Singapore Hill Street will comprise 336 rooms, 14 suites, an executive lounge, event spaces as well as leisure facilities. These include a fitness gym, outdoor pool as well as a Japanese izakaya and Mexican restaurant. In addition, the rooftop bar will offer views over Fort Canning, the Singapore River and St Andrew's Cathedral.  
Other notable Pullman openings coming up in the Asia-Pacific region include Pullman Hai Phong in Hanoi, Vietnam, and Pullman Auckland International Airport in New Zealand, both opening in 2024. Pullman Jakarta International Airport is scheduled to open in 2027.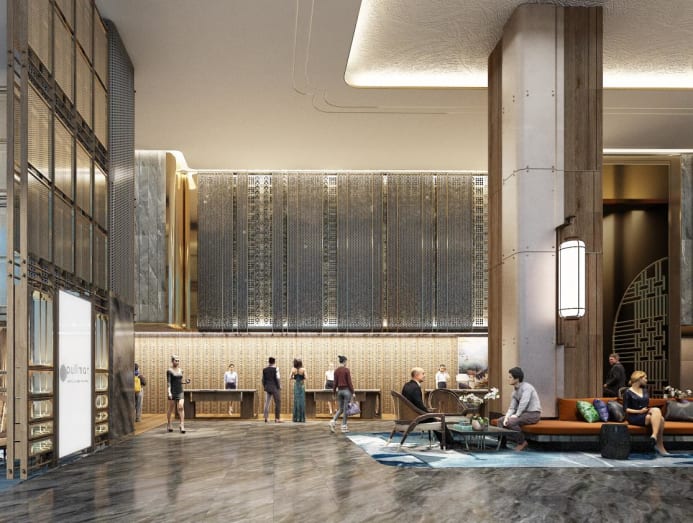 The flows of business in Asia Pacific are particularly connected with each other, Healy added. "So it's a great time for us to continue building the Pullman story in these key destinations," she said.