Celebrity chef Nancy Silverton's Osteria Mozza is back in Singapore – here's what to expect
Formerly located at Marina Bay Sands, Osteria Mozza is now at Hilton Singapore Orchard. The food is as good as ever, but the pizzas – totally different from before – will only return for lunch in a few months.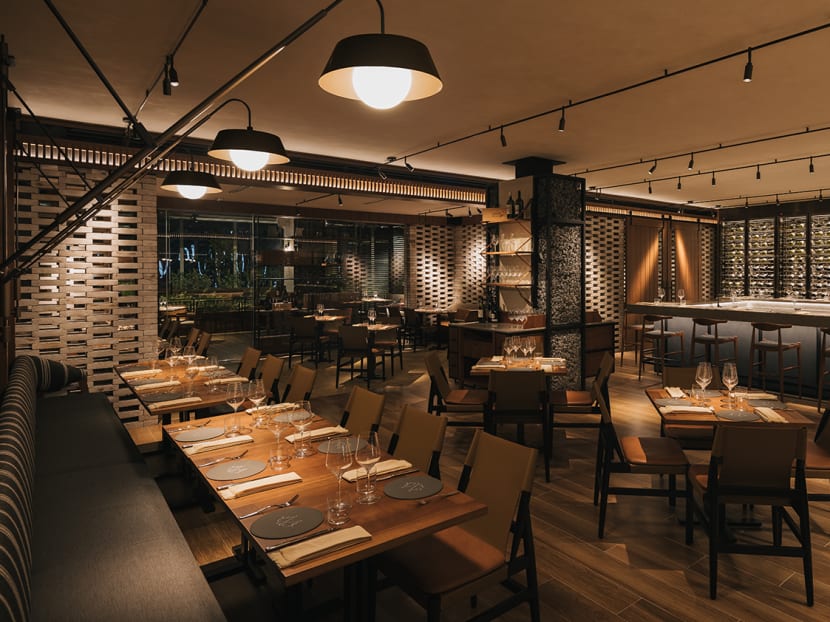 The dining room feels familiar. A buzzy marble-topped bar, bowls filled with colourful produce, gabion stone walls against dark wood panelling – a modern Tuscan farmhouse, if you will, after a stylish sweep of an American design specialist's wand (in this case, San Francisco Bay Area studio EDG Design).
This is the Singapore outpost of Osteria Mozza in its new guise. The popular restaurant and its sister pizzeria, formerly located at Marina Bay Sands, shuttered in 2018 when co-owner Mario Batali relinquished his shares following a sexual misconduct scandal.
Now located in the newly minted Hilton Singapore Orchard, Osteria Mozza is at once familiar, but different. The polished white marble top of its signature mozzarella bar has given way to an oyster grey update which sits close to the entrance.
This remains first-come-first-serve only, which means you can belly up to the counter and find your way to the selection of fresh cheeses fashioned into beguiling plates of antipasti. You could also order from the rest of the menu, but fitting everything on that diminutive slice of real estate would be a challenge.
What's new and what's not at Mozza reincarnated?
"The format of the menu is still structured the way it was at Marina Bay Sands, meaning we have the antipasti, the mozzarella bar, the secondi, vegetable side dishes and desserts," said co-owner and celebrity chef Nancy Silverton, who was in Singapore for the opening on Tuesday (May 31).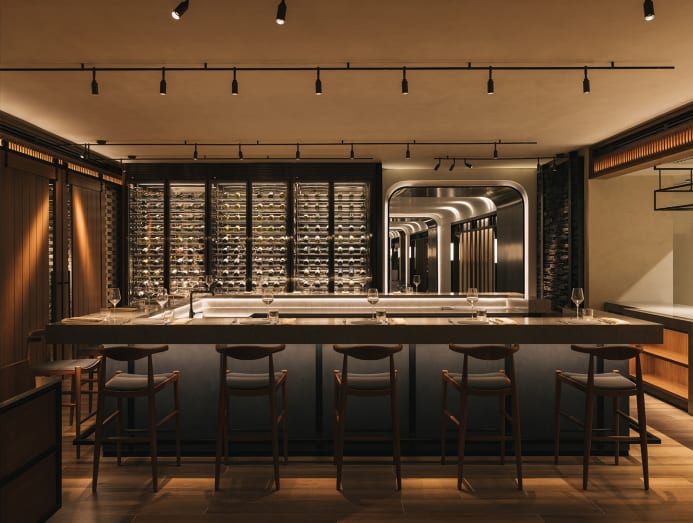 "But I did want customers to see that we've done a lot of development over the last couple of years. We've brought in a lot of new dishes and still offer a handful of what we did before. There's going to be a newness and a brightness to what we have."
Happily, 80 per cent of Osteria Mozza's former kitchen staff, including its last head chef Peter Birks, are back in the hearth here, their camaraderie evident in the steady rhythm that thrums down the line.
THE COMPLEXITY OF SIMPLICITY
While the rest of us were elbow deep in sourdough during the early throes of the pandemic, Silverton had no desire nor need to do that. She did, after all, popularise sourdough and artisanal bread in the United States, having founded the now legendary La Brea Bakery in Los Angeles in 1989.
"I decided to return to recipes that I haven't baked before because the level of restaurants that I worked at didn't do a lot of things like scones, muffins and cookies," she said.
That exercise quickly turned into her upcoming cookbook whose mouthful of a working title, she said, is The Peanut Butter Cookie That Changed My Life and 120 Other Cookies, Muffins, Scones And Something That Will Change Yours.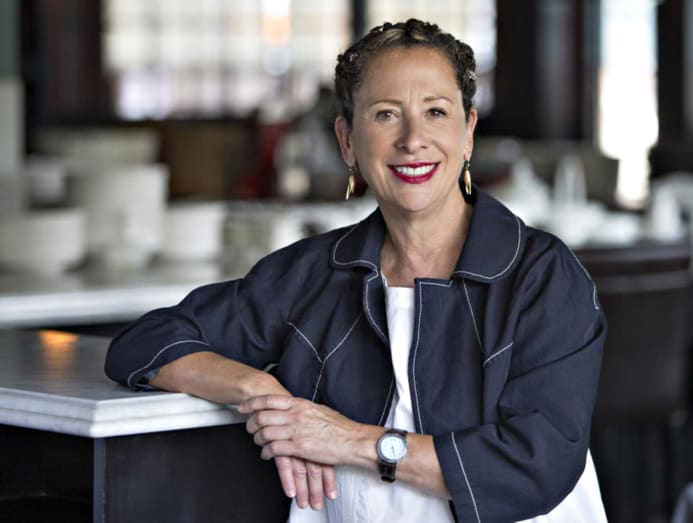 Though there are already hundreds of books, not to mention thousands of recipes for the likes of blueberry muffins and chocolate chip cookies on the internet, Silverton wanted wanted to write a book where nothing is innovated. "I wanted a book where you have a blueberry muffin recipe and can really make what is the best blueberry muffin." The book is scheduled for release next fall.
We mention this to illustrate her sense of exacting simplicity that's encapsulated in Osteria Mozza's menu. Silverton described the food as "flavourful and crave-able, dishes that bring people back because they want that again".
The thing about simplicity, however, is that it's not actually simple. "When you have a simple tossed salad with fresh herbs, that dressing better be great, the lettuce better be pristine and the herbs had better be flavourful," said Silverton. "Because that's all you've got. When you don't have a lot of bells and whistles going on, you will notice if there's a lack of integrity and flavour in that salad."
A veritable emblem of this ethos is Nancy's Caesar, a crostini topped with slices of boiled egg, leek and slivers of anchovy served alongside perfectly dressed romaine lettuce leaves. This seemingly simple construct is fresh with flavour, impeccable ingredients and well-honed technique.
"This is food you look at and think, 'I could totally do this at home'," my dining companion observed. "But then you try it and realise, 'no, I can't'." She's right. This level of simplicity takes practice and impeccable produce.
Fans of Mozza's pasta dishes will celebrate the return of perennial and unimpeachable favourites like orecchiette with sausage and Swiss chard – full of beautiful textures and resonant flavour that make it a joy to eat. Main courses cooked on the grill are as exceptional as ever, especially the grilled bone-in tagliata that glistens with fat and ripples with flavour.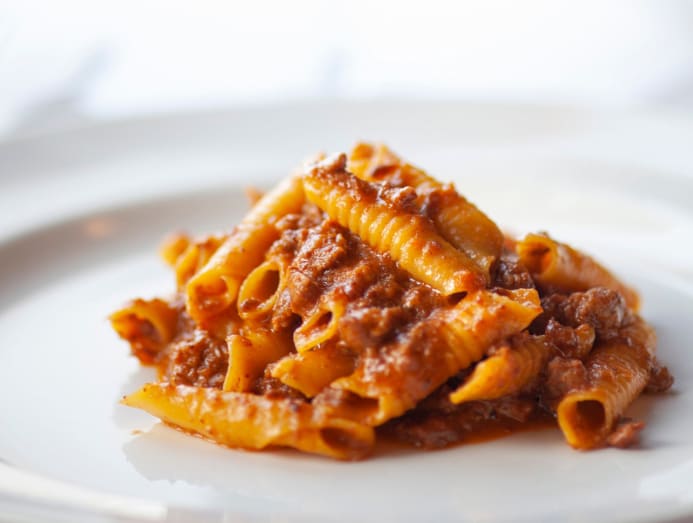 Those expecting Silverton's pizzas, however, will have to wait a couple of months.
"Looking at the buildout, we felt that (this space) lends itself more to the osteria. But we knew that coming here and not offering pizza would not be well looked upon, so we put pizzas on the menu at lunchtime. Hopefully, we'll open for lunch within the next two to three months and that's when our pizzas will be showcased," she explained.
The pizzas, however, are nothing like the slices that our taste memories long for. In the four years since Pizzeria Mozza exited our dining scene, the team has evolved their pies to be lighter, crisper and sturdier, with a fried wafer-like quality. They are undeniably delicious, but completely different from the last time we sunk our chops into them at Marina Bay Sands.
Meanwhile, Silverton's plate continues to heave with work on her nine restaurants across London, Mexico and the Los Angeles area, with four more in the works. Not one for slowing down, the 67-year-old attributed her drive to that old trope about not having to work when you love what you do.
"I'm very grateful that I discovered so early on in life what my passion was. Never once have I woken up and thought, 'ugh, I have to go to work'. That's a blessing."
Osteria Mozza is located at Hilton Singapore Orchard.