First look: Inside Pan Pacific Orchard, a new nature-inspired luxury hotel on Orchard Road
Designed by the award-winning WOHA Architects, Pan Pacific Orchard is a lush urban oasis with stunning facilities such as a cascading waterfall, an outdoor beach pool and event spaces set in the clouds.
In case you haven't noticed, a fascinating Jenga-like building, teeming with lush foliage, has sprouted on Orchard Road.
The property is the new Pan Pacific Orchard, one of Singapore's most highly anticipated luxury hotel openings of the year. It will open to the public on Jun 1, five years after the original building was demolished in April 2018 to make way for the ambitious new development.  
The hotel, situated on 10 Claymore Road, is now the latest flagship property of Pan Pacific Hotels Group (PPHG) in Singapore and the city's second Pan Pacific hotel. The 347-key, 23-storey hotel is designed by renowned architectural firm WOHA and developed by UOL Group Limited. WOHA is known for their innovative and sustainable approach towards design. The award-winning Singapore-based practice is also behind the design of Parkroyal Collection Pickering and Oasia Hotel Downtown.
Ahead of its opening, CNA Luxury took a peek into the five-star hotel. Here's what stood out.
Located 10 Claymore Road in the Orchard area, the new Pan Pacific Orchard seamlessly blends nature into its design, with four open-air terraces – Forest, Beach, Garden and Cloud – each teeming with greenery and offering guests different experiences.
FOUR UNIQUE ENVIRONMENTS
Stepping into Pan Pacific Orchard, guests will immediately feel as though they're leaving the hustle and bustle of Singapore's prime shopping belt behind. The architecture of the building is divided into four stacks with four open-air sky terraces – Forest, Beach, Garden and Cloud. Each sky terrace creates its own unique experiences through different environments.
"The Orchard Road area used to be lined with fruit orchards, nutmeg plantations and pepper farms. In line with the Urban Redevelopment Authority's (URA) plan to 'bring back the Orchard', the design of Pan Pacific Orchard extends the greenery along the belt of Orchard Road up vertically onto a series of landscaped sky terraces," explained Phua Hong Wei, director of WOHA.
The four terraces are each lushly landscaped and visually connected by a massive green column on each corner, replete with creeper plants that will grow more abundantly over time. "Each sky terrace shelters the other to create semi-outdoor atriums, with the city as a backdrop," added Phua.
Guests first enter the property through the second floor Forest Terrace, which boasts a cascading waterfall, and an immersive forest featuring tropical trees, undergrowth and weaving canopies. Those entering from the back of the hotel will walk up a stairway lined with trees before reaching an inviting lobby area situated in an open courtyard. The lobby features interesting design elements such as wooden birds perched on an overhead structural grid. According to a representative of Pan Pacific Orchard, in time, the hotel hopes to attract all sorts of real-life bird species.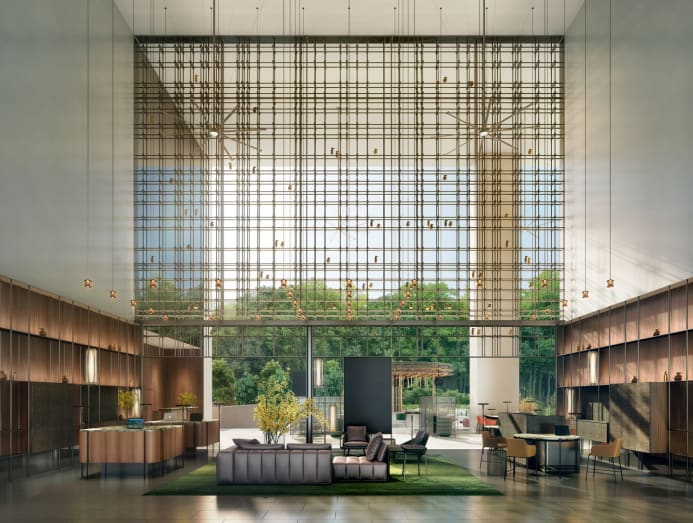 Located on the fifth floor is the Beach Terrace, conceived as an island escape in the sky. The Beach Terrace features a meandering lagoon pool surrounded by tropical palm groves. Here, guests can lounge on the poolside deck chairs and bean bags, or grab a drink at the swim-up pool bar. A mirrored ceiling reflects the view of the pool and its lush landscaping.
The Garden Terrace on the 11th floor is like a curated garden, complete with a central lawn area lined with private cabanas. On this floor, club members will also enjoy dedicated access to the luxurious Pacific Club Lounge.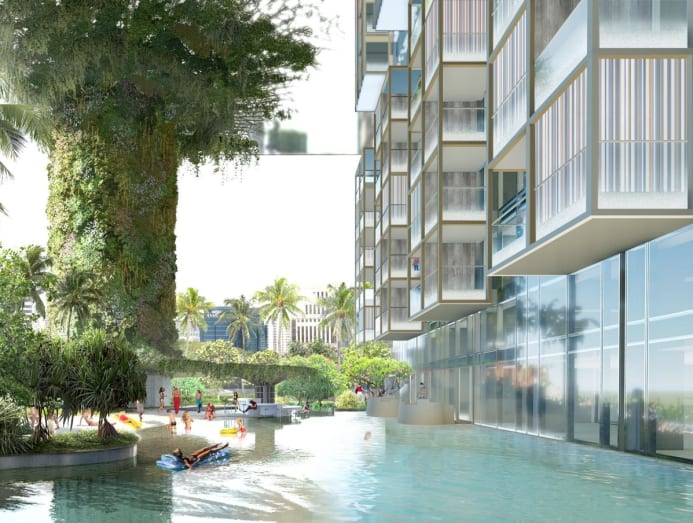 The Cloud Terrace on the 18th floor sets the stage for "events in the clouds". Facilities include an elegant foyer area, private function room as well as a pillarless ballroom with natural lighting and capacity for 420 seats. The outdoor deck area boasts a stunning view of the city skyline.
Phua describes Pan Pacific Orchard as a "distinct green landmark along Orchard Road, offering a variety of spaces and choices for today's discerning guests".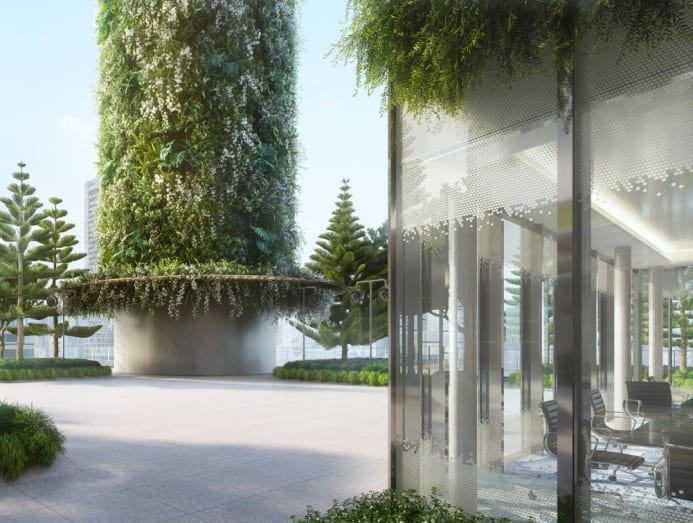 "We made the key move of breaking down the 347 keys into three boutique-scale spaces, each separated by sky terraces and with their own theme. This brings variety to the amenities to accommodate the different needs and profiles of guests. There is something for everyone. This means that every return stay can give the guest a fresh and different experience," said Phua.
ROOMS AND SUITES
Room rates at Pan Pacific Orchard start from S$460++. There are a total of 13 room types, highlights of which include 10 Beach Club Lofts with direct access to the Beach Terrace. Each Beach Club Loft also comes with its own private pool lounge. The bedroom area is located on the first floor of the loft, with a mezzanine lounge on the upper level. All Beach Club Lofts will be available for reservations later in the year.
Suite rooms – including the Beach Terrace Suite, Cloud Terrace Suite and Garden Suite – feature a separate living, bathroom and bedroom area. They also feature an expansive private balcony with a view. The Beach Terrace Suite, for one, overlooks the breezy landscaped grounds of the Beach Terrace.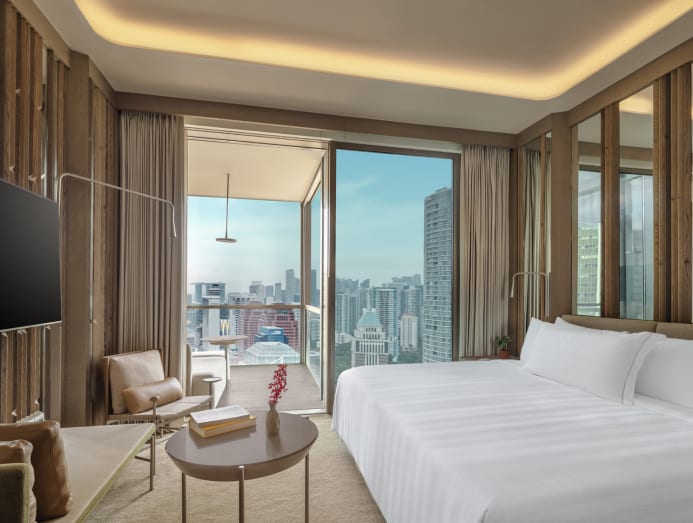 According to WOHA, the interiors of the rooms are designed to reflect the different sky terrace environments. Beach Terrace rooms, located on the 5th to 10th floors, feature timber panelling, sandy-toned finishings and pastel-coloured fabric to mimic the beach experience. Garden Terrace rooms, located on the 12th to 16th floors, are finished with fabrics and accessories in hues of green to embody the botanical experience. Meanwhile, the silver-white palette of the Cloud Terrace is extended into the guestrooms located on the 19th to 23rd floors.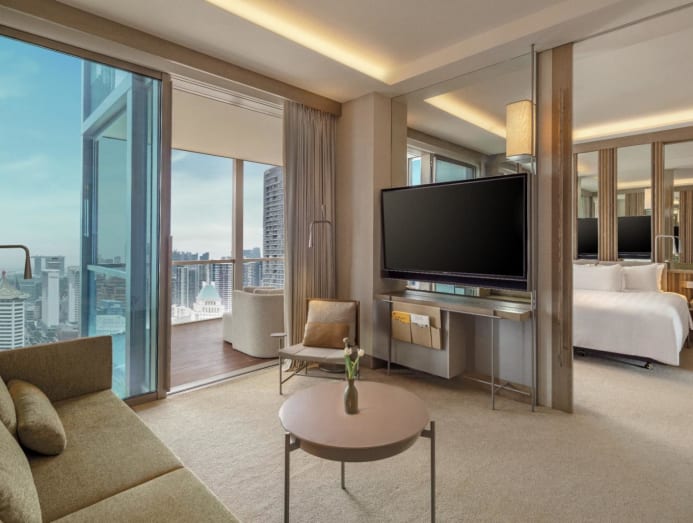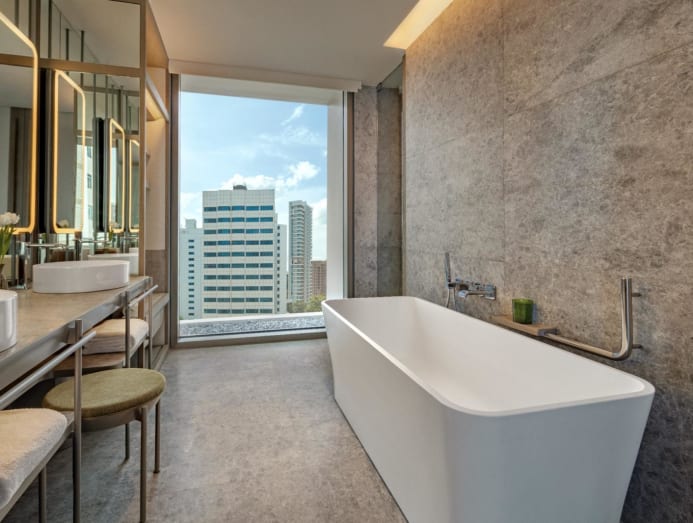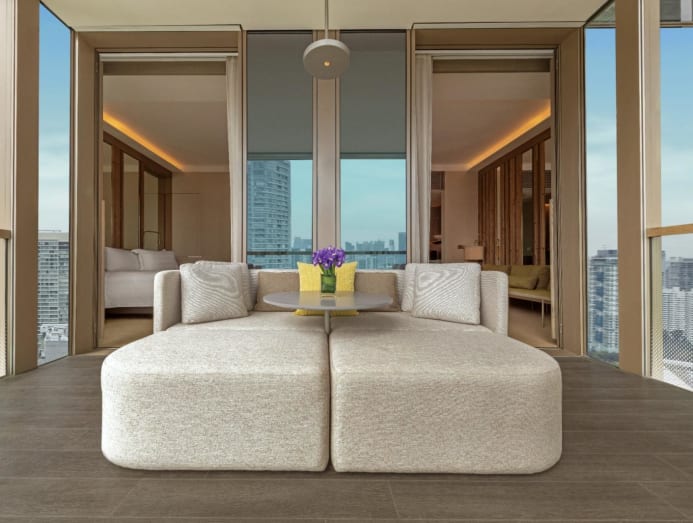 DINING AND EXPERIENCES
Pan Pacific Orchard is set to become a dining destination in its own right, with three gastronomical must-visits. "Singapore is known globally as a vibrant culinary destination with a uniquely diverse culinary landscape, and I am excited that Pan Pacific Orchard will be joining the ranks of incredible restaurants with three distinctly differentiated dining concepts," said Marcel NA Holman, pre-opening general manager of Pan Pacific Orchard and vice president of operations in China, Indonesia and Japan for PPHG. 
Breakfast is served at Mosella, the hotel's signature all-day dining restaurant located within the Forest Terrace. With a menu crafted by executive chef Pedro Samper, the restaurant serves Mediterranean cuisine with a Peruvian flair. "Guests can expect a relaxed yet upscale experience with inventive takes on the cuisines that marry familiar ingredients with surprising flavours," teased Holman. 
At Mosella, guests can choose to dine indoors or at the al fresco seating area. The interior features an open kitchen as well as a live ceviche station. At the heart of the restaurant is a massive mosaic column that makes for the perfect backdrop for Instagram photos and reels.
All-day refreshments and afternoon tea are served at Pacific Breeze, which features intimate seating spaces above the lobby's water plaza. Guests can also indulge in champagne, oysters and cocktails at Florette, the specialty bar located on the Garden Terrace. Florette will open in July.
"We are working with a long list of local and sustainable suppliers as well as creative partners who are at the forefront of their craft – from hard-to-find Peruvian winemakers to artisanal tea suppliers – across all of Pan Pacific Orchard's dining concepts," shared Holman.
To elevate the guest experience, the hotel also plans to launch an Atelier-in-Residence programme, where the property will play host to a curated and rotating selection of Singaporean brands that celebrate craft and innovation. "They will be given the freedom to create their own programming that could range from workshops to exhibitions and talks," said Holman. 
On what makes Pan Pacific Orchard stand out from other hotels in Singapore, Holman believes it is the wide variety of experiences. "I don't think there's any other hotel where you can experience the city, the beach, the forest and have drinks in the clouds all in the same day without leaving central Singapore – and I think that's what truly sets Pan Pacific Orchard apart."
NEW AND REFRESHED PROPERTIES IN ASIA AND BEYOND
Post-pandemic, the Singapore-based PPHG has expanded ambitiously within the region and internationally. Aside from the opening of Pan Pacific Orchard in the city, the existing Pan Pacific Singapore located in Marina Bay has undergone a S$30 million refurbishment, including a redesign of its guestrooms, ballroom and F&B spaces.
Pan Pacific London, the group's first hotel in Europe, opened its doors in September 2021. Closer to home, the Parkroyal Collection Kuala Lumpur marked its opening in June 2022.
The group also recently announced two new properties in Tokyo, Japan – the luxurious Bellustar Tokyo, A Pan Pacific Hotel, and Hotel Groove Shinjuku, A Parkroyal Hotel.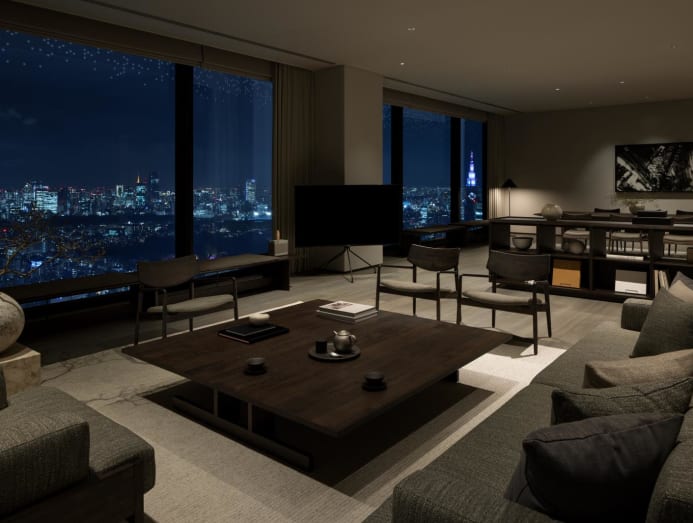 Upcoming openings include Parkroyal Serviced Suites Hanoi and Parkroyal Serviced Suites Jakarta in October 2023, followed by Parkroyal Jakarta and Pan Pacific Jakarta in 2024.