In Phuket, a new Banyan Tree resort concept for wellness beginners
Banyan Tree Veya Phuket is the homegrown brand's first wellness-centred luxury resort, with more to come in Mozambique and Mexico this year. We embarked on a journey where wellness and luxury meet.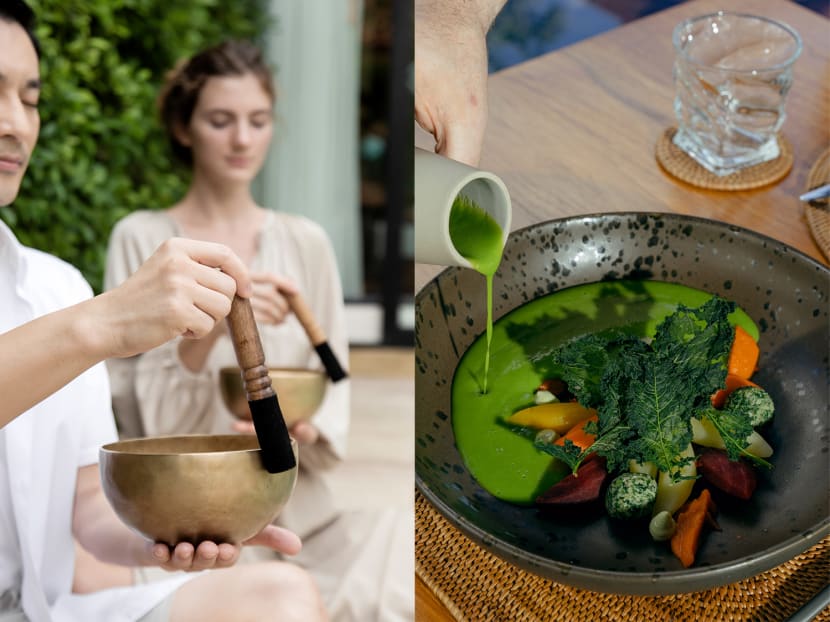 Escaping an incessantly wet Singapore season back in December to arrive in Phuket never felt more like being received in paradise.
We stepped through the threshold of Banyan Tree Veya and immediately, a relaxed aura washed over me, whispering promises of a world of bliss in the days ahead.
Tropical vibes are on-point with a glistening pool sun-kissed by clear skies overhead, framed by palm trees prettier than back home. But this is not your typical beach holiday. 
Veya is Banyan Tree Holding's newest hospitality concept, and this Phuket property is the first of its kind and it is, poignantly, situated next door to the very first Banyan Tree resort ever constructed 30 years ago.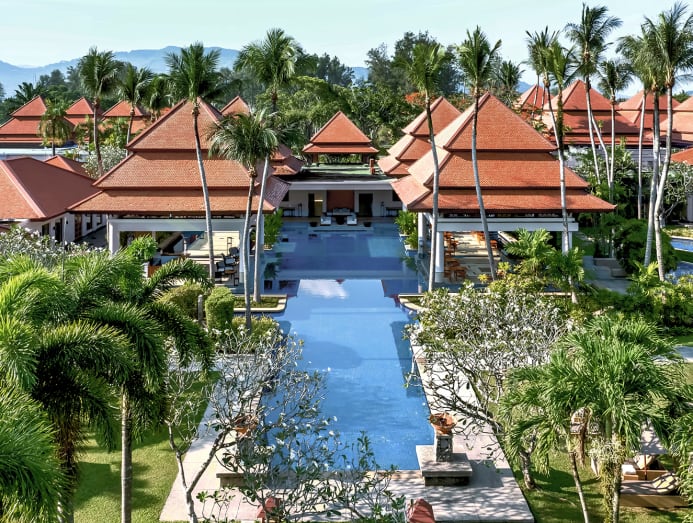 And, rather poetically, I happened to bump into Banyan Tree founder and executive chairman Ho Kwon Ping at lunch on our first day here. I haven't seen him since before the pandemic, when we sat down to chat about the group's aggressive global expansion plans on the 25th anniversary of the brand in a 2019 interview. 
Clearly, the past three years have not been kind to the travel and hospitality sector and, understandably, many of those plans had to be shelved. Veya had not yet been crystallised in vision then, and it's good to see the homegrown hospitality player branching out once again.
A DEDICATED WELLNESS SANCTUARY
Opened in March 2022, Veya is conceived as a sanctuary dedicated to wellness, with certified multidisciplinary hosts assigned to take care of each guests' wellbeing journey.
Veya means "to weave" in Sanskrit, as it is the hope that guests will weave in the wellness practices picked up here into their daily lifestyles upon their return home.
There are currently a very exclusive total of 12 villas peppered around Veya's sprawling grounds, which sit within the 300-ha enclave known as Laguna Phuket, that is also home to sister properties within the Group's umbrella including Angsana and Cassia.
And plans are underway to expand the Veya concept, with two upcoming resorts opening this year: On the private island of Ilha Caldeira off the coast of Mozambique, and in Valle de Guadalupe, Mexico.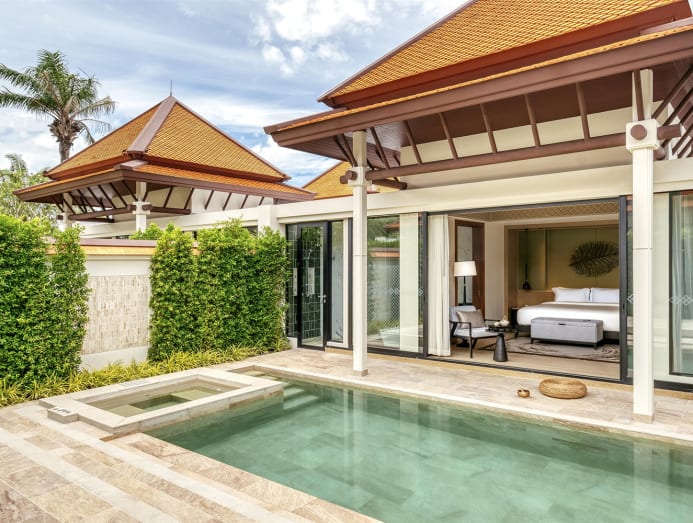 CURATING A BESPOKE JOURNEY TO WELLBEING
The folks at Veya are quite adept at mind-reading, it seems.
There is a fresh coconut accompanied by a chia seed pudding already waiting for me when I check into my villa, which I delight in as I survey the capacious space replete with a private plunge pool and a hot tub outdoors.
This is contemporary luxury styled for the tropics, which the savvy, well-heeled traveller appreciates and already associates with the Banyan Tree brand.
In the villa, I spot a Tibetan singing bowl, yoga mat, exercise stretch bands and other paraphernalia such as sleep sprays and balms; thoughtful inclusions to encourage both movement and rest.
But the journey to wellness really begins with a one-on-one consultation with a wellbeing host certified and trained in eastern medicine, naturopathy and coaching.
I head to the Wellbeing Centre and meet with Rajesh Thazhe Thatathil, or Raj, who I later learn is a Master of Yoga from the International Sivananda Yoga Vedanta Centres in India, and we discuss my life.
Veya's approach to wellness comprises a range of multidisciplinary modalities that have been distilled into eight proprietary pillars identified as universal pathways to wellbeing: Sleep & Rest, Dietary Awareness, Bonding & Connection, Physical Vitality, Cultivate the Mind, Learning & Development, Harmony with Nature, and Sustained Practices.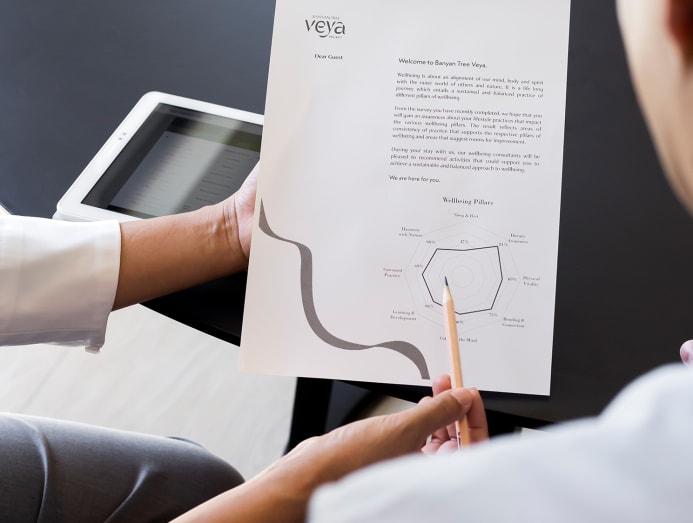 This opportunity for a personalised wellbeing audit could not have come at a better time, as I had been wanting to renew my subscription to a healthier lifestyle, but kept stalling on reinstating my fitness regime.
Speaking with Raj, I found myself admitting, rather sheepishly, that although I am aware of much of the healthier lifestyle habits we were discussing, I had not been implementing them in my daily life for quite some time.
Through further inquiry, we delved a little deeper and Raj helped tune-up the mindset that was hindering me from moving forward on my intentions for a greater sense of wellbeing. He also shared some useful practices I could add to my wellbeing toolkit back home. We then mapped out a bespoke wellbeing programme for the duration of my stay at Veya.
A MORE SUSTAINABLE APPROACH
Early one morning, I found myself barefoot in the Frangipani Garden, attempting to walk in a straight line with my eyes closed – a feat made more challenging when a soporific state meets dormant anxiety.
This simple "conscious grounding" group exercise led by the facilitator to raise sensory awareness quickly alerted me to the fact that I really, really need to slow down – not only physically, but more importantly, mentally, too.
While some may have enjoyed the languid pace of the activity, the resistance my mind conjured was frighteningly unbearable, as all I wanted to do in those few short minutes was open my eyes and run to the finish line, of which there was actually none, as you can imagine. This, from a person not new to meditation, breathwork, and other mindfulness practices, but having simply fallen off the wagon in the preceding months.
Next was a Tibetan bowls sound bath healing session led by Raj, and I also signed up for the yoga and Pilates classes. Meanwhile, one of the journalists in our group who fancies herself a seasoned yoga practitioner opted for a "fat blast" class instead.
A sleep meditation session was, unsurprisingly, also prescribed for me. Your personalised wellbeing may be curated to address your needs and wellbeing goals, but what I liked about Veya's approach is the flexibility it offers.
In addition to the activities recommended by your wellbeing advisor, you can also select other classes from the group wellbeing activity calendar – and you never have to worry about not being "advanced" enough to participate in a class. Groups are small to begin with, and they can be tailored to your ability level. Many of these activities are complementary with the stay, while paid sessions cost 1,000 baht (S$39) each.
One could argue that unlike other strict wellness retreats and detox programmes out there, Veya's entry-level approach to wellness may be more sustainable in the long-run, particularly at the beginning of such a journey. 
And this certainly appears to be the start of a lucrative journey for Veya as well, as the global wellness tourism market is projected to reach US$1.3 trillion (S$1.7 trillion) by 2025, according to the US-based Global Wellness Institute.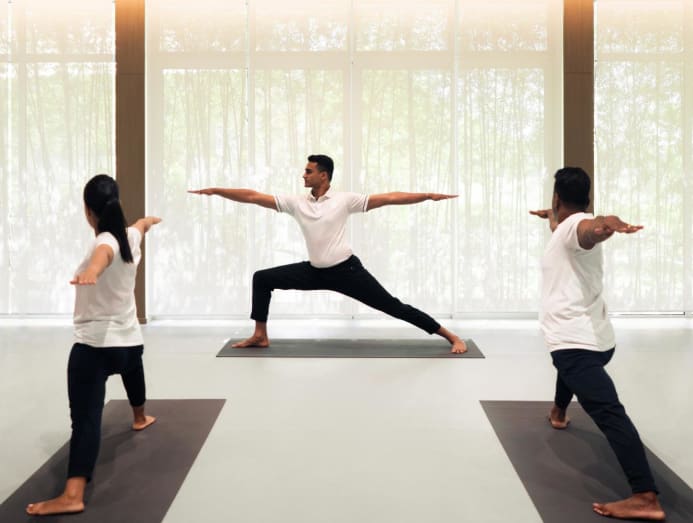 THE LUXURY OF CHOICE
When not luxuriating in my pool villa or enjoying a lavishly ceremonial massage in one of the resort's 20 dedicated spa villas, you would likely find me tucking away some plant-forward nosh at Veya's sole restaurant offering healthy fare rooted in Asian and Mediterranean influences.
Designed around a Fuel-Balance-Repair concept, its flexitarian approach centres around ingredient provenance, and there are even resident 'Nutrition Sommeliers' who can curate a tailored menu for guests with specific dietary needs and preferences.
Breakfast is an occasion in itself, with a three-tier breakfast tower arriving much to the delight of the Instagrammers in our midst. Or an acai bowl and kombucha that go just as far in nourishing both body and soul.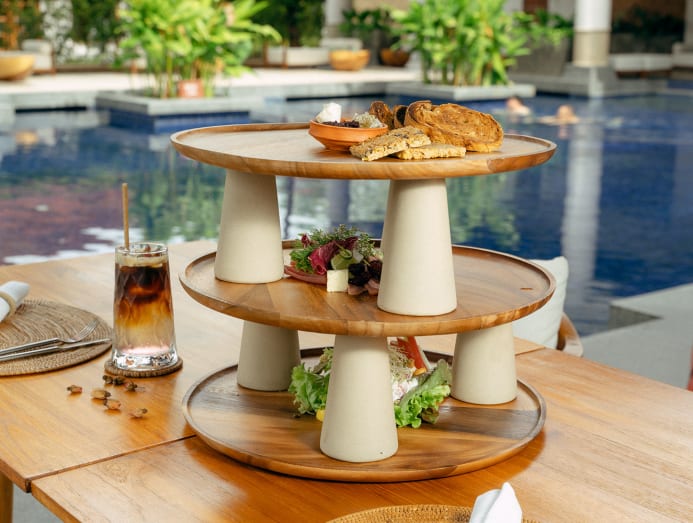 If you do eventually tire of eating so fresh and so clean, however, you would be happy to know that all the amenities in the main Banyan Tree Phuket resort next door as well as its sister properties in the vicinity are also available to Veya guests, including its restaurants.
We had mimosas one morning at the breakfast buffet at The Watercourt overlooking the lagoon and, on another evening, a sumptuous champagne sunset dinner cruise with lobsters, oysters, prawns, squid and more freshly barbecued aboard Banyan Tree's own vessel, The Mekhala, as we sailed around the lagoon.
Also located within the vast Laguna Phuket acreage is the new Ori9in Gourmet Park, a farm-to-table concept with a picnic cafe, fresh food market and nature trail, which you'd have to hop on a shuttle to get to.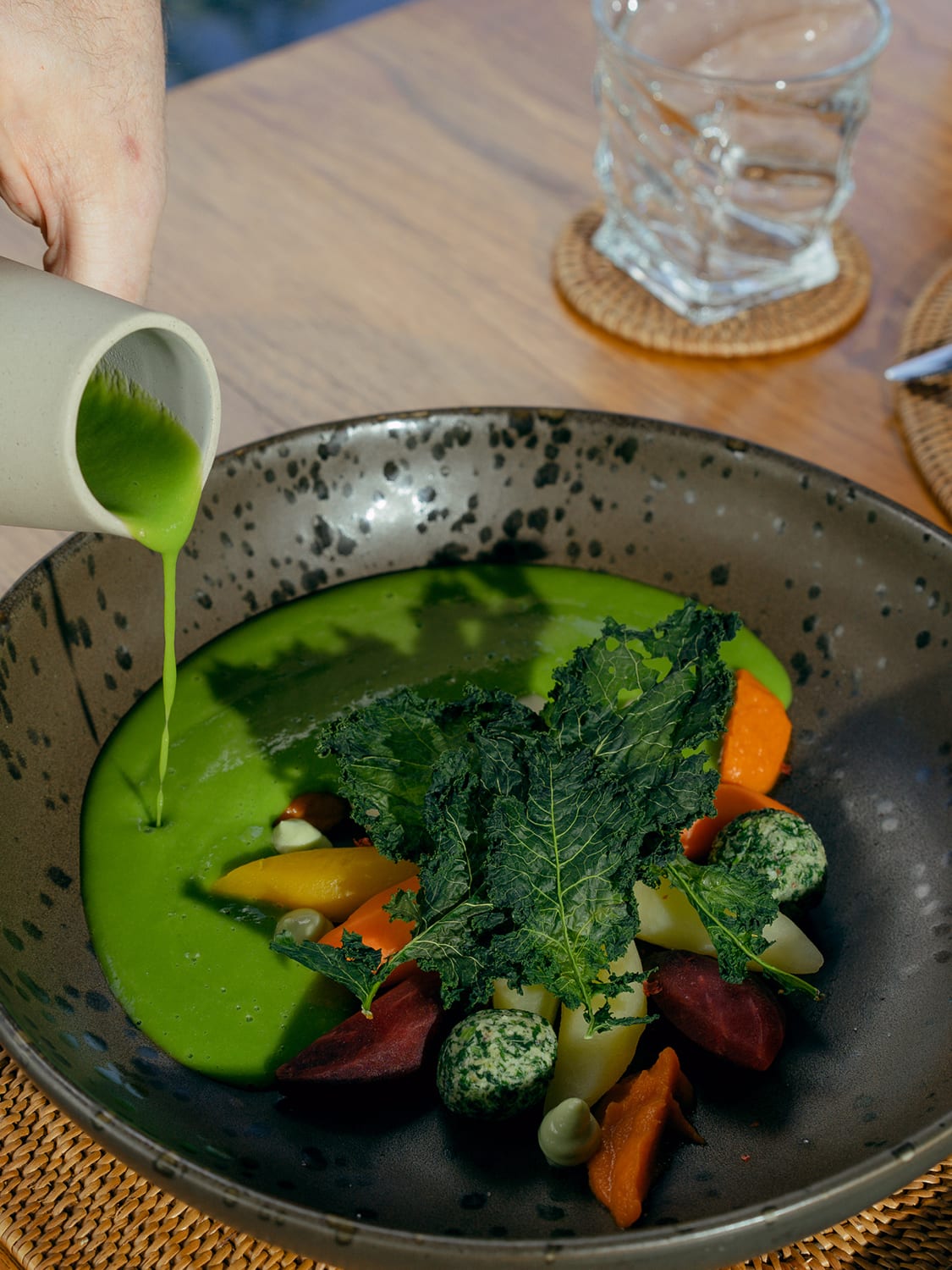 Or you could also head to the nearest beach, Bang Tao, about a 10-minute walk away and dip your toes (or more) in the azure, salt-kissed waters of the Andaman Sea. 
Me? I nipped out for a Singha one afternoon with an expat friend now living in Phuket and we headed to Azura Beach Club at the nearby Angsana Laguna resort, also owned by the Group. Something about an ice cold beer right on a sandy beach somehow completes the Phuket experience.
I guess that's what I'd call balance. For wellness beginners, at least.