5 of the finest private island escapes in Asia for total seclusion in pure luxury
Channel your inner James Bond at these stellar resorts where the white sand is soft, the cocktails are chilled and privacy is paramount.
Imagine a world where your final destination lets you entirely forget your journey – and focus instead on nothing but blissful relaxation.
That's no small feat, given that the logistics of global travel are currently fraught with complications, thanks to flight delays, cancellations and general airport stress.
In this new travel paradigm, few elements are as sought-after or critical as privacy and space and nowhere delivers on this dream more than private islands.
Total, tranquil seclusion, surrounded by natural beauty. Somewhere that it's only you, a discrete staff team and a handful of other guests – most of whom are more than content to stay in their own ultra-luxurious villas or retreats.
Here are five of the finest spots to truly get away from it all.
BAWAH RESERVE, INDONESIA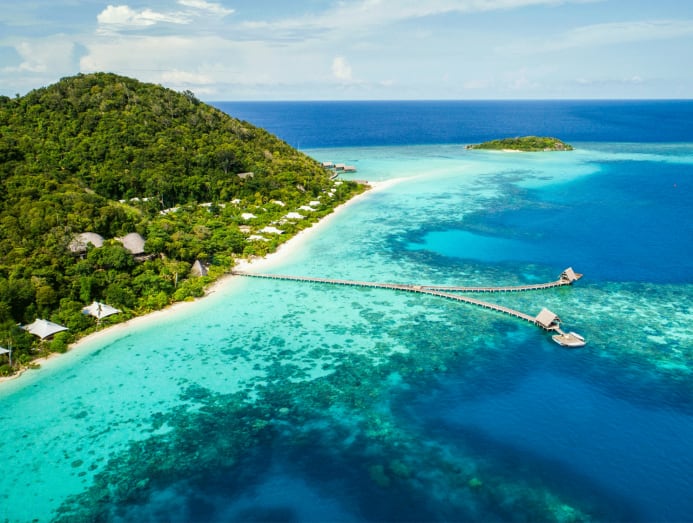 An eco-resort in the Anambas Islands, Bawah Reserve is re-opening in September following a two-year hiatus due to you-know-what.
Bawah has become an increasingly familiar name to Singaporeans seeking high-end escapes without travelling too far, given that it lies only 160 nautical miles from Singapore. After a ferry to Batam, it's an 80-minute hop away in its own seaplane.
When you land, take your pick from tented garden suites, overwater bungalows or villas, all of which blend seamlessly into their environment where azure waters lap white beaches, trees are weighed down under tropical fruit and jungle flora explodes in colour.
The re-opening, however, means that six brand-new cliffside lodges also await, making up the Elang Private Residence by designer Sim Boon Yang. They're capable of sleeping up to 20 for extended families or groups of friends after the ultimate break, while you'll even get your own restaurant and bar, spa and activities.
If you're after more, then the main island lies just a three-minute boat ride away and features 100 hectares of forest for trekking and stellar sunrise views, a marine reserve and all the sustainable luxury you could wish for.
BANWA, PHILIPPINES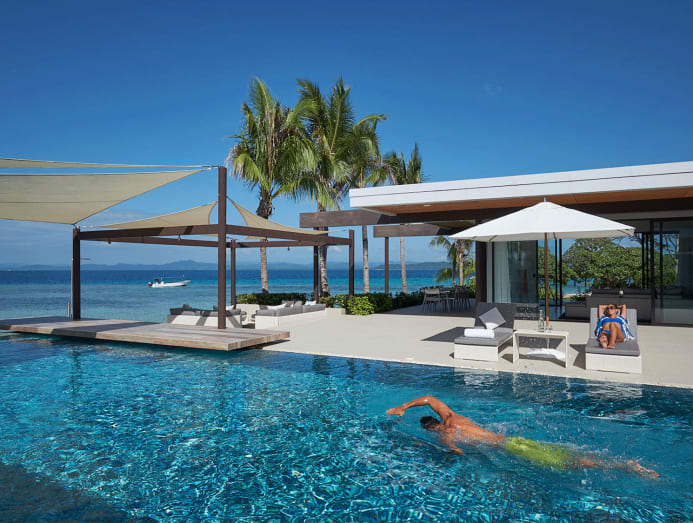 Another remote hideaway, this time at Banwa in the Sulu Sea off the east coast of Palawan in the Philippines. The big draw here is the compact island's stunning biodiversity and remarkable aquatic life in the surrounding marine protected area. Banwa has also established the Aquos Foundation to protect hawksbill sea turtles, owls and more
Whether under or above water, kayaking or paddleboarding, diving or snorkelling, the coral reefs and variety of ocean life mesmerise even the most experienced of travellers. Back on dry land, guests will be able to connect with a world of flora and fauna across the six-hectare island, while a firefly watching excursion in an underground river is one of many unique attractions nearby.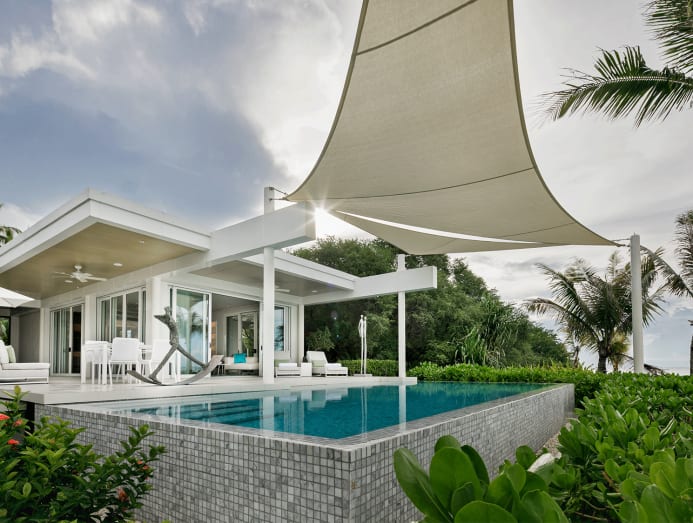 Accommodation in one of just six beachfront villas – which sleep from two to eight guests –  promises the pinnacle of barefoot luxury, with infinity pools, a jacuzzi deck, outdoor dining sala and more. On the table, expect seasonal organic cuisine from ingredients picked that morning from their farm.
Getting there involves a helicopter or seaplane transfer from Manila – unless you have your own wings, that is.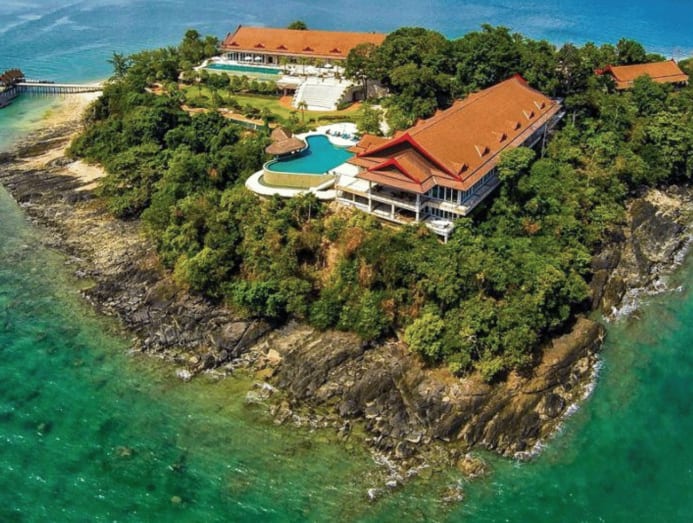 It sits only 6km from Royal Phuket Marina, but Koh Rang Noi feels light years away.
Covering ten acres, this tropical island paradise is an ultimate retreat for a buy-out, or their three expansive separate villas can also be rented individually, by large groups of friends or family.
After fresh coconuts and cooling towels, you'll navigate the floating pier and make your way to either the Guest, Upper or Lower Villa. We like the look of the Upper Villa, partly because it has seven bedrooms, while the master has not one but two bathrooms. There's a 33m pool, a hot tub for 20 – and did we mention the 43-seat cinema, with thousands of movies to choose from?
Your own spa has seven treatment rooms, there's a full fitness centre and a vast barbecue, bar and sunset patio entertaining space that looks across towards Phi Phi island. When you need a change from all that relaxing on land, then hit up their jet skis, kayaks, speedboats – and the optional 56- or 70-ft luxury yacht. There are also dozens of elephants around the property – but just sculptures, in keeping with the Thai decor.
COMO LAUCALA ISLAND, FIJI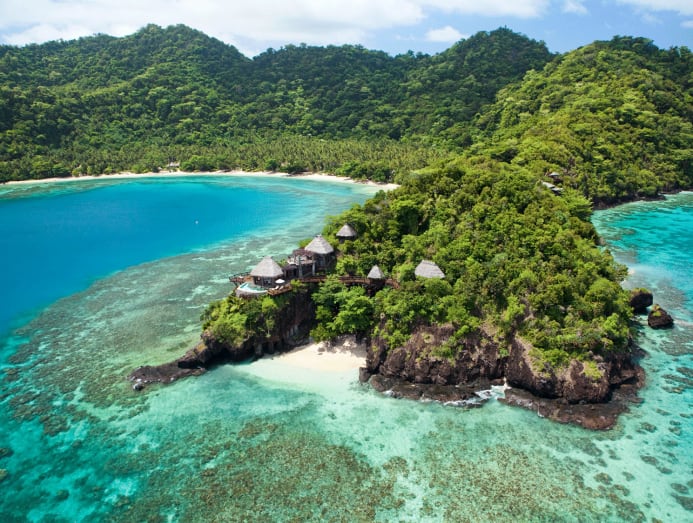 When former guests have included Leonardo DiCaprio, Oprah Winfrey, Harrison Ford and Ellen DeGeneres, you know that your private island is somewhere very special indeed. Walking in their footprints on the perfect white sand at COMO Laucala Island involves a flight to the Fijian capital of Nadi, before a hop in the resort's jet. Alternatively, of course, just take your own private jet as they have their own pristine landing strip.
As you descend to land, the 12 sq km island reveals itself in all its glory, as rich dark green forest gives way to perfect shorelines and a vast reef encircling it, teeming with life in the pristine Melanesian wilderness.
A total of 25 residences are linked by a walking trail, although buggies are naturally also available. All face the sea and feature traditional local designs and techniques, with roofs from sago palms and vast fragrant bushes of jasmine and frangipani.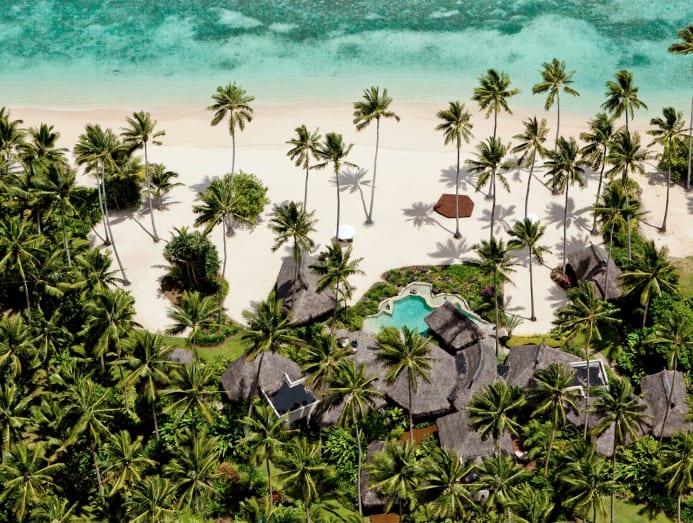 As you'd expect with a COMO resort, wellness and cuisine go hand-in-hand. The island's vast bounty of produce – including from their own cattle and poultry farm – are crafted into nutritious, light and delicious COMO Shambhala cuisine in two bars and three restaurants.
A championship golf course, vast array of elegant boats and yachts, incredible dive sites and horse riding are just some of the ways to tempt you out from your gorgeous, ultra-private accommodation. Then if you really want to push the boat out, the ultimate amongst them is the Delana Residence, at a cool 11,000 sq m for up to six very lucky guests.
CHEVAL BLANC RANDHELI, THE MALDIVES
No look at the finest private islands would be complete without the Maldives, somewhere you can take your pick from hundreds of atolls dotted through the warm turquoise waters of The Indian Ocean. Few, however, if any can match the understated, flawless luxury as offered by Cheval Blanc Randheli – and once there, the pinnacle of accommodation is their own private island.
On landing at your private jetty, the one-hectare island features a four-bedroom villa that is filled with bespoke art and furniture. A 25m pool accentuates the constant interplay of white and blue as the light changes throughout the day, culminating in jaw-dropping sunsets that are best viewed drink in hand, served from your bar. If one of your guests is musically inclined, then a grand piano only adds to the atmosphere.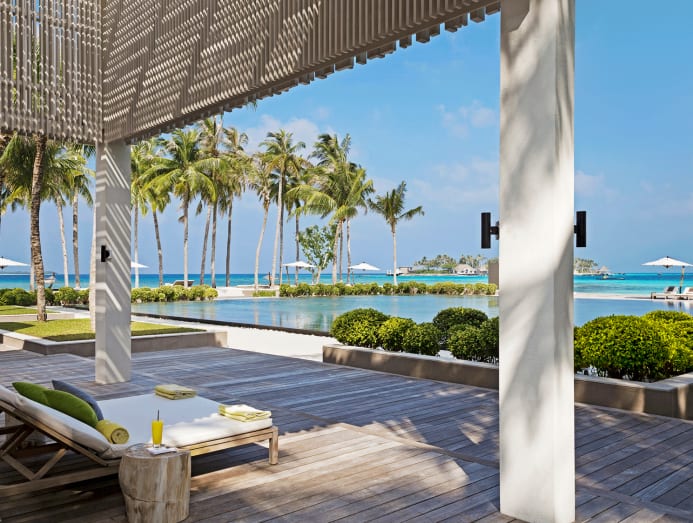 Meditation and treatment rooms, a cinema and fitness centre are some of the land based diversions, while your dedicated team of "Ambassadeurs" – the resort is owned by French luxury titans LVMH – are on hand for any other requests. Adding to the French connection, the gastronomy is unmatched in the Maldives with five restaurants from the main resort, in addition to your own private team of chefs.