At private resort Ani Thailand, the magical experiences extend far beyond its grounds
Its location on one of 42 islands that make up the UNESCO World Heritage-listed Phang Nga Bay offers a unique playground full of wonderous experiences.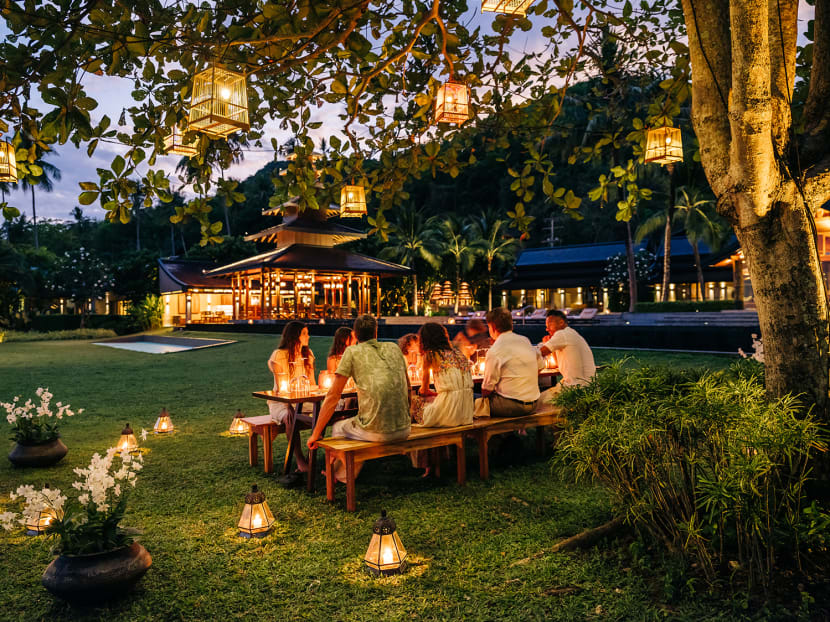 It's almost dinnertime. We've been sipping cocktails on comfy cream sofas, the salty breeze caressing our sun-kissed cheeks. After an afternoon of picnicking on a secluded cove, feeding swimming monkeys off our longtail boat, and recovering from the magical sun-soaked day in the comforts of our rather extravagant villas, I am hungry. Again. 
But our host ushers us away from the drinks sala and towards a row of seats arranged by the shore. "You are going to love this!" she says, before a Lycra-clad Caucasian man begins clapping in the dark, encouraging us to do the same. We comply impassively, not particularly enthusiastic about this pre-dinner call for audience participation. 
Dragon (say "drah-gone"), for that is this fire performer's name, gets to it. He twirls batons of fire with the kind of grace typically reserved for Cirque Du Soleil. He progresses to flaming nunchakus (I later learn that these metal chains lit at both ends are really called 'poi'), which he wields with such speed that the fires appear like bright wheels in the dark. Then he is spitting mouthfuls of kerosene at his fire fingers (think Wolverine with candelabra hands) whose flames explode into the sky, a testament to the propulsive power of the diaphragm beneath his slight frame.
The performance is so captivating that we only realise mid-way how incredibly handsome Dragon is. With his piercing blue eyes and aquiline nose, this man does not need to threaten to set himself on fire to get our attention; all he had to do was smile. Nevertheless, he persisted.
There is the lashing of fire whips, leaping acrobatics and finally, pyrotechnics — bursts of fireworks with the rapid-fire patter of machine guns framing this incredible performer. A half-hour later, ash and awe hang in the air. Dragon and his audience are breathless, and we clap with far more enthusiasm than we did 30 minutes ago.
Now it is time for dinner.
DREAM A LITTLE DREAM
This is how the days go at Ani Thailand, a two-acre private resort hidden away on the unspoiled island of Koh Yao Noi. Every gorgeous sunrise brings the promise of a new surprise, be it a spectacular fire show, Thai cooking classes, a street food-style dinner buffet, a Muay Thai class, or sidecar rides to breakfast in the middle of a yawning paddy field.  
The resort itself is no slouch. Within this paradisical lair are two Ocean Villas, two Family Villas, and four Pool Suites that will accommodate up to 20 people. Guests enjoy direct access to the beach that fronts the resort which happens to sit on one of the 42 islands that make up the UNESCO World Heritage-listed Phang Nga Bay.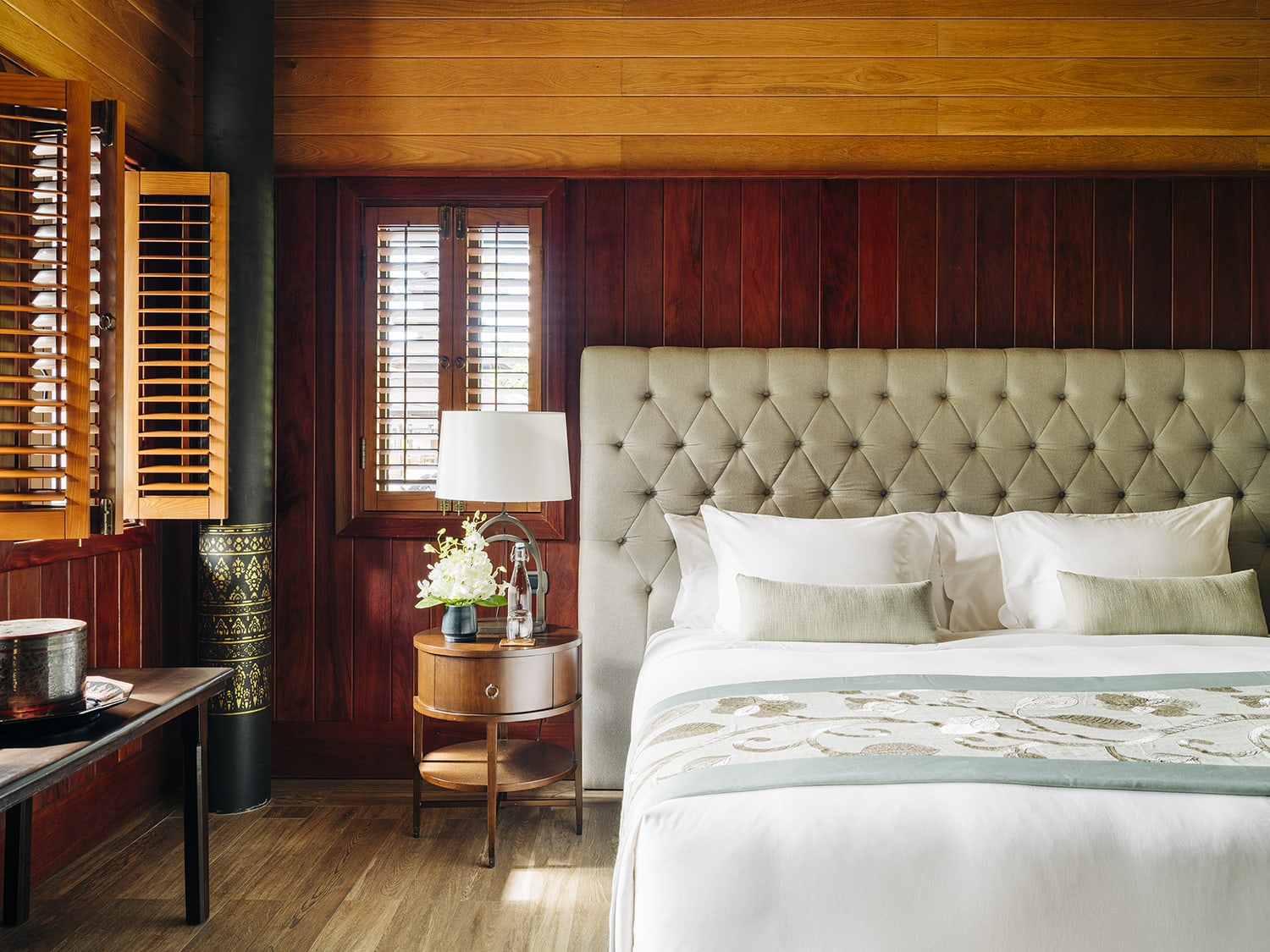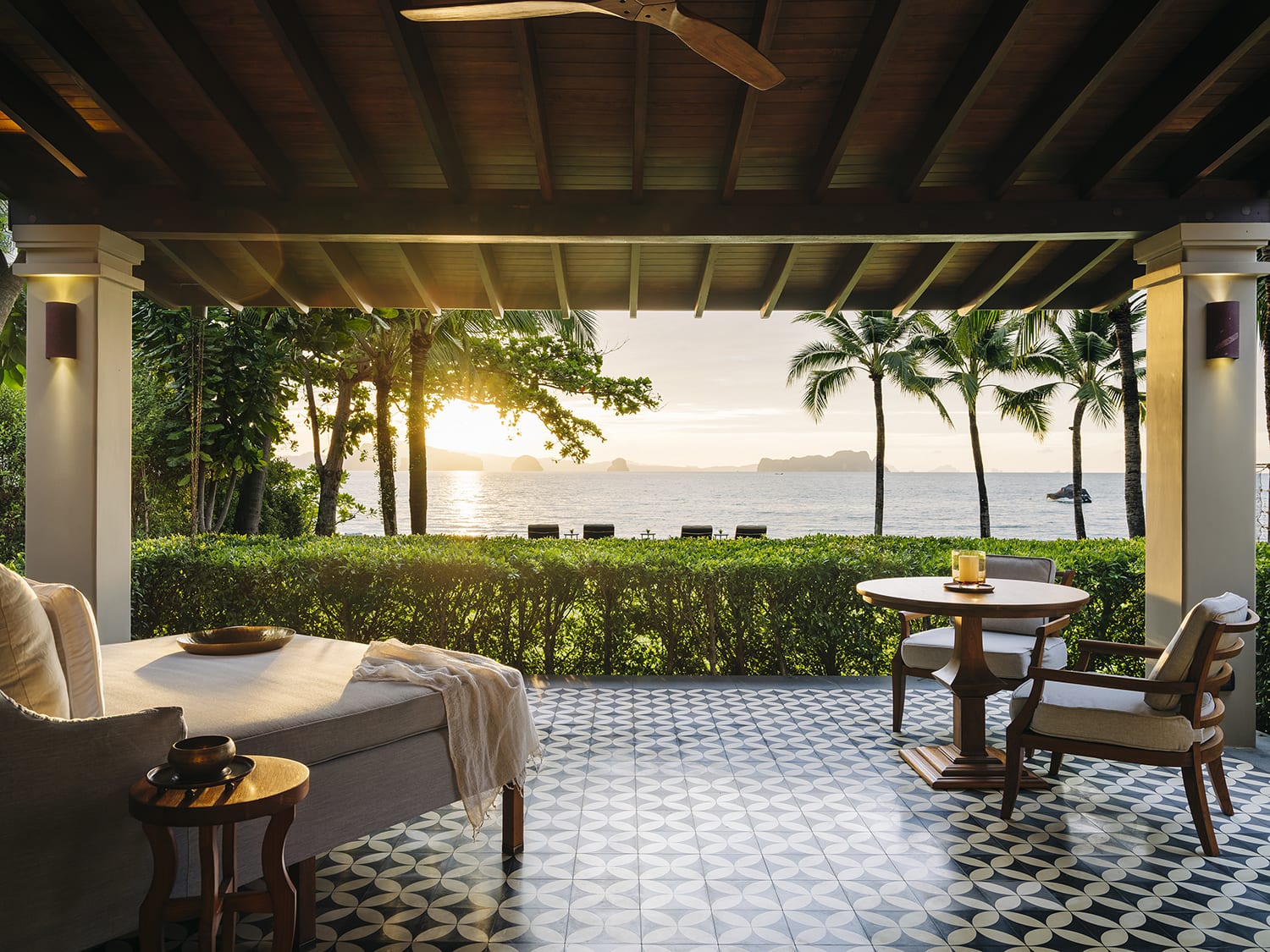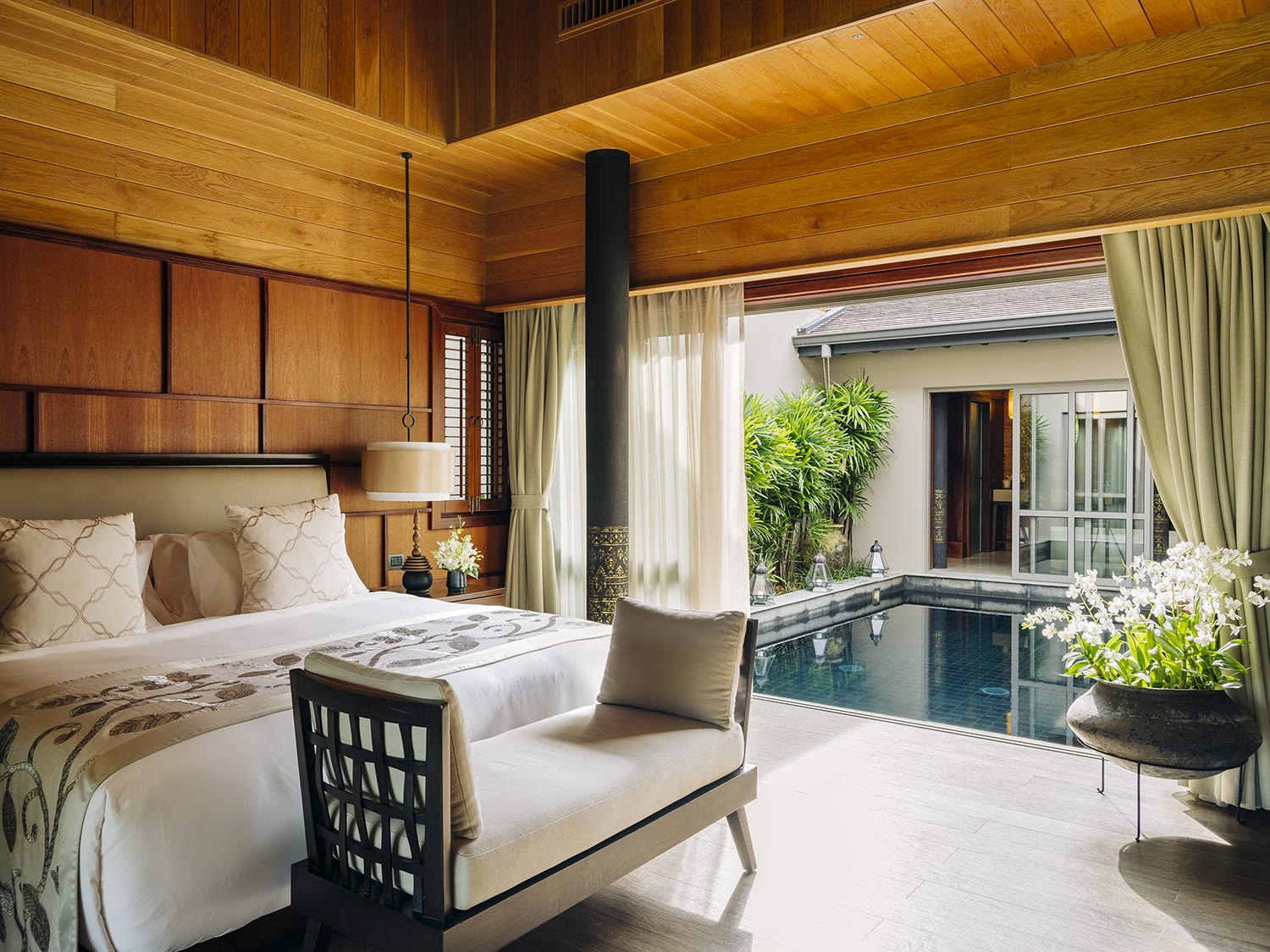 Ani's grounds are lush and manicured, nestling the sumptuously appointed villas that span between 980 and 1,044 square feet. Their distinctive pointed roofs, designed after ancient Lanna architectural style, belie the luxuriant interiors accented by textured soft furnishings and all the modern conveniences we like to imagine we could do without. Outside, guests have full run of the 43-metre swimming pool and the various open-air salas facing the ocean that serve as bar, restaurant and breezy nooks for unwinding.
Because the resort is tailored for one group of guests at a time, the experience is as relaxed as you need it to be. The 20 staff members learn your names and preferences quickly, and the stay comes with intuitive, friendly service sans the fuss and unnecessary reverence that you might encounter in a ritzy hotel. Everyone pitches in happily — the launderer doubles as a Muay Thai instructor one morning (outside of work, he is a bona fide champion in the Thai martial art); the waitresses help set up a glass-walled sala for our batik-painting class. Wherever we wander on the verdant property, the people we pass look us in the eye, greet us by name and stop for a little chat.
STEP OUT OF THE COMFORT ZONE
Sure, you could spend hours in this tropical idyll, hanging out by the pool, clambering on paddle boards, and generally recovering from one good meal after another. But there are always plans at this resort… and quite happily, you don't have to make any of them.
One late morning, general manager Andrew Gianfranco-Cotel gathers us onto a pair of longtail boats tastefully festooned with white phalaenopsis orchids. We sail across Phang Nga's emerald waters, past the towering limestone peaks that were pushed above the sea by geological forces approximately 75 million years ago. We pass Khao Tapu (Nail Mountain), famous for its cameo in the 1974 James Bond film, The Man With The Golden Gun. "Oh, nice," says a 30-something in our group absently as she trains her iPhone on the seascape. Why would she be impressed by the reference to a blockbuster made 20 years before she was born?
Our boat slows as another limestone isle comes into view. As we near the shore, Ani's now familiar staff wave happily to us. They look like a scene out of The White Lotus against a backdrop straight out of M Night Shyamalan's Old. Surely something sinister is about to happen, I think. Mercifully, life doesn't always imitate art.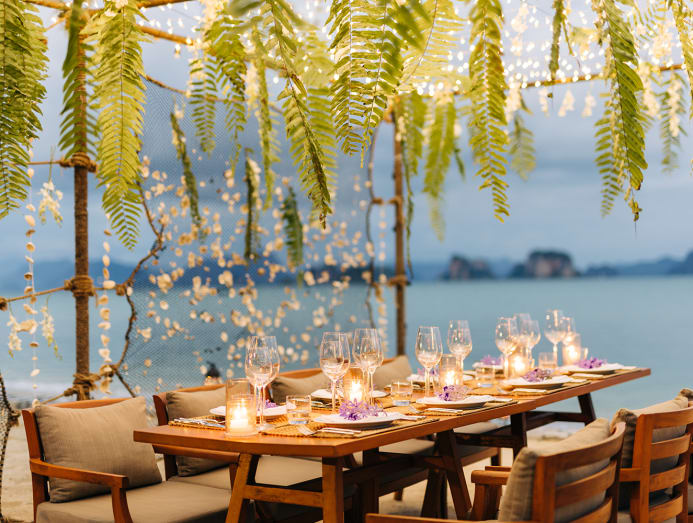 While we delight ourselves capturing images for the 'gram, wading in the crystalline waters, and sipping fresh coconuts under white umbrellas, the crew prepares an impressive three-course lunch which they serve on a beautifully laid out table on the sand. There are pressed linens and cocktails, more fresh coconuts, beautifully cooked sesame-crusted morsels of tuna, and pumpkin soup. "I don't know how we'll eat dinner later," we lament… although now in hindsight, cocktails and a fire show before the evening meal are exactly what this day needs. Well, that and a massage or two. Did I mention that the stay comes with up to 10 massages a day (per group)?
ALL IN
At Ani, each group of guests is committed to a minimum of five nights. One might think it'll be hard to keep a group of well-heeled holiday-goers delighted for that many days, but the team consistently delivers. We go an excursion to a nearby fish farm where you can actually pat the fish; visit Ani's Art Academy, its non-profit organisation that provides intensive multi-year art skills education to aspiring artists; and settle in to a soothing sound healing class. When our sunset longtail boat cruise gets rained out, the crew recreates the experience in a bar nearby that's conveniently shaped like a longtail boat. It's all very impressive.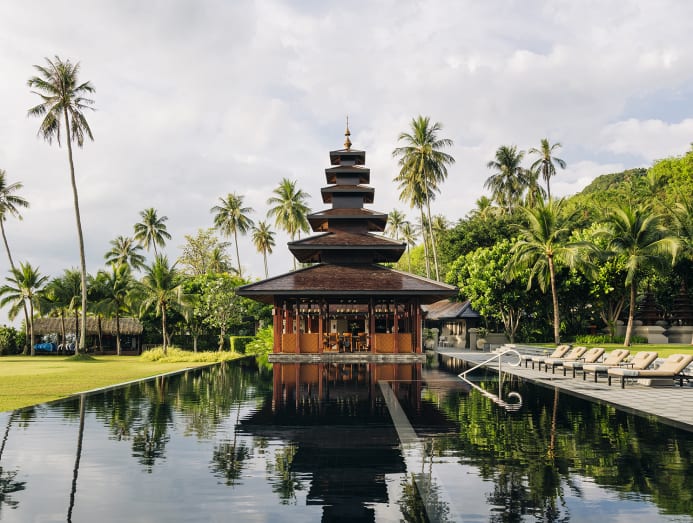 All activities, meals, drinks, snacks, shows and boat-trips are included as part of ANI's rate that ranges from US$14,000 (S$18,880) a night (for six villas, up to 12 people) to US$22,000 a night (for 10 villas, up to 20 people), depending on the time of year.
Also part of the package: One round-trip from Phuket or Krabi Airport, complete with VIP FastTrack through customs and immigration, and lounge access. Memorable vacations are absolutely made of these.