Wake up to one of Penang Hill's most spectacular views from the restored Eythrope bungalow
Award-winning architect Bee Eu Tan takes us through the rebirth of one of Penang Hill's first modern bungalows, Eythrope.
As with most elevated areas during the colonial era, Penang Hill was used as a hill station for British officers and expats to escape the tropical heat. The first bungalows on Penang Hill were simple structures until the funicular railway was completed in the 1920s. This caused a sharp increase in residential development, including Eythrope, built by Edward Bulford and one of the first modern residences to appear on the Hill.
Eythrope was commandeered by the Japanese during the Second World War and then taken over by military authorities after the liberation of Penang by Allied forces in 1945 until Bulford returned to reclaim it. In 1951, Bulford sold Eythrope to the current owners, who kept it in the family as a private retreat. Now, the latest generation of this family has decided to open the bungalow up for those who yearned to experience one of the best views on Penang Hill, overlooking the city of Georgetown and beyond from its rooms.
Blessed with a unique location on Penang Hill, Eythrope sits at the edge of the hill slope, perched over lush trees and rich biodiversity. A two-storey heritage bungalow, the building structure was in sound condition, well-kept and maintained by a full-time caretaker, but to prepare it for its new role, the owners got in touch with Bee Eu Tan. A multiple award-winning architect who has made a name for herself in the field of adaptive reuse of heritage buildings in her native Penang and beyond, Tan is the founder of BETA (BEu Tan Architect), which to date, has taken home eight design awards from PAM (Malaysian Institute of Architects) for that category.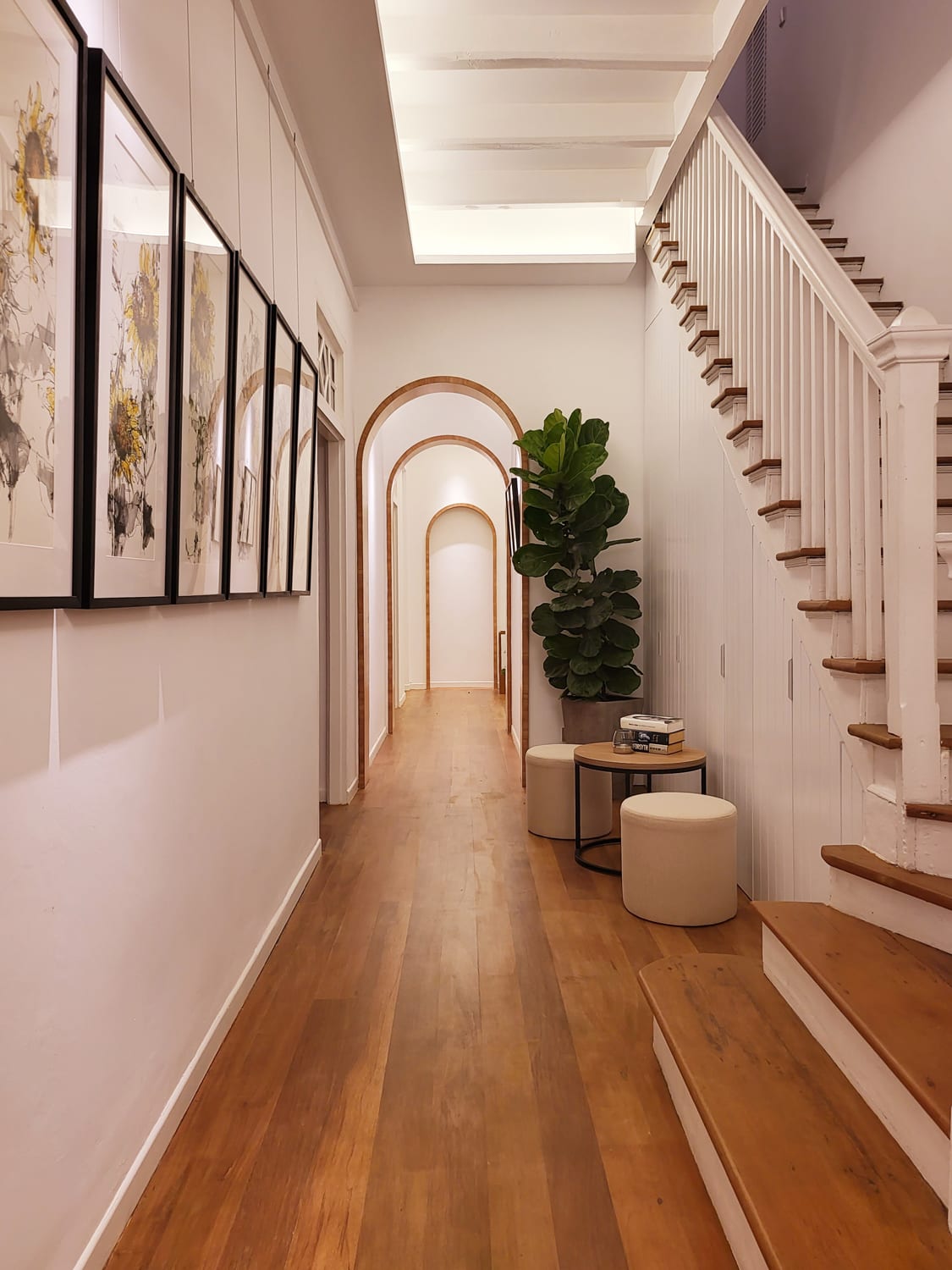 When Tan first visited the site, she was struck by its warm familial vibe and a strong sense of place. "I was enchanted by the chirping birds, cool weather, calming breeze, and peaceful ambience. As I walked through the original halls and bedrooms, I could imagine many happy memories of the owner's family members and how its walls kept many tales of joy and contentment," she recalled.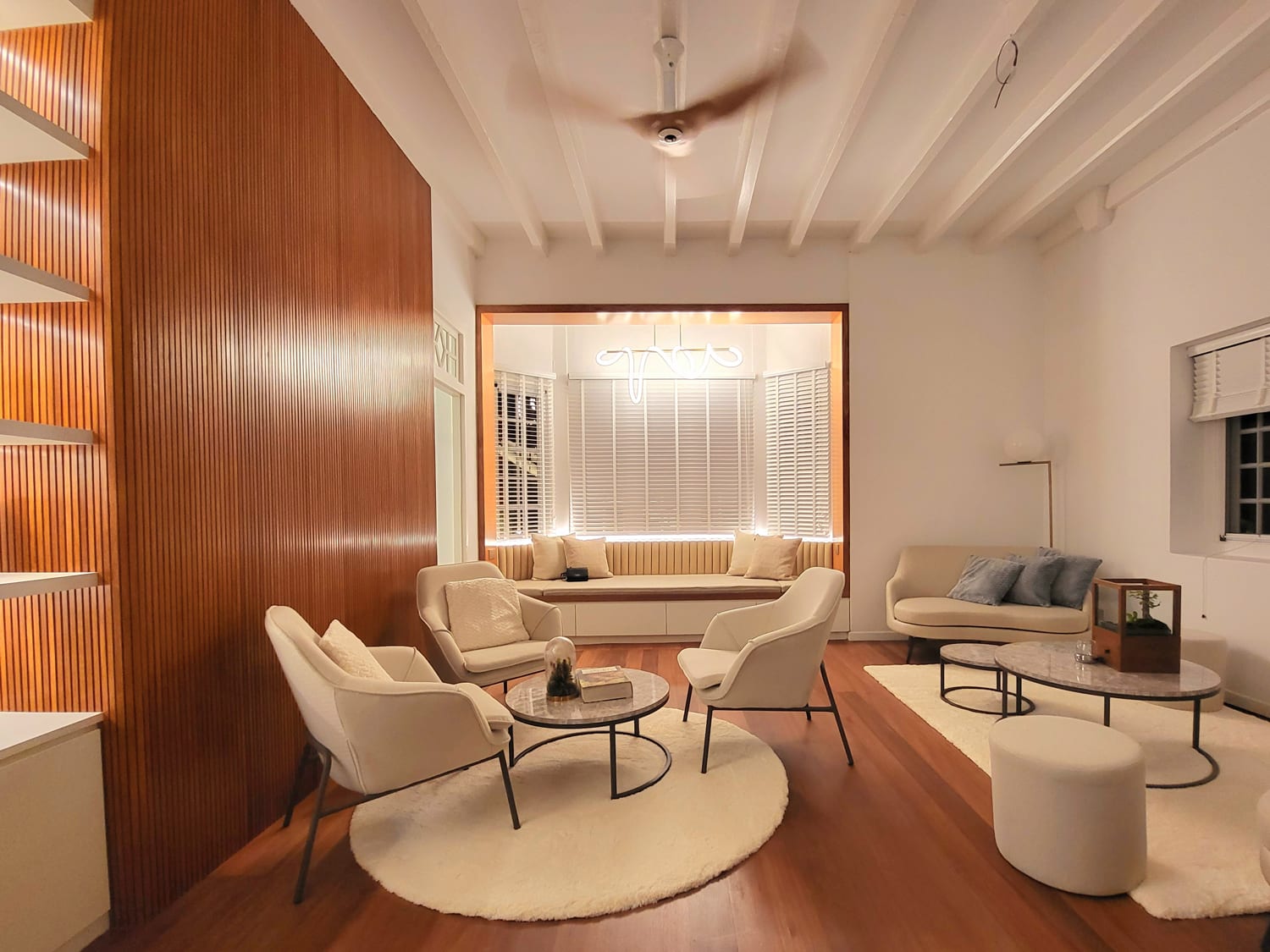 With such a formidable sense of character in every room, Tan decided not to change anything; instead, she set out to restore and strengthen that family vibe with a touch of elevated luxury to keep up with the times. "The owners are very proud of their family property heirloom, and we wanted the outcome to express the original building honestly," she said. "There was no need to be pretentious, so the design intent was neither ultra-modern nor super-sleek minimalist. Just to allow the bungalow to be herself, in all her original glory."
Despite this, the design brief for renovation works was modest yet ambitious. The scope was to repair, restore and rejuvenate the entire building, add a kitchen extension, and refurbish the interiors. All broken wooden window frames and doors were faithfully refurbished and reinstated. Bathrooms had all the worn-out tiles upgraded with contemporary stone finishes. The existing external lawn was also spruced up with safety perimeter glass railings and timber decking to create a welcoming al-fresco viewing platform.
One of the keystrokes in the transformation was the timber flooring. Through the years, it had been varnished repeatedly and sported a dark oak brown sheen that imparted a solemn mood, so the decision was taken to restore it to its original timber tone with a matter-clear varnish. "We wanted honesty, so no overtones, and we were prepared to accept the inconsistencies of the reveal. The outcome is wonderfully warm walls, cosy and inviting ambience with natural illuminance.
Tan observed a zero-structural hacking approach in line with respecting the original structure's integrity. "We were determined to be sensitive about the building structure, so no walls were hacked, and no columns were removed, which also became one of the biggest challenges in our space planning," recalled Tan. "We had to be creative to carve out rooms, suites and curate the unique experience for every room. As a result, the bungalow now boasts unique interiors and colour themes for two family suites and three bedrooms."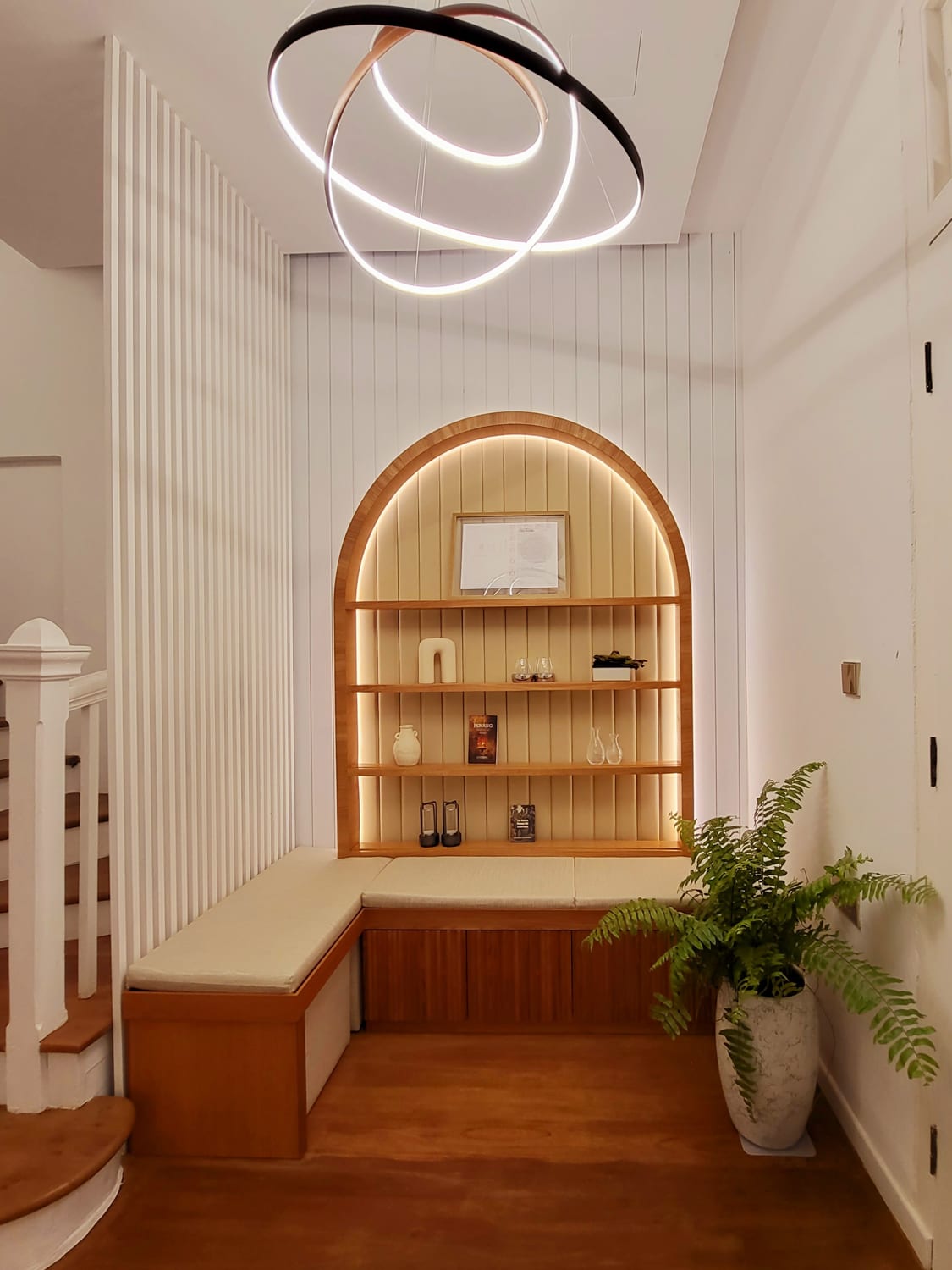 When introducing new interventions, the architect borrowed from the existing features of arches found in several hallways and echoed them throughout the interior design. "We took a respectful approach to the old yet infused with modern interpretations. For example, the existing arches in the living room, dining room and the arrival hallways were carefully lined with curved timber architrave, varnished with clear finishes," stated Tan.
While the architect was careful not to add anything unnecessary to the structure, the process of subtraction took a steady hand in some instances. "In one of the annex rooms, the owners decided to expose the existing timber roof truss and turn it into a main ceiling feature," revealed Tan. "It was a grand idea, yet it demanded a lot of adjustments on-site and an empathetic builder, willing to take on the challenge to patiently repair and restore the trusses to look good on their own, exposed and unfiltered."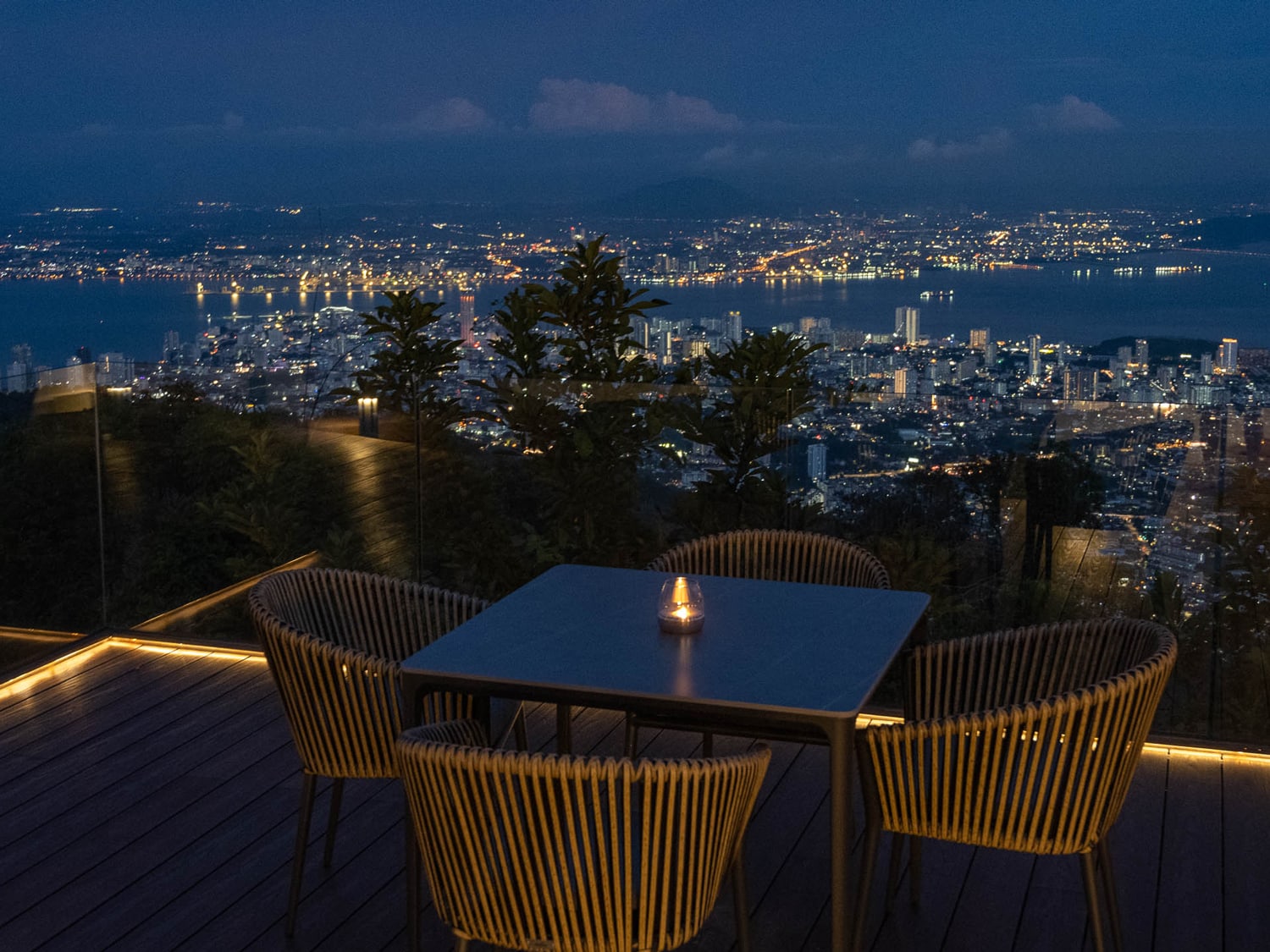 One feature Tan was keen to exploit was the priceless views from Eythrope afforded. "Every room has a window worth looking through. Every window frames a priceless vista of nature, the city of Georgetown or Penang Bridge. That itself is a great inspiration to me. Hence, we decided to celebrate the vistas by placing the beds facing the best views, awaiting every sunrise," said Tan. To this end, she ensured every window had bay window cushions, sofa daybed, desk, lounger or bathtub so guests could feel the natural cooling breeze with sunbeams while reading a book.
The gift of natural lighting in a space is always a priority for the architect who believes we should use more natural light, especially when we have so much sunlight throughout the year. Which is why linear skylights were carefully manicured In the newly extended kitchen and every existing window was restored. Tinting was also avoided to allow natural illuminance in every room.While celebrating natural light is congruent with Tan's belief that it's crucial to creating a welcoming interior, this approach helped to further whatever green initiatives Tan could implement in the bungalow. "The owners are aligned to our attachment to natural lighting, which was one of the dominant passive strategies in this renovation," said Tan.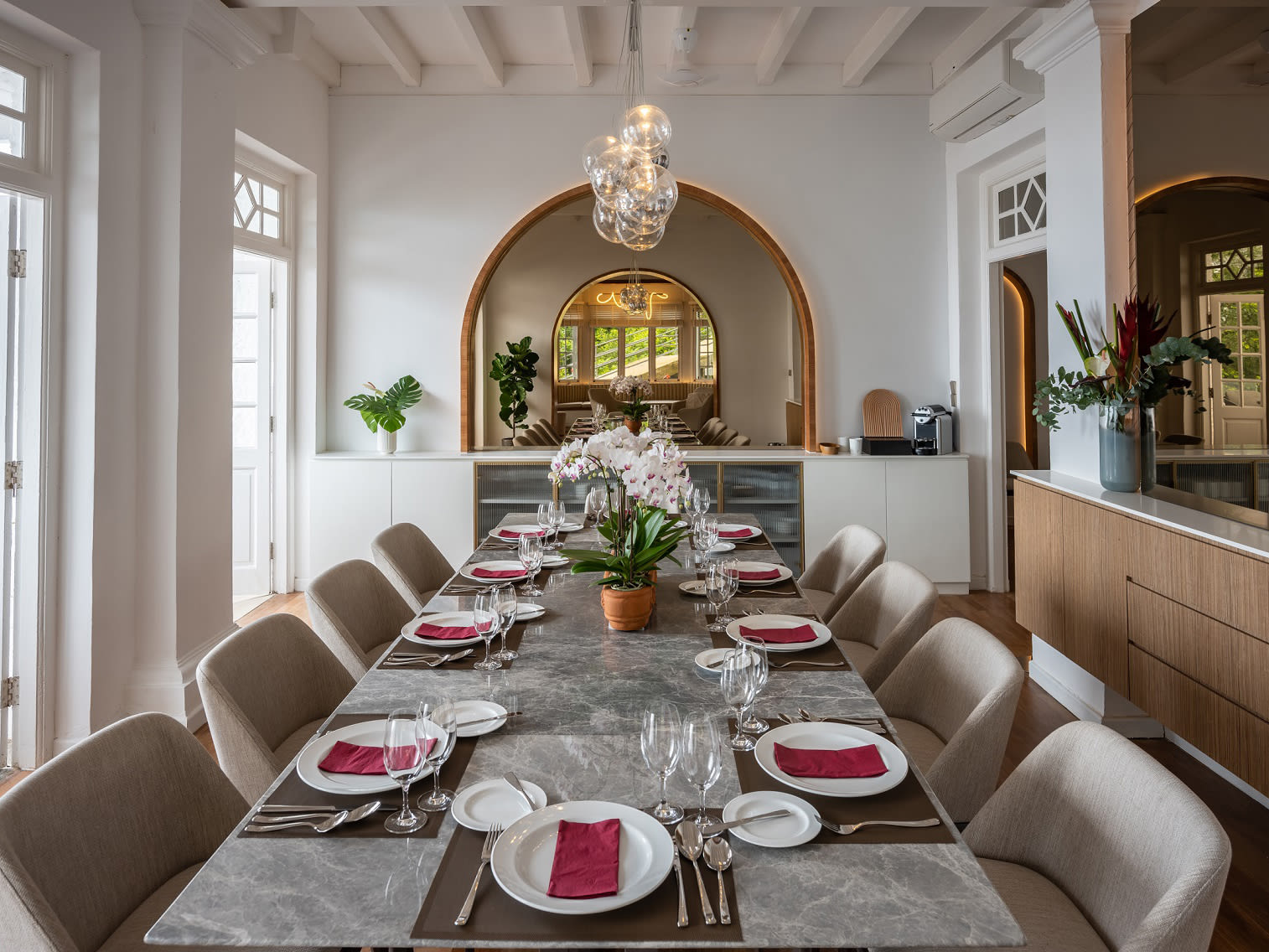 Besides that, Tan wanted to highlight Penang Hill's cooling climate that ranges from 20 degree Celsius to 27 degree Celsius. "We were highly aware of this and ensured all windows can be opened, living halls and bedrooms are installed with ceiling fans and fully naturally ventilated." The owners themselves are mindful of the environment, installing solar panels to supply warm water to the bathrooms. In addition, they practice a zero-plastic policy for daily operations with home-cooked and healthy food prepared by an in-house chef.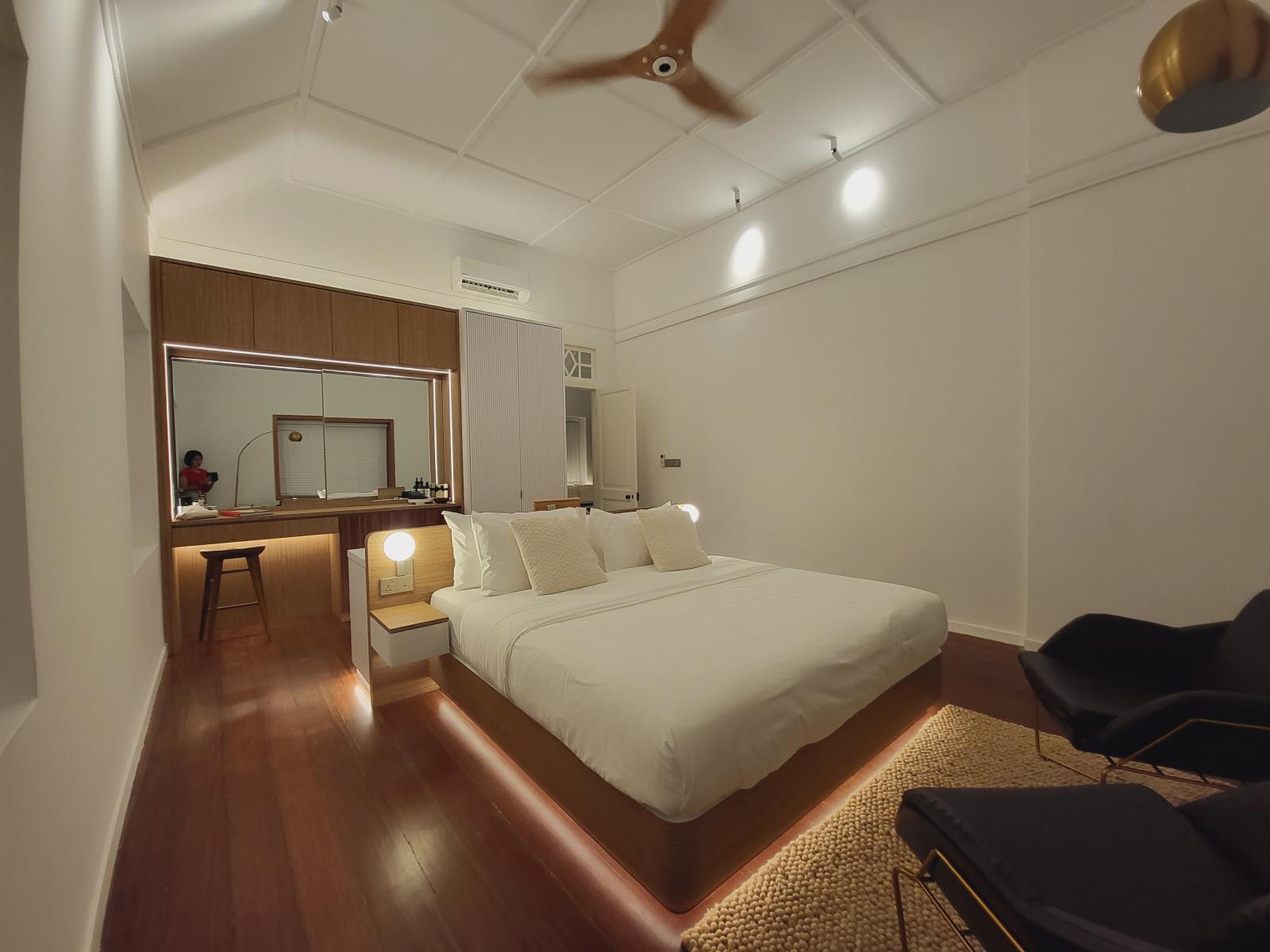 Work on Eythrope began in 2021 and took 20 months to finish. Since completion, Tan is happy to report that the owners have been receiving overwhelming requests from friends and visitors eager to visit this erstwhile private retreat. Plans are also afoot to work with local artists and hold private exhibitions in the halls and grounds. In its restored splendour, Eyethrope Bungalow now stands as a testament to quiet luxury effortlessly embraced. Its rich heritage, breathtaking views, and carefully curated interiors offer guests an unforgettable experience, where timeless elegance harmonises with the beauty of Penang Hill.
Eythrope is open to the public for booking.