Social networking on wheels: The cycling club that'll give your career a leg up
If you're seeking fellowship, mentorship, community and experiences – and don't mind taking on the world at the crack of dawn – then the Rapha Cycling Club has your name on it.
They call it the 5AM Club: High achievers who rise before the sun to get a head start on their goals before the rest of the world awakens – a concept coined by leadership coach and elite performance expert Robin Sharma who also wrote a book bearing the same title.
Some people may call these people nuts for voluntarily foregoing the possibility of catching a few more Z's prior to that life-giving ball of gas coming back round to illuminate the sky.
These people might also call members of the Rapha Cycling Club (RCC) kinda crazy for choosing to rock up at 5.30am on weekdays to cycle around the city together before heading off to work.
What compels these individuals to take their wheels out before the sun's up, besides the prospect of exercise, which one can arguably squeeze in at more earthly hours?
"These days, so many people are looking for community, connection and experiences, and the club does that for our members," explained Simon Mottram, founder of Rapha, a leading manufacturer of premium apparel designed for cyclists.
The Singapore chapter of the RCC was established about five years ago and membership is edging towards 300 – impressive for a direct-to-consumer brand (70 per cent of revenue is derived online) with no physical retail presence to speak of in Singapore. The RCC does, however, operate 23 stores around the world, called "Clubhouses".
"We talk about it providing memories and friendships, which it does beyond work and social life. This is something extra… A whole new world that people can enjoy together," Mottram added.
For Toby Williams, who joined the Sydney chapter six years ago and has since migrated to Singapore, the unexpected opportunities for networking have proven invaluable.
"The networking is really something else; you talk to people from all walks of life and careers. Rapha Singapore has helped me gain mentors that I normally wouldn't have met in the corporate world. And since we share a common interest, I get to share my thoughts and challenges on a daily basis," shared the 38-year-old VP of business development for an advertising tech company.
There are approximately 15,000 RCC members around the world, each inducted into the club at a membership fee of approximately US$100 (S$138) per year.
A typical RCC member, Mottram described to CNA Luxury on his recent visit to Singapore, is a male professional in his mid-30s, educated, well-travelled and earning a good income, and wants to make time for things he cares about; cycling being one of his key passions.
"He knows his brands and is quite brand- and design-conscious; he'll have the right luggage, the right watch, the right footwear," he elaborated.
Curiously, Mottram has also observed a big crossover between cycling and architecture and design.
"We get quite a few people from the creative industries as well. From an aesthetic point of view, bicycles are a beautiful piece of engineering and the kits are always quite interesting," he said.
"These days, so many people are looking for community, connection and experiences." – Simon Mottram
MEMBERSHIP HAS ITS PRIVILEGES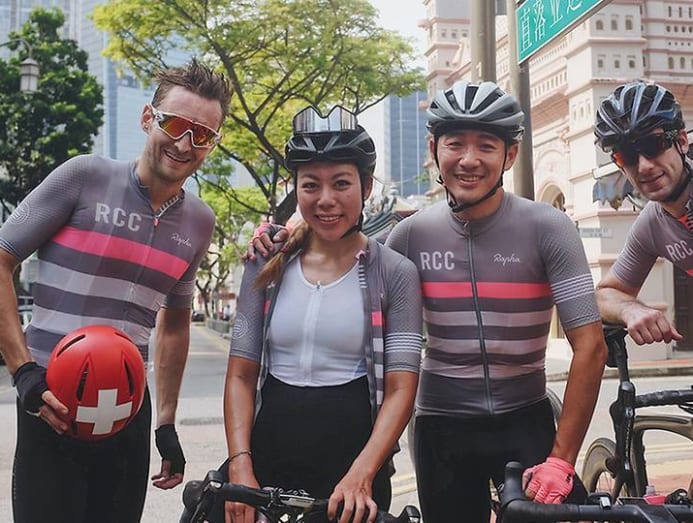 The RCC membership programme used to be reserved for the brand's best customers but, according to Mottram, it has since evolved to be more inclusive.
"We realised that's not the best way of building a community so now it's really for the people who are most passionate rather than those who are the richest," he said.
Members enjoy a bunch of benefits including first dibs on new Rapha product launches and seasonal sales, and enjoy exclusive access to members-only products and brand experiences. They may also be entitled to discounts and reserved seating at partner cafes and restaurants – during organised events or otherwise.
They don't, however, get any discounts on regular-priced Rapha products ranging from professional cycling apparel to lifestyle wear and adventure clothing, which can cost a pretty penny.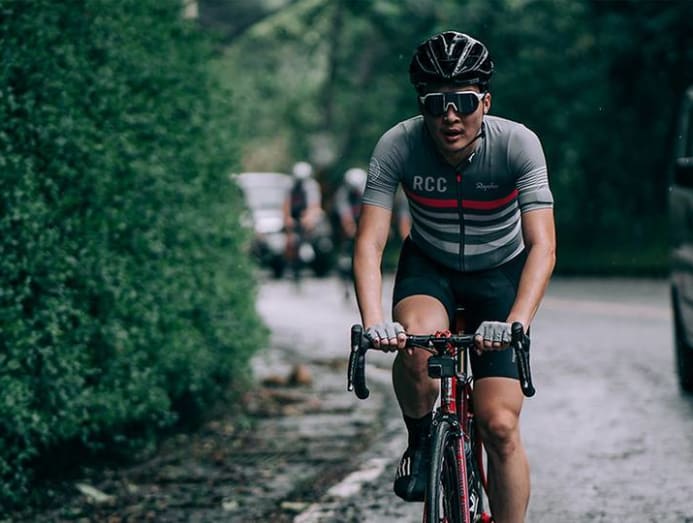 A Pro Team Insulated Gore-Tex Jacket fabricated using advanced technologies and waterproof materials, for example, retails on Rapha's website for US$430. The manufacturer of the "world's best cycling apparel" does, after all, clothe athletes and WorldTour professionals with its sponsorship of the women's CANYON//SRAM and men's EF Education First Pro Cycling teams.
Members also enjoy access to an app that connects them with a global network of the RCC group rides organised around the world, providing information on the terrain and therefore the level of difficulty of each ride. Membership also includes basic personal injury insurance for when they participate in those rides.
"[The RCC membership programme is] really for the people who are most passionate rather than those who are the richest." – Simon Mottram
Mottram fishes out his phone to provide a demonstration of the app and shares how he – the CEO of this global brand – technically can't register for the next day's ride as all the spots have been filled. Surely the Singapore chapter can make an exception for their very own OG?
It will be Mottram's second RCC ride in Singapore, and he's packed in his own grey-and-pink bike in his Rapha luggage for this trip.
The group of more than 50 cyclists will be split into two, each led by a Rapha-trained ride leader who will guide them from the start at MacRitchie Reservoir through to Lornie Road en route to Marina Bay Sands, the National Gallery and the Supreme Court where they will take a big group photo before adjourning to partner cafe Chye Seng Huat in Lavender – covering some 40km over two hours or so.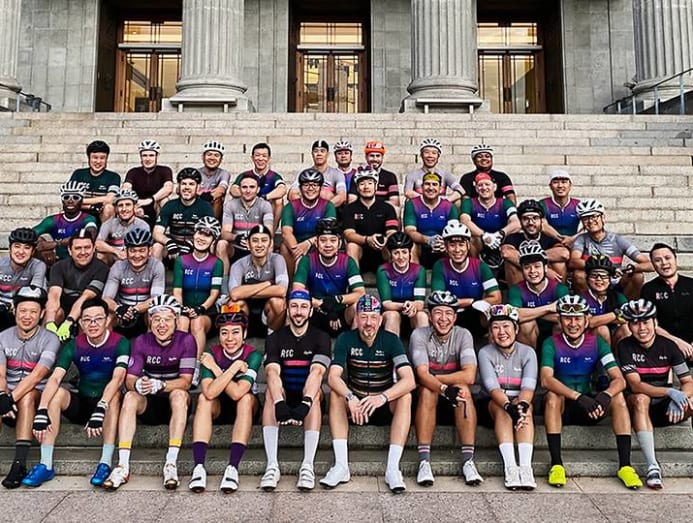 "There's something that happens on a bike where you're generally riding two-by-two; you get the best conversations because you're facing forward and you're not looking at each other… There's something about the rhythm of just doing something together and you have very honest conversations in a way that if you're in a pub or a bar, it'd be weird," Mottram said, explaining the allure for a non-cyclist such as myself.
The Singapore RCC chapter organises up to five such rides a week, likewise led by a ride leader to ensure riders' safety.
"It's a proper active community. It's not like a buyer's club where people sign up and you just get emails. When you ride with us, you get looked after; we train our ride leaders with first aid and on how to lead rides because they need to know how to signal or know what to do if there's an accident," he said.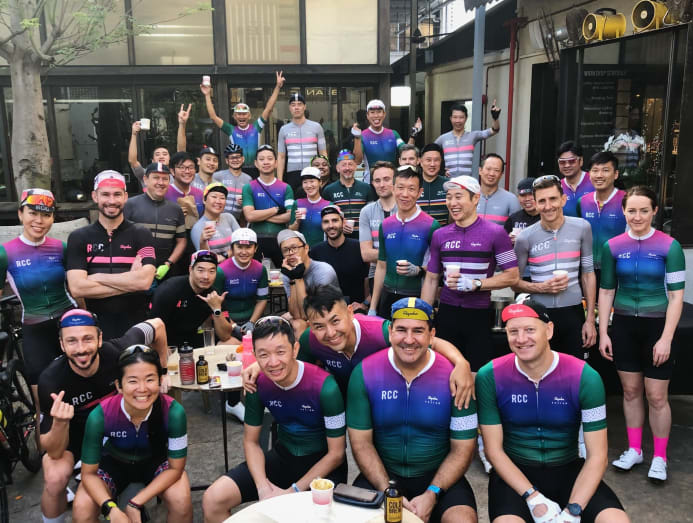 The RCC also organises two global summits each year, touted as "the most aspirational event" on cyclists' calendar. The last one was held in Mallorca, Spain last October, and the next will be hosted in the small town of Hokuto at the foot of the Yatsugatake mountains west of Tokyo, a stone's throw from the site of the famous Nobeyama cyclocross race come June.

Members can look forward to a long weekend of riding and relaxing activities varying from alpine climbs to onsen visits and tastings at local sake and whiskey distilleries. According to Mottram, all 120 spots sold out within eight hours of the global launch.
"Cycling is a very social thing; we like to ride together and do stuff together so it seemed to make sense to develop a club around the brand," said Mottram.
Shared RCC member and banking executive Greg Yeap, who has participated in overseas rides such as in Khao Yai, Thailand: "My primary reason for joining RCC was to improve my fitness but now I've forged friendships that I hope will last forever."
"There's something that happens on a bike where you're generally riding two-by-two; you get the best conversations because you're facing forward and you're not looking at each other." – Simon Mottram