After Dalgona coffee and banana bread, try recipes from Singapore's social set
From nasi goreng to slow-cooked egg with truffled potato, the little red dot's most prominent hosts and hostesses share their favourite stay-at-home recipes.
Now that you have perfected recipes that have been popularised on the Internet like banana bread and Dalgona coffee during the first half of the circuit breaker, it is time to put your cooking skills to the test.
Six luminaries of Singapore's social set – who are known to throw some of the most delightful parties in town – crack open their recipe folders to share their tried-and-tested favourite recipes for you to try out at home.
ASTRIE SUNINDAR-RATNER'S NASI GORENG
"I like to cook nasi goreng with my kids. It is simple and easy to make but so comforting and I always feel like a child again when I have my nasi goreng. This is a delicious, healthy and super easy recipe to make," said Astrie Sunindar-Ratner, etiquette consultant and founder of A – The Etiquette Consultancy.
INGREDIENTS
2 to 3 tsp oil
3 medium eggs (2 to mix with the rice and the other 1 to be fried until crispy on the edges and then added on top of the rice when serving)
1/2 onion, finely diced
2 cloves of garlic, crushed
1 red chilli, chopped (optional)
2 spring onions, chopped
200g chinese cabbage (or you can add peppers, baby corn, frozen peas or chicken sausage)
1 tbsp fish sauce (optional)
1 tbsp soy sauce
2 cups cooked long grain rice or brown rice
PREPARATION
Heat the oil in a wok and stir-fry the onion, garlic, cabbage and any other ingredients you might be using.
Add two lightly whisked eggs and spring onions and stir until the egg is half-cooked.
Mix in the rice, pour in soy sauce and fish sauce (optional) and stir-fry vigorously.
Fry an egg separately until it is crispy on the edges.
To serve, plate the rice on top of large lettuce leaves, garnish with fresh coriander and chilli (optional) and place the fried egg on top of the rice.
FANTY SOENARDY'S SAYUR LODEH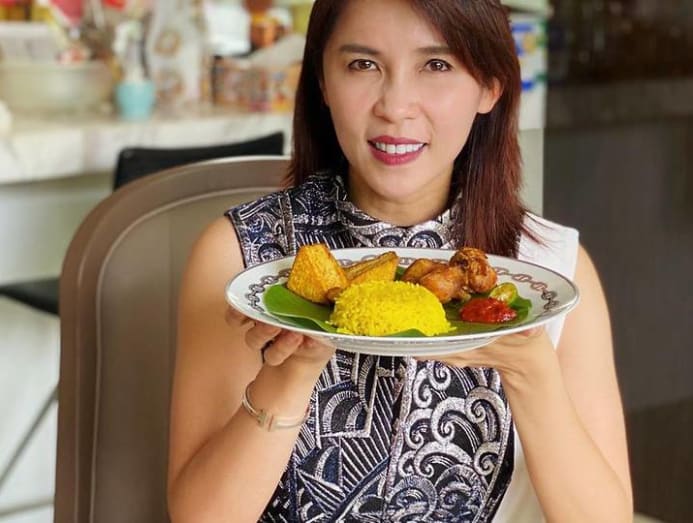 "I like this dish because it is easy to prepare and is healthy. It can be eaten as a side dish or as a main with lontong rice," said Fanty Soenardy, a homemaker.
INGREDIENTS
3-4 chayotes
1 tbsp dried shrimp
200g big red chillies
1 tbsp oil
10 shallots, finely chopped
1 thumb's length lengkuas (galangal)
2 stalks of serai (lemongrass), scored
1l coconut milk, freshly squeezed or in a packet
PREPARATION
Boil chillies until they are cooked and blend them into a paste.
Heat oil in a wok. Add chilli paste, dried shrimp, shallots and chayote to wok and stir-fry until cooked.
In a pot, add serai and lengkuas to the coconut milk and bring mixture to a boil. Add the ingredients from step 2 to the boiling mixture.
Season to taste.
Serve as a main with lontong rice or as a side dish to a meal. It pairs especially well with yellow rice and ayam Kalasan (Javanese fried chicken) with tofu and tempeh.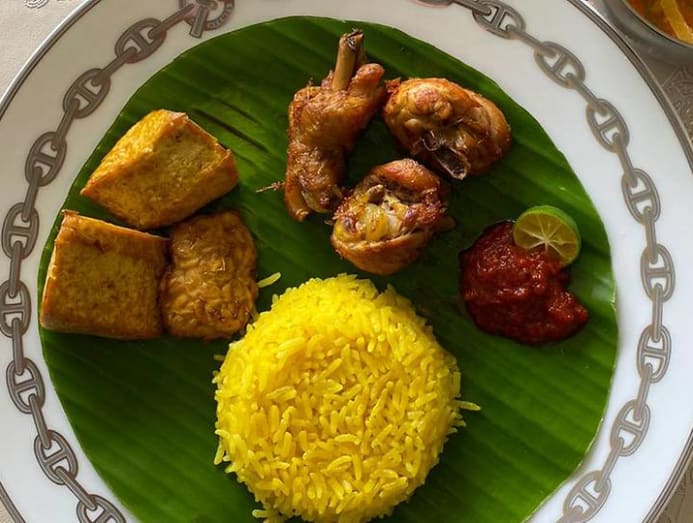 IROSHINI AND KEVIN CHUA'S SLOW-COOKED EGG WITH TRUFFLED POTATO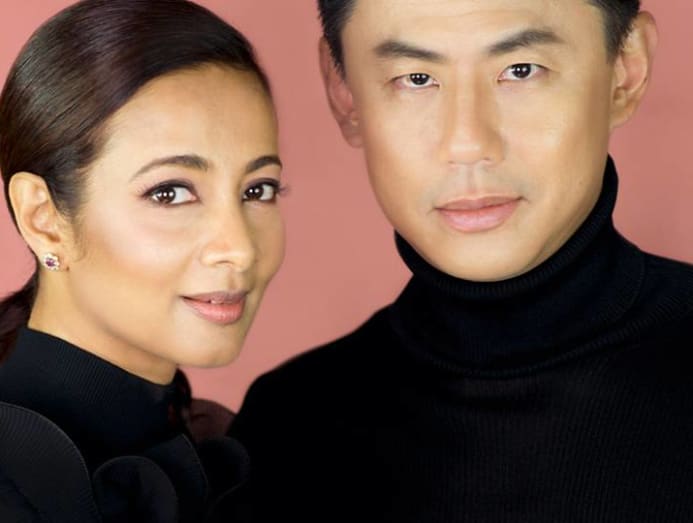 "This is one of our favourites because Kevin and I created this recipe together and it is a firm favourite with our dinner guests. Almost always, our friends will request that we prepare this when they join us for dinner at our home," said Drs Iroshini and Kevin Chua, co-founders of Dr Kevin Chua Medical & Aesthetics, which is currently partnering the Singapore government as a Public Health Preparedness Clinic (PHPC) and is providing essential medical services.
INGREDIENTS
8 eggs
500g Russet Potatoes
600ml thick double cream
2 tbsp white truffle oil
5 tbsp extra virgin olive oil (optional: chili-infused olive oil for extra bite)
PREPARATION
Set the sous-vide machine to 62 degrees Celsius and cook the eggs for 60 minutes on constant heat.
Meanwhile, boil potatoes for 30 minutes on medium heat, then peel and mash.
Blend the creamed mix with an electric mixer until a smooth consistency is achieved.
Add the truffle oil and olive oil, then blend together. Season to taste
Scoop about 4-5 tbsp of the potato mixture into a martini glass
Take out eggs from the sous-vide machine and break open whilst still warm on top of the potato mixture.
Serve immediately.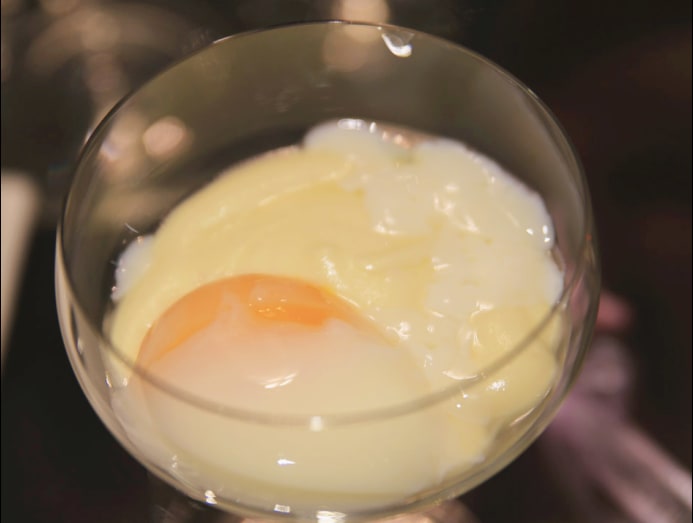 JEAN YIP'S CHAR SIEW RICE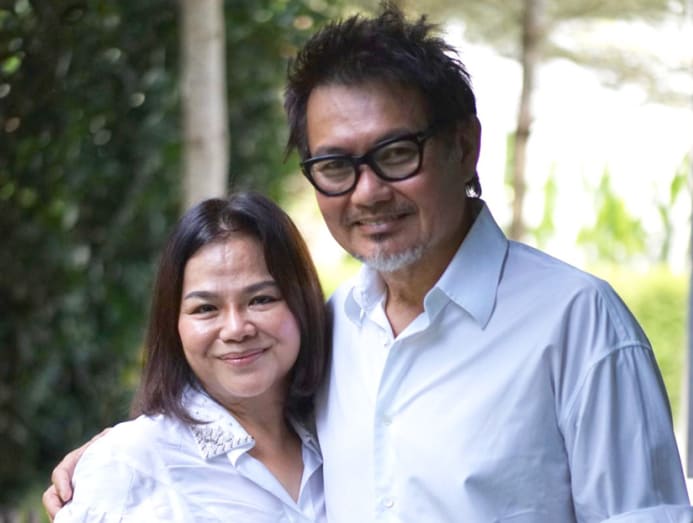 "This is my favourite one-dish meal as it reminds me of my childhood days and is the only dish that satisfies my savoury and sweet cravings," said Jean Yip, chairman of Jean Yip Group.
INGREDIENTS
1kg kurobuta pork collar
2 cups rice
Marinade:
5 tbsp Hoisin sauce
2 tsp garlic (chopped or powdered)
4 tsp soy sauce
½ cup sugar
2 tbsp Chinese wine
1 tsp five spice powder
½ tsp salt
A dash of pepper
Glaze:
2 tbsp dark soya sauce
2 tbsp honey
2 tbsp oil
PREPARATION
Marinate pork for two hours. In the meantime, cook rice separately.
Line a baking tray with aluminium foil, place marinated pork on the tray and cover with foil.
Bake in an oven at 180- to 200 degrees Celsius for 30 minutes, brushing a layer of honey over the pork every 10 minutes.
Remove from oven, open top foil and bake again until gravy thickens.
Coat pork with thickened gravy.
On a preheated grill, grill the pork until it is charred (not burnt), turning it constantly for even grilling.
Dip into glaze and return pork to grill just long enough to give the surface a shine.
Slice the pork and serve with rice.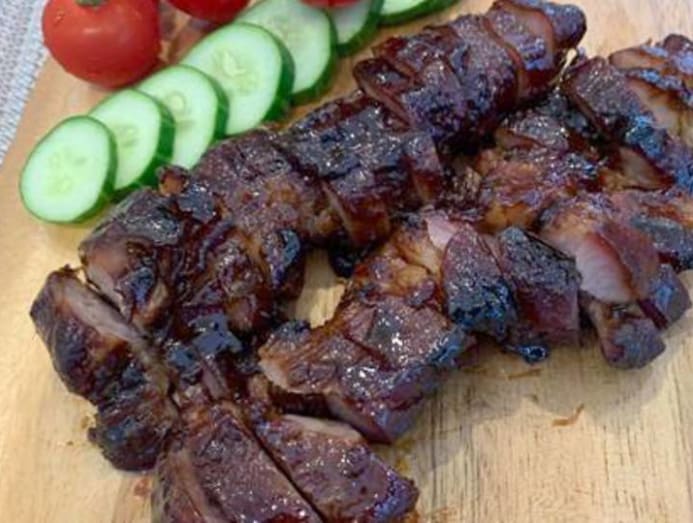 SUSAN PEH'S "BOUNTIFUL SPRING" YAM BASKET
"This dish entails quite a lot of preparation but it is one of my favourite childhood dishes. This recipe has been improvised to bring back memories of this dish. I prepared this in time for my husband Adrian's birthday," said Susan Peh, senior director of Yeo-Leong & Peh LLC.
INGREDIENTS
Yam Ring:
500g yam
40g wheat starch
45g boiling hot water
40g lard/shortening
1 tbsp sugar
¼ tsp salt
½ tsp five spice powder
½ tsp ground white pepper
Cooking oil for deep frying
Chicken marinade (prepare, cover with plastic wrap and refrigerate overnight):
300g boneless chicken meat, diced
1 tsp tapioca starch
1 tbsp egg white
½ tsp sesame oil
1 tbsp oyster sauce
Dash of pepper
Prawn marinade (prepare, cover with plastic wrap and refrigerate overnight):
8 pieces prawn, shelled, deveined and slit lengthwise
1 tsp tapioca starch
1 tbsp egg white
Dash of white pepper
Stir-fried mixed vegetables* :
4 tbsp fried shallot oil (in total)
2 tbs minced garlic
2 tbs pine nuts
2 tbs cashew nuts
½ big seeded chilli, sliced
5 slices of carrots (use flower/butterfly-shaped cutters if you prefer)
3 Chinese black mushrooms soaked until soft and cut into halves
3 slices lotus roots halved
½ red capsicum, cubed
½ green capsicum, cubed
½ Chinese pear, cubed
4 pieces baby corn, sliced thickly
2 sprigs spring onions, sliced
3 snow peas, halved
8 Gingko nuts
*The ingredients are meant to overflow from the yam basket, so you may cut down on the above quantities if you do not wish to have too much.
Gravy:
1 cup chicken stock
2 tbsp Shaoxing wine (Chinese cooking wine)
2 tbsp oyster sauce to taste
1 tsp sesame oil
1 tbsp potato starch (mixed with 1 tbsp water)
Few dashes of pepper to taste
½ tbsp fish sauce to taste
Garnish:
3 sprigs coriander
1 small bundle of rice vermicelli (cut into smaller parts of approximately 3 inches)
6 fresh lettuce leaves
6 cucumber slices
Blue pea flowers
2 red tomatoes

PREPARATION
Yam ring:
Skin yam and cut into cubes. Steam yam cubes for about 30 minutes until soft.
Mix wheat starch with hot water to form a paste.
Mash yam with potato masher until a thick paste is formed. Combine mashed yam, wheat starch paste, sugar, salt, lard and five spice powder.
Mix well until a soft, non-sticky dough is formed. Add a bit more wheat starch if your dough is still sticky.
Sprinkle clean tabletop with a little wheat starch. Transfer dough to the table top and gently knead to form a rectangular strip of at least ½ inch thick. Join the two ends of the strip to form a nice ring.
Freeze the yam ring between 30 minutes to an hour to firm it up so that it will not break upon deep-frying.
Once the yam ring is very firm after freezing, fill wok with a generous amount of cooking oil. Heat oil over medium fire until oil is very hot. Amount of oil used has to be enough to fully cover the yam ring. Use a wooden chopstick to test if oil is ready by submerging it into the oil. When bubbles form around the chopstick, the oil is ready.
Carefully place the yam ring into a round stainless steel deep-fryer basket. Slowly lower the basket into the hot oil and fully submerge it. Deep-fry the yam ring continuously until golden brown over medium fire. Once ready, carefully lift the deep fryer basket and drain it on paper towels. Set aside.
Separately, lower the rice vermicelli to deep-fry for about a minute. Rice vermicelli will very quickly expand into curly crisps. Scoop up and drain on paper towels. Set aside to garnish.
Filling:
In a clean wok without oil, toast pine nuts over low fire for less than a minute or until they turn light brown. Pine nuts burn very easily, so be vigilant. Remove and set aside.
Add 1 tbsp fried shallot oil in wok. Fry cashew nuts until they turn light brown. Remove and set aside.
Heat 1 tbsp fried shallot oil in wok. Add marinated prawns and fry until they turn pink. Remove and set aside.
Heat 2 tbsp fried shallot oil in wok. Add marinated chicken and stir-fry until meat turns opaque. Remove and set aside.
Heat 1 tbsp of cooking oil and stir-fry garlic until fragrant. Add in carrots, lotus roots and the other vegetables. Stir-fry quickly to cook yet retain some crunchiness of the vegetables.
Add in the chicken pieces and prawns to vegetables. Add gravy mix. Stir lightly and mix well.