At Singapore's most expensive restaurant, meals sprawl upwards of three hours
Which is why it's important that you dine at Restaurant Zen with someone you really, really like.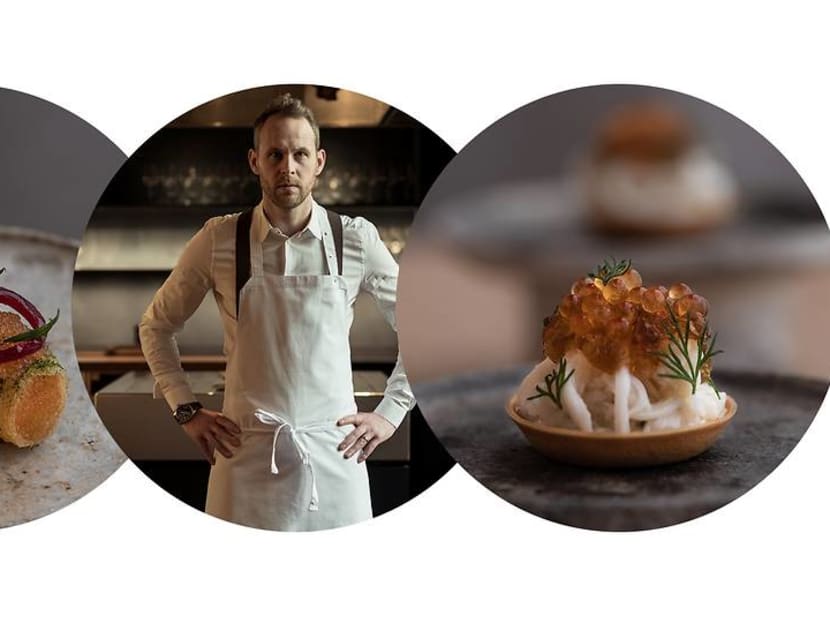 What do you get when you pay S$450 per head for a meal (before drinks and taxes)? You get a dining experience that traverses a three-storey shophouse tricked out in tasteful modern-Scandinavian chic. One where the service is so unrelentingly attentive that you fear you might not get a minute to chat with your dining companion; one that unfurls over three languid hours (or more), with plenty of twee yet hearty food, drinks, and a playlist that might delight or perplex you, depending on the generation in which you were born.
Such are the charms of Restaurant Zen, the Singapore satellite of Restaurant Frantzen, which holds the honour of being the first and only establishment to be awarded three Michelin stars in Sweden.   
"I want for Zen to be like you've come to a house party," said chef-owner Bjorn Frantzen when he was in Singapore last November before the restaurant's opening. Indeed, guests ring a doorbell before entering, and are shown to the "living area", where aperitifs are served in exquisitely cut glasses and preciously wrought canapes like tartlets filled with beer-poached crustaceans are proffered.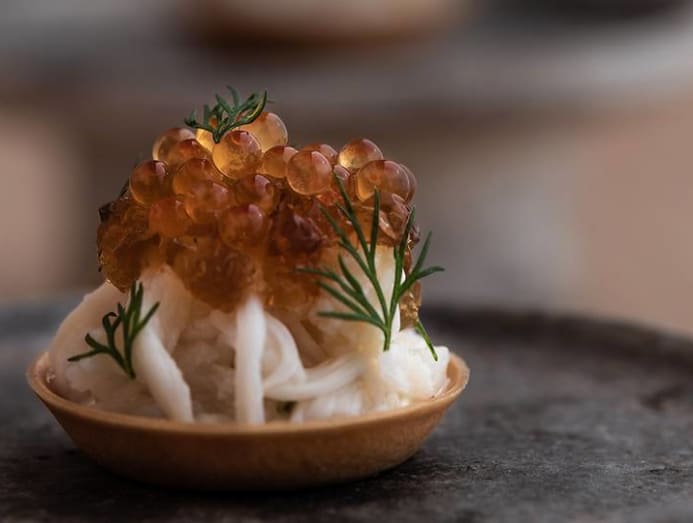 Diners are welcomed like familiar friends. Every member of the staff looks you in the eye, eager to share a nugget or five about the drink you might be nursing or the dish they might be preparing tableside. If you've a question about anything at all, every one of them would have an eloquent answer for you.
But first, the produce – the finest flown in from the likes of Japan and the Swedish motherland, proudly displayed and explained to every guest at a counter by the kitchen on the ground floor. Then a tour of said kitchen, where meaty slivers of marron are grilled over coals, an army of navy-shirted, tweezer-bearing chefs are hunched over saucers of artfully plated food, and where head chef Tristan Farmer, threaded in the snazziest part of leather brogues this side of Chinatown, keeps a close eye on his team.
Before you know it, 45 minutes have flown by and you've downed five delicious little snacks, and perhaps a drink or two. More friendly staff shepherd you to the dining room on the second floor, slinging your handbags over their shoulders with stylish abandon.
With the meal, guests can choose a wine (S$250) or non-alcoholic pairing (S$125), or a mix of both (S$175). For the feint of stomach, that translates to eight glasses of libations – and that's before the post-prandial offerings.
"I want for Zen to be like you've come to a house party." – Bjorn Frantzen
Zen's food honours Frantzen's signature style of parsing French techniques with Japanese influences. For Singapore's oft-indulged fine-dining public, this isn't a new approach to haute cuisine, so it helps that the Nordic influences nudge the food into newish territory.

There is red deer tartare, deeply flavoured and topped with a crucial crown of caviar that imbues it with a saline counterpoint to the meat's richness. Marron, butter-poached then grilled, sits in an austere pool of butter emulsion, koshikari rice, yuzu kosho and ginger emulsion. Akamutsu (black throat sea perch) follows, enriched with chicken fat and walnut milk so that it is creamy, briny and unctuous all at once.
By the sixth main course, the meal begins to veer on the side of being too rich. The Nordic penchant for dairy tips dishes like chawanmushi – made with konbu-infused cream and milk rather than dashi, and topped with grilled king crab and pan-seared foie gras – into gut-busting territory.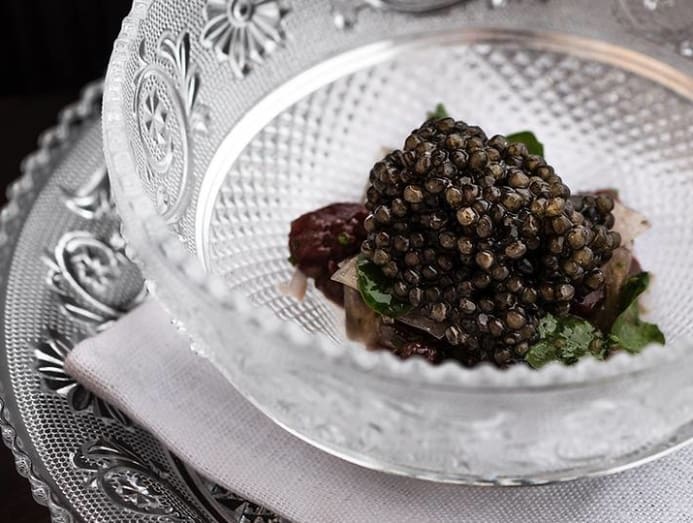 Every dish comes with some tableside action, be it a ceremonious drizzle of sauce onto the plate or actual cooking on brushed-wood trolleys. By the time you make your way up to the salon on the third floor for fruit (from Japan, of course) and mignardises, you feel you already know your server well enough to trade bawdry jokes with him or wish her well on her upcoming travels. You would have also heard one Dire Straits and Men At Work song too many.
Without doubt, it is the interactions with Zen's impeccably trained crew that offer the real reason to visit the restaurant. Since the meal can stretch well over three hours if you let it, it is also important that you choose your dining partners well.
Upwards of three hours is a long time to sit with someone, even someone you're trying to impress into a big-money deal. This, then, is a dining experience for those who value the pleasure of good company (their companion's and the staff's) as much as they do being indulged in an evening of excess.