Fresh air, open spaces: Restaurants with outdoor areas for alfresco dining
Concerned about dining in an enclosed space with strangers? These restaurants offer open-air and/or outdoor terraces, with tables set apart at safe distances, of course.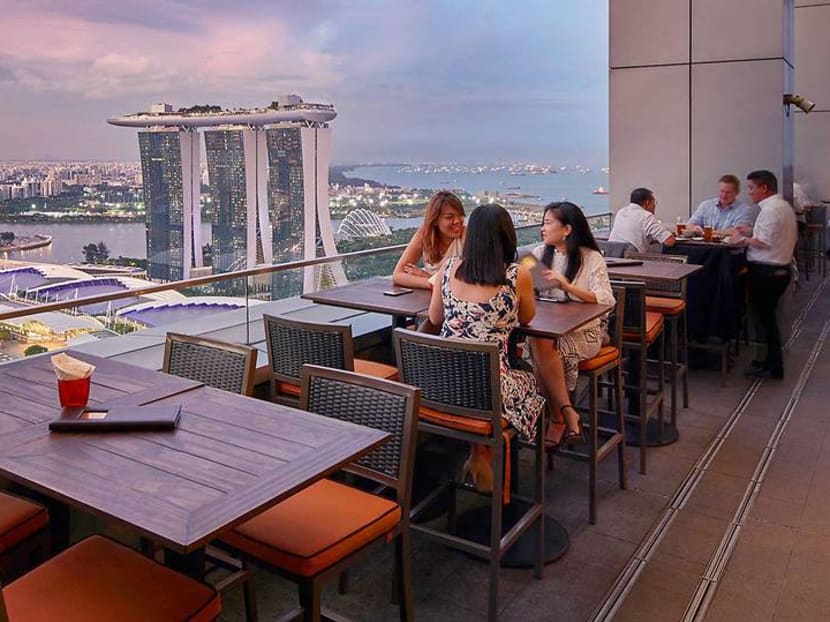 The Sunday after Phase 2 was announced, I enjoyed a hearty meal at a restaurant in Beach Road with a pair of close friends. Now I realise that the previous sentence is not how punchy first lines of articles are supposed to read, but it was a seminal moment. It was the first meal in months that I'd eaten on a dining table that wasn't my own.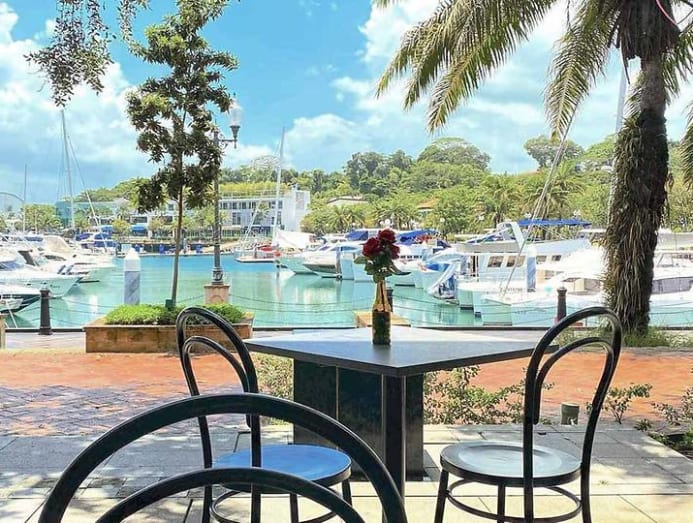 Quite happily for us, we were the only patrons apart from one other table of four in the entire restaurant. While we were thrilled to finally share a meal together again, and one with proper service at that, stepping out into the world post-circuit breaker came with its fair share of concerns.
Armed with too much information about how COVID-19 spreads, particularly through droplets that we expel when we talk and laugh (two essential elements to a great meal out), we began to wonder if eating alfresco at our next meet-up would be a better option.
OUT AND ABOUT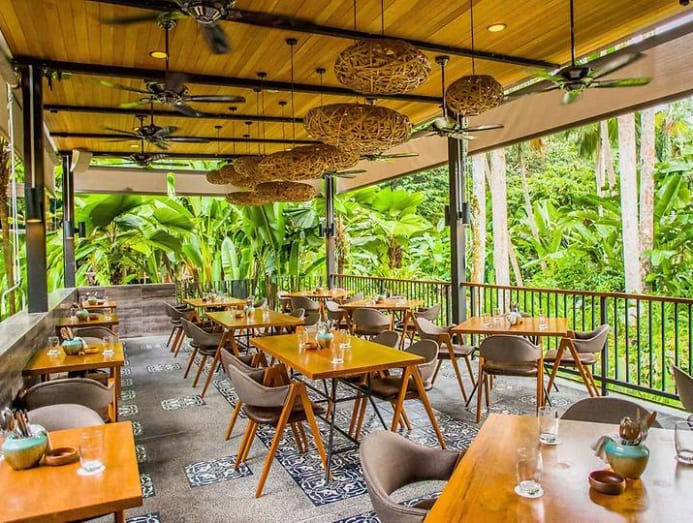 Restaurants have been doing brisk business since Phase 2 measures were announced, but the diminished number of seats that they can offer because of distancing measures continues to put a damper on their bottom line.
Some, like chef Willin Low's mod-Sin izakaya Roketto, have been lucky enough to expand their dining area to the outdoors, which helps allay concerns among folks like us about dining in an enclosed space with numerous other strangers.
Others, like The Halia at the Botanic Gardens, have the privilege of expanding to a whole other building. Previously reserved as an event venue, The neighbouring Villa now provides extra outdoor and indoor seating for The Halia, on top of the latter's 30 alfresco seats and indoor dining room that accommodates about 22 people.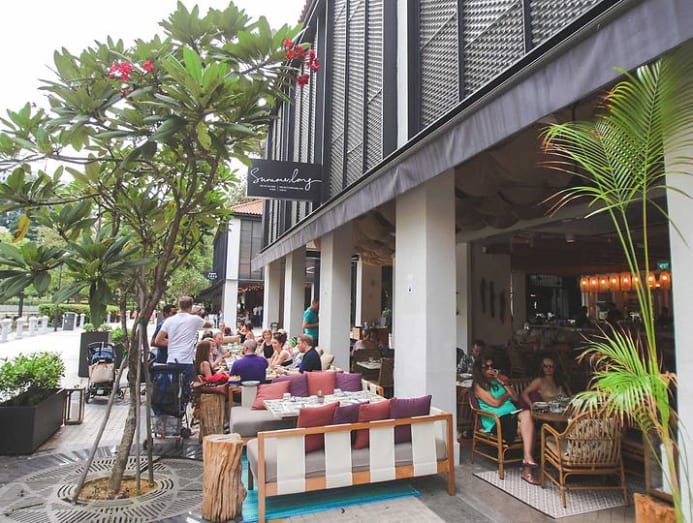 No stranger to the alfresco-loving crowd, Robertson Quay has an abundance of F&B establishments with outdoor seating. Among them is Mediterranean restaurant Summerlong, whose indoor dining room is semi-open-air.
Cafe2000 at M Hotel Singapore is another option, as is Beast & Butterflies at M Social Singapore, which can seat up to 46 people in its alfresco section. Even the opulent Grand Shanghai at King's Centre has 10 outdoor seats, which were introduced last March.
Over at the Fullerton precinct, the likes of L'Entrecote and Caffe Fernet at Customs House have seen enthusiastic response from avid diners who thronged the establishments as soon as they re-opened.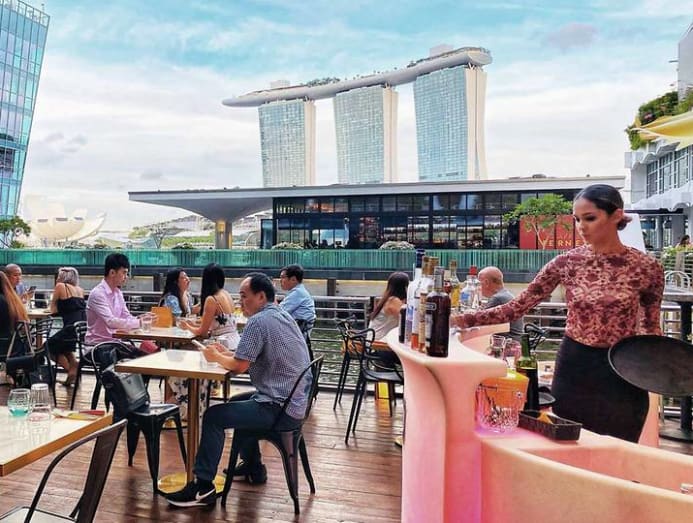 "That first weekend (of Phase 2) was crazy," said Olivier Bendel, CEO of Deliciae Hospitality Management which owns L'Entrecote and Sabio by the Sea at Sentosa's Quayside Isle.
"At Customs House, we are lucky that our terrace is really stretched out, so we have been able to maximise the space outside to make up for what we lose to [safe] distancing inside."
While the last two weekends brought a healthy crowd at his restaurants, Bendel says that weekday business is still quiet both in the CBD and at Sentosa.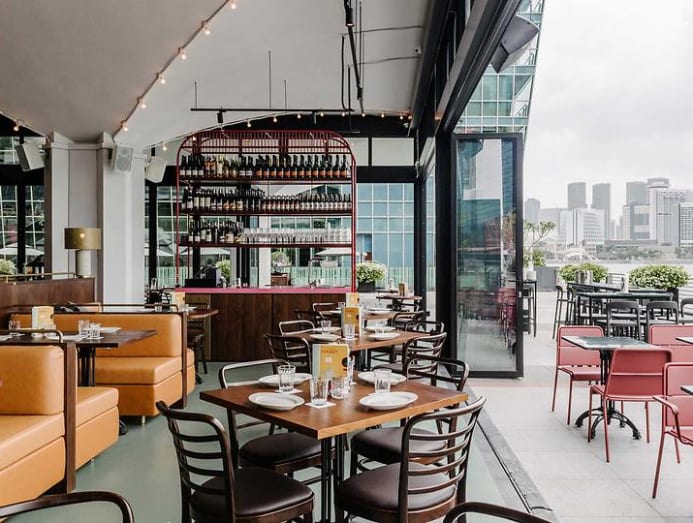 SUP IN THE CITY
From a consumer point of view, there is no better time to enjoy the spoils of these areas while they remain crowd-free.
One such establishment is Zafferano Italian Restaurant & Lounge, perched on the 43rd storey of Ocean Financial Centre. Its alfresco Terrace Lounge that looks out over Marina Bay typically serves drinks and bar bites. But should guests ask to order their meal from the adjoining restaurant's menu, the service staff would be happy to oblige, said operations manager Vadim Korob.
Several buildings away, microbrewery LeVeL33 harbours 40 high table seats and strategically placed plants that serve to keep groups of diners relatively shielded from one another.
To prevent the potential bottlenecks that can form when there is a queue to get into the 33rd-storey restaurant, its reception has been moved to the ground floor lobby where guests are put through the standard check-in procedures.
Marina Bay Sands restaurants like Bread Street Kitchen and YardBird Southern Table & Bar have increased outdoor seating, with 42 seats at the former and 30 at the latter. They are lovely locales for meals with a view of the water and a cool evening breeze.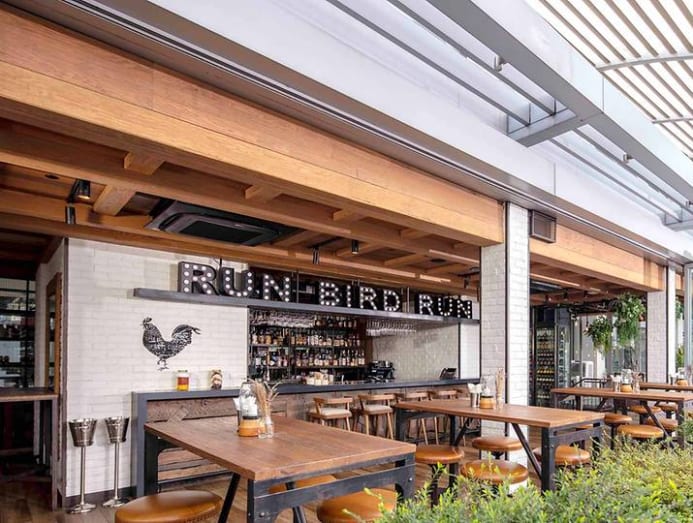 Meanwhile, with outdoor dining in mind, the likes of The Lo & Behold Group, the company behind restaurants such as Le Bon Funk, Tanjong Beach Club and OverEasy, will soon offer picnic baskets.
These will be filled with delicious options like chicken liver parfait crowaffles (that's a flaky pastry waffle) with fig jam, stuffed Camembert truffles with walnuts, and custard-filled choux pastries. The baskets come with the option of a bottle of wine or gin and tonic cocktails.
And so it appears that there is no need to stay indoors even when you want to dine out. The only requirements for alfresco eating: Careful planning and reservations made well in advance.