Foodie alert: Fancy dining in a few Michelin-starred restaurants at one go?
Reservations are difficult to secure at certain Michelin-starred restaurants. Or they could be hard to access. Enter the Ritz-Carlton Stellar Dining Series, which began in Tokyo in September and will wrap up in Guangzhou this weekend.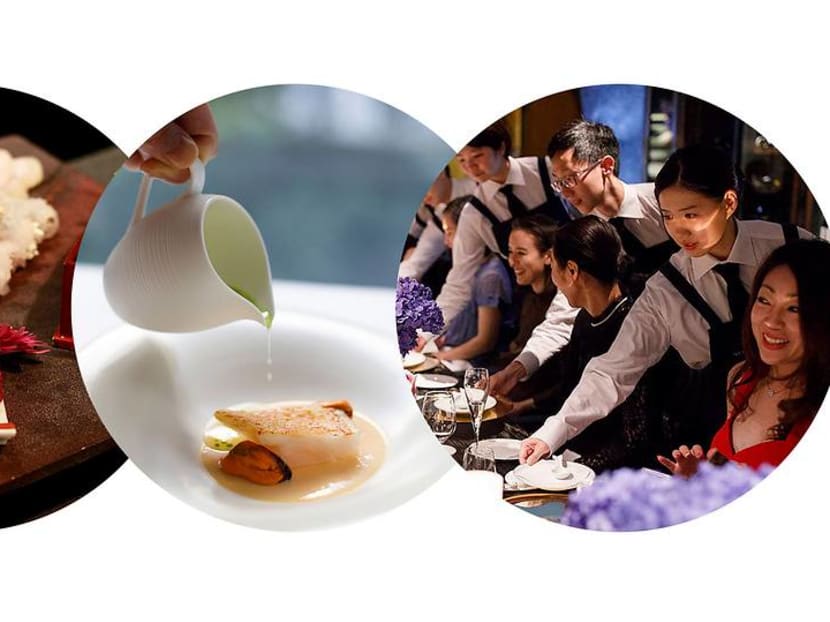 My hands were trembling as I pinched the folds of the raviolis I had earlier stuffed with lobster and ginger.  You would be too, if your teacher was Erlantz Gorostiza, head chef of two Michelin-starred M.B. restaurant at The Ritz-Carlton, Abama in Spain. And if you were told – quite seriously – that the pasta was going onto a paying guest's plate that night.
When Gorostiza suddenly asked if I wanted to try making ravioli after our interview, I didn't have to think twice. Good thing it was way before that night's dinner service. At the snail's pace I was going, nobody would have gotten their carb fix.
Gorostiza was in Kyoto last month to do a four-hands dinner with Katsuhito Inoue, Executive Italian Chef of The Ritz-Carlton, Kyoto's La Locanda.  It was the second stop of The Ritz-Carlton Stellar Dining Series, which began at The Ritz-Carlton, Tokyo earlier in the month and will end in Guangzhou this Sunday (Oct 13). This is the series' second year, after last year's inaugural launch that traversed Singapore, Osaka, Hong Kong and Beijing.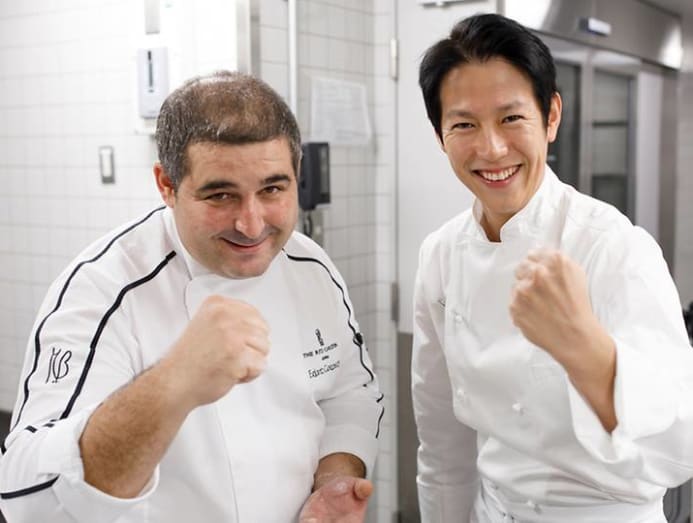 "The Stellar Dining Series is a good opportunity for sommeliers, mixologists and restaurant chefs to travel across continents to share their expertise," Ranim Ben Romdhane, Marriott International's Senior Director of Restaurants & Bar, Asia Pacific, told CNA Luxury.
"Guests get to discover the food and beverage menus at the different properties in one place and the team can share their passion with a wider audience."
ON THE GOURMET TRAIL
The cities were chosen based on the presence of a Michelin Guide as well as their reputation as gourmet destinations. "For example, Guangzhou is known as the food capital of China, and the original birthplace of Cantonese cuisine. So we thought it'd be very meaningful to bring it to Guangzhou this year," Romdhane shared.
Besides gourmet meals and eat-your-heart-out afternoon teas, there are also activities such as pastry and cocktail master classes. Marriott Bonvoy members could also bid for exclusive experiences ranging from dine-and-stay packages to a guided fish market visit and a sushi-and-sake lunch.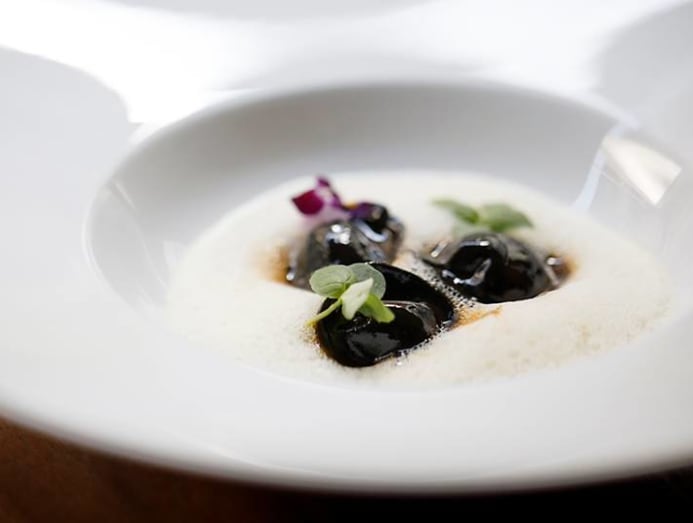 Among the guests who came for the series was 31-year-old Davies Zheng from Shanghai, an Ambassador Elite and Lifetime Gold Marriott Bonvoy member who has stayed in a whopping 49 Ritz-Carlton hotels. After attending last year's series, he was back for this year's Kyoto and Guangzhou events.
He said, "The Dining Series allows me to try the cooking of different chefs all in one place. Some Michelin-starred restaurants are also hard to book and fly to, so it's a good opportunity to try them all here." And with activities such as daily complimentary cycling tours and exclusive visits to the Myokaku-ji Temple in Kyoto, Zheng found plenty to do besides eating.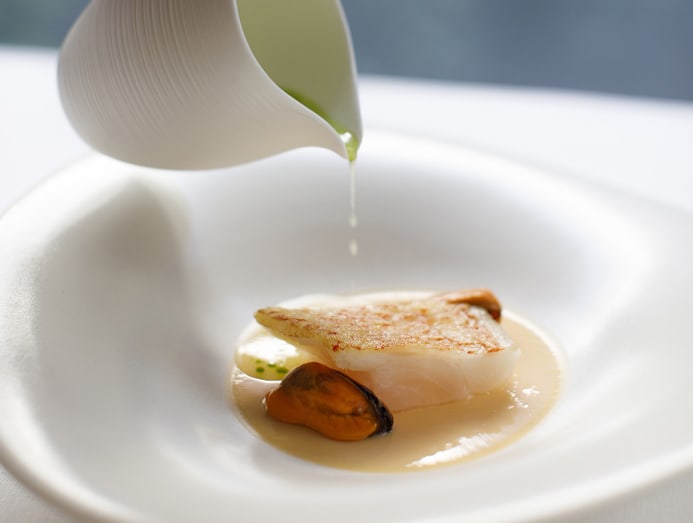 Despite Gorostiza and Inoue's vastly different cultural backgrounds, the deep respect between both was evident in the eight-course, four-hands meal, which alternated between dishes from Inoue and Gorostiza with a thoughtful balance of robust Basque flavours and fine Japanese techniques, all underscored by ingredients freshly bought from local markets that morning.
There were signatures such as Gorostiza's Truffle Gelatin & Foie Gras Cream Sweet & Salty – moreish layers of foie gras cream and truffle gelatin topped with diced mango and quince – and modern twists like Inoue's Caprese, a creamy dollop of tomato, basil and mozzarella on a spoon that was so well blended yet so distinct in the individual ingredient flavours.
The wines traipsed across countries such as Georgia, Japan, Germany and France, and were all perfect foils to their respective dishes. Under-the-radar gems included a biodynamic, vegan 2015 Querciabella Batar from Italy, that had an intense minerality with stone fruit notes that went beautifully with the Kinki Acqua Pazza, a Hokkaido snapper in a broth of reduced fish stock with parsley oil.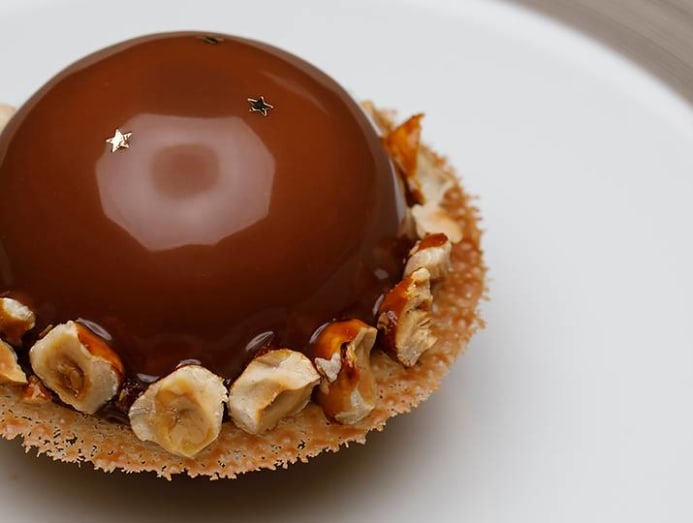 MENUS FULL OF SURPRISES
Speaking to CNA Luxury, Gorostiza and Inoue shared that they had discussed what each wanted to bring to the table before deciding on a final menu that would "make sense to the guest with a lot of surprises".
Gorostiza added: "It's not just putting out one plate from each chef. They have to flow. I've a lot of respect for Japanese produce and the chefs. I learn a lot from their kitchen techniques and their way of life. They put their heart into the ingredients."
Inoue himself was impressed that Gorostiza brought hardly any pre-prepared ingredients. Instead, almost everything was freshly prepared on-site. "He's so energetic in the kitchen. I learn a lot from him."
The second night's Autumnal Tempura Dinner at the hotel's one-Michelin starred Mizuki Tempura was a revelation of how refined tempura can be. Head chef Kenji Fujimoto, who has been helming the restaurant since the hotel's opening in 2014, presented 14 dishes ranging from gingko nuts (I never knew this simple nut could be such a satisfying nibble in this form) and a crunchy Kurama prawn to melt-in-the mouth Kobe and Kyoto Hirai beef.
The dishes were paired with four Perrier-Jouet champagnes, including the limited-edition Belle Epoque Edition Autumn 2005 that was radiant in blush pink and delightful in its crisp and aromatic citrus bouquet. Already culinary zeniths in themselves, the meals ended on even higher notes with elegant Pierre Herme Paris pastries made by the brand's appointed on-site patissier at The Ritz-Carlton, Kyoto, Regis Demanet.
In my six-person masterclass with head mixologists Oscar Mena and Yosuke Asano from The Ritz-Carlton, Hong Kong and Kyoto respectively, I met shy locals aspiring to be bartenders and a Malaysian and a Taiwanese living there who were cocktail fans.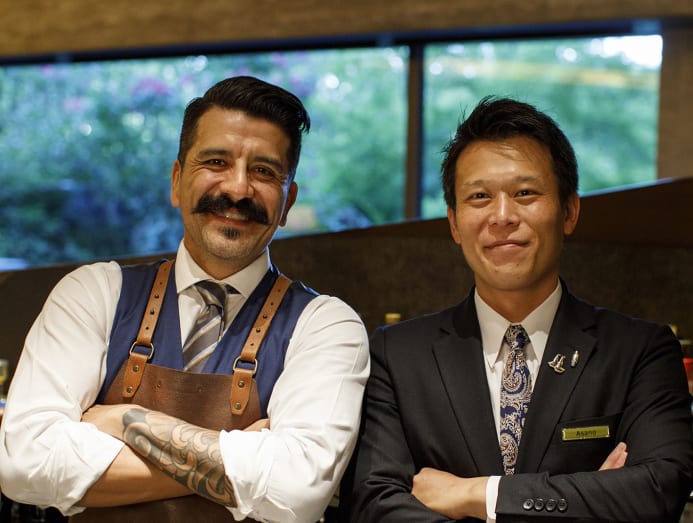 Mena and Asano each demonstrated three cocktails inspired by the theme of the dining series – think Celestial Object, a tipple of Armagnac, umeshu plum liquor and olive brine; and a Stardust Sour with sherry, St-Germaine, Skinos and black pepper – before we were given a chance to mix one of our choice.
A career at the bar is obviously not for me; I nearly sprayed the other participants with my Milky Meteor cocktail of Japanese whisky, Fernet Branca liquor, almond milk and pandan and coconut syrup when my shaker came apart. "That's what the apron is for," Mena chuckled as he wiped the spillage off the table.
Meals and cocktails with top-notch – and charming – chefs and bartenders aside, the Ritz-Carlton Dining Series is also about experiencing the brand's impeccable hospitality, from their cosy modern rooms with traditional elements and original art pieces right down to the under-rated breakfasts at Mizuki (Japanese) and La Locanda (international).
Top tip: Don't leave without trying the French toast at La Locanda. It's as life-changing as the impromptu ravioli-making session, which a million loyalty points can't buy.